Some people believe that hindsight is 20/20. I think it's warped by sentimentality, wishful thinking, and rose-colored glasses. Whether one listens to Betty Buckley singing "Memory" from Andrew Lloyd Weber's long-running musical, Cats, or Barbra Streisand's version of the title song from 1973's The Way We Were, memory tends to play tricks on clarity.
Most memories are subjective rather than objective. As we age and grow fonder of time gone by, there's a tendency to embellish the highs and sugar coat the lows. When put into song, nostalgia can come in a variety of flavors. In 1937, Fred Astaire introduced an instant classic written by George and Ira Gershwin for Shall We Dance.
In 1969, Jerry Herman's troubled musical, Dear World, contained this wistful, heartrending gem:
In July 2008, when City Center Encores! revived 1955's Damn Yankees with Jane Krakowski as Lola, the Devil was played by Sean Hayes with a gleefully malevolent yearning for the past.
Jukebox musicals reunite many people with the music of their youth. That's never been the case for me. I grew up in a family that listened to classical music, Broadway show tunes, Gilbert & Sullivan operettas and WNEW's Make Believe Ballroom. In college, when I got introduced to opera, it was like developing a grand addiction.
Pop music was the furthest thing from my mind. Except during the summer months, when I worked at YMCA Camp Fuller By-The-Sea, a sailing camp on Point Judith Pond where I bunked with the waterfront staff. While I was busily playing recordings of Joan Sutherland singing bel canto arias in my office, everyone else was listening to the latest hits on the radio.
It was only when I was down at the boathouse that I found myself listening to Chicago, The Beatles and groups like Sam the Sham and the Pharoahs. As a result, their music remained in the background of my mind. I knew it, was aware of it, but was nowhere as passionate about it as, say, Richard Strauss's recognition scene between Orestes and Elektra. But I was extremely aware of vocal issues, especially the sound of a healthy, well-placed voice.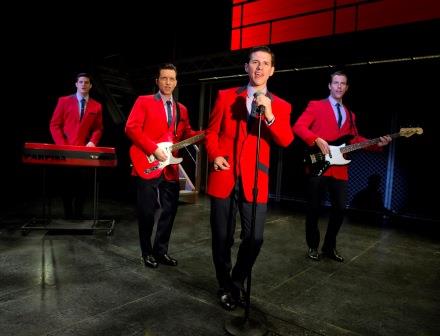 The "Sherry" scene from Jersey Boys (Photo by: Jeremy Daniel)
When Jersey Boys opened on Broadway in 2005, the musical about Frankie Valli and The Four Seasons made an instant star out of John Lloyd Young (David Norona, who had sung the role during the show's tryout at the LaJolla Playhouse, had to be replaced because of vocal problems). The first national tour launched in San Francisco in December of 2006. At that time, the following video (which includes a lot of Four Seasons memorabilia) was shot backstage for Broadway.com.
The touring company of Jersey Boys roared back into the Curran Theatre last month, bringing with it a thrilling young performer in the role of Frankie Valli. If you poke around on YouTube, you'll find videos of Nick Cosgrove doing scenes from Carousel, Shenandoah, and other musicals while at Carnegie Mellon University (where he received his BFA in 2010). In the following clip he is paired with Lee Harrington as the conjoined twins, Daisy and Violet Hilton, in 1997's Side Show.
Here's Cosgrove during one of his summers spent working at the outdoor MUNY amphitheater in St. Louis:
And, finally, here's Cosgrove performing a song introduced by Dorothy Loudon in 1978's Ballroom.
There's a special reason to include these clips with a review of Jersey Boys. For one thing, they show a young tenor with a remarkable range who is obviously aware of the need to protect his vocal health (Cosgrove confessed in an online interview that he warms up before each performance by vocalizing during a 26-minute hot shower). These clips also show a young singer taking risks (two of these songs were written for women) and developing a sense of versatility that will guide him along his path to becoming an accomplished artist.
Because of the vocal demands on its lead singers, the Jersey Boys company has an alternate covering the role of Frankie Valli. On opening night, the role of Bob Gaudio was sung by the understudy, Tommaso Antico, instead of the usual performer, Miles Jacoby.
Ironically, this happened at exactly the same time that a heated debate about singer cancellations and vocal health was erupting on Norman LeBrecht's blog, Slipped Disc (I urge everyone to read the responses he received from mezzo sopranos Susan Graham and Rosalind Plowright).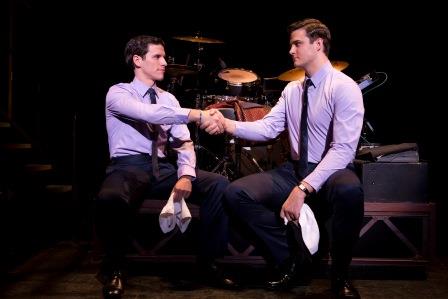 Frank Valli (Nick Cosgrove) and Bob Gaudio (Miles Jacoby)
in Jersey Boys (Photo by: Jeremy Daniel)
Directed by Des McAnuff and choreographed by Sergio Trujillo, Jersey Boys remains a slickly-placed show with high-voltage production values (especially Howell Binkley's lighting design, Steve Canyon Kennedy's superb sound design, and Jess Goldstein's costume design). Its New Jersey-based "local boy makes good" rags-to-riches story provides the forward driving momentum for the evening.
Strong character work comes from Michael Lomenda as Nick Massi, John Gardiner as Tommy DeVito, Jonathan Hadley as Bob Crewe, and Kara Tremel as Mary Delgado. Donnie Kehr, Justin Lonesome, Sam Strasfield, and Lauren Decierdo appear in numerous supporting roles.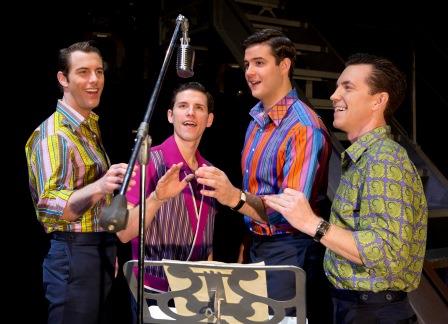 Michael Lomenda, Nick Cosgrove, Miles Jacoby, and
John Gardiner in Jersey Boys (Photo by: Jeremy Daniel)
The real focus of the evening, however, is on the music and the quartet that made it famous. As I listened to long-time hits like "Sherry," "Big Girls Don't Cry," "Walk Like A Man," "Bye Bye Baby," "Rag Doll," and "Can't Take My Eyes Off You," I was fascinated by how thrilling songs we once took for granted now sound in retrospect. In a bizarre way, it reminded me of Norma Desmond's comment from Sunset Boulevard ("In those days, we had faces").
An evening of Jersey Boys makes one painfully aware how, compared to many of today's rockers (who sound like they are trying to destroy their vocal cords), back in those days singers really had voices. Especially Frankie Valli. Here's the trailer:
To read more of George Heymont go to My Cultural Landscape