Those who have seen Rick McKay's excellent 2004 documentary entitled Broadway: The Golden Age, By The Legends Who Were There know that many of the stars interviewed in that film have since passed away. The recent deaths of Joan Roberts and Celeste Holm (the original Laurie and Ado Annie in Rodgers and Hammerstein's Oklahoma!) left musical theatre fans acutely aware that time is moving further and further away from the glory days of Broadway musicals in the 1950s and 1960s.
From sculptors to singers, from composers to clowns, artists of every discipline spend decades working to hone their craft. While many Broadway actors strive to build a career, few manage to chalk up the longevity of the following ladies:
Now 76, Julie Andrews starred on Broadway in The Boy Friend, My Fair Lady, Camelot, Victor/Victoria, and Putting It Together; in a made-for-television version of Rodgers and Hammerstein's Cinderella, and in six major movie musicals (Mary Poppins, The Sound of Music, Thoroughly Modern Millie, Star!, Darling Lili, and Victor/Victoria).
At 78, Shirley Jones (who appeared on Broadway in Maggie Flynn and 42nd Street) is fondly remembered for roles in four musical films: Oklahoma!, Carousel, April Love, and The Music Man.
Also 78, Florence Henderson performed in New York in Oklahoma!, Wish You Were Here, Fanny, South Pacific, and The Girl Who Came to Supper as well as in the 1970 film adaptation of Song of Norway.
Now 79, Carol Lawrence starred on Broadway in West Side Story, Saratoga, Subways Are For Sleeping, I Do! I Do!, and Kiss of the Spider Woman in addition to regional productions of Funny Girl, Mame, Sweet Charity, No, No Nanette and Do I Hear A Waltz?
Also 79, Chita Rivera has starred on Broadway in Mr. Wonderful, West Side Story, Bye Bye Birdie, Bajour, The Rink, Merlin, Kiss of the Spider Woman, Nine, Jerry's Girls, and Chita Rivera: The Dancer's Life. In addition to appearing in the film versions of Can Can, Sweet Charity, and Chicago, she created the role of Claire Zachanassian in Kander & Ebb's The Visit and will soon appear at Studio 54 in the Roundabout Theatre Company's production of The Mystery of Edwin Drood.
At 86, Angela Lansbury has starred in Anyone Can Whistle, Mame, Dear World, Prettybelle, Gypsy, The King and I, Sweeney Todd, and A Little Night Music as well as appearing in three movie musicals (Mrs. Santa Claus, Bedknobs and Broomsticks, and The Pirates of Penzance).
Also 86, Helen Gallagher entertained New York audiences in High Button Shoes, Pal Joey, Hazel Flagg, The Pajama Game, Sweet Charity, Mame, and No No Nanette (as well as City Center revivals of Guys and Dolls, Finian's Rainbow, Brigadoon, and Oklahoma!).
Now 87, Elaine Stritch has appeared in Pal Joey, Goldilocks, Sail Away, Company, Show Boat, Elaine Stritch: At Liberty, and A Little Night Music in addition to touring in Call Me Madam, No, No, Nanette, Mame, and starring in a City Center rival of Wonderful Town.
Janis Paige, who starred on Broadway in The Pajama Game, Here's Love, and Mame, toured in Annie Get Your Gun, Applause, Ballroom, Guys and Dolls, and Gypsy, and appeared in the film adaptation of Silk Stockings, returns to San Francisco's Rrazz Room to celebrate her 90th birthday on September 12.
A living legend, 91-year-old Carol Channing has entertained audiences in Lend An Ear, Gentlemen Prefer Blondes, Wonderful Town, Show Girl, Hello, Dolly!, Lorelei, Legends, Sugar Babies, and co-starred onscreen with Julie Andrew and Mary Tyler Moore in Thoroughly Modern Millie. She is the subject of Dori Berinstein's 2011 documentary, Carol Channing: Larger Than Life.
Maintaining one's vocal health is a life-long concern for most singers. Some (like Maria Callas and Renata Scotto) discover that by the time they have developed the knowledge and experience to interpret music and breathe life into a role, their voice may have started to develop a fearsome vibrato or strident wobble. While some (like Alice Ripley) find their voice in tatters; others turn to directing or coaching.
Known worldwide for her interpretation of songs written by Victor Herbert, Jerome Kern, George and Ira Gershwin, Rodgers and Hammerstein, Meredith Willson, Jule Styne, and Stephen Sondheim, the recipient of the 2011 Kennedy Center Honors has been featured in 18 original Broadway cast and studio cast albums, 21 solo CDs, and two made-for-television productions (Bloomer Girl and Babes in Toyland).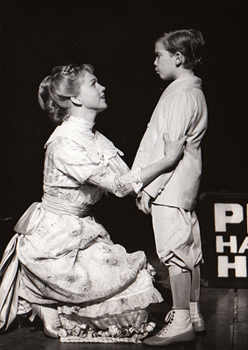 Barbara Cook and Eddie Hodges in 1957's The Music Man
Photo by: Fred Fehl
The first Broadway show my parents took me to see was 1955's Plain and Fancy. Set in the Pennsylvania Dutch country, the musical contrasted the lifestyles of supposedly sophisticated New Yorkers with the simpler and more humble Amish lifestyle. What impressed me the most was seeing an automobile drive across the stage. Had I known better, I would have paid more attention to the soprano singing the role of Hilda Miller.
The following year, Barbara Cook lit up the world premiere of Leonard Bernstein's operetta, Candide, while singing Cunegonde's fiendishly difficult aria, "Glitter and Be Gay". In 1957, Cook co-starred opposite Robert Preston as Marian the Librarian in The Music Man. In 1963, I had the great fortune of seeing her in two performance of She Loves Me, the Sheldon Harnick and Jerry Bock musical that has since developed a cult following.
Although I missed her performances as Liesl Brandel in The Gay Life, Molly Tobin in The Unsinkable Molly Brown, Ado Annie in Oklahoma!, Carrie Pipperidge in Carousel, and Anna Leonowens in The King and I, I did manage to catch Barbara Cook as Magnolia Hawks in Show Boat, Fanny Brice in Funny Girl, and Carol Deems in the ill-fated Sammy Fain musical, Something More!
Cook's sweet, lyrical soprano often led to her being typecast as an ingenue (a role she joyously mocked in David Zippel's irreverent "The Ingenue Song"). What many people took for granted was the lustrous sheen and vocal health of her voice. Just listen to Cook's performance opposite Keith Andes in this clip from a 1956 television production of Harold Arlen's 1944 musical, Bloomer Girl!
Few lyric sopranos are still performing before adoring audiences at the age of 85 with their voice in relatively good health. Those who have witnessed Barbara Cook teach a master class have witnessed how she helps young singers reach for the truth in a lyric and imbue a song with genuine emotion. An artist of great self awareness, Cook doesn't hesitate to comment on changes in the way she has sung a song like Stephen Sondheim's "Losing My Mind" over the years.
Today, many singers who are a fraction of Barbara Cook's age wish they could sing with the wisdom, phrasing, and musical intuition of an artist whose voice has maintained its sweetness and purity for so many years. Listen to her (at the age of 73) singing "Ice Cream" during a 2000 concert in Melbourne, Australia.
As she nears her 85th birthday, Cook's new show, Let's Fall In Love, is built on songs she has never sung before, ranging from Hoagy Carmichael's "The Nearness of You" to the Dan Hicks classic, "I Don't Want Love." Blessed with some great arrangements by Ted Rosenthal and Lee Musiker, Cook's artistry links "House of the Rising Sun" with "Bye Bye Blackbird" in an astonishing new way. She brings unbridled passion to "Georgia On My Mind" and her delicious sense of mischief to "Makin' Whoopee" (a song made popular by Eddie Cantor in 1928).
In her show, Barbara Cook lavishes her voice and heart on Ram Ramirez's "Lover Man" and Ben Oakland's "If I Love Again" in ways that will leave younger artists in awe. Ending her recent performance at San Francisco's Rrazz Room with the purest and simplest rendition of John Lennon's "Imagine" you will ever hear, Cook showed the audience that she can still perform the American songbook with a grace, authority, and authenticity possessed by no one else. An avowed YouTube addict, she also gave her fans some handy tips on hidden treasures.
Barbara Cook celebrates her 85th birthday at Carnegie Hall on October 18, 2012.
To read more of George Heymont go to My Cultural Landscape