Before discussing Laura Schellhardt's new play, Upright Grand, perhaps its best to demonstrate how an upright grand looks and sounds. Why? Such instruments are not seen on concert stages. Indeed, many contemporary musicians who practice or perform on electronic keyboards may not be familiar with anything other than a formal concert grand.
I first encountered Upright Grand at a reading during the 2011 New Works Festival run by TheatreWorks at the Lucie Stern Theatre in Palo Alto. As with any reading of a work in progress, the script depended a great deal on the audience's ability to fill in the blanks. At the time, Schellhardt's script seemed like it needed a lot of work to soften the daughter's whining selfishness and find its dramatic spine.
The play's world premiere production (directed by the festival's outgoing director, Meredith McDonough) seems to have found its emotional core thanks to the use of a turntable and the hollowed out piano frames which allow the audience to see through a piano's skeleton while getting to the heart of the matter. In many ways, it was the act of merging the show's accompanist with an actor who could play minor roles (a piano tuner, a music professor, and a funeral guest) that helped to define the piano as the fourth character in her play. As Schellhardt explains:
"The piano, like the cello, is a truly human instrument, and it's imposing enough to become a character in the room in a way that some other instruments are not. Like many instruments, the piano is also an heirloom, something passed down from family to family, something treasured and preserved. I find that in any musical family, the piano often becomes the center of the house. What has changed (for the play's world premiere) is the way in which the piano informs the piece, and the more difficult theme of a child besting her father. The piano is really the fourth character in the play. The way it's used onstage has grown by leaps and bounds."
As a painfully awkward and insecure teenager, Kiddo (Renata Friedman) likes to tease her father, Pops (Dan Hiatt), about the blatant sentimentality of his musical choices. Too young to understand the appeal of songs which defined a previous generation, too confused to know what she wants from life, Kiddo eventually realizes that she's better at playing piano than most of the other kids she knows. Winning a piano competition is also a great way to get back at a teacher who gave her no encouragement.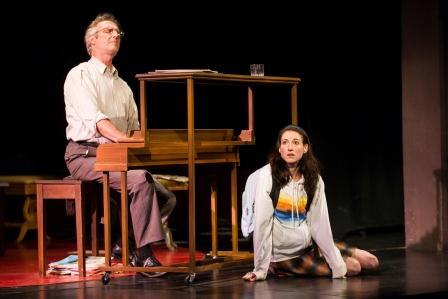 Dan Hiatt and Renata Friedman in Upright Grand
(Photo by: Mark Kitaoka)
As Kiddo progresses from small time awards to graduating from Juilliard and moving on to a professional career as a concert pianist, the growing lack of communication between a globe-trotting artist and her aging parents comes into clearer focus. Furious to learn that her parents have separated without telling her (Kiddo's mother left her father to move in with the shrink who counseled mother and daughter), the adult concert pianist is also horrified to learn that her father allowed the family's upright grand piano to be sold.
"That was your mother's decision," replies Pops, as he tries to explain that his wife felt shut out of the intense musical relationship shared between father and daughter. As the playwright explains:
"I think father/daughter relationships are unique in several ways. I think there's a delicacy that fathers have in the early years of raising a daughter that often isn't there with sons. I also think there tends to be a type of idol worship girls have for their fathers early on, especially if the home functions in a more traditional way (with the father away more often). I'm most interested in what happens when those things fall away (when the child realizes her parents are not just human, but deeply flawed) and when parents realize their children have grown beyond their reach. I've recently started thinking about having a family of my own and I think a lot of those questions have structured the latest drafts. How one balances their work life with their parental responsibilities, how to ensure children are following their own path and not yours, how difficult it is to balance art and parenting, and yet how deeply connected the two endeavors are -- all of these topics are front and center in the play now in a way they weren't before."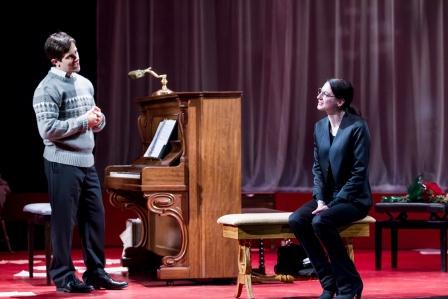 Brent Ryback and Renata Friedman in Upright Grand
(Photo by: Mark Kitaoka)
While the bulk of the evening belongs to the father/daughter relationship shared by Pops (Dan Hiatt) and Kiddo (Renata Friedman), I was quite impressed with accompanist Brett Ryback for his work at the keyboard as well as in supporting roles. The revolving unit set designed by Kris Stone helps to build upon the sentimentality of the songs Pops likes to play and his daughter's growing awareness of how quickly, and irretrievably, time has flown by.
* * * * * * * * * *
The 2012 San Francisco Silent Film Festival screened the 1925 version of Stella Dallas, which stars Belle Bennett in one of the great cinematic tearjerkers of all time. Based on a 1920 novel by Olive Higgins Prouty and directed by Henry King, this is the story of a small town girl from the wrong side of the tracks who sets out to lead a more respectable life.
With Ronald Colman as Stephen Dallas and Douglas Fairbanks, Jr. as young Richard Grosvenor, the film boasts two incredibly handsome husbands-to-be. Most people are familiar with the 1937 version of the story starring Barbara Stanwyck and Bette Midler's 1990 made-for-television adaptation entitled Stella. But the silent film is a true gem.
For those unfamiliar with the story, Stella is the social climber whose driving ambition cannot compete with her innate tackiness. After marrying a banker, she tries to become popular with the local socialites but always seemed a bit too crude and lower class to fit in with the crowd at the local country club.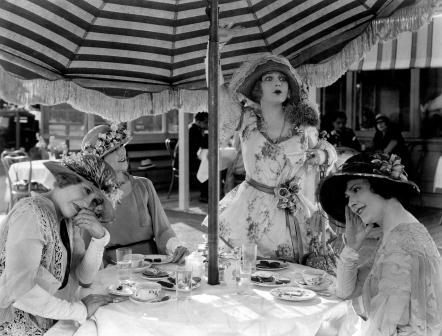 Belle Bennett as Stella Dallas
After her husband's bank relocates Stephen to New York, Stella insists on remaining at home where she can be a medium-sized fish in a small pond while taking care of their daughter, Laurel (Lois Moran). Stella's friendship with Ed Munn (Jean Hersholt) sets local tongues wagging and Laurel is eventually forced to withdraw from her exclusive private school.
After refusing to divorce her husband, Stella takes Laurel to an exclusive resort each summer in the hope that her daughter can socialize with "a better class of people." But one fateful day, after her doctor has advised Stella that going for a walk (instead of holing up in her hotel room) might be good for her health, she becomes a major source of embarrassment to her teenage daughter.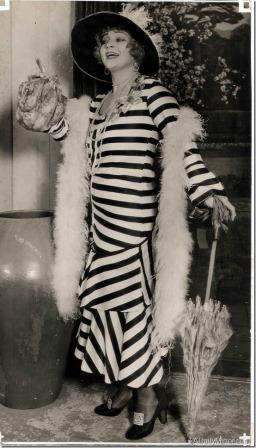 Stella Dallas (Belle Bennett) goes for a walk
Upon learning the reasons for Laurel's unhappiness, Stella pays a visit to Helen Morrison (Alice Joyce), the wealthy widow who is her husband's childhood friend, and asks if she and Stephen plan to marry if she grants him a divorce. Having figured out that their wedding would allow Laurel to keep her social position, Stella embarks on a plan to set her daughter free of all ties to her mother so that Laurel can move on up the social ladder in ways that Stella could never accomplish on her own.
This screening was greatly enhanced by the accompaniment of Stephen Horne, an extraordinary composer and festival favorite who knows how to combine a delicate sense of romanticism with strategic uses of silence and emotionally-loaded single notes. The final scene, in which Stella stands in the pouring rain, watching through an open window as Laurel marries Richard Grosvenor, is a classic example of maternal love taken to extremes.
To read more of George Heymont go to My Cultural Landscape