When engulfed by the passion of the moment, it's often hard to stand back and examine whether one's frustration is based in reality or triggered by a response to societal pressures. Think back to some of the most impassioned topics of our times and ask if they were real or merely manufactured and manipulated by the media. What about:
Mahatma Gandhi's insistence on using nonviolent forms of civil disobedience as a form of political protest.
The investigative hearings by the House UnAmerican Activities Committee (HUAC) which resulted in the blacklisting of Americans who were suspected of being Communist sympathizers.
The homophobic influence of Anita Bryant and her campaign to Save Our Children during the 1970s.
The protests that erupted around the world as the United States prepared to invade Iraq on March 20, 2003.
The 2005 media frenzy surrounding Michael Schiavo's attempts to have his wife's feeding tube removed so that Terry Schiavo could be taken off artificial life support.
The growing number of adolescents and teenagers who have committed suicide in response to bullying.
No matter what hot button one chooses to examine, the ability to view a situation with the clinical objectivity made possible by the passage of time can offer a sharpened sense of clarity and reason. Was the hysteria surrounding the Salem witch trials self induced? Is our nation's future genuinely threatened by the phenomenon of anchor babies? Only time will tell.
The following 20-minute trailer for a film called Continuum describes how astronauts returned to Earth with a completely different perspective on our planet and its place in the universe.
* * * * * * * * * *
Sometimes a person discovers that he is "a fish out of water." At other times, he must go to extremes to save face with his relatives and business associates.
The 2013 San Francisco CAAMFest screened a collection of four short films which had been released under the umbrella title of Beautiful 2012. In Walker, a barefoot monk holding a breakfast roll in one hand and a plastic bag in the other appears in stark contrast to the bustling population of Hong Kong as he moves through parts of the city at a snail's pace, his bright scarlet robes visible in one long shot after another.
Director Tsai Ming-Liang lets his camera follow the monk (whose head is bent low) as he makes his way through a busy metropolis. Shot with exquisite beauty, Walker captures the painfully slow progress of Xiao Kang (Lee Kang-Sheng) and contrasts his movement (taking one step every minute) with the noisy streets, crowded transit terminals, and inner city glut of materialism. You can watch Walker (a phenomenally beautiful piece of performance art) in its entirety in the following clip.
* * * * * * * * * *
With a cast headed by Francis Ng and Jade Leung, director Ann Hui's film, My Way, begins with a middle-aged business executive realizing that he can no longer bear to continue living his life as a man. After confessing to his wife that he has always self-identified as a woman, Hui's protagonist relies on a small group of transgender friends for emotional support prior to and following his gender reassignment surgery. After making sure that his wife is financially secure, he must nevertheless face her initial soul-crushing scorn and scathing rejection. A powerful film about tolerance and self-realization, My Way is the rare film to show someone entering the surgical suite as a man and leaving it as a woman.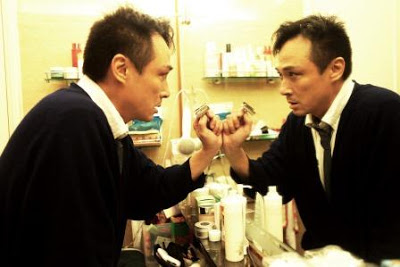 * * * * * * * * * *
South Korean film director Kim Tae-yong's You Are More Than Beautiful is about a man who hires a woman named Young-Hee to pretend to be his fiancée in order to show his terminally ill father that he is getting married. The film begins as he awaits her arrival at a regional airport. As they drive toward the hospital, she teases him about choosing a porn star to impersonate his bride-to-be. They stop by a local horse farm to take some pictures that will make it look as if they are indeed a couple.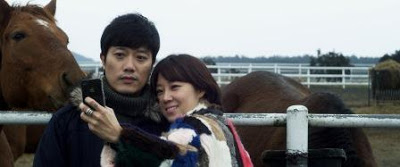 When his father slips into a coma, the young man pays Young-Hee at the hospital and tells her she is free to leave. However, determined to play a role, she slips back into his father's hospital room and, in a charmingly beautiful scene, stands by the old man's bed, holds his hand, and sings a Korean opera song to a room with five other elderly men who are seriously ill. When the young man tries to pull her away, they both have to struggle to get her hand free from the dying man's grip.
In Lauren Walker's fascinating article on thoughtcatalog.com entitled A Talk With One of China's Rent-a-Boyfriends, she describes her attempts to understand the growing phenomenon of Chinese male escorts. Whereas Westerners would instantly categorize these men as male prostitutes, in cultures where there is a high degree of shame attached to losing face or bringing dishonor upon one's family, sexual favors may not even be a part of the financial negotiations.
That's certainly the case in Rent a Family, Inc., Kaspar Astrup Schröder's documentary about a middle-aged, self-employed Japanese man whose family is totally unaware that he is running a small business from their home computer.
Ryuchi and his 32 employees are professional stand-ins who are hired to help clients avoid being embarrassed at weddings, funerals, and other gatherings which are accompanied by strong gender role expectations. Unlike Westerners who might hire someone to fulfill a sexual fantasy (cowboy, policeman, construction worker), Ryuchi can impersonate someone's fictional new husband, act as a professional mourner, or even give a bride away on her wedding day.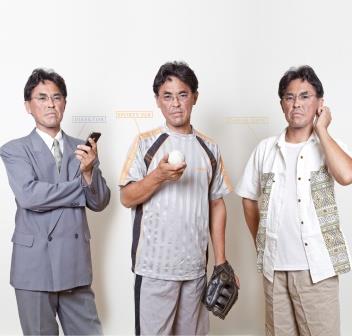 The many faces of 44-year-old Ryuchi
Having built his company with nothing more than a web page, email, his cell phone, and a flexible wardrobe, when he's not sleeping or making the actor's equivalent of "house calls," Ryuchi dreams of vacationing in Hawaii. But with his income declining (he lost one job delivering packages as a result of 2011's Tohoku earthquake and tsunami), the 44-year-old man has more than enough problems of his own to cope with.
Ryuchi and his wife are stuck in a loveless relationship with lots of bills to pay.
Because his youngest teenage son still wants to sleep with his mother, Ryuchi's wife has kicked him out of her bed.
The combination of Ryuchi's odd working hours, frequent bouts of depression (he often thinks about commiting suicide), and poor communication skills has made him a less than ideal husband or father.
Because Japanese culture frowns upon drawing attention to one's personal or professional problems, Ryuchi feels as if he is stuck living a lie. To his clients, he's the perfect husband, father, or boss who can help them solve their problems. To his sons, he's an emotionally distant doofus.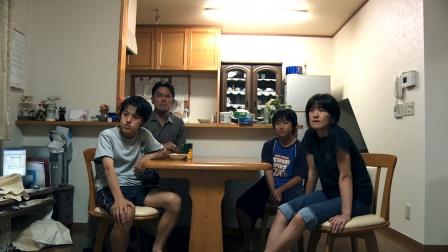 Ryuchi at home with his wife and two sons
Schröder's documentary about one of Japan's growing "service industries" benefits immensely from Jonas Coltrup's magnificent musical score, which is dominated by the sound of a mournful cello. While, to his clients, Ryuchi may be a hero for hire, the depression that awaits him when he returns to his family proves, once again, that "there's no place like home." Here's the trailer:
* * * * * * * * * *
In 2009, the Center for Asian American Media screened Jennifer Phang's mind-bending debut film. Half-Life (which had premiered during "New Frontiers" section of the 2008 Sundance Film Festival) made a pretty strong impression on me. As I wrote at the time:
"As a writer and director, Phang has woven a magnificent tale of deceit, dysfunction and discovery that enhances a narrative filled with angst and awe and channels its moments of escape into sublime fantasy. There is a hypnotic quality to watching the personal tensions build in Phang's film that makes you feel as if you are watching a cataclysmic accident about to happen (without the power to stop it). If you took the bitterness of suburban alienation showcased by Alan Ball in American Beauty, mixed it with the unworldly chills of Rod Serling's legendary TV series Twilight Zone, threw in some defiant teenage rebelliousness from Queer As Folk, seasoned it all with hoisin sauce, garnished it with some stunning animation sequences, and then topped it all off with an ending that could rival Contact or 2001: A Space Odyssey, you'd get a hint of Half-Life's dramatic power. Rather than reveal the ending, I'll just stress that this isn't merely a well-written, well-made Indie film. Half-Life is a fucking phenomenal movie."
Earlier this year, I ran into Phang (who is currently participating in the San Francisco Film Society's Filmhouse Residency Program) in the press room for the San Francisco International Film Festival, where she told me about a short film she had made for Future States. In the following clip, Phang describes what inspired her to make Advantageous.
Science fiction fans can find plenty of good material on the Future States website (which is currently premiering its fourth season of short films). In the meantime, here's the complete version of Phang's Advantageous from Season 3.
To read more of George Heymont go to My Cultural Landscape