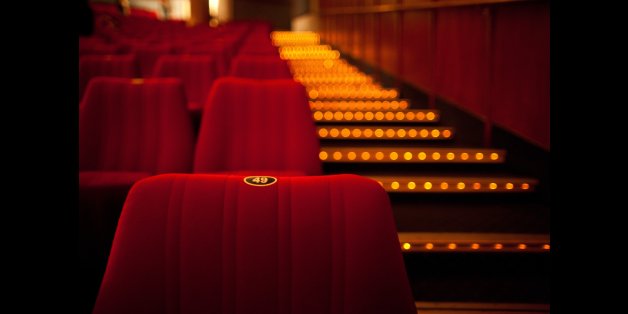 For me, watching a film or a live theatrical performance is a bit like making love. I'm often in the dark, unsure of the next move. Whether or not my hopes and expectations will match reality remains to be seen.
One old saying warns that "You have to kiss a lot of frogs to find a Prince." Another cautions to "Just sit back and enjoy it."
Famous words of advice.
But what if the action is keeping you on the edge of your seat? What if your foot is tapping in rhythm to the music? What if the performances you're witnessing on stage and screen are more satisfying than usual?
When you find yourself in the care of a skilled creative team that knows what it's doing, it's like the magical moment when you discover that you've locked lips with someone who knows the fine art of kissing. Years of experience and practice have brought about a refinement of craft which can make the moment seem intoxicating, yet precise. Knowing, yet spontaneous. Deliciously orchestrated.
Such moments build trust. Perhaps even love. On the rare nights when they occur in a theatre, it's possible to cherish the idea that you're in the presence of a class act. Or, at the very least, someone who knows what he's doing.
* * * * * * * * * *
Sometime in my mid teens, my family went to see a performance of Carnival! Many years later, my mother told me that at the end of the show I couldn't stop crying. There were many moments when I teared up watching 42nd Street Moon's production of Carnival! this Spring. And with good reason.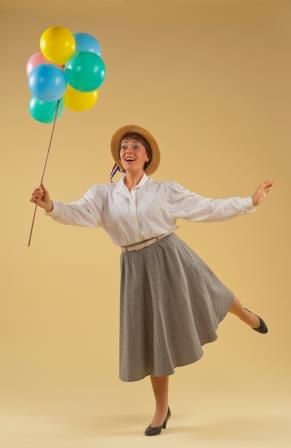 Ashley Jarrett as Lili (Photo by: David Allen)
Based on the 1953 film Lili (which starred Leslie Caron, Jean-Pierre Aumont, Zsa Zsa Gabor, and Mel Ferrer), the artistic roots of Carnival! can be traced back to the popular Kukla, Fran and Ollie Show on television. There was never any doubt that the interaction with puppets had universal appeal to children of all ages.
When Carnival! opened at the Imperial Theatre it starred Anna Maria Alberghetti as Lili, James Mitchell as Marco the Magnificent, Kaye Ballard as Rosalie and, fresh from his triumph in The Fantasticks, 26-year-old Jerry Orbach making his Broadway debut as Paul, the bitter puppeteer whose dancing career had been ended by a war injury.
Directed and choreographed by Gower Champion, the show was notable for its opening. As the audience entered the theatre, the curtain was up, revealing a bare stage. When the show started, the actors in B.F. Schlegel's rundown circus troupe entered down the theatre's aisles, set up the rigging for a circus tent and pulled circus wagons from the wings during the opening number ("Direct From Vienna"). The magic never stopped.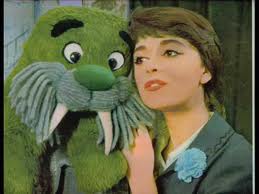 Lili (Anna Maria Alberghetti) with Horrible Henry in Carnival!
Produced by David Merrick, Carnival! was a great hit, which spawned a national tour starring Susan Watson. In 1964, 18-year-old Liza Minnelli starred as Lili in a Paper Mill Playhouse production. In 2002, 19-year-old Anne Hathaway starred in the City Center Encores! production (click here to watch her sing "Yes, My Heart!").
By the 1980s, however, Carnival! had pretty much vanished from the American stage. Some attributed its disappearance to the show's overt sentimentality, others to the influence of Stephen Sondheim and Andrew Lloyd Webber. Others claimed that the show was "too dark" (a laughable idea when one notices that Carnival! followed Gypsy: A Musical Fable into the Imperial Theatre and, after it transferred to the Winter Garden, was replaced by a series of musicals with much darker plots: Oliver!, Fiddler on the Roof, Cabaret, and Zorba).
What is it like to revisit a beloved musical 50 years after first seeing it? In the case of Carnival! it was pretty much love at second sight. I was, however, acutely aware of how much more of the subplots I understood as an adult than I could possibly have grasped as a naive teenager.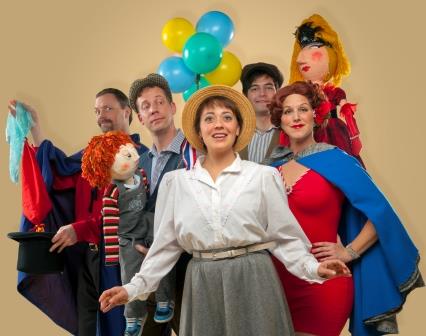 Ashley Jarrett with 42nd Street Moon's cast of Carnival!
Photo by: David Allen
As 42nd Street Moon's productions have become more sophisticated, the company has put a greater emphasis on sets (Hector Zavala), costumes (Moises Mora), and choreography (Jayne Zaban). But the essence of Carnival! is so forthright that it's almost impossible to resist its charms.
As directed by Greg MacKellan (with Dave Dobrusky accompanying on piano), the show has lost none of its appeal (I'll freely admit to getting teary-eyed at numerous moments during the performance). Bill Olson was vain and oily as Marco the Magnificent while Dyan McBride proved to be a comic delight as his lover/partner, Rosalie. Michael Doppe (Jacquot), Stephen Vaught (Schlegel), Rudy Guerrero (Dr. Glass), and Nathaniel Rothrock (Grobert) all made nice character contributions in supporting roles.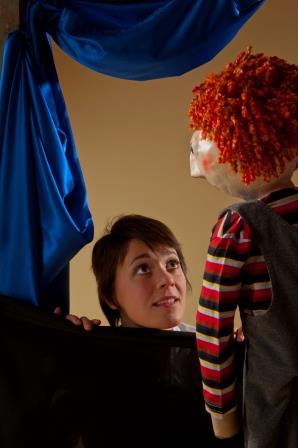 Lili (Ashley Jarrett) with Carrot Top (Photo by David Allen)
But the heart of Carnival! lies with the innocent young Lili, the puppets she falls in love with (Carrot Top, Marguerite, Horrible Henry the Walrus, Reynardo the Fox) and, of course, the bitter puppeteer, Paul Berthalet. As Lili, Ashley Jarrett delivered a solid soprano with a childlike approach to a magician's fake flare and a willingness to suspend disbelief when conversing with her puppet friends. As Paul, Ryan Drummond delivered another one of his forcefully sung, deeply masculine characterizations.
Bob Merrill's music and lyrics hold up beautifully after five decades (in fact, better than many other shows which have been revived by 42nd Street Moon). Michael Stewart's book has moments of surprising humor and is more tightly constructed than most musicals. Philip Howard's thrilling orchestrations were sorely missed.
Following her triumph at this year's Academy Awards for her performance as Fantine in the film adaptation of Les Misérables, Anne Hathaway is purported to have said that she would love to do more film musicals. Carnival! represents an important piece of Broadway history and is ripe for filming (a previous project fell through).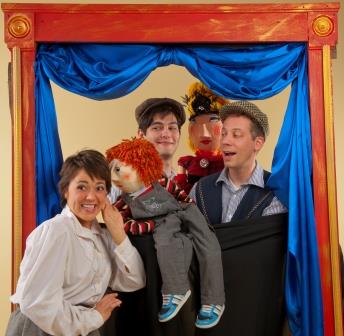 Lili (Ashley Jarrett), Carrot Top, Jacquot (Michael Doppe),
Marguerite, and Paul (Ryan Drummond) in Carnival!
(Photo by: David Allen)
* * * * * * * * * *
A class act from start to finish, The Company You Keep might disappoint viewers who want an action film with lots of car chases and explosions. This is a thinking man's film (like 1992's Sneakers) in which characters must use their brains rather than their brawn.
The result is a tense cat-and-mouse game with veteran actors whose internal acting skills are hard to match. Whether you watch Robert Redford's heavily wrinkled face trying to cover a wealth of secrets or Susan Sarandon's moist eyes as they carry her through a magnificent jailhouse confrontation with investigative reporter Ben Shepard (Shia LeBeouf), this is very much an actor's film.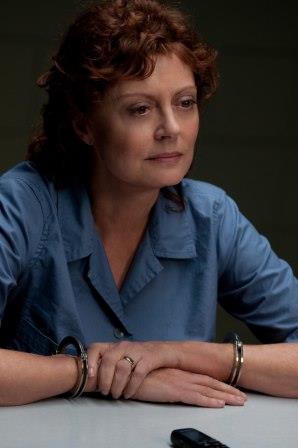 Susan Sarandon as Sharon Solarz
When your name is Robert Redford it's easy to attract some of the world's top talent to your projects. Consider the fact that The Company You Keep includes Chris Cooper, Julie Christie, Terrence Howard, Richard Jenkins, Nick Nolte, Sam Elliott and Stanley Tucci in its roster of secondary characters and there's no escaping this film's quotient of top talent. What makes Redford's film so delicious is that all of these actors deliver in spades (with equally impressive performances coming from Jackie Evancho, Brendan Gleeson, Stephen Root, Anna Kendrick, and Brit Marling in smaller roles).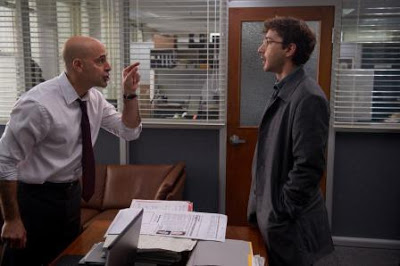 Editor Ray Fuller (Stanley Tucci) argues with reporter
Ben Shepard (Shia LeBeoef) in The Company You Keep
The basic premise of the plot is simple: More than three decades after a bank robbery by members of the Weather Underground in which a bank employee was killed, Sharon Solarz (Susan Sarandon) decides to surrender to the authorities. An eager beaver reporter named Ben Shepard (Shia LeBeouf) working for a financially troubled newspaper in Albany, New York picks up the scent of a neglected story and tries to interview Jim Grant (Robert Redford), a small-time local lawyer with surprising ties to the case.
What follows is one of those "peel-the-onion" stories as Shepard's ambition grabs hold of the story and his tenacity keeps him one step ahead of the FBI while following Grant (who is now on the run). Grant (who was once an active member of the Weather Underground) knows that the only person who can clear his name is his former colleague and lover, Mimi Lurie (Julie Christie). But old ideals and ideologies die-hard.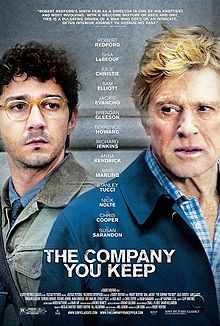 Poster art for The Company You Keep
The Company You Keep is that rare film about ethics, integrity, accountability, regret, and the difficult decisions one makes in life. Its core audience is definitely not 15-year-old boys who get hard at the sight of an exploding gun. However, their parents and grandparents will probably find The Company You Keep a thrilling and relevant exercise in exploring the personal repercussions of political dissent.
I have no doubt that older audiences will be far more appreciative of the acting and the film's excellent musical score by Cliff Martinez. Here's the trailer:
To read more of George Heymont go to My Cultural Landscape