The timidity which leads many film executives to shy away from bankrolling controversial films has led directors such as Steve Soderbergh to cut back on future projects. During a Q&A session at the 2013 San Francisco International Film Festival following a screening of his most recent film, Museum Hours, Jem Cohen explained that the reason some of his films don't have wider distribution is that he hates attending meetings and, without certain types of meetings, distribution deals cannot be achieved.
Even a film like Behind The Candelabra, with two major Hollywood actors (Michael Douglas and Matt Damon) in the lead roles, could not land a deal with film executives who would gladly bankroll a sequel to The Hangover. Which company rose to the challenge? HBO.
Those who attend film festivals have grown accustomed to seeing HBO's logo attached to documentaries the company has helped fund as part of its HBO Documentary Films program. What many forget is that HBO represents one of the largest possible distribution channels available to documentary filmmakers. Some of the films it has screened (and also sells in its web store) include the following:
1987: Dear America: Letters Home From Vietnam.
1995: The Kings of the Ring, The Autopsy Files.
2000: Hate.com: Extremists On The Internet.
2004: Spike Lee 's acclaimed When The Levees Broke: A Requiem in Four Acts.
2006: Baghdad ER, Addiction.
2007: White Light, Black Rain: The Destruction of Hiroshima and Nagasaki.
2008: Heidi Fleiss: The Would-Be Madam.
2009: Schmatta: Rags to Riches to Rags, The Nine Lives of Marion Barry, The Trials of Ted Haggard.
2012: Ethel.
So far this year, HBO has screened two films of social significance which deserve the public's attention. One will, of course, be an easier sell to audiences because of its high quotient of celebrity content. The other begs to tell a far more riveting story.
* * * * * * * * * *
As someone who has been "out and proud" for more than four decades, I was eager to see the new HBO documentary, The Out List, when it appeared in the program for the Frameline 37 Film Festival. HBO's timing was perfect -- the film would be released in time for Gay Pride Month and close to the United States Supreme Court's decisions in the Proposition 8 case and Edie Windsor's lawsuit against the United States Government.
While the hour-long documentary features many celebrities from the entertainment world (Neil Patrick Harris, Wanda Sykes, Dustin Lance Black, Ellen DeGeneres, Suze Orman, Jake Shears, and Cynthia Nixon), it also showcases some LGBT people who may not be known to the public at large. Among these are:
Larry Kramer, the co-founder of New York's Gay Men's Health Crisis and ACT UP. The man who wrote The Normal Heart and Faggots, Kramer has received two Obie Awards and an Academy Award nomination (for his screenplay for Women In Love) as well as being a Pulitzer Prize finalist for his 1992 play, The Destiny of Me.
Janet Mock is a writer, transgender rights advocate, and former staff editor of People Magazine's website who creates transgender-specific programs and educational materials for New York's Hetrick-Martin Institute.
Wade Davis, the former professional football player and NFL Europe champion who now serves as Assistant Director of Job Readiness at the Hetrick-Martin Institute.
Twiggy Pucci Garcon, ballroom performer and founder of the Kiki Scene's House of Pucci who is also a community health specialist at Harlem's oldest minority-run HIV and AIDS nonprofit: FACES NY.
Christine Quinn, the first female and first openly gay Speaker of the New York City Council, who campaigned to become Mayor of New York City.
Lupe Valdez, the first female, Latina, and lesbian sheriff of Dallas County, Texas who (prior to her 30-year career in law enforcement) was a captain in the United States Army.
Wazina Zondon, a Muslim-identified Afghan woman who teaches sex education and lectures about the intersection of homophobia and Islamophobia.
Lady Bunny, the DJ and infamous drag queen who founded Wigstock and serves as the Dean of Drag on television's RuPaul's Drag U.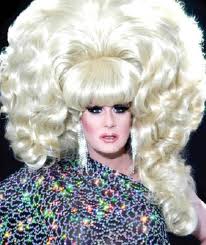 Lady Bunny
Back when he was a member of the San Francisco Board of Supervisors, Harvey Milk frequently urged LGBT people to "Come out! Come out -- wherever you are!" In the following clip, photographer Timothy Greenfield-Sanders explains why, some 35 years after Milk's assassination in his office in San Francisco City Hall, it wasn't quite as easy as one might expect to find an appropriately diverse spread of subjects for this documentary.
For many gay people who were already adults during the turbulent 1960s, it was hard to envision being able to effect the kind of long-range change envisioned by gay rights pioneers like Frank Kameny, Arthur Bell, and other early LGBT protesters. Obtaining our own rights was such an immediate goal that not too many people were focused on future generations of LGBT people.
While it might seem easy for some in today's LGBT community to watch The Out List and feel reassured that they are achieving the kind of acceptance that accompanies celebrity, all it takes is a jaw-droppingly stupid comment from someone like Reverend Paul Scalia (a Roman Catholic priest who, like Marcus Bachmann, has favored reparative therapy for gays) to realize that sexual ignorance is the Whac-A-Mole of certain organized religions. In a 2012 article written for Humanum, the son of the notoriously homophobic Associate Justice of the Superior Court, Antonin Scalia, wrote:
"In short, we should not predicate 'homosexual' of any person. That does a disservice to the dignity of the human person by collapsing personhood into sexual inclinations. Indeed, the Church is still trying to find the right vocabulary to speak about this modern phenomenon ... Either our sexuality is oriented in a certain direction (i.e. toward the one-flesh union of marriage), or it is not. We cannot speak of more than one sexual 'orientation' any more than we can think of the sun rising in more than one place (i.e. the Orient)."
Anyone who doubts the need for proud LGBT people to send messages of encouragement to the generation of queer youth coming up behind them (like the It Gets Better Project launched by Dan Savage and Terry Miller) would be well advised to watch The Out List. Here's the trailer:
* * * * * * * * * *
Not every hero was born as a comic book action figure. First responders like firefighters, lifeguards, and paramedics are trained to spring into action on a moment's notice. Teachers and school administrators will instinctively try to shield their students from a terrorist's gunfire.
Some heroes became known for their military exploits (Achilles, Odysseus, Joan of Arc, Napoleon, George S. Patton)
Others step forward to save others in a crisis situation (Arthur Henry Rostron, Oskar Schindler, Oliver Sipple).
Some earn their heroism as they fight for civil rights (Rosa Parks, Reverend Martin Luther King, Jr., Harriet Tubman, Nelson Mandela).
Others (Steve Jobs, John Lennon, Albert Einstein, Elvis Presley, Eleanor Roosevelt) became cultural heroes.
President Obama's speechwriters frequently invoke the phrase "Because it's the right thing to do" when attempting to mobilize people toward a common cause. But some tasks, regardless of their urgency, require a person with such rare vision that few people can rise to the challenge.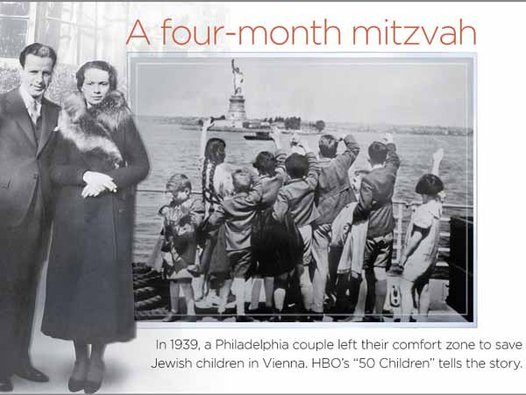 Poster art for 50 Children: The Rescue Mission of Mr. & Mrs. Kraus
In April, HBO debuted a stunning new documentary entitled 50 Children: The Rescue Mission of Mr. & Mrs. Kraus which was screened at the 2013 San Francisco Jewish Film Festival. It tells the remarkable story of Philadelphia's Gilbert Kraus, a politically-connected American Jew who sensed the danger facing European Jews and sought to do whatever he could to help.
Many people have forgotten that, by 1939, few countries would grant asylum to German Jews (FDR had blocked a bill that would have given Jewish children safe passage to the United States). An attorney with a keen legal mind, Kraus discovered a diplomatic loophole which might allow him to obtain visas for 50 Austrian children who could accompany him and his wife, Eleanor, back to the United States. If you love tales of suspense that are filled with heartbreaking human interest stories, Alan Alda's narration of Kraus's pre-war gamble will have you sitting on the edge of your seat.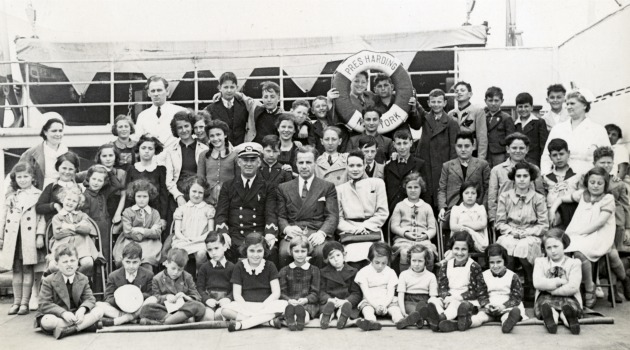 Gilbert and Eleanor Kraus with the Captain of the SS President Harding
and the 50 Jewish children they rescued from the Holocaust
Director Steven Pressman has done a beautiful job of merging archival footage with home movies to create a sense of what life was like in Vienna and Berlin prior to the Anschluss. The fact that Kraus and his wife succeeded against incredible odds is reason enough to watch Pressman's gripping film. There's no question that 50 Children: The Rescue Mission of Mr. & Mrs. Kraus will leave you shaken and stirred. Here's the trailer:
To read more of George Heymont go to My Cultural Landscape