There was a time (not so very long ago) when ambitious women were looked upon with suspicion and dread by the male establishment. From Harriet Tubman to Shirley Chisholm, from Emma Goldman to Bella Abzug, from Carrie Nation to Elizabeth Warren, women who refused to conform to the accepted gender roles of being submissive and keeping quiet posed a keen threat to the powers that be (those who had always assumed that opportunities -- and the financial rewards that accompany them -- should automatically be given to men).
Thankfully, there are certain jobs that men can't do, won't do, or consider beneath their dignity. A growing sea of opportunity for women with enough ambition to pursue their dreams means that, in today's world, more women than men are graduating from medical school, becoming family breadwinners, and refusing to accept obstacles that have been placed in their path for no reason other than ingrained sexism.
Money, however, remains a key factor in making progress. Women are still fighting to achieve equal pay for equal work. While money can buy many things, it can't always guarantee a person a sense of self-fulfillment. That still has to come from within.
* * * * * * * * * *
As part of their commitment to producing a season of works by female playwrights, the Shotgun Players recently unveiled a new production of Caryl Churchill's 1982 dramedy entitled Top Girls. The action takes place during the era of Margaret Thatcher's ascent to power in the United Kingdom.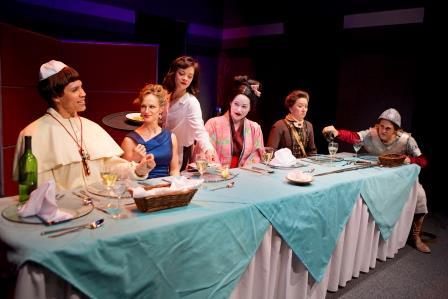 Marlene (Kendra Lee Oberhauser) hosts a victory dinner
with some of her idols in Top Girls (Photo by: Pak Han)
The first act finds Marlene (Kendra Lee Oberhauser) hosting a fantasy dinner to celebrate her success in achieving a new promotion at work. Among the famous women she has chosen to dine with are Pope Joan (Leontyne Mbele-Mbong), Lady Nijo (Karen Offereins), and Isabella Bird (Danielle Cain) as well as historical stereotypes such as Patient Griselda (Jessma Evans) and Dull Gret (Rosie Hallett).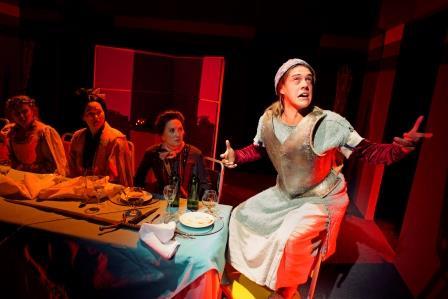 Rosie Hallett appears as Dull Gret in Act I of Top Girls
(Photo by: Pak Han)
Act II brings Marlene back to the reality of her daily grind at the employment agency where she is determined to grab the top job for herself (rather than let her male colleague, Howard Kidd, assume the position by default). Meanwhile, Marlene's sullen, angry teenaged niece, Angie (Rosie Hallett), who has expressed a fervent desire to kill her mother (Jessma Evans), has traveled to London to surprise her aunt Marlene at work.
Like many teenagers, Angie doesn't have a clear vision of what she might do in the future. But she's deeply impressed with the way Marlene manipulates people and can imagine herself working in the same office (despite her obvious lack of any social or marketable skills).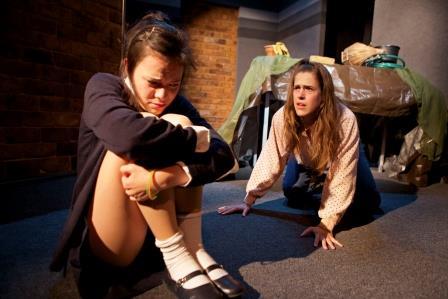 Kit (Aily Roper) and Angie (Rosie Hallett) are two unhappy
teenagers in Caryl Churchill's Top Girls (Photo by: Pak Han)
In Act III, Marlene pays a visit to her older sister (who opted to stay at home rather than pursue adventure, personal freedom, and a career). The sibling rivalry between the two sisters makes it clear that Angie is really Marlene's illegitimate daughter and that, following her inconvenient birth, Jeanine offered to take care of the child in order to allow her younger sister to pursue her goals. As a result, Jeanine has a much clearer picture of Angie's limited options.
As directed by Delia MacDougall on Erik Flatmo's handsome unit set, Top Girls can be an extremely frustrating experience because Churchill frequently insists that two or more characters talk and/or shout over each other's voices. This unfortunate dramatic device (akin to the way pundits on cable news treat each other) tends to make my eyes glaze over and weakens the dramatic impact of Churchill's writing.
Nevertheless, I was impressed by the performances of Leontyne Mbele-Mbong, Rosie Hallett, Jessma Evans, and Karen Offereins. Aily Roper and Danielle Cain scored strongly in supporting roles. The evening, however, was a triumph for Kendra Lee Oberhauser, whose searing portrayal of Marlene vacillated between ambition, bitterness, regret, and a feeling of emptiness after having clawed her way to "the top."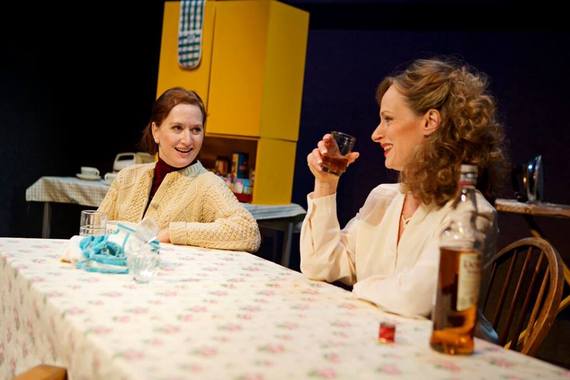 Jeanine (Jessma Evans) and Marlene (Kendra Lee Oberhauser) are
two sisters in Caryl Churchill's Top Girls (Photo by: Pak Han)
* * * * * * * * * *
While many women have dominated certain professions (teaching, nursing, medical transcription), some have found surprising success and career longevity as character actresses. From Maureen Stapleton, Ruth Gordon, and Mary Wickes to Thelma Ritter, Jessica Tandy, and Hermione Gingold, many a character actress has enjoyed a long and successful artistic life portraying memorable women on stage and screen.
A quick look at veteran character actresses who are still working includes Judi Dench (80), Maggie Smith (80), Rita Moreno (83), Estelle Parsons (87), Angela Lansbury (89), Cicely Tyson (90), and 93-year-old Betty White.
At 83 years of age, a veteran actress who is hardly a household name is having one helluva year. The author of My First Hundred Years in Show Business: A Memoir, Mary Louise Wilson has not only stolen the show every night during the Roundabout Theatre Company's revival of 1978's hit musical, On The Twentieth Century (starring Kristin Chenowith and Peter Gallagher), she is also the subject of a fascinating new documentary entitled She's The Best Thing In It.
My first exposure to Mary Louise Wilson was in 1965, when she appeared opposite Bob Dishy and Liza Minnelli in the original Broadway production of Flora The Red Menace. Since then, she has appeared on Broadway in such musicals as 1968's Promises, Promises, 1974's revival of Gypsy, and 1998's revival of Cabaret before winning a Tony Award for her performance in 2007's Grey Gardens.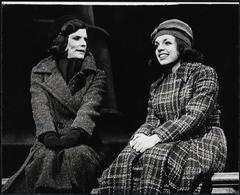 Mary Louise Wilson and Liza Minnelli in a
scene from 1965's Flora The Red Menace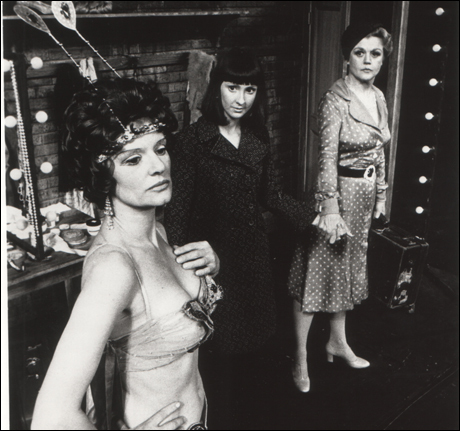 Mary Louise Wilson, Zan Charisse, and Angela Lansbury
in a scene from the 1974 revival of Gypsy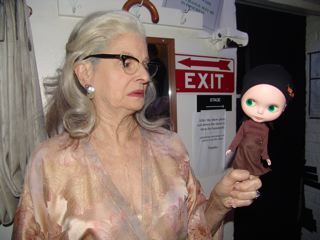 Backstage with Mary Louise Wilson (in costume as
"Big Edie") during the Broadway run of Grey Gardens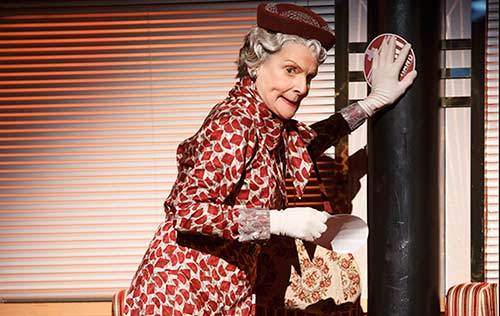 Mary Louise Wilson as Letitia Peabody Primrose (a
religious nutjob) in a scene from On the 20th Century
Directed by Ron Nyswaner, the film includes interviews with Tyne Daly, Charlotte Rae, Frances McDormand, Melissa Leo, and Valerie Harper, who discuss the challenges of maintaining a career as well as the rewards of doing character work. The primary focus of the film is Mary Louise Wilson's trip to Tulane University in her home town of New Orleans for her first attempt at teaching (at the age of 78).
As she tentatively feels her way through getting her students to stop "acting" and, instead, learning how to be honest and empathic in their approach to acting, Wilson demonstrates a great deal of patience combined with the wonder at having a completely new experience so late in her life.
As she describes her family history (including a gay brother who was an alcoholic), the camera follows her from the high school she attended to a local cemetery where, as the last living member of her family, she has already laid a stone to mark her grave. The epitaph she has chosen (a character actress's joke) reads "She's The Best Thing In It."
While Mary Louise Wilson has never become a household name, she has had a long and fruitful career as an actress. How ironic it is to learn that, after winning a Tony Award, she "couldn't get arrested" because producers didn't want to have to pay more money for a character actress! Here's the trailer:
To read more of George Heymont go to My Cultural Landscape