One of the blessings of having an unfettered imagination is a willingness to take greater risks than many other artists. When it was first announced that the creators of South Park (Trey Parker and Matt Stone) would be teaming up with the songwriter responsible for Avenue Q (Robert Lopez) to create a new Broadway musical about faith and religion, some people were dubious about what the outcome might be. Perhaps they forgot that, in 1997, Parker had a leading role in Orgazmo as a young Mormon missionary in Los Angeles who got talked into starring in a pornographic film.
Since its debut in 1997, South Park has developed a lean, mean way of telling a story within a limited time frame. 1999's feature film, South Park: Bigger, Longer, and Uncut, included a song written by Parker and Marc Shaiman ("Blame Canada") that was nominated for the Academy Award for Best Original Song.
Parker and Stone have also written plenty of snarky songs for their animated television series, ranging from a wistful solo for Satan ("Up There") to Chef singing about his "Chocolate Salty Balls" (their send-up of R. Kelly's "Trapped in the Closet" was featured in an episode that mocked Scientology and Tom Cruise). Among their classics are "What Would Brian Boitano Do?" and "Kyle's Mom Is A Big Fat Bitch."
The happy result of nearly 20 years of cartoon work was The Book of Mormon, which opened at the Eugene O'Neill Theatre on March 24, 2011 to orgasmic reviews. Within three months. the show took home nine of the 14 Tony Awards for which it had been nominated and earned five Drama Desk Awards. Not only did The Book of Mormon become the hottest ticket on Broadway, the original cast album received the 2012 Grammy award for Best Musical Theatre Album.
The first national tour of The Book of Mormon, which roared into San Francisco's Curran Theatre last week, was greeted with open arms by the zealous kind of audience every musical comedy performer hopes to meet. Most of Parker and Stone's jokes soared across the footlights with the graceful ease of a high fly ball. But what amazed me was the show's pacing.
After their experience working on South Park and Avenue Q, the show's creative team (aided by choreographer Casey Nicholaw, who co-directed the show with Parker) has kept things moving at an absolutely furious pace. The mostly male ensemble may be some of the hardest working singer/actor/dancer/missionaries you'll ever see on a stage. Not only are many of their costume changes rapid-fire and hilarious, the sight gags retain a goofy kind of optimism mixed with South Park's usual scatological humor (one Ugandan is constantly talking about the maggots in his scrotum; another believes that having sex with an infant will cure him of AIDS).
Fresh from their cocooned life in Salt Lake City, Elder Price (Gavin Creel) and Elder Cunningham (Jared Gertner) arrive in Uganda hoping to convert the natives to Mormonism. It's an odd buddy act: Cunningham has never actually the read The Book of Mormon, is a rabid fan of Star Trek and The Lord of the Rings and a pathological liar.
Elder Price, on the other hand, is the epitome of a very Modern Mormon. Having missed out on his dream (to be assigned to mission work in Orlando), he remains handsome, pure, pompous and can be a selfish bastard if he doesn't get his way.
When The Book of Mormon first opened on Broadway, there were frissons of anxiety about whether the show would be seen as an attack on Mormonism (it most definitely is not). Real life, however, has a curious way of catching up with theatrical events. In recent months:
Mormons (who, in 2008, were overtly homophobic in their support of California's Proposition 8) watched in wonder this year as voters in Maine, Maryland, and Washington supported same-sex marriage while Minnesotans defeated an amendment to their state constitution which would have banned gay marriage.
Religious conservatives who have, in recent years, worked hard to criminalize homosexuality in Uganda have felt the tide turning against them in the United States.
Mitt Romney's run for the Presidency crashed and burned, in large part because of his campaign staff's gullibility and basic incompetence.
As a result, musical numbers like "Turn It Off" (about suppressing undesirable thoughts) or "You and Me (But Mostly Me)" take on a new relevance. Perhaps nothing helps to explain the folly of Romney's candidacy (Ann Romney once proudly boasted that "It's our turn!") than the following song:
Whether applauding Grey Henson (as the screamingly funny and closeted Elder McKinley), Samantha Marie Ware (as the sexy Nabalungi who agrees to let Elder Cunningham baptize her), or Kevin Mambo (as the evil warlord, Mafala Hatimbi), one couldn't hope for a more focused set of supporting players. And yet, as I watched the teamwork between Gavin Creel and Jared Gertner I found myself drawing an interesting comparison between The Producers (which opened on Broadway on April 9, 2001) and The Book of Mormon, which premiered almost exactly ten years later.
Both shows became the hottest tickets in town.
The producers of both shows embraced a flexible pricing plan which sent prime orchestra seats soaring into the 400 range.
Both shows raked in numerous Tony Awards.
Both shows have become gigantic economic engines.
So what's the big difference?
While The Producers drew on a fan base for the 1968 film starring Zero Mostel and Gene Wilder (which has become a cult classic over the past four decades), The Book of Mormon draws on a much larger audience who are fans of South Park, Avenue Q, and have strong feelings for and/or against Mormonism.
Much of the sizzle that sold tickets to The Producers on Broadway relied on the chemistry between its two stars, Nathan Lane and Matthew Broderick. Soon after they left the show, box office receipts began to drop (the original Broadway production folded after 2,502 performances). Subsequent productions have not always hit the same mark with audiences, leading some (including myself) to question how strong The Producers really is as a vehicle. A 2005 filmed version of the stage musical starring Lane and Broderick proved to be a financial disappointment.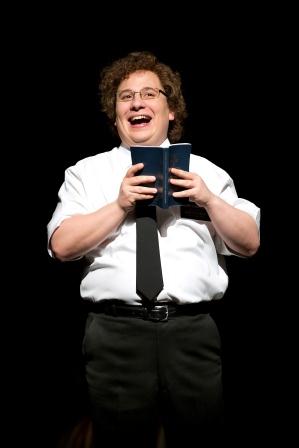 Jared Gertner as Elder Cunningham in The Book of Mormon (Photo by: Joan Marcus)
My own suspicion is that, in the long run, The Book of Mormon will be the more sustainable theatrical property.
For one thing, the casting of its two leads does not depend on expensive star talent (if anything, future productions of The Book of Mormon will help to create new stars).
This is not a show that requires a massive budget for costumes.
Mocking Mormonism will never go out of style.
To read more of George Heymont go to My Cultural Landscape