Every body needs a buddy. That buddy may come in the form of a coroner who is totally dedicated to his work or a mortician who loves the smell of formaldehyde.
It might be a little girl in a Charles Addams cartoon who skips down a cemetery path thinking "Mummies and zombies and stiffs! Oh, my!" Or, in a film like Weekend at Bernie's, it might come in the form of some employees determined to make it look as if their wealthy boss is still alive. Just like Haley Joel Osment in 1999's The Sixth Sense, we all see dead people.
In Gilbert and Sullivan's 1887 comic opera, Ruddigore, the statues and paintings of the deceased baronets of Ruddigore come alive so that their ghosts can warn Sir Ruthven Murgatroyd (who had been living undercover in the nearby village under the name of Robin Oakapple) of the tortures he will suffer if he fails to live up to the curse that requires him to commit at least one crime a day.
* * * * * * * * * *
Spirits from the underworld often attempt to make contact with the living. From the ghosts of Hamlet's murdered father and Macbeth's fiendishly slain Banquo to Noel Coward's mischievous Elvira in Blithe Spirit, visits from the dead can cause more problems than expected. One of the entries at the 2012 San Francisco Fringe Festival (a curious piece of dance theatre entitled Stalking Christopher Walken) ran into this problem with shocking results.
Conceived by (and starring) Gabriel Grilli, Stalking Christopher Walken asked audiences to imagine what might be going on in Christopher Walken's mind during a troubled night's sleep. What started out in 2002 as a much simpler piece was expanded in light of recent revelations about the night Natalie Wood died.
The sad result was that a piece which began on a high note (as a team of backup dancers guided Walken through his early history) ended up tumbling into a dramatic sinkhole the likes of which I've never seen in half a century of theatregoing. Although Grilli does an amusing job of mimicking Walken's voice and mannerisms, his attempt to delve into the mystery of Natalie Wood's death (in song and dance) proved to be severely misguided. Natalie Wood is, apparently, no Edwin Drood.
I did, however, enjoy Alexander M. Lydon's comedic portrayal of Wood's husband, actor Robert "RJ" Wagner) and Jonathan Suguitan's antics in a variety of supporting roles. Katie Tandy appeared as Natalie Wood with Shay Wisniewski as Georgianne Walken and Gabrielle Batista as the captain of Wagner's yacht, the Splendour.
* * * * * * * * * *
With a 400-year-old art form like opera, it's often interesting to see what a composer's earliest works reveal. Established in 1980, the Rossini Opera Festival in Pesaro, Italy (the composer's birthplace) has done a spectacular job of breathing new life into many of Rossini's lesser-known operas. This year's offerings included Ciro in Babilonia (1812), Tancredi (1813), Il Signor Bruschino (1813), Matilde di Shabran (1821), and Il Viaggo a Reims (1825).
During his tenure as General Director of the San Diego Opera, Tito Capobianco presented the U.S. professional premiere of Giuseppe Verdi's first opera, Oberto (1839), the West Coast premieres of I Lombardi alla prima crociata (1843) and Giovanna d'Arco (1845), and productions of such rarely performed works as Un Giorno di Regno (1840), I Masnadieri (1847), and Il Corsaro (1848).
Today, companies such as San Francisco's 42nd Street Moon and the New York City Center's popular Encores! Great American Musicals in Concert series often look at early or neglected works by such famous Broadway songwriting teams as Rodgers & Hart, Rodgers & Hammerstein, Howard Dietz & Arthur Schwartz, Lerner & Loewe, Jerry Bock & Sheldon Harnick, Tom Jones & Harvey Schmidt, and Kander & Ebb.
Over the past 25 years, the team of Lynn Ahrens and Stephen Flaherty have been quite prolific. While primarily known for Once on This Island (1990), Ragtime (1998), and Seussical (2000), they've also written songs for My Favorite Year (1992), A Man of No Importance (2002), Dessa Rose, (2005), and The Glorious Ones (2007). Upcoming works include a musicalization of Rocky (scheduled to premiere this fall in Hamburg, Germany) and Little Dancer, based on a story about a young ballerina and the famous painter, Edgar Degas.
Up in Walnut Creek, Center Rep recently staged the team's first work, Lucky Stiff, which had its world premiere at Playwrights Horizons in 1988. Based on Mike Butterworth's 1983 novel, The Man Who Broke The Bank at Monte Carlo, Lucky Stiff is designed to be a musical farce, complete with slamming doors, mistaken identities, and romantic missteps.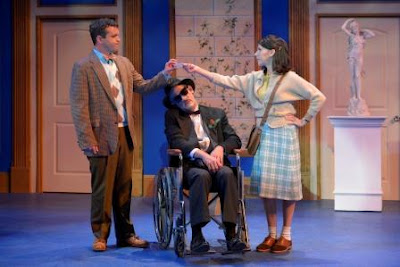 Keith Pinto, Joel Roster, and Dani Marcus in Lucky Stiff
(Photo by: Kevin Berne)
Keith Pinto starred as Harry Witherspoon, the shy, nebbishy English shoestore clerk who receives word that his uncle has died in Atlantic City, leaving behind a $6 million fortune and a will that contains some very peculiar instructions for his only nephew. Apparently, Anthony Hendon (Joel Roster) wanted his corpse to be taken on an all-expenses paid trip to Monte Carlo for a week of gambling, partying, and living the high life.
Complicating matters for Harry is the stipulation that any failure to fulfill his uncle Tony's wishes will cause the entire estate to go to his uncle's favorite charity. Others eager to claim Tony's fortune are his ex-lover, legally blind Rita La Porta (who hates to wear her glasses and is convinced that she accidentally shot and killed Tony) and Annabel Glick (Dani Marcus), the lonely single woman representing the nearly bankrupt Universal Dog Home of Brooklyn.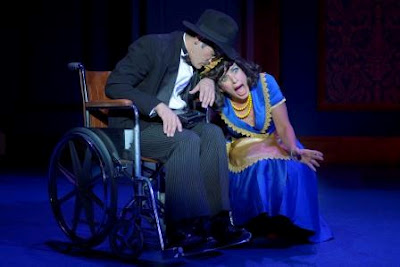 Joel Roster and Lynda DiVito in Lucky Stiff (Photo by: Kevin Berne)
Directed and choreographed by Robert Barry Fleming on a handsome unit set designed by Kelly Tighe, Center Rep's production of Lucky Stiff was a reasonably entertaining show. There was much to admire in Flaherty's score and Ahrens's lyrics, although some of the comic set-ups felt a bit strained.
Wearing delightfully outrageous costumes designed by Christine Crook, Lynda DiVito shone as Rita La Porta with strong support from Taylor Jones and nonstop mugging from the hilarious, loose-limbed Tielle Baker. Benjamin Pither appeared as Rita's optometrist brother, Vincent DiRuzzio, with Evan Boomer, Marcus Klinger, and Colin Thomson in supporting roles.
While Ahrens has written some very clever lyrics for songs like "Rita's Confession," "Phone Call," and "Dogs Versus You," my favorite number from the show is Annabel's plaintive "Times Like This," which Ahrens sings so very sweetly in the following video clip.
To read more of George Heymont go to My Cultural Landscape