Facebook's COO, Sheryl Sandberg, titled her book Lean In: Women, Work, and the Will to Lead. In her new memoir, A Fighting Chance, Elizabeth Warren recalls how, during her 2012 campaign for the United States Senate, she would frequently introduce herself to young girls by making eye contact as she said "I'm Elizabeth and I'm running for Senate because that's what girls do."
Much has been written about how the power networks in Washington, D.C. and Silicon Valley essentially operate like old-fashioned sausage factories, with much of the tech industry oozing near-toxic levels of a "bro" mentality. In her recent article entitled What Are Misogynist Geeks So Afraid Of? Amanda Marcotte (the author of It's a Jungle Out There: The Feminist Survival Guide to Politically Inhospitable Environments) writes:
"You see, as a big punk and indie rock fan, I witnessed something similar happen in the 1990s in that scene. Women who wanted to play instruments in rock bands got a lot of shit from dudes. A lot of men who otherwise thought of themselves as progressive and enlightened would immediately bunch up the second they saw a woman playing guitar. This woman could do something they couldn't do, or could do it better. The possibility that they weren't inherently better just by virtue of being male was raised. So they tried to shut it down, reassert themselves and their social superiority (usually through sexual harassment, which is the cheapest and easiest way for a man to assert his male privilege). It sucked. Women fought back. Sexist dudes heckled louder.

Eventually, however -- in no small part because the ugly attempts to assert male privilege started to evolve into bands like Limp Bizkit (showing exactly how much of an intellectual embarrassment misogyny really is), the women started winning. Nowadays, you go to clubs and women are up there playing. By and large, they are left alone. Occasionally some asshole will try to say something, but it's a lot better than it used to be, by a long shot. The number of women on stage in punk and indie clubs seems much higher to me than it did when I was in my late teens and early 20s."
Founded in July 2008, Bay Area Girls Rock Camp is the kind of summer program Marcotte might have loved to attend in her youth. The following documentary by Lily Yu, Judy Lee, and Jeremiah Mellor was recently screened during the 2014 San Francisco International Film Festival.
But what if you're a spoiled teenage girl who finds herself in the following predicament:
Because of your family's extreme wealth, you have no friends.
After staying out all night, every night, haunting the club scene and getting very little sleep, you're prone to frequent bouts of narcolepsy.
Having been indicted for running a lucrative Ponzi scheme, your father (a Bernard Madoff type) is headed off to jail.
Although your big dream in life is to be hired as a drummer in a rock band, you ain't got no talent.
The answer should be obvious: You end up as the protagonist in a new musical -- but not just any musical. A musical with all this intrigue and a telltale tattoo, too!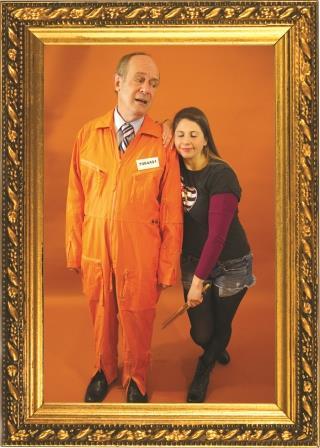 Poster art for Sleeping Cutie with Jesse Caldwell as
the Father and Marissa Joy Ganz as his daughter, Lucy
The creative team for Sleeping Cutie: A Fractured Fairy Tale Musical knows its theatre history well. Not only have they named the show's musical finale "Deus Ex Machina" (after a stage gimmick that was quite popular in ancient Greek theatre), they've obviously learned a lesson from the pre-Broadway tryout of 1962's hit musical, A Funny Thing Happened on the Way to the Forum.
When Forum was foundering during its Washington tryout, Jerome Robbins was brought in as a show doctor to help the creative team (Stephen Sondheim, Burt Shevelove, and Larry Gelbart). Most people were unaware of the backstage tensions caused by his presence. Jim Brochu describes what happened in his one-man show entitled Zero Hour.
As an experienced dancer, director and choreographer, Robbins quickly identified the problem: The opening number "(Love Is In The Air") wasn't working and needed to be replaced. The audience needed to be told what Forum was all about at the beginning of the evening in order for them to understand the inspiration for its particular style of low comedy.
The opening number that Robbins devised ("Comedy Tonight") became a Broadway classic. After Forum opened to rave reviews in New York, it received the 1963 Tony Award for Best Musical and ran for 964 performances,
Faced with so many fairy tales that have become cultural landmarks (not to mention popular adaptations of the Sleeping Beauty legend for ballet, animation, and updated versions of the story for film and stage), Diane Sampson (who wrote the book and lyrics for Sleeping Cutie) decided to set the tone from the beginning with an opening number entitled "What This Isn't."
With the tone of the piece firmly established, she was able to introduce a cast of characters familiar to modern audiences.
The Father (Jesse Caldwell) is a classic swindler who, faced with many years in jail, is having major regrets about the number of lives he has ruined. The person he is most concerned about, however, is his teenage daughter who seems alone and directionless.
Mary (Stephanie Prentice) is the archetypal housekeeper-guardian left behind to look over Lucy while her father is in prison.
Lucy (Marissa Joy Ganz) is a spoiled brat whose mother disappeared when Lucy was very young. As a result, she has never had to think of anyone's needs but her own.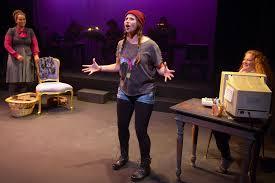 Marissa Joy Ganz is Lucy in Sleeping Cutie
(Photo by: Mellopix.com.)
Supporting characters that cross paths with the principals are handled by proteans Man #1 (John Patrick Moore) and Man #2 (Buzz Halsing), And then there are the two love interests:
Charlie (Luke Chapman) is the blind lead singer in a rock group which is auditioning female drummers for their band. He quickly falls for Lucy's questionable charms.
The Woman (Gwen Loeb) is a patient in a rehabilitation center for people with psychological problems who has been chatting online with Lucy's father and pushing for a chance to visit him in prison.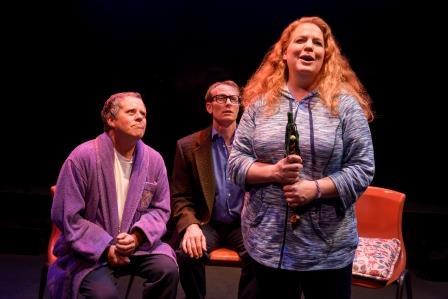 Gwen Loeb is a woman of mystery in Sleeping Cutie
(Photo by: Mellopix.com)
Co-produced by Playground and Off A Cliff Productions, Sleeping Cutie recently received its world premiere at San Francisco's Thick House. In her director's note, Cindy Goldfield writes:
"Directing a new musical is a funny thing. A lesson in trust, intuition, patience, and inspiration. My favorite part of the process (with the input of the playwright, composer, and the actors) is discovering the basic core themes which generally are present even in early drafts... the playwright's voice ringing out even when they may not be able to articulate it themselves. Forgiveness. Retribution. Acceptance. Renewal. Fate. Recovery. Compassion. The themes of this play are big and lush, sometimes humorous and sometimes scary. Not your usual fare for a traditional musical ... which this is not. In working on Cutie, what struck me were the internal struggles of the characters. The courage in reaching out for connection, trusting an intuition, finding strength in vulnerability. These universal human themes inspired me at every turn."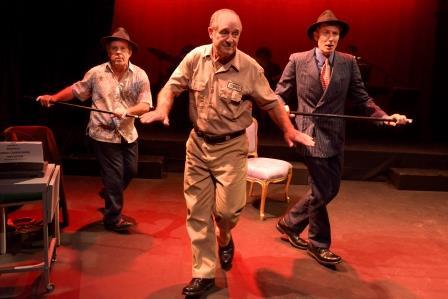 Buzz Halsing, Jesse Caldwell, and John Patrick Moore perform
"The Carlo Ponzi Shuffle" in Sleeping Cutie (Photo by: Mellopix.com)
Sleeping Cutie features a clever, well-crafted book by Diane Sampson, clearly-defined characters and some delightful plot twists. Why then, did I leave the theatre feeling strangely unfulfilled? Perhaps it was because I couldn't remember a single note (much less a complete song) from Doug Katsaros's highly functional but not particularly memorable score.
The problem may have more to do with its execution on opening night than its basic composition. While each of the actors had a distinct voice, there seemed to be an odd imbalance at crucial moments. Marissa Joy Ganz's Lucy tended toward shrillness while Gwen Loeb's sweet soprano allowed her songs ("How I See It" and "Then and Now") to resonate with more empathy. Unfortunately, John Patrick Moore's upper range was simply not up to the vocal demands of Katsaros's music.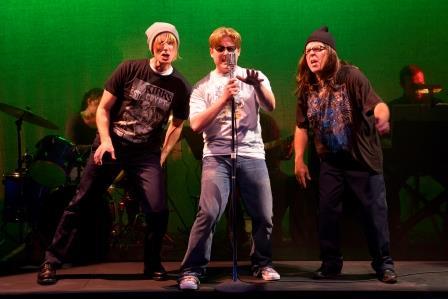 John Patrick Moore, Luke Chapman, and Buzz Halsing are part
of a rock band in Sleeping Cutie (Photo by: Mellopix,com)
Keeping in mind that this production was mounted on a shoestring budget, these are minor quibbles which can probably be fixed with more money and better musical preparation.