A recent theatrical brouhaha resulted from a critic's dismissive comment -- "Why bother?" -- with regard to a new work that failed to please his palate. Anyone who has spent sufficient time in the world of theatre knows that very few productions are born perfect. Some have flaws that get ironed out in readings, workshops, and previews. Others, though they may have been deemed critical failures, nevertheless often contain some very good moments of work that deserved to reach a wider audience.
NBC's cancellation of Smash had some people licking their chops with Glee while others wondered how the producers of a show that launched with so much fanfare could have made so many missteps. It's much easier to judge a show's failings from the comfort of an armchair than from the center of the storm.
Without meaning to sound like a Pollyanna, there is a type of storytelling which, by the very nature of its complexity, requires a certain amount of daring mixed with a suspension of disbelief in order to accommodate the use of magical realism. Whether such works arrive in the form of a short play, a major reworking of a classic, or an overblown musical, many productions deserve an honorable mention for the moments they get right as opposed to a blanket condemnation because of moments that were hideously misconceived or poorly executed.
* * * * * * * * * *
First published in 1916, Robert Frost's poem, The Road Not Taken, reads as follows:
"Two roads diverged in a yellow wood,
And sorry I could not travel both
And be one traveler, long I stood
And looked down one as far as I could
To where it bent in the undergrowth;

Then took the other, as just as fair,
And having perhaps the better claim,
Because it was grassy and wanted wear;
Though as for that the passing there
Had worn them really about the same,

And both that morning equally lay
In leaves no step had trodden black.
Oh, I kept the first for another day!
Yet knowing how way leads on to way,
I doubted if I should ever come back.

I shall be telling this with a sigh
Somewhere ages and ages hence:
Two roads diverged in a wood, and I --
I took the one less traveled by,
And that has made all the difference."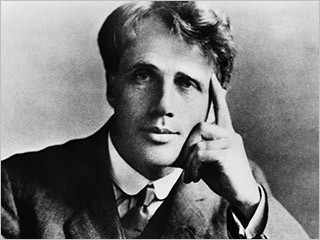 Poet Robert Frost
Half a century after Frost's poem was published, Frank Sinatra put his inimitable vocal stamp on a song whose lyrics had been written by the great singer/songwriter, Paul Anka. The lyrics to "My Way" (familiar to far more people than Frost's poem) read as follows:
"And now the end is near
And so I face the final curtain
My friend I'll say it clear
I'll state my case of which I'm certain

I've lived a life that's full
I traveled each and every highway
And more, much more than this
I did it my way

Regrets I've had a few
But then again too few to mention
I did what I had to do
And saw it through without exemption

I planned each charted course
Each careful step along the byway
And more, much more than this
I did it my way

Yes there were times I'm sure you knew
When I bit off more than I could chew
But through it all when there was doubt
I ate it up and spit it out, I faced it all
And I stood tall and did it my way

I've loved, I've laughed and cried
I've had my fill, my share of losing
And now as tears subside
I find it all so amusing

To think I did all that
And may I say not in a shy way
Oh no, oh no, not me
I did it my way

For what is a man what has he got
If not himself then he has not
To say the things he truly feels
And not the words of one who kneels
The record shows I took the blows
And did it my way
Yes it was my way."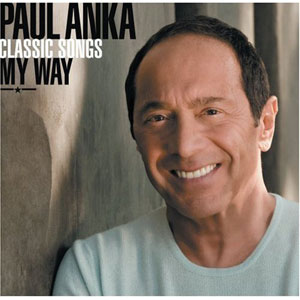 Singer/songwriter Paul Anka
Among the short plays presented at the 2013 Best of Playground Festival, two stood out for their ability to highlight the results of following "the road less traveled." Written by Evelyn Jean Pine and directed by Tracy Ward, Simple and Elegant took the form of a fairy tale featuring a magic fish.
Inspired by the prompt "End of Days," Pine's play told the tale of two sisters, Simple (Rebecca Pingree) and Elegant (Carla Pantoja), who fought over the gold coin that flopped from the belly of the fish (Will Dao) that Elegant had cut open with her knife. Elegant remained proud and defiant. Simple, however, fulfilled the fish's simple request and found herself a magical host who could give her unconditional comfort and love.
When faced with an ultimatum from her fisherman father (Dodds Delzell) to return home or protect the fish, Simple wrapped herself in the fish's belly and swam out to sea. One assumes she lived happily ever after.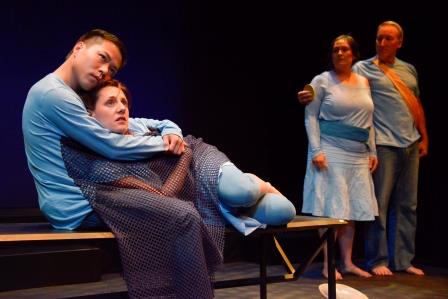 Will Dao, Rebecca Pingree, Carla Pontoja, and Dodds Delzell in
Simple and Elegant (Photo by: Mellopix.com)
Amy Sass's short play, Significant People, proved to be a more poignant experience. Inspired by the prompt "Haunted by the Past" and directed by Steven Anthony Jones, it featured Dodds Delzell and Anne Darragh as a pair of docents discussing the work of a great, great man.
What quickly became clear was that the man had received all the glory for his work while the woman who stood by his side throughout the process never got the same kind of recognition for her contributions to his success. As the female docent keenly tries to point out the differences in which the woman's contributions were downplayed and trivialized (despite his assurances that this was not the case), the audience easily grasps the feeling of having been short-changed by life.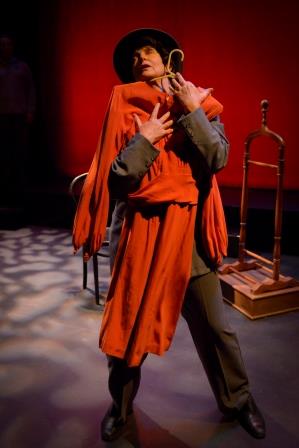 Anne Darragh in Significant People (Photo by: Mellopix, Inc.)
In the play's final moments, the female docent slowly dons the famous man's hat and suit jacket in order to sense what it might have felt like to be the center of so much adulation while wrapping her arms around the orange dress that the man's partner wore to so many events. As performed by the magnificent Anne Darragh, this was a beautifully executed gesture of personal yearning wrapped in the kind of devotion that allows one to stand in another person's shadow; of wistfulness mixed with a tinge of envy over what might have been possible in another time, another place, another culture.
To read more of George Heymont go to My Cultural Landscape