With the New Year freshly ushered in, a look at the San Francisco arts calendar shows the first film festival of the year to be German Gems 2012 on Saturday, Jan. 14 at the Castro Theatre. While it's tempting to run down the street screaming "The Germans are coming! The Germans are coming!" Norman Jewison already staged that stunt for the Russians in 1966.
This happy coincidence does, however, give me a chance to mention two half-German dramas that I could not squeeze into my columns last fall. The first, and perhaps the hardest to describe, was Annette Roman's one-woman show at September's San Francisco Fringe Festival. Entitled Hitler's Li'l Abomination, it told the bizarre story of her attempt to reconcile with her elderly father (a bitter Jewish Holocaust survivor who married a woman who had belonged to the Hitler Youth).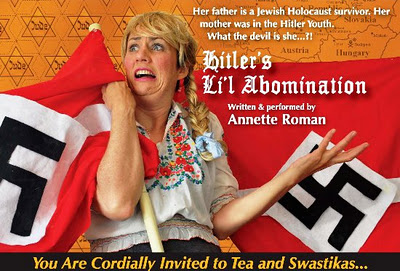 Poster art for Hitler's Li'l Abomination
If I was a bit reticent about attending a performance of Roman's monologue, it was certainly not because of its author/performer. By that point in 2011, so many people had invoked Adolf Hitler as a way to discredit their political critics and/or opponents that familiarity had bred boredom rather than contempt.
At one point, The Blackstone Group's co-founder, chairman, and CEO, Stephen A. Schwarzman, had actually suggested that President Obama's plan to tax private equity firms at a higher rate was equivalent to war. "It's like when Hitler invaded Poland in 1939," Schwarzman whined while wallowing in his Newfoundland status as a victimized billionaire.
Perhaps he had never heard Bette Midler joke about her husband, Martin von Haselberg. "I married a German boy -- a Kraut. Every night, I dress up like Poland and he invades me!"
Roman's show turned out to be quite poignant and infsightful as she recounted her visits with elderly German relatives. The following clip contains scenes from her show as well as her explanation about what inspired her to write and perform Hitler's Li'l Abomination.
* * * * * * * * * *
Recently shown at San Francisco's Berlin and Beyond Festival (and scheduled to be screened in select theatres for one day only -- on Jan. 27), Mount St. Elias is the kind of documentary that redefines armchair adventure. Written and directed by Gerald Salmina, the film follows three famous ski mountaineers (Axel Naglich, Jon Johnston and Peter Ressmann) in their quest to ski down the world's longest ski descent -- from the 18,000-foot peak of Alaska's Mount St. Elias to the icy waters of the Gulf of Alaska.
Initially sighted by European explorers in 1741, Mount St. Elias was first climbed in 1897. It is the highest peak in the world to be close to tidewater (approximately 10 miles from Icy Bay). Because of its proximity to the Pacific Ocean, weather conditions on Mount St. Elias are notoriously unpredictable and often quite terrible.
In 2002, two men from Northern California met their deaths on Mount St. Elias when they fell into crevasses. Aaron Martin and Reid Sanders had hoped to be the first to ski all the way down Mount St. Elias. In his producer's statement, Gerald Salmina writes:
Documentaries determined to deliver high levels of authenticity and entertainment are drawing a huge global audience. Mount St. Elias is such a movie. Mount St. Elias sees itself in direct line to Joe Simpson's Touching the Void, but also as a film on modern mountaineering not having the summit as the final goal. It's about the intensity of the experience -- very much like the classic surf documentary Riding Giants, which is all about those massive waves and nature who defines the ultimate challenge. In Mount St. Elias it is a mountain that defines the benchmark of mankind's ability.

We all have a genetically innate pioneer spirit and want to go to explore. It's probably a part of man's roots to long for adventures and acknowledgment in unknown spaces, even if that means risking our own lives. The world simply needs people who take risks. They inspire us, encourage us and reassure us. At times, man is prone to 'unlimited' optimism -- a mild form of megalomania. However, without this basic physical structure, many achievements, discoveries and adventures would have been impossible, many a disappointment insurmountable. Oddly enough, we seem to attach more value to climbing a mountain on which others have died before us. If mountain adventures were safe, they simply wouldn't have the same kind of allure.
Salmina's documentary records the 2007 efforts of two alpine skiers from Austria and one American "freeski mountaineer" to rise to the challenge. Due to fierce weather conditions, their expedition made two treks -- one in April that had to be abandoned during a raging storm, and another in August.
As the skiers discuss the challenges and folly of their undertaking, they frequently refer to Mount St. Elias in anthropomorphic terms ("It's up to him whether he wants us to succeed"). Questions of whether they see themselves as individuals or members of a team raise doubts about the success of their expedition.
Salmina equipped his crew with HDcam (High Definition 25p) in addition to 35mm and 16mm standard cameras which enabled Naglich, Ressmann, and Johnston to communicate naturally in front of the camera without having to pay attention to given scripts. The three ski mountaineers wore helmet cameras, which follow the athletes everywhere and allow viewers to experience critical situations from their unique point of view.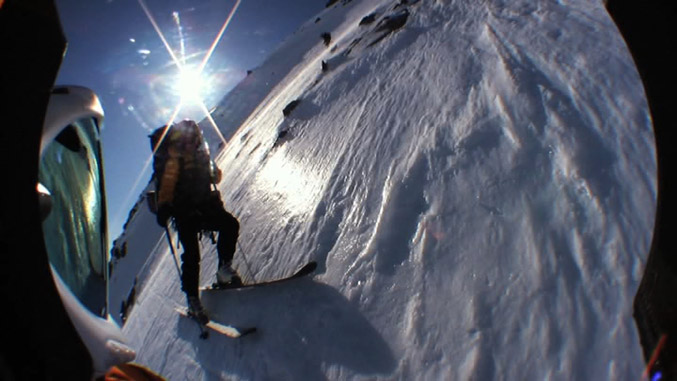 A moment of clear weather on Mount St. Elias.
The breathtaking cinematography by Salmina and Gunther Goberl -- with Michael Kelem (who worked on the 2006 Planet Earth series) functioning as aerial director of photography -- elevates Mount St. Elias far above the usual footage of world class skiers. This is, in great part, thanks to the use of the helicopter's Cineflex camera suspension which, because of its wide scale, was able to document any movement on the mountain.
In addition to close-up footage of the skiers as they struggle up the side of the mountain (or try not to be buried in an ice cave during a raging storm), there are incredible segments of aerial photography showing furious avalanches, the Aurora borealis, and time lapse films of the shifting weather.
The ongoing sense of crisis during much of the film can turn Mount St. Elias into a white-knuckle armchair adventure. The suspense is heightened by the work of the three composers who contributed to the film's soundtrack (Andreas Frei, Ludwig Heili and Matt Reardon), creating soundscapes more reminiscent of horror films than nature documentaries.
The bottom line, however, is that Salmina has delivered a documentary that is as astonishing for its ability to capture the brutality of nature as it is for its willingness to take risks. Whether or not you're an outdoor sportsman, you'll be extremely happy to be sitting in a comfortable chair while watching Mount St. Elias instead of freezing your ass off on its slopes. Here's the trailer:
To read more of George Heymont go to My Cultural Landscape.