For those lucky enough to be inside the Castro Theatre on Sunday, June 19, 1994, the final screening of the 18th Frameline LGBT Film Festival was very much a night to remember. Written and directed by Stephan Elliott (and starring Hugo Weaving, Guy Pearce, and Terence Stamp), The Adventures of Priscilla, Queen of the Desert earned a foot-stomping, 20-minute ovation which rocked the Australian filmmaker's world. As he explained from the stage, this was one of the first public screenings of his spectacularly rowdy drag spectacle.
Elliott may not have been aware of why San Francisco's audience was so enthusiastic that night. As most people know, his film has an abundance of flashy costumes, gay humor, disco hits, and a solid story line. But for a community that, over the past decade, had been decimated by disease, death, and depression, Priscilla performed a very special kind of magic -- making an audience of 1,400 feel as if they had been resurrected and given a new reason to celebrate their gayness.
Among those who had been approached for the role of the transsexual Bernadette were Tony Curtis, John Cleese, and Tim Curry (Rupert Everett had, at one time been considered for the role of Tick/Mitzi). Not only did Priscilla's Tim Chappel and Lizzy Gardiner win 1995's Academy Award for Best Costume Design, nearly two decades after the film's premiere it's amazing to note some of the changes in society.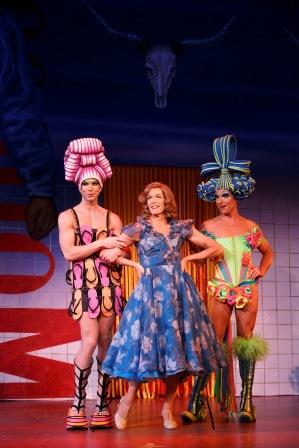 Wade McCollum, Scott Willis, and Bryant West in Priscilla,
Queen of the Desert: The Musical (Photo by: Joan Marcus)
Gay men are no longer ashamed to be called fathers.
Same-sex unions are now recognized by the Australian government.
Thanks to television shows like RuPaul's Drag Race and RuPaul's Drag U, drag queens are no longer scorned as the dregs of the gay community.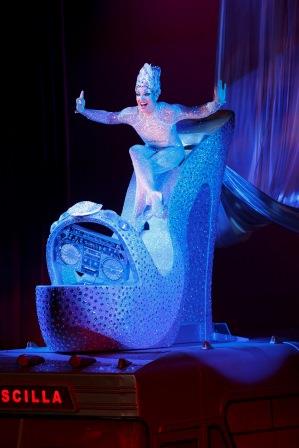 Bryan West as Adam/Felicia lip syncs to Verdi's "Sempre
Libera" in Priscilla, Queen of the Desert: The Musical
(Photo by: Joan Marcus)
It didn't take long for the film's international success to conjure up thoughts of adapting the story into a jukebox musical format for the stage. Work on the show began in 2003 and, in 2006, Priscilla, Queen of the Desert: The Musical premiered in Sydney before touring to Melbourne, New Zealand, and returning to Sydney for a return engagement. Subsequent productions have appeared in London, Toronto, New York, Milan, Rome, Trieste, Sao Paulo, Stockholm, and parts of the United Kingdom.
Because the movie of Priscilla originally included ABBA's 1975 hit song, "Mamma Mia" (which later became the name of a hugely successful jukebox musical which was subsequently made into a film starring Meryl Streep), it's interesting to compare the two shows.
Each revolves around the story of a single mother whose child wants to meet its biological father.
Each is filled with popular disco tunes.
Priscilla, however, has much more interesting costumes, stage scenery, a throbbing sense of urgency, and is performed at such a frantic pace that it leaves the cast of Mamma Mia! looking as if they're performing on Quaaludes.
The combination of endless, quick costume changes (combined with Ross Coleman's original highly aerobic choreography) makes the stage version of Priscilla the equivalent of a musical comedy drag triathlon for its three leads.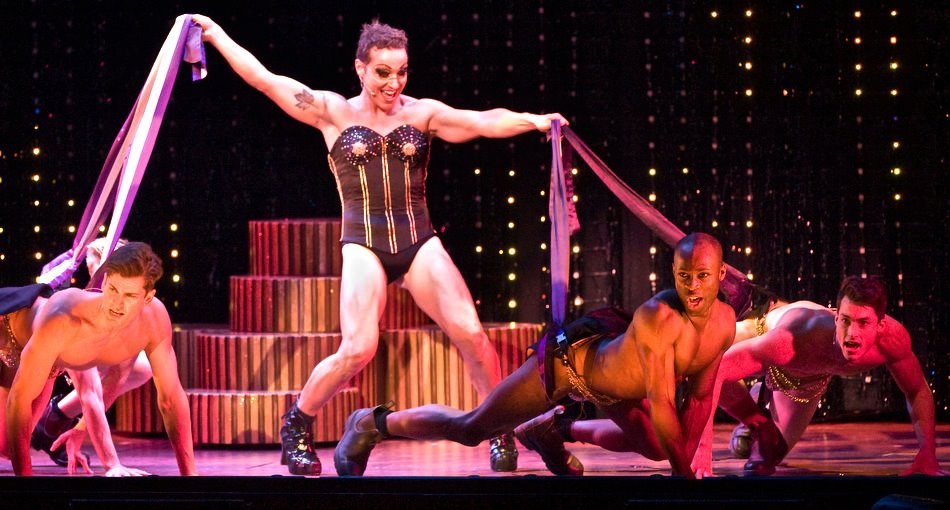 Bryan West as Adam/Felicia in the touring company of Priscilla,
Queen of the Desert: The Musical (Photo by: Joan Marcus)
Part of that is because, unlike in the film, the audience never sees vast expanses of the Australian outback. Even Adam's encounter with a group of rural homophobic, gay-bashing thugs seems less traumatic because it is so obviously choreographed and because the audience knows there are more costume changes urgently waiting in the wings. The following music video (made by the cast of the London production) allows for some close-ups of the show's costumes and gives a hint at how quick changes are made for the cast's exaggerated eye makeup.

If Priscilla's three leading characters are high-maintenance homosexuals, let there be no doubt that, with more than 500 costumes, 200 hats and headdresses, and 150 pairs of shoes, the stage production is very much a high-maintenance affair.
In addition to all of its rapid costume changes, Priscilla, Queen of the Desert: The Musical shows how far LED technology has evolved since the turn of the century. Conceived and designed by Brian Thomson, the hot-wired bus which revolves and performs all kinds of jaw-dropping special effects is part of a rapidly-changing scenic circus of lighting tricks (designed by Nick Schlieper and Jonathan Spencer) which could only be managed by computers.
From the show's opening moments as three disco Divas (Bre Jackson, Brit West, and Emily Afton) descend from the flies against an LED-version of Sydney's famous Harbour Bridge, the stage version of Priscilla takes off like a rocket, with the audience cheering like mad. Priscilla's supporting cast for the North American tour includes Joe Hart (Bob), Chelsea Zeno (as Bob's ping-pong ball popping Filipina wife, Cynthia), Babs Rubenstein (Shirley), Christy Faber (Marion), and Shane Davis (Benji). The incredibly muscled dancer, Taurean Everett, continues to draw the audience's attention throughout the show (he has a bit role as Jimmy the Aborigine).
With David Hyslop recreating the original direction from the New York production, the three leads worked their asses off on opening night in San Francisco. Bryan West scored strongly as Adam/Felicia, with Scott Willis offering a touching portrayal of the aging Bernadette. I was especially gratified to see Wade McCollum (who had made such a deep impression in the world premiere of Fly By Night at TheatreWorks) doing a spectacular job as Tick/Mitzi.
Flashing a wardrobe that makes San Francisco's long-running Beach Blanket Babylon look like a thrift shop filled with hand-me-downs, its high-voltage production, and supremely energetic cast, Priscilla, Queen of the Desert: The Musical offers audiences a remarkably fulfilling evening of musical comedy. Here's the trailer:
To read more of George Heymont go to My Cultural Landscape