In today's era of lurid celebrity gossip, rancid tabloid journalism, and maliciously misguided edutainment (such as Fox and Friends), it sometimes helps to look to the past to get a better perspective on life. With the current revival of Chicago having just surpassed the record set by A Chorus Line for the longest running American musical on Broadway, I was fascinated to watch a video prepared in 2007 for the show's 10th anniversary in which the original star, Gwen Verdon, explained how she got the inspiration to adapt 1942's Roxie Hart for the musical stage.
Even more intriguing were the comments from the show's composer (John Kander) and lyricist (Fred Ebb) when asked to explain Chicago's continued appeal to modern audiences. Their answer was stunning: Despite the doubts of Broadway insiders who felt it was too soon to revive their show, Walter Bobbie's staging of Chicago opened on Broadway during the widespread publicity given to the murder trials of O.J. Simpson and the Menendez Brothers.
Perfect timing!
Anthony Weiner may now be old news (his career as a politician is certainly toast), but the kind of "gotcha" questions that forced him to resign from Congress were nothing new. Just witness the following clip of a sketch performed by Judy Garland and Shelley Berman almost 50 years ago:
When faced with hostile questions, a person has to think quickly. Almost as quickly as comedians whose improvisational skills earn them their living
* * * * * * * * * *
In 2005, a group of invited guests watched Brian Henson and his colleagues test their improvisational skills with puppets. The show was such a success that a new phenomenon was born, with a successful booking at the U.S. Comedy Arts Festival in 2006. What began as Jim Henson's Puppet Improv eventually morphed into a show named Puppet Up! - Uncensored.
The show's latest incarnation, Stuffed and Unstrung, recently played San Francisco's Curran Theatre for 10 performances. Although I found the level of amplification nearing my pain threshold, there's no denying that the audience had a rowdy, good time.
Stuffed and Unstrung is an easy show to travel, which makes it ideal for the university circuit and comedy festivals. Aimed squarely at adult audiences, Stuffed and Unstrung runs fast and furious with moments of audience participation balancing out old classics such as 1966's Java.
While much of host Patrick Bristow's audience patter has become somewhat formulaic over the past five years, the show has strong appeal to audiences whose minds easily gravitate to the deeper, darker regions of the mind where Kermit and Miss Piggy hardly ever dared to venture (Michele Bachmann quickly got cast in the puppet version of a James Bond thriller entitled Octowussy).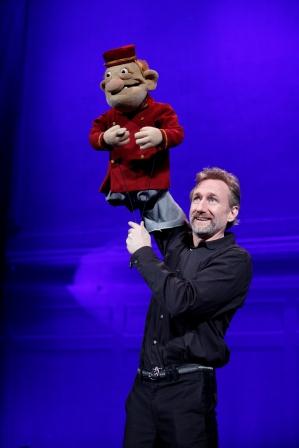 Puppeteer Brian Henson (Photo by: Carol Rosegg)
What was most interesting for me was finally being able to watch and understand how segments of The Muppet Show and Sesame Street are crafted (I now know how to make a cheerleading puppet perform cartwheels). Most amazing is the rapid-fire work of the puppeteers and the skill with which they create a sense of distance and depth for television.
In many ways, watching the puppeteers manipulate puppets as they monitor the effects they've created on television screens placed on the floor below them bears an uncanny resemblance to the way laparoscopic surgery is sometimes performed. The following clip of Brian Henson performing 1967's puppet version of "I've Grown Accustomed To Your Face" (which allows audiences to see how the magic is created) was part of the show at the Curran.
* * * * * * * * * *
As the third opera gets under way in Richard Wagner's tetralogy, Der Ring des Nibelungen, we see the hero, Siegfried, enter pursued by a bear. Thus it was with more than a mild sense of curiosity that I headed toward the opening night of Lauren Gunderson's new feminist play Exit, Pursued By A Bear.
Gunderson's raucous comedy (which first breathed life as part of the Playwrights Foundation's "Rough Readings" series) depicts the ultimate "gotcha" situation: an abusive husband bound to his rotating recliner with duct tape as his newly radicalized wife (helped by her two closest friends) prepares to exact her revenge. As an animal-loving drama student who has been inspired to use her creativity, Nan Carter plans to surround her husband with all the venison steaks he has kept in the freezer, and leave a trail of honey out the front door to attract the bears that roam the local woods in northern Georgia.
This article was cross-posted on My Cultural Landscape. To continue reading, click here.
To read more of George Heymont go to My Cultural Landscape