Those who work in the mental health field know that the auditory hallucinations suffered by their psychiatric patients seem dangerously real. Whether the voices inside their heads are telling them to kill their children, their spouses, or their president, these patients often see themselves as the mechanical means to a tragic end.
Whether politically motivated or killing people because "God told me they have to die," such murderers are sorely misguided. It's easy to label them as a threat to themselves and a danger to society, but stop for a minute to think about the society in which we live. Some people fear a zombie uprising while others are actively "preparing" for a post-apocalyptic crisis.
Based on the popular 1959 novel by Richard Condon, 1962's Cold War thriller The Manchurian Candidate starred Frank Sinatra, Laurence Harvey, John Houseman, Angela Lansbury, and Janet Leigh. Although only three years older than the actor who played her son in John Frankenheimer's controversial film, Lansbury's most powerful scene (shot in one take) remains a classic.
With America's perverse gun culture, an overwhelming amount of armed violence being marketed as entertainment, and a rising number of mass shootings from Virginia Tech to Newtown and beyond, the world premiere of George F. Walker's delicious new black comedy, Dead Metaphor, has a creepy timeliness. American Conservatory Theater's handsome production (framed by Christopher Barreca's powerful use of concentric turntables to heighten the action) packs a snarky political punch.
Walker's "take-no-prisoners" approach to conservative politics begins as Dean Trusk (George Hampe) -- in the middle of a job placement interview with one of his church leaders, Oliver Denny (Anthony Fusco) -- makes his oft-repeated mistake of being honest. Yes, he's back from serving his military duty in the Middle East. Yes, he needs a job because his ex-wife (who didn't think he would return alive) is pregnant and his father (Tom Bloom) is getting on in years and acting a bit strange.
And yes, it's true that despite being in excellent health and showing no signs of posttraumatic stress disorder, the hulking young man remains strangely unemployable. Although Dean's dream job might be writing sarcastic messages for a greeting card company, the deal breaker in all of his previous job interviews has been his casual confession about his one marketable skill. Trained by the military to be a professional sniper, he's a good-natured, all-American killing machine. That small fact tends to make potential employers reluctant to hire him.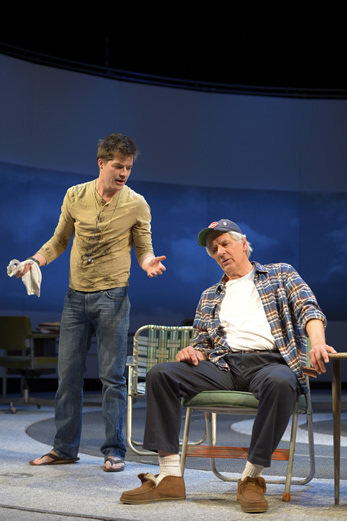 Dean Trusk (George Hampe) tries to reason with his father
(Tom Bloom) in Dead Metaphor (Photo by: Kevin Berne)
Feeling sorry for the young man, Oliver decides to see if he can't get his wife (René Augesen) to hire Dean as her personal assistant. A vicious, opportunistic right-wing politician willing to say or do whatever is necessary to score a few extra votes, Helen instantly grasps the political value of hiring a veteran (even if it's for a glorified go-fer job). If she weren't already having an affair with her campaign manager, she'd like to grasp Dean, too.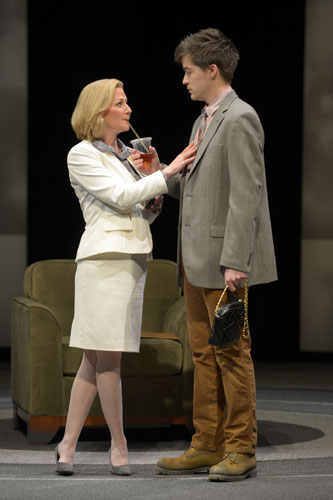 Helen Denny (René Augesen) checks out her potential
new employee, Dean Trusk (George Hampe) in
Dead Metaphor (Photo by: Kevin Berne)
Complications quickly ensue.
Dean lands in hot water after delivering a briefcase full of money from a local church to Helen's campaign manager.
Dean's father is diagnosed with an inoperable brain tumor.
Faced with the knowledge that her new aide could blow the lid on a steady stream of illegal political donations, Helen tries to get Dean to redeploy in exchange for a handsome bribe.
When he's not telling his son's boss that he'd like to "fuck her dead corpse," Dean's father is begging the young vet to use his Army training to shoot his father and put his parents out of their misery.
Oliver and his daughter are conspiring to hire Dean to kill Helen.
Dean and his pregnant wife, Jenny (Rebekah Brockman), launch a bidding war between Mr. and Mrs. Denny to see which spouse will pay the most money to kill the other.
Helen is quick to see the bargain value in having Dean kill both her husband and daughter.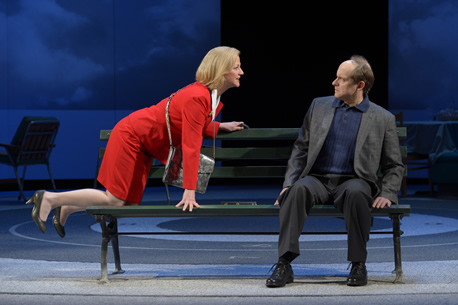 Helen Denny (René Augesen) puts more pressure on her husband
(Anthony Fusco) in Dead Metaphor (Photo by: Kevin Berne)
Although Dead Metaphor deals with some very serious issues (unemployed veterans, pregnant military spouses, terminal illness, and a hired assassin willing to inflict "collateral damage" for the right price), Irene Lewis has directed the play as a politically twisted, amoral romp and frolic in which everyone and everything can be had for the right price.
René Augesen is hilarious as a cutthroat Betty Bowers-type of conservative politician who will stop at nothing to get elected (her performance brings back happily evil memories of Harriet Sansom Harris as the subversive talent agent, Bebe Glazer, on Frasier). Augesen leaves no doubt as to why her husband believes he could do the world a big favor by having his wife assassinated.
Tom Bloom and Sharon Lockwood create sympathetic portrayals of Dean's parents as two seniors struggling to cope with a rapidly progressing brain cancer. George Hampe and Anthony Fusco easily win the audience's sympathy as the most genuine and realistic characters onstage.
I expect Walker's play to become quite popular in regional theatres for one simple reason: Dead Metaphor's got legs.
* * * * * * * * * *
Many a character has been depicted as being torn between two voices sitting on his shoulders. On one side is a heavenly angel decked out in white robes, speaking out from under a halo and urging the protagonist to "do the right thing." On the other side is a more demonic force, gleefully urging the protagonist to indulge his most mischievous urges and carnal desires.
It's not often that one attends a monologue and is greeted by a six foot tall talking penis. But David Kleinberg's one-man show, The Voice: One Man's Journey Into Sex Addiction/Recovery, is not your typical journey of self discovery. As Kleinberg explains:
"With high-speed Internet in every home, sex addiction has become a major issue in this country. Yet no one wants to talk about it. It's the taboo addiction. If you tell someone you have an alcohol problem and you've gone to Alcoholics Anonymous, they'll like say 'Good for you... I'll drink to that!' But if you tell them you're a sex addict, they'll think you masturbate in public and look at little girls."
A former editor of the San Francisco Chronicle's Datebook section, Kleinberg faced an interesting challenge on his road to recovery. Not only did he have to choose between the voices of his "higher power" and his raging libido, he had to overcome many years of homophobia while learning that his incessant desire for penile satisfaction worked pretty much the same way for homosexuals. A penis is a surprisingly powerful equalizer.
Prior to entering supervised treatment or a 12-step program, many addicts try to hold themselves above other people battling similar addictions ("Well, at least I'm not THAT kind of a drunk!") However, after having been caught jerking off in front of the computer when his wife came home early one day, David was forced to struggle with the growing knowledge that a stiff dick knows no conscience.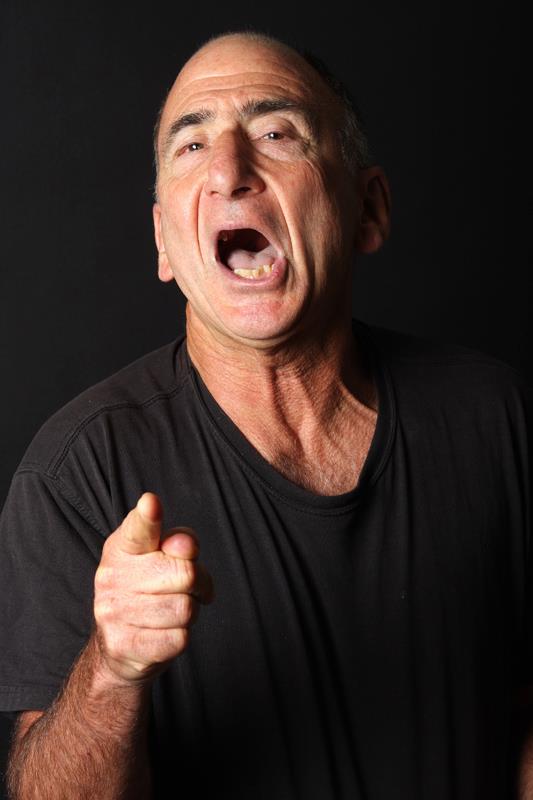 David Kleinberg in The Voice
Like many people in recovery, David makes some selfish and extremely stupid mistakes. When asked to become a sponsor for a new attendee, he flinches at the knowledge that the young man seeking his help is gay. What sets Kleinberg's monologue apart from many others is that it doesn't just deal with his addiction, but with his growing awareness of how his various delusions of grandeur hurt other people (ranging from his wife to the gay man, Lars, who needed his support).
There's nothing particularly salacious about Kleinberg's show. If anything, the libidinous inner voice urging him to indulge his sexual addiction sounds more like a horny teenager caught up in the intoxicating rush of raging hormones who has become trapped in the body of an aging adult pushing past 60. Luckily, Kleinberg has been guided by seasoned monologists like Ann Randolph, Tom Ford, and his director, Mark Kenward.
Because so much shame is attached to sexual addiction, The Voice offers large helpings of humble pie for men who have become slaves to compulsive cruising (whether on the Internet or in real time). Kleinberg does an admirable job of explaining how gaining control over one's sexual compulsions is every bit as difficult as conquering the temptations of substance abuse. Like all addictions, it requires living your life one day at a time.
Kleinberg's one-man show continues through April 6 at StageWerx on Valencia Street in San Francisco. Here's the trailer:
To read more of George Heymont go to My Cultural Landscape