On February 1, 2008, when Craig Ferguson took his oath of citizenship, the amiable host of The Late Late Show With Craig Ferguson had a distinct advantage over many other immigrants. Although born and raised in Scotland, he had been working in Los Angeles (the heart and soul of the American entertainment industry) since 1994 and was already fluent in American English. A news junkie and social critic who frequently performs as a stand-up comedian, Ferguson has had his finger on the pulse of American culture for nearly two decades.
Not everyone makes such a smooth transition. While many conservatives whine "I want my country back," they forget that America's strength has always been built on the backs of immigrants (like their very own ancestors). People from every corner of the globe have looked to America as "the land of opportunity."
Upon their arrival in the United States, many immigrants live with relatives from their native country. Whether one looks at the Irish, Italians, and Russian Jews who sailed across the Atlantic Ocean in the early part of the 20th century or the Mexicans, Nicaraguans, Vietnamese, and Filipinos who keep crossing our borders and arriving on our shores, new generations of people in search of a better life continue to pin their hopes on the American dream.
Of course, some people manage to adapt better than others. In the following clip from December 1989, Leonard Bernstein conducts the London Symphony Orchestra in a concert version of his 1956 operetta, Candide, at London's Barbican Centre with Adolph Green as Dr. Pangloss and the great Christa Ludwig singing the Old Lady's tango, "I Am Easily Assimilated."
* * * * * * * * * *
One of the sweeter surprises at the 2012 San Francisco Fringe Festival was Ze Ren, a monologue by Xiao Juan Shu about her experiences growing up as a country bumpkin in rural China, coming to America, and trying to adjust to a culture she had only known through film and television. Upon arriving in the Bay area, she is shocked to find one of her friends from university, a nuclear physicist, waiting tables in a restaurant.
Xiao Juan Shu's performance has a gawky authenticity which includes the kind of mangled phrases and nervous pauses that help an audience warm to her personality. Between trying to adjust to a new culture and her long-distance efforts to calm her mother (who is convinced that her daughter was kidnapped and taken to America), her hour-long monologue about the weight of cultural expectations and personal responsibility is filled with laughs and pathos. A 30-minute trial run at The Marsh can be seen in the following clip, which gives a very good sense of what it means to be a new arrival in a foreign land.
* * * * * * * * * *
Under the artistic direction of Marissa Wolf, Crowded Fire Theater recently presented the West Coast premiere of Jonas Hassen Khemiri's provocative dramedy INVASION! Half Swedish, half Tunisian, Khemiri's play revolves around the mysterious adventures of a Lebanese uncle named Abulkasem whose name conjures up many images.
To his nephews, Abulkasem is the flamboyant relative who was so thrilled to be talking to two young soldiers on a long bus ride that he was totally unaware of what they wrote on his forehead while he slept. To others, Abulkasem can be anything from a female avant-garde stage director to an international terrorist lurking in their community. Depending on who's speaking, Abulkasem can become a noun, a verb, or a frightening reminder of the 9/11 attackers.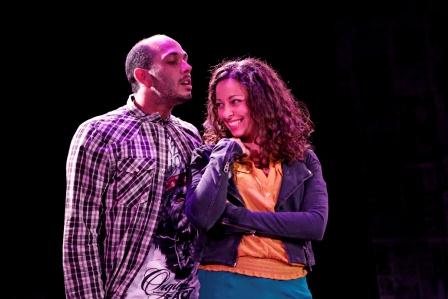 Wiley Naman Strasser and Olivia Rosaldo Pratt in Invasion!
Photo by: Pak Han
As director Evren Odcikin explains:
"Immigration is a complex business. Each person experiences it differently. The lucky few, like me, find a new home in their adopted country (I'm a first generation immigrant from Turkey and have only recently become a citizen). The play, in simplistic terms, deals with Middle Eastern identity in the Western world. It gives voice to those of us living in the middle of two worlds and struggling with the fact that we do not belong fully to either one. The tension between how we tell our story and how it's viewed and defined by others is a huge part of the immigrant experience in the United States."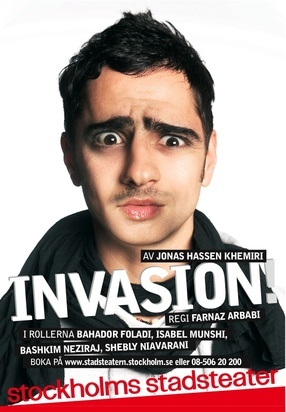 Poster art for the world premiere of INVASION!
"What INVASION! so brilliantly unpacks is the many different ways language can color, change, and complicate this search. Language gives you access and, without access, you cannot make a new home. But more importantly, language (like truth) is a slippery thing. It changes, it can be misunderstood, and it's easily manipulated. This is the kind of piece where two contradicting truths can live side by side without negating either one (if you've ever visited the Middle East, you'll know exactly what I am talking about with that last sentence). But the play is also about the complexity of language and about not knowing. It's about mistakenly and purposefully misunderstanding, mistranslating, and misplacing the truth (not just of the facts, but of a person's identity). It's a mystery play, where the audience goes on a hunt for the true identity of this figure named Abulkasem. Clues lead to other clues, stories lead to other stories, and truths lead to other truths. This question of not knowing is a significant force in the play."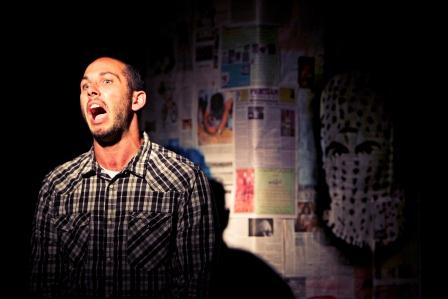 Wiley Naman Strasser as Little Brother in INVASION!
(Photo by: Pak Han)
INVASION! (which premiered in 2006 at the Stockholm City Theatre), is Mr. Khemiri's first play. Translated into English by Rachel Willson-Broyles, it is performed by four actors who take on a variety of characters ranging from a young Arab immigrant with a stuttering speech disorder (who tries to put the make on an attractive young woman in a bar) to an innocent apple picker who puts far too much trust in the woman interpreting his testimony during an interview for political asylum (his attempt to name some popular songs by ABBA is translated as "My goal is to murder as many defenseless Jews as possible").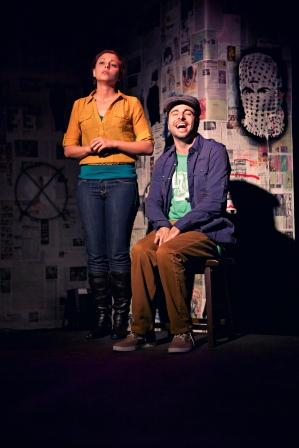 George Psarras and Olivia Rosaldo Pratt
in INVASION! (Photo by: Pak Han)
Khemiri challenges his audience to examine their prejudices about single Arab men by presenting them with a wealth of possibilities ranging from personalities that are enticing, amusing, embarrassing, and threatening. The scene between the innocent apple picker (George Psarras) and his biased interpreter (Olivia Rosaldo Pratt) is written with so much insight that it's hard to believe Khemiri was only 28 at the time of his play's premiere. INVASION! also includes a beautifully crafted monologue for the character of Little Brother (Wiley Naman Strasser) that has been so skillfully directed by Odcikin that it becomes as haunting as any ghost story.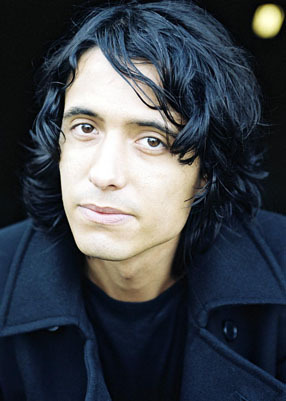 Playwright Jonas Hassen Khemiri
The beauty of Khemiri's writing leaves no doubt as to why he received a 2011 Obie Award for the off-Broadway production of INVASION! (this is definitely a talent to watch). Kudos to Odcikin's talented ensemble (Wiley Naman Strasser, George Psarras, Lawrence Radecker, and Olivia Rosaldo Pratt) for their fine work.
To read more of George Heymont go to My Cultural Landscape