The winding path from curiosity to passion and onward to embracing a full-blown fetish is a very strange one. Sometimes a person's enthusiasm for a certain type of object is sparked by a gift, a novel idea, or a gateway experience. Before long, what began as a passing interest starts to gain momentum until it takes the shape of a full-blown obsession. Consider the following examples:
Two new productions deal with a form of rapture -- not the kind that sends obedient Christians floating through the skies, but the kind in which a fierce infatuation grips a person's imagination and holds on tight. One is a fictional tale that plays out over several decades as China transitions from Maoism to modernism. The other focuses on a long-forgotten historical figure who, though her life was cut short by ovarian cancer, paved the way toward a scientific future measured in light years.
* * * * * * * * * *
One of the more curious entries screened during the 2014 SFIndie Fest was The Love Songs of Tiedan. Much of Hao Jie's film follows the misplaced love of Tiedan (Feng Si) who, as a six-year-old boy (Shi Weicheng), was naively infatuated with his beautiful (but older) neighbor, Sister Mei (Sabrina Yap). Sister Mei and Tiedan's father (Feng Yun) used to delight in singing Er ren tai melodies, often bellowing from the top of a cliff to an open valley.
The movie begins in the 1950s, when Sister Mei's husband returns to Tiedan's village and takes her back to the West Side of Mongolia, leaving the naive little boy brokenhearted.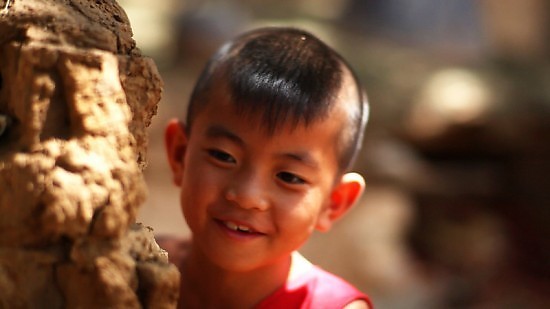 Shi Weicheng as the six-year-old Tiedan
By the mid 1960s, Tiedan's father has gone blind and traditional forms of singing have been banned as part of China's Cultural Revolution. As he matures and becomes a man, Tiedan falls in love with each of Sister Mei's three daughters. Unfortunately, his dream of marrying the eldest (Sabrina Yap) is crushed when the young woman is forced into an arranged marriage with an older man from another village who takes her back to his home in Mongolia.
Beside himself with grief, the impassioned Tiedan follows his beloved and tries to interfere with the wedding. After a witch is consulted (who advises Sister Mei to offer Tiedan her mute second daughter as a wife/consolation prize), a loveless marriage is consummated. Boredom quickly sets in.
Opportunity knocks with a chance visit by the Inner Mongolian Hong Teng Errentai Troupe, which is looking for a male singer. At first sight, Tiedan is unaware that the troupe's female star, Hu Hu, is actually a man performing in drag. However, after Tiedan joins the traveling ensemble, his onstage partnership with Hu Hu also blossoms in bed.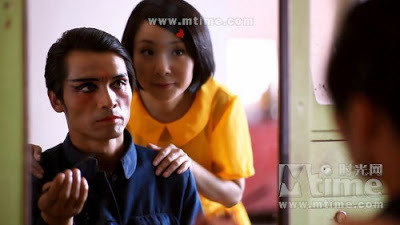 Sister Mei's third daughter, Hao Yan (Sabrina Yap) is
obsessed with her bisexual brother-in-law, Tiedan (Feng Si)
On one of Tiedan's visits to his home, his wife (GeXia) becomes pregnant. Meanwhile, Sister Mei asks Tiedan to help her third daughter, Hao Yan (Sabrina Yap), join his performing ensemble.
As the story moves into the 1980s, a new type of entertainment is sweeping through China that makes Er ren tai seem hopelessly out of date. With Hao Yan constantly demanding more attention than Hu Hu, Tiedan eventually decides to abandon his male lover and return home, where he finds a new role for himself as the father of a beautiful young daughter.
Shot in the Shanxi province of northern China (near the Mongolian border), the film captures the kind of rural poverty which leaves little room for fantasy. However, there is always music to feed the imagination.
Hao Jie's film pays tribute to a vanishing art form from Inner Mongolia (Er ren tai), which is usually performed by a pair of singers accompanied on dizi (a transverse flute usually made from bamboo), sihu (a bowed instrument with four strings), and yangqin (a hammered dulcimer).
As an art form, Er ren tai has constantly adapted to developments and changes in Chinese society, politics, and the economy in order to survive. Because each performance contains a clown role and a female role, Er ren tai is sometimes translated as "two people on a stage."
There are also regional differences in the way Er ren tai is performed. In the film, Sister Mei sings with the tones of the Shanxi Er ren tai. Tie Dan sings the Eastern Er ren tai and Hu Hu sings the Western Salaqi Er ren tai. As the filmmaker explains:
"The Chinese hammer dulcimer has been played with Er ren tai for generations. The forms of the Er ren tai are directly embedded in the northwestern heart. The melodies from folk songs and local plays are derived from the same source as the rhythms of local geography, dialects, and even ecologies. I could hear an indistinct song being sung in the distance, although I couldn't hear the words. What I could hear was the sound of my grandmother calling me home for dinner."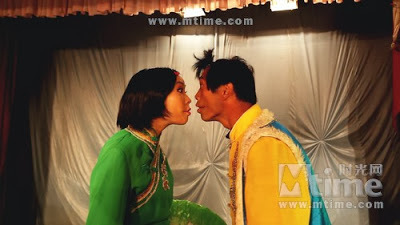 Sabrina Yap and Feng Si in The Love Songs of Tiedan
The Love Songs of Tiedan offers a stunning performance by Feng Si and strong work (in three roles) by Sabrina Yap. Add in some magnificent scenery, hilarious musical numbers, and there's a lot to enjoy in this film. Here's the trailer:
* * * * * * * * * *
In order to appreciate the strength and science of Lauren Gunderson's poignant play, Silent Sky, let me suggest first spending 25 minutes with two giants of American culture: award-winning journalist Bill Moyers and astrophysicist Neil deGrasse Tyson.
TheatreWorks recently presented the regional premiere of Silent Sky down at the Mountain View Center for the Performing Arts. Although the prolific Gunderson has had a half dozen plays produced in the Bay area in recent years (Exit, Pursued By A Bear and The Taming at Crowded Fire Theater Company; By and By at Shotgun Players; I and You and Rock Creek: Southern Gothic at the Marin Theatre Company; and Emilie: La Marquise Du Chatelet Defends Her Life Tonight at Symmetry Theatre), it's hard to pigeonhole her strengths. Gunderson excels at:
Using her whip-smart sense of humor to give her characters plenty of sass and let them deliver acid-tinged zingers.
Developing subplots that lead to a deeper cultural understanding of feminism.
Building character-driven stories based on scientific fact that can rock an audience's world.
Capturing the extreme vulnerability and identity crises of confused outcasts, troubled teens, and awkward intellectuals.
Wrapping up an evening's storytelling with mind-bending dénouements.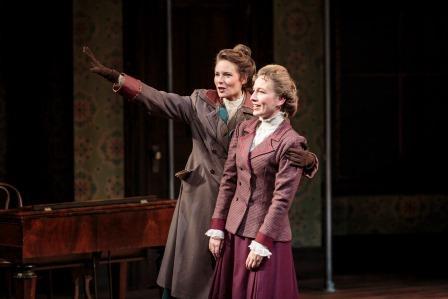 Henrietta Leavitt (Elena Wright) with her sister, Margaret
(Jennifer LeBlanc) in Silent Sky (Photo by: Mark Kitaoka)
The American astronomer, Henrietta Swan Leavitt (Elena Wright), was born on July 4, 1868 and graduated from Radcliffe College. In 1893, she went to work as a "female human computer" in astronomy Professor Edward Charles Pickering's "harem" in the Harvard College Observatory where she was tasked with counting images on photographic plates. Not only did her discovery of the period-luminosity relation of Cepheid variables dramatically alter the ruling theories of astronomy, it became crucial to the work of Edwin Hubble (for whom the Hubble Space Telescope was named).
Leavitt discovered more than 2,400 variable stars during her career. But because she was a woman working in a man's world (at that time women were not even allowed to operate telescopes), during her lifetime she received little recognition for her achievements. Today, asteroid 5383 Leavitt and lunar crater Leavitt are named in her honor. As Gunderson explains:
"I am continuously compelled by characters who struggle in the tidal pulls of the heart and the mind, love and truth, what we know versus what we feel. I write bold women and their friends. I write about legacy, what of us lingers after we are gone, what grander arcs we help to build with our lives. I find science and history a perfect source for examining our modern journeys and connecting to the stories before us. That amounts to a lot of stories that confront mortality, legacy, and ideas that exist beyond ourselves."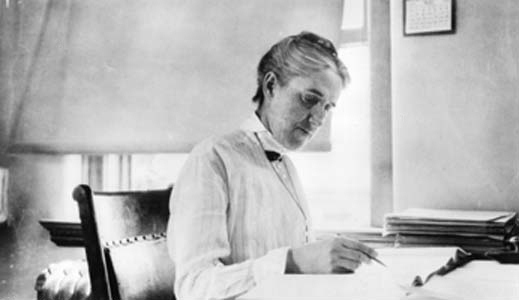 Henrietta Swan Leavitt at work in the Harvard College Conservatory
(Photo by: Wikimedia Commons)
"I found Henrietta's story by chance while perusing the stalls of used books in New York. There wasn't that much known of her, but what is known is that, in 1912, this unassuming but meticulous and curious woman gave the flagging field of astronomy the ingredient it needed to leap into the future. Without her finding a pattern in Cepheid stars, great astronomers like Shapley and Hubble wouldn't have shown us how huge and fast moving our universe is. Henrietta's key discovery takes a musical form at some point and finding that synchronicity fell to our brilliant composer, Jenny Giering."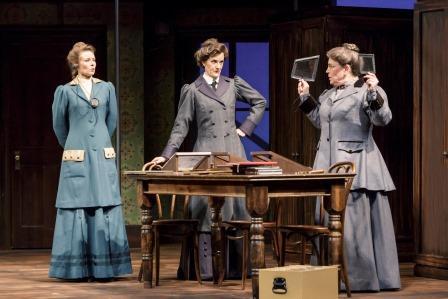 Henrietta Leavitt (Elena Wright), Annie Cannon
(Sarah Dacey Charles) and Williamina Fleming (Lynne Soffer)
in a scene from Silent Sky (Photo by: Tracy Martin)
With four exceptionally bright women and one handsome, entitled, but relatively thick-headed man, Gunderson does a splendid job of showing how the prevailing wisdom of the early 20th century was deaf, dumb, and blind to the potential contributions of intelligent women. Although Peter Shaw (Matt Citron) attempts to "mansplain" the rules of the game to the stubborn, smart woman with whom he is falling in love, Leavitt has bigger fish to fry -- namely the kind of discoveries which routinely elude male scientists.
As directed by Meredith McDonough, the TheatreWorks production sits on a handsome unit set designed by Annie Smart with costumes by Fumiko Bielefeldt and some exquisite lighting effects by Paul Toben which help the audience grasp the genesis of Leavitt's theory. The moment of breakthrough offers a stunning finale to Act I. There are times when the thrill of discovery in Gunderson's script reminded me of Eric Overmyer's 1987 play about a trio of time-traveling female explorers (On The Verge).
Jennifer LeBlanc gave an impassioned performance as Henrietta's sister, Margaret, who stays at home to raise a family while Sarah Dacey Charles was appropriately standoffish as a research assistant determined not to ruffle the status quo who subsequently was transformed into an ardent Suffragette. Lynne Soffer scored plenty of laughs as the Scottish housekeeper turned "computer" whose lusty sense of humor and wealth of common sense completely baffle Mr. Shaw.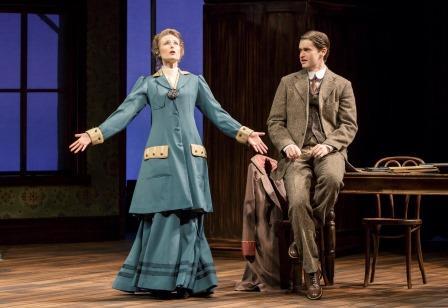 Henrietta Leavitt (Elena Wright) with Peter Shaw
(Matt Citron) in Silent Sky (Photo by: Tracy Martin)
The glue which holds Gunderson's play together is the intellectual passion of Henrietta Leavitt, the sacrifices she makes in pursuit of an idea that won't allow her to rest, and the legacy she leaves to the world of science. Elena Wright did a splendid job of holding her own against Peter Shaw's clueless sexism and romantic tendrils.
To read more of George Heymont go to My Cultural Landscape