Back in 1992, when Bill Clinton was running for President, James Carville coined what would become the Clinton campaign's motto: "It's the economy, stupid!" That statement was so simple, so easily able to cross ideologies, that it has since spawned many imitations.
With so many demands on our attention, it's far too easy to get distracted from what's happening in our daily lives. Today, one witnesses people so hooked on their handheld devices that it's not surprising to see someone walk across a busy street while looking at a Kindle, iPad, Android tablet, or Smartphone.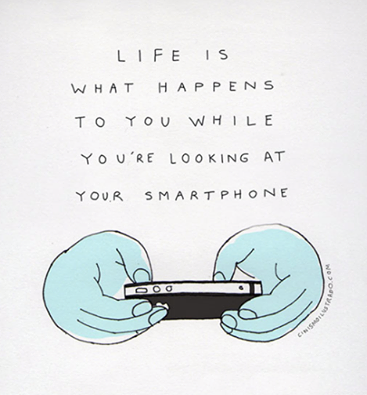 With so many people listening to music through earbuds, I frequently wonder if any of them have a library of music resting within their memory that they can access without the help of an electronic device. I often find myself wishing I could shut off the noise inside my head just so I could wallow in the blissful silence of nothingness but, when push comes to shove, it has always been about the music for me.
While extremely strong in the drama department, three recent presentations rested on a foundation of remarkable music.
Music of different eras.
Music of different styles.
Music by different composers.
Music that enhanced radically different productions.
In each case music held center stage with a tenacity that was astonishing.
* * * * * * * * * *
The most obvious example of this was the San Francisco Silent Film Festival's presentation of a restored print of 1924's The Epic of Everest. In the following clip, members of the British Film Institute explain why it took so long to restore John Noel's groundbreaking documentary. They are joined by Noel's daughter, who adds some personal insights into her father's pioneering spirit.
In his program note, Max Goldberg writes:
"Noel's preparations for the 1924 expedition involved numerous technological innovations: a newly constructed film lab in Darjeeling; special camera motors permitting time-lapse exposures; and powerful telephoto lenses to film action at 3,000 feet. [Mount] Everest dictated the terms, but Noel wrangled the effects: time-lapse shots conveying capricious weather systems swirling around the mountain's peak and long-range cinematography detailing the heroic attempt in fittingly existential scale. Noel's obsession with capturing splendid natural effects even extended to the film's color tinting (done by hand in accordance with values carefully recorded on location). Astonishing purely as a technological achievement, The Epic of Everest's larger significance lies in its power as a national myth."
Whatever value Noel's film had in boosting Great Britain's national pride following its losses in World War I, the following clip offers a model lesson in the value of film restoration and the music which accompanies silent film. There is no sound in this clip -- and it demonstrates the degraded quality of Noel's nitrate film prior to its recent restoration.
What made the screening during the San Francisco Silent Film Festival so breathtaking was the musical accompaniment by Stephen Horne (on piano, flute, and accordion) and percussionist Frank Bockius, who, by adding several chimes and gongs to the standard lineup of percussion instruments, enhanced the experience with an other-worldly sort of eeriness.
One of Horne's most distinct talents as a silent film accompanist is an uncanny knowledge of how to use the plaintive sounds of a flute for maximum effect -- and when not to play any music at all (there are times when pure silence during a silent film can have a devastating dramatic impact). Horne's most powerful effect during this screening came when the narration described how the mountain climbers were struggling to breathe the thin air at high elevations. At that point, Horne used his accordion not to produce music, but to simulate the agonized wheezing of the climbers.
Although the restored version of The Epic of Everest (now available on DVD and Blu-Ray) is accompanied by Simon Fisher Turner, I doubt his score could have quite the chilling effect that Horne and Bockius achieved in live performance. Here's the trailer:
* * * * * * * * * *
When Craig Lucas was in the original cast of 1979's Sweeney Todd: The Demon Barber of Fleet Street, Stephen Sondheim mentioned that he had some unperformed songs that had either been cut from his previous shows during their out-of-town tryouts or simply never made it to the stage.
Like Gioachino Rossini (who often threw away material that didn't fit into an upcoming operatic premiere -- or recycled it later in his career), the second-tier songs hidden away in Sondheim's musical trunk are a whole lot better than many finished pieces by lesser talents.
In 1980, when The Production Company commissioned Lucas to create a musical revue, he got Sondheim's blessing to use 17 of the songwriter's unperformed pieces (a previous revue entitled Side By Side By Sondheim had opened on Broadway on April 18, 1977 and run for 384 performances). Working with director Norman René, Lucas fashioned a script about two people (male and female) who found themselves alone on a Saturday night. Unlike certain jukebox musicals (Mamma Mia!), Marry Me A Little has surprising moments of emotional depth.

Poster art for Marry Me A Little
Some songs -- "Saturday Night" and "So Many People" (from 1954's Saturday Night) and "Your Eyes Are Blue" (from 1962's A Funny Thing Happened on the Way To The Forum) as well as "There Won't Be Trumpets" (from 1964's Anyone Can Whistle) are already familiar from recordings. Others, especially from 1971's Follies ("Little White House," "Who Could Be Blue," "Uptown, Downtown," "It Wasn't Meant to Happen," and the achingly romantic "All Things Bright and Beautiful") are welcome treats. The show received its San Francisco premiere in 1989 and was staged for two gay men in 2012 by Theatre Rhinoceros.
Down in Mountain View, TheatreWorks recently offered a new production of Marry Me A Little (starring A.J. Shively as "Him" and Sharon Rietkerk as "Her") as part of its devotion to Sondheim's musical theatre legacy. As artistic director, Robert Kelley, explains:
"Short, bittersweet, gleaned from a collection of once abandoned songs, Marry Me A Little was the neglected stepchild of a great master. We've reset it in San Francisco, from which one young professional commutes to Silicon Valley while the other works at a downtown startup. Though Sondheim's words were written decades ago, they capture the essence of youth today, channeling their outward confidence while revealing their underlying insecurity."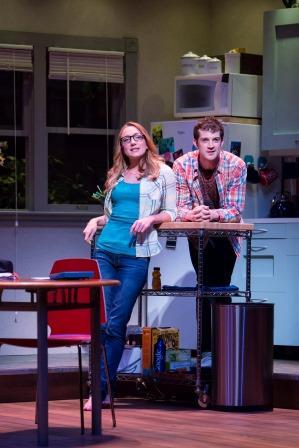 Sharon Rietkerk and A. J. Shively in Marry Me A Little
(Photo by: Tracy Martin)
Working on a unit set designed by Bruce McLeod, Kelley has placed most of the action in a single floor plan (supposedly two identical apartment units shared by "Him" and "Her") and equipped his cast with props like a laptop, guitar, bicycle, microwave oven, and yoga mat. A San Francisco skyline hovers in the background.
Kelley has also directed the show in a way that creates some interesting challenges for lighting designer Steven B. Mannshardt, who must differentiate whose apartment the characters are in at any given moment (the two actors share relatively equal lighting while sharing the same songs). Even when dancing together, the characters are living in separate fantasy worlds.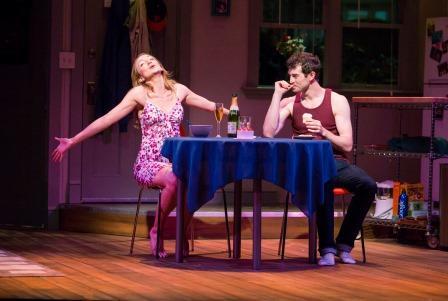 Sharon Rietkerk and A. J. Shively in Marry Me A Little
(Photo by: Tracy Martin)
Those familiar with Sondheim's song catalog will be fascinated by how music director Bill Liberatore (using piano reductions instead of full orchestrations) manages to bring out the brilliance and coloring of Sondheim's arrangements that might easily be overlooked by audiences attending a full-scale production of the shows for which some of these songs were created. A perfect example is Sharon Rietkerk's horny rendition of "Can That Boy Foxtrot" (a song written for Yvonne De Carlo to sing in Follies, but which was cut from the score shortly after I saw a 1971 preview performance in Boston).
In the following clip, Sondheim performs the song at the piano (with original cast members Dorothy Collins, Yvonne DeCarlo, and Alexis Smith watching). Needless to say, Sondheim places much less emphasis on suggesting that "Foxtrot" is a euphemism for the word "Fuck" than Rietkerk did in performance.
The two-member cast is a delight. Rietkerk (a familiar Bay area performer who specializes in musical roles) delivers a wistful rendition of "There Won't Be Trumpets" while Shively scores strongly with "Silly People" and "Marry Me A Little." Although it would be easy to assume that the lithe and muscular Shively studied ballet, according to a friend who spoke with the Ohio native on opening night, his training was primarily in martial arts.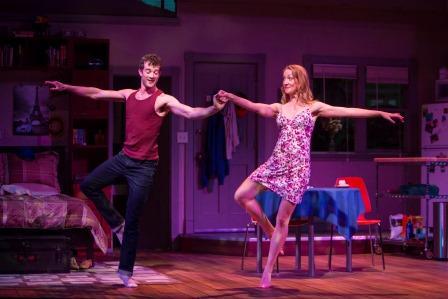 A. J. Shively and Sharon Rietkerk in Marry Me A Little
(Photo by: Tracy Martin)
In his program note, Kelley proudly states that:
"Only Shakespeare has contributed more works to TheatreWorks than Stephen Sondheim. His musicals are exceptional plays. They combine the emotion of insightful drama with the humor of character-driven comedy, both intensified through the abstract power of song. Like Shakespeare, Sondheim mixes tragedy, comedy, history, and romance in a world alive with music. There is a wealth of astonishing lyrics: words that interweave miraculously; words inspiring, unexpected, and remarkably clever; precise words that always define character. His amazing rhymes are intricate, original, and wise, matched with music that fits each lyric to perfection, flowing like dialogue, and inevitably telling a story."
* * * * * * * * * *
In June of 2013 Hershey Felder brought his one-man show, George Gershwin Alone, to the Berkeley Repertory Theatre. After returning to Berkeley that fall to direct Mona Golabek in The Pianist of Willesden Lane, Felder came back to Berkeley Rep's Thrust Stage with another one of his deeply insightful and intensely researched monologues. Maestro is devoted to the conflicted personality and complex career of Leonard Bernstein. As Felder explains in the following clip:
There were many similarities between Gershwin and Bernstein.
Both men were the children of Jewish immigrants.
Both men were extraordinarily gifted children who grew up to become formidable musicians and prolific composers.
Both men achieved great popular success on Broadway and in Hollywood.
Both men were brilliant orchestrators whose symphonic pieces reflect unique voices.
Both men wrote operas which were not initially taken seriously by the musical press.
Both men's lives were impacted by anti-Semitism.
While the above facts are common knowledge, it helps to simultaneously take stock of some of the differences between the two men.
Gershwin died at the age of 38 while Bernstein passed away at 72 (having lived nearly twice as long as Gershwin).
While Gershwin began his career in the heyday of Tin Pan Alley and became famous through Broadway, radio, and sales of his sheet music, Bernstein's greatest fame came from his telecasts before a studio audience in which he served as an extremely personable lecturer on how to appreciate classical music.
Although Gershwin enjoyed a close working relationship with his brother (Ira), Bernstein's collaborations with people like Betty Comden, Adolph Green, and Stephen Sondheim went well while his interaction with others (George Abbott, Lillian Hellman, Alan Jay Lerner) were less gratifying.
Whereas Gershwin had a 10-year affair with composer Kay Swift, he never married. Bernstein, on the other hand, was married to Felicia Montealegre from 1951 until her death in 1978, but left his wife in 1976 for a year-long affair with Tom Cothran (who died of AIDS in 1981).
Directed by his frequent collaborator, Joel Zwick, Felder's monologue covers a tremendous amount of ground ranging from Bernstein's meteoric rise as a conductor to his disappointment that his classical compositions had never seemed to be taken seriously. As Felder writes in his program note:
"Since Bernstein spent his life studying the immortals and sharing with us what in fact makes them so, it is very interesting to try and understand his point of view, and how his understanding of great music affects his perception of his own place in the pantheon of the greats. In another 20 years, we'll probably know where he belongs but, at the moment, not knowing gives us something to ponder."
Despite decades of conducting, lecturing, composing, and political and philanthropic activism, no amount of awards and honors could substitute for the thrills Bernstein received from the music he composed and/or conducted. A man with a voracious appetite for life, his impact on American music is still felt above and beyond his score for West Side Story.
To read more of George Heymont go to My Cultural Landscape