For some performers, the toughest challenge is to keep an audience eating out of their hands. Others may be more acutely focused on retaining their market share of a tiny piece of bandwidth within the entertainment industry. But for the risk takers, it's all about pushing the envelope in search of an adrenaline rush.
For the performer working in front of a live audience it's very much a question of staying in the moment, being able to know when the audience is with you or if you're losing them (and understanding how you might be able to win them back). For those working in front of a camera, the challenge might involve maintaining a semblance of stability in the wake of devastating news.
Lifeguards are taught how to rescue a drowning swimmer, but few places offer a stand-up comedian a safe venue in which he can learn what it's like to sink or swim. Written and directed by David Schlussel, Setup, Punch stars Elijah Wood as Reuben Stein, an aspiring stand-up comedian who is trying to get ahead. Reuben has devised an interesting trick he wants to test on his audience -- a gag that will genuinely challenge his comedic chops.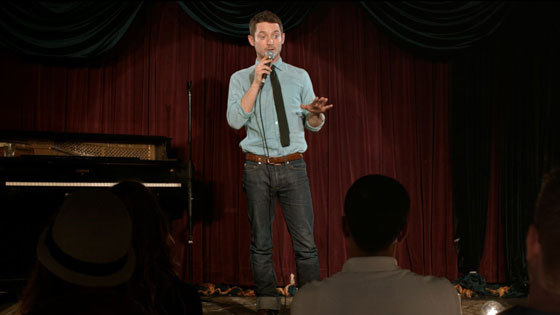 Elijah Wood is Reuben Stein in Setup, Punch
As he tells the audience about falling in love with Dottie Kaufman (Alia Shawkat) and asks her to join him onstage, we can see her becoming increasingly uncomfortable. Once seated in full view, she watches as Reuben teases the audience but tenses up when he gets down on his knee, pulls out a ring, and asks her to marry him.
"I didn't sign up for this" says the flustered young woman as she bolts from the stage and exits the comedy club, leaving Reuben emotionally shattered and with the wind clearly knocked out of his sails. Or is that what's really happening?
Reuben manages to pull himself together, finish his set, and exit to a round of supportive applause. Someone in the audience even hands him a small box containing some joints as a sympathy gift. Then Reuben gets on his bicycle and heads over to another comedy club where Dottie is about to go onstage with her own act. "Did you get them back?" she asks him, with a warm and supportive smile.
* * * * * * * * * *
Down in Palo Alto, TheatreWorks opened its 45th season (and 2014 New Works Festival) with the world premiere production of David West Read's achingly funny yet bittersweet new play, The Great Pretender. Shows with puppets (Avenue Q, Carnival!) rarely have trouble finding an audience. I don't doubt that this economical four-character, one-act dramedy will enjoy a long life in regional and community theatres.
The plot revolves around the career crisis faced by Roy Felt (Steve Brady), the amiable host of a beloved children's television show which has been on hiatus for the past year while he mourns the death of his wife and artistic partner. During their many years working and living together, Marilyn had been the lead puppeteer on the The Mr. Felt Show. For the show and its host, Marilyn was everything. Since her death, Roy has been pretty much directionless.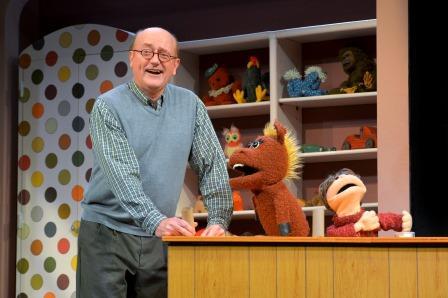 Mr. Felt (Steve Brady) chats with Carol and Fran on his children's
television show in The Great Pretender (Photo by: Kevin Berne)
Marilyn's death has also had a profound impact on Tom (Michael Storm), the show's director, as well as on its second puppeteer, Carol (Suzanne Grodner). Why? When Marilyn was helping to steer and manage The Mr. Felt Show, everyone involved in the enterprise knew what to do and felt safe and secure in their responsibilities. With Marilyn gone, they've been confused, frightened, and desperately in need of a "mother figure."
With too much spare time on his hands, Tom became needy enough to get dumped by his younger lover, Adam. Carol (whose husband keeps a separate apartment as a personal retreat) has been riddled with insecurities while drowning her sorrows in alcohol.
In many ways, Mr. Felt (like Fred Rogers) is that kind, patient, and understanding father figure that children once felt they could trust as they sat in front of their television sets. But in a world of fast-paced animated cartoons, someone like Mr. Felt has almost become an anachronism. As the playwright (who grew up in Toronto watching Mr. Dressup and Mr. Rogers' Neighborhood) explains:
"The type of show that featured a middle-aged man in a sweater with his puppet friends doesn't really exist anymore. We used to have a gentler, slower, more relaxed pace to these shows, which I think was comforting in some ways. There was the feeling that you were going to be welcomed into a kind person's home. Mr. Dressup was all about using your imagination."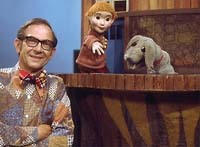 Mr. Dressup with Casey and Finnegan
(Photo courtesy of Wikimedia Commons)
Enter Jodi (Sarah Moser), an enthusiastic young puppeteer who grew up watching The Mr. Felt Show and has worshiped Roy since she was a child. Discovered by Tom (who was looking for someone who could take over Marilyn's puppet, Fran), Jodi is at first nervous, intimidated, and unsure of herself. Although Roy is gentle and encouraging, Carol quickly turns into a fire-breathing dragon lady whose territory is threatened by a younger, fresher talent.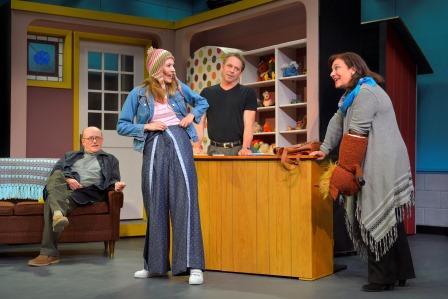 Steve Brady, Sarah Moser, Michael Storm, and Suzanne Grodner
in a scene from The Great Pretender (Photo by: Kevin Berne)
Carol had always assumed that she would move up to lead puppeteer and take over the Fran puppet if Marilyn ever left the show. But it's hard for Roy to believe that anyone could really replace Marilyn in that capacity. Nevertheless, Roy is willing to spend a weekend with Jodi to help her relax and find her rhythm as a puppeteer so that she become better at improvising dialogue.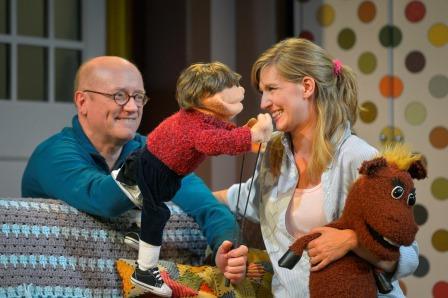 Mr. Felt (Steve Brady) shows Jodi (Sarah Moser) how to work with
Fran and Carol in The Great Pretender (Photo by: Kevin Berne)
Roy's generosity of spirit is easily misinterpreted by Carol. Although Jodi was showing signs of improvement and increased confidence, she soon realizes that what she thought was the opportunity of a lifetime would be much more like an emotional minefield littered with Carol's IED's.
After much soul-searching, Roy finally realizes that children have to be told about a death in the family. If one of their most trusted friends can't explain it to them directly, perhaps he can explain it to a puppet while they watch, listen, and learn. As directed by Stephen Brackett, The Great Pretender tackles some delicate topics that most people desperately try to avoid:
What happens to two professionals who are married to each other and spend all their energy in a joint creative process? Do they miss out on a more balanced life because, at the end of the day, they're simply too exhausted to spend time with other people?
When an "artistic family" is shattered by the death of a key member, can it pass through the standard stages of grief and regroup in order to keep working together?
When a struggling and insecure artist is offered a golden opportunity that could potentially "make" her career, can she afford to turn it down?
Once the formula for a successful theatrical franchise is shattered, can new ideas and new characters bring a renewed energy to the product that will allow its producers to hold onto their market share?
Can children (and puppets) be taught how to cope with the day-to-day realities that accompany the death of a loved one?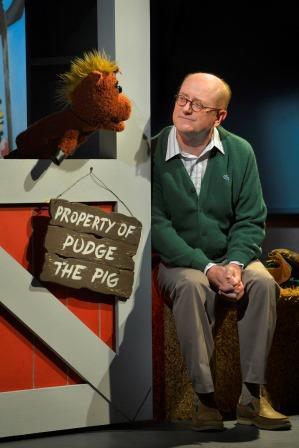 Mr. Felt (Steve Brady) tries to explain a friend's death to
Carol the Pony in The Great Pretender (Photo by: Kevin Berne)
I'll admit to being utterly captivated by the skill with which Read balances a shitload of caustic jokes with the genuine pain of suffering a double-edged loss that leaves Mr. Felt mourning his personal and professional partner while worrying about the potential demise of his show business career. Although Mr. Felt is the reassuring quiet type -- much like Fred Rogers or Fran Allison (who starred on Kukla, Fran, and Ollie) -- he has a beautiful monologue late in The Great Pretender that reveals the pain and loneliness that comes with being too deeply in love with one's art.
Sarah Moser scores points as Jodi while Michael Storm lends sturdy support as the show's gay director who, without a job and a lover, is left very much at sea. Both characters, however, are sitting ducks for the acerbic wit of Carol, whose acid tongue knows no boundaries. The Great Pretender is a touching yet wildly funny show that will endear itself to audiences for years to come.
To read more of George Heymont go to My Cultural Landscape