In July of 1985 I traveled to Australia where, much to my surprise, I enjoyed one of the most rewarding evenings of musical theatre in my life. The event was a rowdy production of The Mikado that was magnificently designed by Tim Goodchild and sassily directed by Christopher Renshaw.
Basing his production on the concept that Gilbert & Sullivan's popular operetta was not at all about Japan, but about Victorian England's fascination with Japanoiserie, Renshaw staged The Mikado in a turn-of-the-century London department store. The characters were seen as Japanese dolls which inhabited the porcelain urns and lacquered chests that were on sale. The riotously colorful sets and costumes created a fantasy world that I doubt Gilbert & Sullivan could have imagined, but which I'm sure would have tickled their fancy.
Yum-Yum was seen bathing topless center stage, in a porcelain urn.
Nanki-Poo often rode around the stage on a bicycle.
Katisha came onstage in a cloud of green smoke (just like Margaret Hamilton's entrance as the Wicked Witch of the West in The Wizard of Oz).
Pooh-Bah balanced as many hats as he held offices.
Ko-Ko and Katisha performed "There is Beauty in the Bellow of the Blast" as if it were an old-fashioned musical hall turn.
I'm delighted to report that, following several recent revivals, this brilliant production is now available on a DVD released in 2012 by Opera Australia that can be rented from Netflix. The following excerpt gives a glimpse of the production's design:
Makeup styles from classical forms of Japanese theatre and Chinese opera have always fascinated me. In the following clip, you can watch mezzo-soprano Jacqueline Dark go through the make-up process to become Katisha in Opera Australia's production.
* * * * * * * * * *
What happens when you combine classic characters from Asian fairy tales (The Monkey King, The Goddess of Mercy) with video game avatars, a suicidal Asian-American male teenager, and his older sister who struggles to admit that she's relieved he finally succeeded in killing himself? You get 410[GONE], a new piece of multimedia theatre by Frances Ya-Chu Cowhig which received its world premiere production from San Francisco's Crowded Fire Theater Company earlier this year.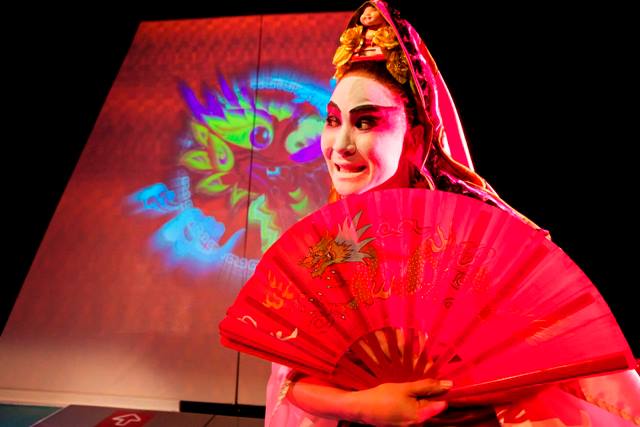 Charisse Loriaux as Guan Yin, the Goddess of Mercy
in 410[GONE] (Photo by: Pak Han)
While Evren Odcikin's energetic production -- in which "a Chinese-American girl is looking for her dead brother, but doesn't know where he might be since his place of ancestry is not his place of death and she is probably getting all kinds of mismatched information" -- may seem overly imaginative, its inspiration comes from the playwright's poignant childhood. As Cowhig explains:
It seems like cultural and religious beliefs are at their strongest when it comes to the unknowable (death and what might happen after). There is a high opportunity for conflict and confusion in a person who lives in the margins or spaces between two worlds. My mother was raised Taoist and my father Catholic. When I was living in Okinawa, I went to a missionary school where the teachers told us that the Japanese holiday, Obon (where families sweep the graves of their ancestors and offer food), was a festival that worshipped Satan. I became confused and worried when I went to my mom's village for Chinese New Year and saw her entire family worshipping Satan.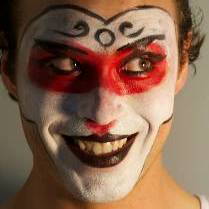 Alexander M. Lydon as Sun Wu Kong, The Monkey King
in 410[GONE] (Photo by: Pak Han)
When Cowhig was 21, her 17-year-old brother (who suffered from depression and mental illness) hung himself. As the playwright recalls:
He was a cutter, and posted pictures of his scars and bloody cuts on the Internet at a support group for cutters, along with his thoughts about cutting, and some poetry he had written. I had found out about the support group, and would go online and read what he had written as a way to feel some connection to him at times when he wasn't telling his family anything about what he was going through. He also spent a lot of time playing online games so, between this visual catalogue of his self-injury that he posted online to the support group and all the hours he spent in chat-rooms and gaming, a huge part of his life was spent on the Internet, which is why in 410[GONE] there is an exploration of technology and avatarization.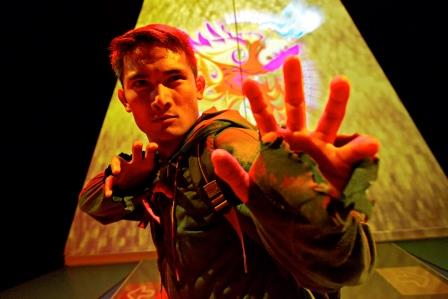 Christopher James Cortez as Seventeen in 410[GONE]
(Photo by: Pak Han)
I knew after his first few attempts that he was eventually going to kill himself, so a lot of my college experience felt like holding my breath/steeling myself for that moment. For maybe six months after my brother killed himself, I processed all my feelings and grief through an online blog that only a few friends knew about. Many of those blog posts took the form of letters to him. So very literally, some of those memories and dreams that I recorded in that online journal became some of the text for 410[GONE].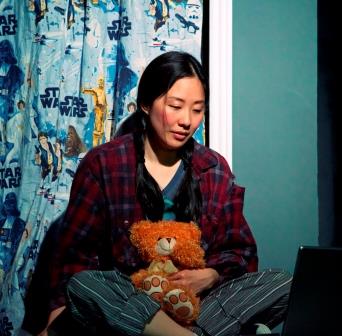 Cindy Im as "Twenty-One" in 410[GONE] (Photo by: Pak Han)
In addition to the beleaguered humans (Seventeen and Twenty-One) in Cowhig's script, 410[GONE] features some bizarrely reimagined figures from Asian mythology. For starters, try to imagine the spiritual equivalents of Karen Walker and Jack McFarland from the Chinese Land of the Dead in charge of an emergency hotline for souls in crisis.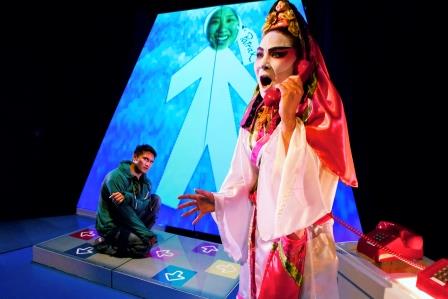 Christopher James Cortez (Seventeen) and Charisse Loriaux
(Guan Yin, Goddess of Mercy) in 410[GONE] (Photo by: Pak Han)
The mythological part of Crowded Fire's cast includes:
Guan Yin (The Goddess of Mercy who does not believe in vengeance). Long qualified to enter Heaven, she looks without judgment on those who suffer and has chosen to remain in the earthly realm until all beings have been liberated from the excruciating cycle of birth and rebirth.
Sun Wu Kong (The Monkey King Aware of Emptiness) was born from the loins of a rock, fertilized by the grace of Heaven, and can transform himself into any form of existence. As punishment for erasing his name from the roster of the living and dead, this legendary simian imbecile was banished to a mountain in Shandong province in order to be reeducated through labor.
Niu Tou, the Ox-Head God is the first person a soul will encounter while crossing the Bridge of Desperation that spans the chasm between the agony of life and the rapturous void of death. His godly function is to be the bearer of the Soup of Forgetting.
Got that? By all means, bring your video game skills, love for Eastern religions, and wild role-playing with you to the theatre if you get a chance to see this play, but park Jesus and his guilt trips at the door.
I wouldn't insult the spirit of Sun Wu Kong by suggesting that Cowhig's play is more fun than a barrel of monkeys. It deals with some serious issues of death, forgiveness, reincarnation, and the eternal healing power of soup. However, I would certainly tip my hat to Evren Odcikin (stage direction and scenic design), Wesley Cabral (video design), Goose Manriquez (animator), Keiko Shimosato Carreiro (costume design), and Sara Huddleston (sound design).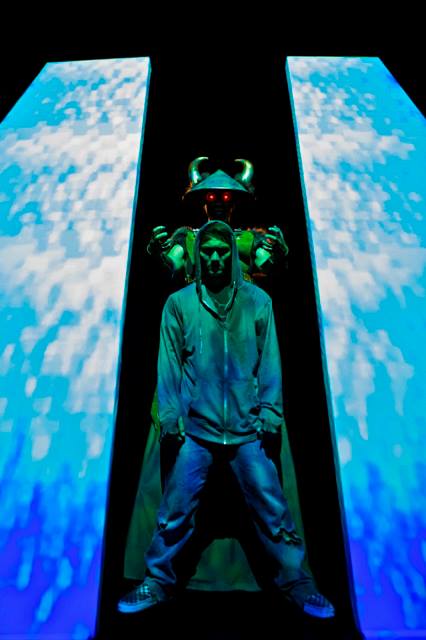 Seventeen (Christopher James Cortez) submits to Niu, Tou,
the Ox-Headed God (Michael Uy Kelly) in 410 [GONE]
(Photo by: Pak Han)
Cindy Im (Twenty One) and Christopher James Cortez (Seventeen) embodied the earthly spirits while Michael Uy Kelly appeared as the Ox-Headed God, Wiley Naman Strasser supplied the voiceover for the video game, and Charisse Loriaux strutted her stuff in Chinese opera and black leather dominatrix drag. I was especially taken by the mercurial performance of Alexander M. Lydon as the Monkey King (who often made me think of Michael Urie with an acute case of ADHD).
To read more of George Heymont go to My Cultural Landscape