One of the more delicious quotes floating around the Internet claims that "Creativity is intelligence having fun." Whether one points to an elaborate Rube Goldberg type of contraption or the refined elegance of this handmade Cthulhu ski mask (made with 20 percent egg protein yarn), as the old Cunard Line slogan proclaimed: "Getting there is half the fun."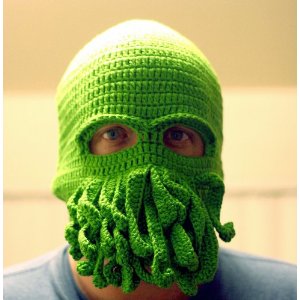 One of the blessings of living in a major arts center is the opportunity to attend master classes by some of the world's great musicians. While in town to perform with the San Francisco Symphony last month, pianist Stephen Hough spent some time working with three piano students at the San Francisco Conservatory of Music.
Hailed far and wide as a polymath, Hough is a gifted teacher who gives students a much deeper understanding of the times in which some composers lived, the cultural traditions of their society, and how various performance practices have impacted their music over the years. While working with a student here in San Francisco, he stressed that it's okay to take certain liberties with Beethoven's music because, in Beethoven's time, the composer was well known for his poor hygiene and a habit of spitting on the floor while at the piano.
What's so fascinating about Hough's master classes is his encyclopedic knowledge (not just of music but about what is happening around the world) and his generosity and good humor in sharing his knowledge. Even for pianists who are already performing on the world stage, he is invaluable as a mentor with regard to phrasing, interpretation, musical shading, performance mechanics, and the subtlest of nuances. In the following clip, he is seen working with pianist Wu Qian on Franz Liszt's "Hungarian Rhapsody #12."
Although no video is available from Hough's February 13 master class at the San Francisco Conservatory of Music, there's about 40 minutes available on YouTube that shows Hough working with a student on Liszt's Bénédiction de Dieu dans la Solitudeat at the Peabody Conservatory of Music a few days prior in Baltimore. Here's the first of the four video segments. Look, listen, and learn.
* * * * * * * * * *
Last month, the San Francisco Silent Film Festival packed the Castro Theatre for its jam-packed Winter event (which ran from 10:00 a.m. to 11:00 p.m.). Although the full-length features included 1916's Snow White; Douglas Fairbanks starring in 1924's The Thief of Baghdad; F.W. Murnau's 1926 version of Faust; and Mary Pickford starring in 1927's My Best Girl, I was particularly taken with a trio of shorts by Buster Keaton. Known throughout his life as "Old Stoneface," Keaton engineered many brilliant mechanical gags, performed his own stunts, and made some of the most elaborately calculated tricks of physical comedy seem completely effortless.
Anyone who has struggled to put together a piece of furniture from IKEA will find himself laughing hysterically while watching 1920's One Week, in which Keaton and his bride (Sybil Seeley) try to construct a build-it-yourself house they have received as a wedding gift. One Week was actually inspired by a 1919 Ford Motor Company educational short about prefabricated housing entitled Home Made.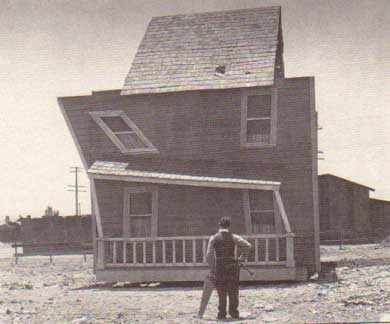 Buster Keaton and his "build-it-yourself" house in One Week
As you watch One Week (which includes some of the actual devices that were shown in the making of Home Made), keep in mind that none of Keaton's stunts were planned on a computer or rendered with CGI scripting. They were all performed live and without the use of miniatures (Keaton's trick house was built atop a large turntable).
If you want to see an example of creativity as "intelligence having fun," watch the opening sequence from 1920's The Scarecrow as the 5'6" Buster Keaton and 6'3" Joe Roberts sit down to one of the most elaborately choreographed breakfasts (truly an engineer's wet dream) that you will ever see in your life.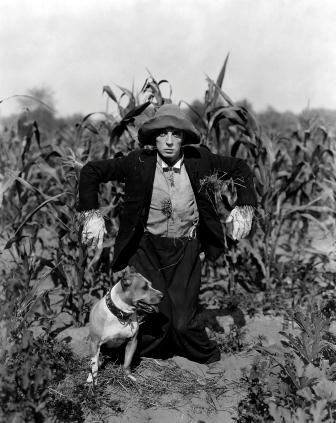 Buster Keaton with Luke in The Scarecrow
After numerous scenes in which he is pursued by Fatty Arbuckle's pet dog, Luke, watch how Keaton launches an extended romantic/comedic arc with the innocent act of tying his shoelaces and segues into a multi-vehicle chase scene (escalating from horse to motorcycle) that ends up with one of the speediest marriages on record. The planning, timing, and coordination are immaculately executed.
* * * * * * * * * *
In 1921, Keaton created the first of many brilliant camera tricks for The Playhouse. According to Wikipedia:
Keaton's portrayal of nine members of a minstrel show required the use of a special camera shutter. It had nine exactingly-machined strips of metal which could be moved up and down independently of each other. Elgin Lessley, Keaton's cameraman, shot the far-left Keaton with the first shutter up, and the others down. He then rewound the film, opened the second segment, and re-filmed the next Keaton in sequence. This procedure was repeated seven more times. The camera was hand-wound, so Lessley's hand had to be absolutely steady to avoid any variation in speed. Keaton relied on a metronome to guide him, not a problem in a silent film. It was decades before Keaton, who masterminded this, revealed his technique to other filmmakers.
Watch Keaton carefully as he takes on numerous roles, swims through a flooded orchestra pit, and clowns around as a cigar-smoking chimpanzee. It's a tour de force conceived and executed by an artistic genius..
* * * * * * * * * *
The Silent Film Festival also announced plans for a three-day mini-festival (June 14, 15, 16) which will be devoted to nine silent films by Alfred Hitchcock that have recently been restored by the British Film Institute. The following clips offer an appetizer of the line-up.
The Pleasure Garden (1925)
Downhill (1927)
The Ring (1927)
The Lodger: A Story of the London Fog (1927)
Champagne (1928)
The Farmer's Wife (1928)
The Manxman (1929)
Blackmail (1929)
To read more of George Heymont go to My Cultural Landscape