The current controversy over journalists who are more concerned with having access to the people they interview (rather than proactively holding such people accountable for their words and deeds) has a strange precedent in advertising. Created by Louis V. Gerstner, Jr. (the chairman and CEO of American Express's Travel Related Services division), the marketing tagline "Membership Has Its Privileges" became a branding success as well as a part of popular culture.
Whether with the blessing of an editor, a publicist, or through one's own personal connections, access is crucial for any journalist who attempts to nab an interview with a celebrity. Tact, however, can be equally important. If an overprotective publicist, spouse, or personal assistant is riding shotgun on the interview, the process can come to a sudden halt at a moment's notice.

During his popular quiz show in the early days of television (You Bet Your Life), Groucho Marx would welcome his contestants with the following statement: "Say the magic word, the duck comes down and you win a hundred dollars!" For aspiring interviewers, a more appropriate piece of advice might be "Feel free to say absolutely anything -- just be careful what you say."
Two recent Bay area productions focused on tense personal interactions which could easily be sabotaged by one person leaking another's secret or overstepping the bounds of perceived privacy. Both plays are fraught with tension about respecting a person's emotional boundaries. While one is a farce, the other, most decidedly, is not.
* * * * * * * * * *
New Conservatory Theatre Center recently debuted a winning production of Buyer & Cellar, the wonderfully dishy play about a gay man's stint working in the faux shopping mall created beneath Barbra Streisand's estate in Malibu. Using a stark but elegant set designed by Devin Kasper, the show was in the more-than-capable hands of J. Conrad Frank, whose alter ego is the renowned operatic drag diva, Katya Smirnoff Skyy.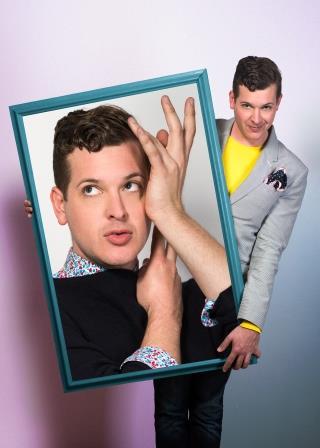 J. Conrad Frank stars as Alex More in Buyer & Cellar
(Photo by: Lois Tema)
Jonathan Tolins was inspired to write Buyer & Cellar by the 2010 publication of Barbra Streisand's coffee table book entitled My Passion For Design (for which the legendary entertainer also acted as photographer). His challenge was to find a structure which would allow audiences (who frequently refer to Streisand with such pet names as "Babs" or "Miss Marmelstein") to get a true sense of what becomes a legend most. What he created is an opportunity for a master storyteller to share 100 minutes of fabulously dishy material with an audience.
Buyer & Cellar begins with an attractive gay man coming onstage with a copy of Streisand's book in his hands. As he introduces himself to the audience, Alex More (an aspiring actor who would like to believe that he might be an extremely distant relative of England's Sir Thomas More) takes great care to remind the audience that the only thing they will see onstage that is real is his copy of Streisand's book. As he forcefully explains:
All of the dialogue the audience will hear is imaginary and scripted.
With so many male and female entertainers performing imitations of Streisand, he will not "do" her by trying to imitate her legendary voice.
While the audience may assume anything they wish (many fans boast an encyclopedic knowledge of all things Streisand), this disclaimer is absolutely necessary because a certain someone has developed a reputation as one of the most litigious entertainers in history.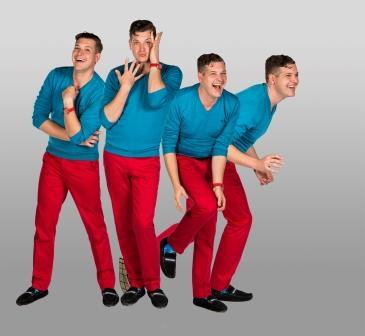 J. Conrad Frank stars as Alex More in Buyer & & Cellar
(Photo by: Lois Tema)
With that particular piece of business out of the way, Alex starts to describe his misadventures in Disneyland (or "Mauschwitz") and how he got fired following a nasty confrontation with a little brat in Mickey's Toontown. After touching on his relationship problems with his boyfriend, Barry, Alex seduces the audience with the tale of how he ended up working where "the woman of the house" had built a miniature shopping mall to house her treasure trove of antique dolls, period costumes, and numerous items acquired over decades of shopping and collecting (with a healthy bit of haggling thrown in to keep in touch with her Brooklyn roots).
As a playwright, Tolins deftly captures the isolation and nagging insecurities of a superstar who has acquired international fame, exceptional wealth, and a life filled with notoriety (including an impressive string of high-profile love affairs). He neatly juxtaposes such triumphs with the fragile memories of a girl whose father never told her she was pretty and whose source of childhood happiness was not her mother, but a doll that a neighbor fashioned from a hot water bottle.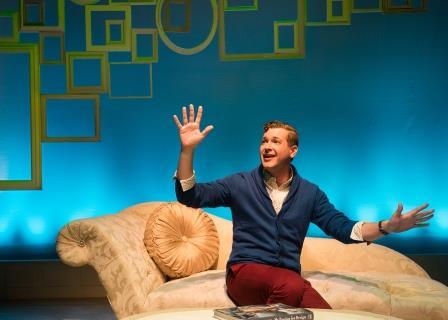 J. Conrad Frank as Alex More in a scene from Buyer & Cellar
(Photo by: Lois Tema)
When Alex's fan mentality starts feeding the legend's fantasies of starring in Gypsy on Broadway (despite the fact that Streisand would have difficulty convincing critics that a 70-year-old stage mother could have a five-year-old child), he is quickly brought down to earth with the star's observation that eight shows a week would be far too much to handle for someone who suffers so severely from stage fright that she has become extremely wary of crowds ("I can barely stand to get close to the 405!").
The delicate line between being a friend or a fan is crossed when Alex tries to show some genuine warmth toward his employer and (even worse) inquires about being paid for working overtime. When he suddenly realizes the shallow premise upon which Streisand has invited him up to the main house after his confession that Barry had dumped him, Alex's sense of betrayal gets the best of him. As his sense of injustice spirals into a rant, he accuses Streisand of not paying him for his work coaching her for the role of Mama Rose.
As directed by Rebecca Longworth, J. Conrad Frank gives a warm and ingratiating performance as Alex More. Whether in drag as Katya or mimicking the body language of a manipulative old Jewish woman who still has a few tricks up her sleeve (including a most impressive coupon created with the help of an antique dot-matrix printer), Mr. Frank knows how to work an audience.
When I first saw Buyer & Cellar with Michael Urie appearing as Alex, I was as overwhelmed by his "fast and furious" performance as I was by Tolins's writing. As I left the theatre this time, I was again struck by what a superb job the playwright had done as a storyteller with wit to spare. If I could offer one piece of advice to help Mr. Frank sharpen his performance, it would simply be to bone up on the proper pronunciation of the Yiddish words in the script.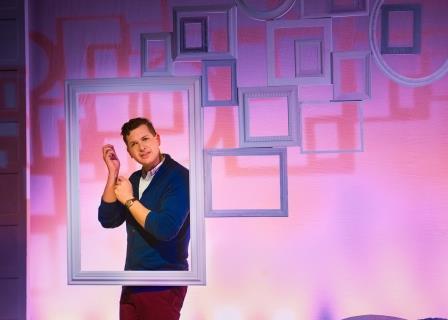 J. Conrad Frank as Alex More in a scene from Buyer & Cellar
(Photo by: Lois Tema)
* * * * * * * * * *
In recent years, Americans have become increasingly aware of how pathetically misinformed they are about human sexuality and, in particular, sexual reproduction.
In August 2012, Congressman Todd Akin (R-Missouri) claimed that "if it's a legitimate rape, the female body has ways to try to shut that whole thing down."
In his recent discussion claiming that women who have abortions should be punished as part of being held accountable for their actions, Donald Trump didn't see any reason to punish the men who got those women pregnant.
Thankfully, YouTube personality Joe Santagato keeps providing us with proof of our society's sexual ignorance with his series of clips entitled "Idiots of the Internet."
During recent seasons, America's arts community has witnessed increasing demands for theatre companies to produce works by female playwrights (especially works in which women are not outnumbered by male characters). Lauren Gunderson has received a great deal of acclaim for writing plays that not only feature female scientists, but go to great lengths to explain the actual science behind their discoveries.
I tip my hat to Sarah Treem for managing to force a debate about the scientific origins of menstruation in mammals and its role in protecting a female's body (regardless of the species). Even though my father may have taught high school biology, the curriculum he was given to teach never came anywhere near the issues discussed in Treem's provocative play, The How and the Why, which recently received its Bay area premiere from the Aurora Theatre Company.
Because The How and the Why takes place in academia, menstrual matters play second fiddle to the crux of Treem's drama in which Zelda (Nancy Carlin), who gave her baby up for adoption and went on to have an impressive career as a research biologist, comes face to face with Rachel (Martha Brigham), her adult offspring.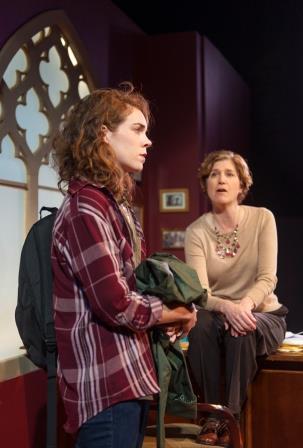 Martha Brigham and Nancy Carlin in a scene from
The How and the Why (Photo by: David Allen)
As the play begins, Zelda is alone in her office, nervously awaiting Rachel's arrival. As a professor who is on the committee that decides which scientists will get to present papers at the upcoming NORB (National Organization of Research Biologists) conference, she is used to people wanting favors from her. Perhaps because of her age and stature in academia, she also has a tendency to be a bit condescending.
Rachel, on the other hand, is an aggressive young research biologist who has hit upon a controversial theory about menstruation. Although brilliant in the lab, she's naive about love. When the personal pressures become too intense, Rachel can suffer a terrifying anxiety attack.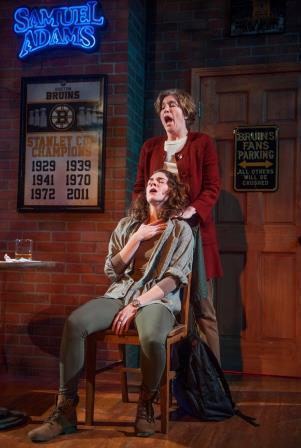 Martha Brigham and Nancy Carlin in a scene from
The How and the Why (Photo by: David Allen)
As Rachel and Zelda spar with each other over their conflicting theories of menstruation (as well as whether or not Zelda has the right to give the child she abandoned any advice), the two women reveal themselves to be a lot more complex than they may have assumed at first glance. Each also has a dangerous tendency to jump to conclusions.
While the confrontations between Rachel and Zelda are filled with accusations of personal and professional betrayal, the search for truth (in theory as well as in real life) is form of tough self-love. Both women have suffered staggering personal losses and are wary of divulging long-held secrets, although when Zelda drops an interesting piece of dirt to one of her colleagues, it lights a fire which cannot be easily extinguished.
Treem was inspired to write The How and the Why after reading Natalie Angier's book, Woman: an Intimate Geography, in which she learned about an evolutionary biologist named Margie Profet. As the playwright notes:
"Evolutionary biology is particular in storytelling. Scientists look at trends across millenia and come up with theories for why things happened the way they did. When I say 'story,' I don't mean myth. These stories are rooted in empiricism, but they are narratives. There's just so much you can extrapolate about the priorities and principles of a culture by examining its relationship to the body. Especially women's bodies. Who controls them? Who makes the decisions for them?"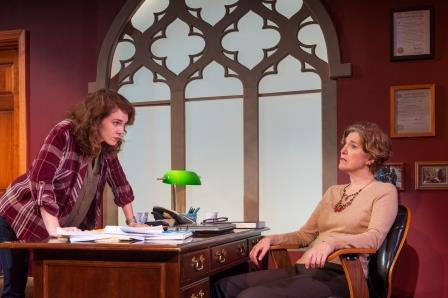 Martha Brigham and Nancy Carlin in a scene from
The How and the Why (Photo by: David Allen)
"When I write well, it's usually from some deep and existential anxiety. I think The How and the Why came from this question: 'How the hell do I become a grown-up?' On a personal level, it's a little hard for me to remember where I was at 28 when I started this play, but I think I was, like many girls I know, in an emotional vortex. That's a tough age. You've outgrown your childhood and your younger self, but there's a real period of searching that needs to happen before you can formulate an appropriate adulthood."
Working on a tiny set designed by Kent Dorsey for the Aurora Theatre's 49-seat second space (Harry's Upstage), Joy Carlin directed Treem's two-act play with a keen sense of the emotional and competitive tug of war between Zelda and Rachel. Whether or not their personal issues can dwarf the impact of their theories on evolution may depend on how much an audience member knows about biology or back-stabbing techniques in academia.
If you're into stories about adopted children connecting with their biological mothers, this one's a doozy.
If you're into a brutal depiction of a woman's choices between work and family, The How and the Why will give you plenty of food for thought.
If you want to know more about bonobos, chimpanzees, and the scientific secrets of the cervix, you'll learn a great deal about biology.
If you want to see women fighting to define their own bodies in a scientific field dominated by men, the challenges will become much clearer than before. One thing's for sure. You won't be bored!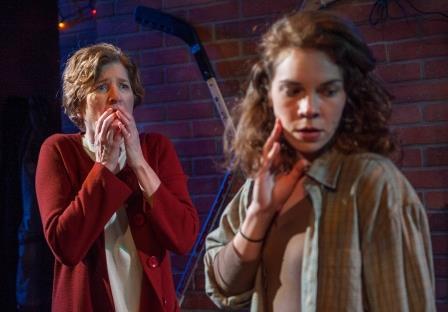 Nancy Carlin and Martha Brigham in a scene from
The How and the Why (Photo by: David Allen)
To read more of George Heymont go to My Cultural Landscape