One of the strongest assets of LGBT film festivals (which accept gay couples as not just a given, but as a norm) is that they allow audiences to enjoy romantic farces in which a protagonist's sexual orientation might be the very least of his worries. Two new films shown at San Francisco's Frameline 36 Film Festival proved to be great fun.
Directed by Rosser Goodman, Love or Whatever is that rare gem: a sexy and intelligent gay romantic comedy. Corey (Tyler Poelle) is a successful young psychiatrist with an extremely hot and hunky boyfriend (David Wilson Page), a thriving clinical practice, and a beautiful home.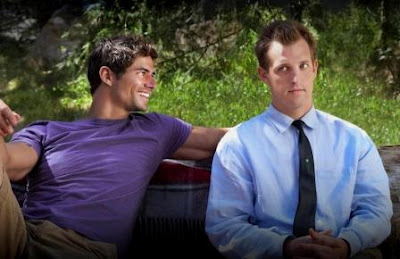 Pete (Joel Rush) and Corey (Tyler Poelle) in Love or Whatever
Although some of Corey's patients are a bit strange (one woman claims to have been mauled by a mountain lion that used its tongue to polish her private parts like a bowling ball), he's fast approaching his 30th birthday. When Jon (his musclebound fitness trainer boyfriend) goes into a commitment panic at the discovery of two wedding rings in Corey's jacket pocket, he decides it's time to see if he might be bi or perhaps "flexisexual."
Corey's lesbian sister (Jennifer Elise Cox) quickly steps in, signing her clueless brother up for a Grindr account and pushing him back out on the meat market. Between the poetry-loving pizza delivery boy (Joel Rush) who's been bringing dinner to Corey's home on a regular basis, and the fact that Jon has started screwing one of Corey's female patients (Jenica Bergere), Love or Whatever delivers a rowdy romp that should have no trouble keeping audiences amused and aroused.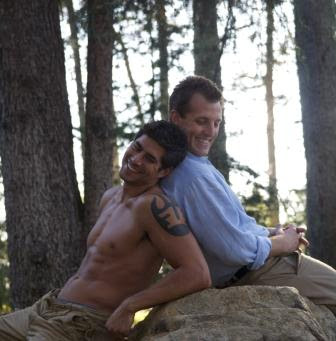 Pete (Joel Rush) and Corey (Tyler Poelle) in Love or Whatever
Written by Cait Brennan and Dennis Bush, Love or Whatever flips some of the standard situations in gay films upside down:
Instead of the protagonist having a best gay male friend who's a raging slut, his lesbian sister (who runs a coffee shop) is the person dragging one girlfriend after another across the screen.
The petulant little gymbot who cheats on his very average-looking lover is the person who loses everything in the end.
Pete performs a rare act of generosity for someone his age.
When Corey and Pete finally get together, each has suffered a major personal loss and recognized the value of the other man's friendship.
Nowhere as crass as the films in Q. Allan Brocka's popular Eating Out franchise, most of the characters in Love or Whatever are more mature and fully developed that one often finds in gay comedies. Here's the trailer:
* * * * * * * * * *
Over the years, numerous comedy films have been released about the perils of returning home for Thanksgiving or Christmas to celebrate the holiday with a horribly dysfunctional family. Few such movies, however, have been devoted to coping with one's crazy Jewish family as the Passover holiday approaches.
In the opening scenes of Let My People Go! the audience sees Ruben (Nicolas Maury) cozily snuggling up against his handsome Finnish lover, Teemu (Jarkko Niemi), in their rustic cabin. A native of Paris, Ruben happily settled down in Finland with Teemu, secure in the knowledge that doing so would keep him far away from his neurotic relatives.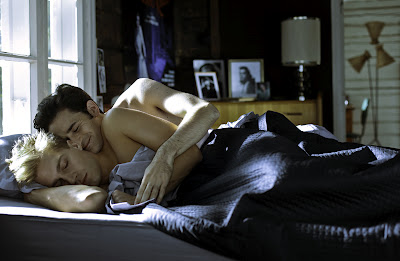 Teemu (Jarkko Niemi) and Ruben (Nicolas Maury)
are two lovers living in Finland
As he rides his bicycle down the streets of their small town (whose pastel-colored houses look like they have been imported from 1998's Pleasantville), Ruben accepts fresh cookies from old ladies and is obviously adored by everyone he encounters. But when he tries to deliver a package full of euros to the school janitor, Mr. Tiilikainen (Kari Väänänen), his routine is shattered.
Mr. Tiilikainen wants nothing to do with the money and insists that Ruben take it. When Ruben returns home and explains his newfound wealth to Teemu, his lover insists that he turn it over to the police. When Ruben refuses, Teemu kicks him out of their home and the humiliated Ruben has no other place to go but home to France.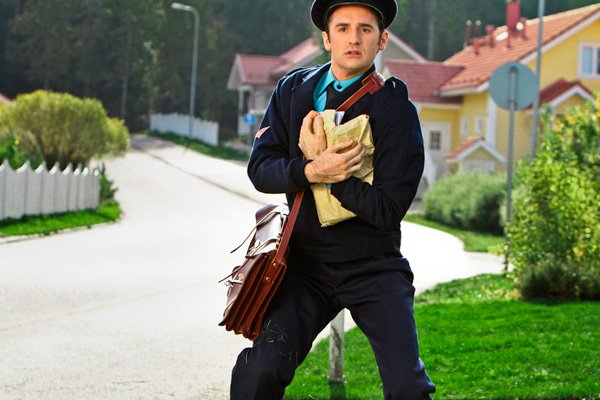 Ruben (Nicolas Maury) is a postman in a small Finnish village
Upon arriving in Paris, Ruben notices the baggage personnel inspecting his satchel full of money and realizes that he'll get into trouble if he tries to claim it. So he turns to embrace his gushing mother, Rachel (Carmen Maura), his sister, Irène (Amira Casar), and his father, Nathan (Jean-François Stévenin), who have joyously arrived to bring him home in time for Passover.
Depressed, exhausted, and close to tears, Ruben has to deal with his family's usual hysterics:
His father wants to play tennis with Ruben and introduce his son to Françoise (Aurore Clément), his mistress for the past 20 years.
Irène's husband, Hervé (Charlie Dupont), is a down-and-out actor who cannot earn a living.
Ruben's hot-headed brother, Samuel (Clément Sibony), is ready to beat the shit out of their brother-in-law.
When Ruben goes to a gay nightclub, he runs into the family's attorney, Maurice Goldberg (Jean-Luc Bideau), a lecherous old goat who can't take his eyes (or hands) off Ruben.
And when Ruben ends up in jail after a series of mishaps, the embarrassed Police Chief (Jean-Christophe Bouvet) -- who won't allow Ruben to speak to Teemu in Finnish -- has to call Teemu and translate Ruben's love letter from French to English over the phone.
Ruben's overbearing mother can barely bring herself to acknowledge that her son is married to a man who is not even Jewish (Ruben's ongoing nightmare features his mother as the host of a television shopping network selling an aerosol product which, with two spritzes, can turn anyone into a Jew).
In his first feature film, director Mikael Buch takes Ruben from a serene, sublime life in Finland to the utterly ridiculous antics of his family in Paris. Audiences will love the scene in which Ruben enters a French nightclub that is having a costume party in which everyone is supposed to be dressed as characters from Cecil B. DeMille's 1956 version of The Ten Commandments .
Viewers will also fall in love with Fredrik, the Finnish forest ranger (Olavi Uusivirta) who rescues the drunken Teemu (an old boyfriend from their school days) as Teemu wanders around in the woods, despondent over having kicked Ruben out of their home. And they'll laugh hysterically when Goldberg's lover, André (Didier Flamand), takes a golf club to the car (which belongs to Ruben's sister) in which Ruben has driven Goldberg home.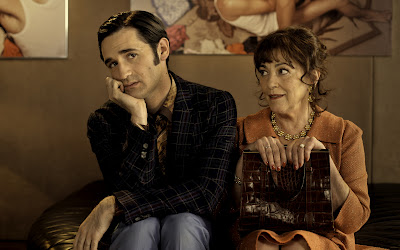 Ruben (Nicolas Maury) and his mother (Carmen Maura)
Written by Buch and Christopher Honoré, the plot twists in Let My People Go! will keep audiences doubled over in laughter as Maury (who is justifiably compared to Pee-wee Herman) struggles to save his marriage to Teemu. Jews will especially love the moment during the seder when Teemu rings the doorbell and (because on Passover strangers must be welcomed and fed) becomes the gay goy that Ruben's narcissistic mother must embrace in order to prove that, in addition to wanting her son to be happy, she's a good Jew! Here's the trailer:
To read more of George Heymont go to My Cultural Landscape