Many writers tense up at the sight of a clean piece of paper or a blank computer screen. For columnists, however, the challenge is always clear. Although the subject matter of any particular column might be clearly delineated in one's mind, the trick is to find the key -- or entry point -- into a discussion.
In today's world of algorithms and hyperlinks, it's easy for companies like TiVo and Netflix to predict choices which might appeal to a particular consumer. Many news sites have email tools which will send each subscriber a daily roundup of articles that adhere to the subjects listed in the user's profile.
But what about the element of surprise? Haven't some of the best recipes come about as the result of reaching for the wrong bottle on a spice rack, spilling too much of one ingredient into the mix or nontraditional thinking?
Trial and error is a great technique for discovering what works and what doesn't. But curiosity doesn't always kill the cat. Sometimes it strokes a hungry pussy until it starts to purr.
I'm constantly amazed at how today's software has improved my writing from a technical standpoint, while exposing me to new thoughts and ideas I had never considered for my blog. Sometimes I'll discover a video clip on YouTube that simply blows me away. Occasionally, a hyperlink in an article (or one that has been sent to me by a friend) takes my mind careening down a wild new path of discovery in the blogosphere.
Finding new and interesting ways to link film and theater reviews helps to keep a mind fresh. But there are times when luck, timing and sheer coincidence reveal a connection that would never have crossed my mind.
As an example, I never thought I would find myself writing a column about two films whose protagonists are Korean people with disabilities. One film is fiction, the other a documentary. One takes place in Seoul, Korea, the other focuses on a specialty school in California with several Korean-American students. Each film revolves around people who have had to overcome severe sensory challenges.
What are the odds?
* * * * * * * * * *
Directed and produced by Mina T. Son, Making Noise in Silence focuses on two Korean-American students attending the California School for the Deaf in Fremont. Jeongin Mun and Min Wook Cho were born and raised in South Korea, learned Korean as their first language, and have strong cultural ties to their Korean heritage. However, because they are deaf, when their families moved to the United States, they found themselves immersed in a hearing-impaired subculture with its own language and social issues.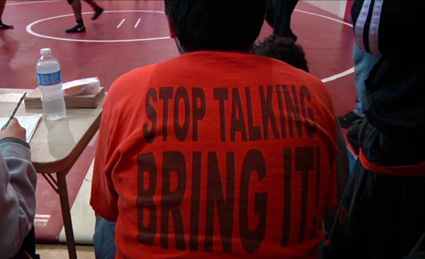 Son's 19-minute film begins in a school hallway, where a series of excited chirps, gurgles and burps substitute for the usual raucous noise heard between classes at most schools. Scenes in which cheerleaders sign instead of scream and wrestling coaches must communicate in American Sign Language are as fascinating to watch as a young Korean-American artist laying out her plans for a large wall mural.
During the film, one gets a much greater awareness of how much computers and social networking technology have helped the hearing impaired. One also sees how deaf teenagers lean more toward defining themselves by their relationship to deaf culture as opposed to their family's ethnicity.
Making Noise In Silence is filled with little surprises -- like one student's confession that it was easier for him to learn ASL than English. Or a single mother's concern that she had to spend so much more time and attention catering to the needs of her deaf daughter than her hearing daughter. Son's documentary recently received its world premiere at the San Francisco International Asian-American Film Festival. Here's the trailer:
* * * * * * * * * *
Directed by Song Il-gon, Always is a love story about two deeply damaged people.
Chul Min (So Ji-sub) is a former boxer who spent several years beating up people who were late in paying their bills. Raised as an orphan, he never related well to other people. After spending several years in prison, he now works during the day delivering water bottles to offices. At night, Chul Min is the watchman for a parking lot. Both jobs require minimal social skills, which is how he prefers to live.
Jung-hwa (Han Hyo-joo) is a pretty young woman who tries to keep a positive outlook on life despite the shitty hand it has dealt her. One night, while riding in a car with her parents, she was involved in a terrible accident which left her nearly blind. Although she is due to be named employee of the month at the telemarketing firm where she works, she is vulnerable to the unwanted sexual advances of her boss.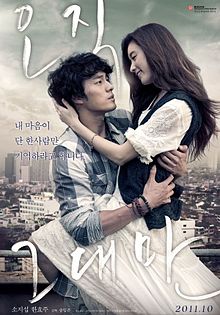 Poster art for Always
What might seem formulaic becomes an intriguingly fresh and poignant love story as Chul Min slowly melts under the warmth of Jung-hwa's charm. Add in a golden retriever puppy, a chance for Chul Min to earn the $30,000 that will pay for Jung-hwa's corneal transplants, and a highly illegal, mixed martial arts cage fight in Thailand, and there's plenty of action and suspense in what might otherwise be a routine tearjerker.
The two leads have a wonderful rapport onscreen, with nice supporting work coming from Kim Mi-Kyung as Sister Joanna (a Catholic hospital worker) and Jin Goo as a pottery store owner. Jun-Seok Bang's original score and Kyung-Pyo Hong's cinematography are two of the film's major assets.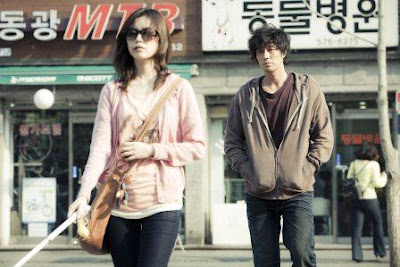 Jung-hwa (Han Hyo-joo) and Chul Minimum (So Ji-sub) in Always
Always is that rare romance in which the viewer deeply cares about the two lovers and hopes they will triumph in the end. Even in those moments when you can see a plot twist coming from a mile away, you'll welcome it with open arms. Here's the trailer:

To read more of George Heymont go to My Cultural Landscape