There I was, trying to find a hook that could unite my thoughts about curious solo turns (whether they be musical, theatrical, or confessional) when I came across a headline on The Huffington Post that screamed: "Watch: Justin Bieber Pukes Onstage." As I sat back and let out a contented sigh of relief, I thought of the biblical proverb that says "Ask and ye shall receive."
Bottom line: Who knew that news of the baby-faced boychick blowing chunks could save the day?
Operatic arias and solo musical numbers are often structured to deliver a lot of information to the audience. Stephen Sondheim refers to this particular phenomenon as a "list song." One of the greatest examples of this genre can be found in Act I of Gilbert and Sullivan's 1885 comic opera, The Mikado.
Over the years, Ko-Ko's solo, "I've Got A Little List," has frequently been updated with topical and local references. Sometimes, terms that have fallen out of favor have had to be replaced (In the 1940s, the term "nigger serenader" was changed to "banjo serenader"). In the first clip, taken from a 1966 film made by the D'Oyly Carte Opera Company, the great John Reed (who performed with the company from 1951-1979) appears as Ko-Ko with most of W.S. Gilbert's original lyrics intact.
In the second clip, (taken from Jonathan Miller's 1987 production at the English National Opera which placed the action during the 1920s at an English seaside resort) Eric Idle portrays Ko-Ko as an extremely unctuous politician.
In the third clip (taken from Welsh National Opera's 1992 production), Richard Stuart has a lot of fun with a great costume trick and some snarky new lyrics.
In the fourth clip (taken from Opera Australia's 2011 revival of The Mikado), Mitchell Butel adds numerous references to life in the digital age.
* * * * * * * * * *
During the 2012 San Francisco Fringe Festival I sat through quite a few monologues (some better than others). One act which stood in a class by itself was entitled The Movies of My Mind. Performed by Michael Belitsos (a former advertising executive who now entertains Bay area audiences as a magician and storyteller), this hour-long show combines great moments from classic films matched by great moments from beloved film scores. And then, of course, there is the magical element of the show.
If you've ever attended a magic show and wondered how the person onstage performed a certain trick, it's even more fascinating to watch in disbelief when you're only seated five feet away from him. The great appeal of watching Belitsos perform is that he's crafted a unique way of showcasing his magic tricks with a distinctly underplayed delivery. Blessed with strong writing skills, the following two clips offer a taste of his delightful style.
* * * * * * * * * *
Over at the Shelton Theatre on Sutter Street, the Left Coast Theatre Company was offering a program of seven short gay plays under the titular umbrella of Family Programming in which Aaron Tworek performed a monologue entitled What Would Scott B. Do?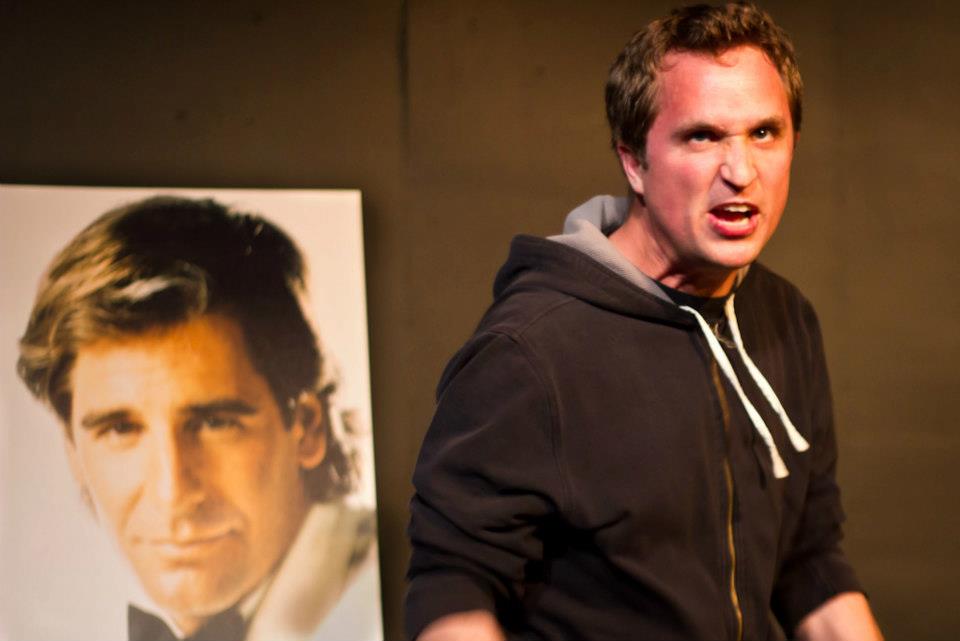 Aaron Tworek performing What Would Scott B Do?
Instead of seeking guidance from Jesus, Tworek (who co-wrote this piece with Joseph Frank) describes how any time he has been forced to make a tough decision, he's tried to imagine what Scott Bakula (who appeared on Quantum Leap) would do in his shoes.
Under Rooben Morgan's direction, Tworek does a nice job of showing the various shades of devotion (from childhood idolatry to adult fetishization) that one man can feel for a television actor. The piece is brief, nicely shaped, and delivered with great flair.
* * * * * * * * * *
A recent viewing of Opera Australia's production of another Gilbert and Sullivan operetta, Patience (which satirizes Oscar Wilde and aestheticism), sent me poking around on YouTube looking for clips of interest. Two stood out far above the rest. Why?
Both clips demonstrate the brilliance of W.S. Gilbert's lyrics and skills at characterization.
Both clips demonstrate Arthur Sullivan's talent at infusing his music with a sense of satire.
Both clips are sung by British artists whose crisp diction is an absolute joy to hear.
In the first clip, the late Anne Collins is seen performing as Lady Jane with the Carl Rosa Opera Company at the gala re-opening of the historic Nomansfield Theatre (a private Victorian theatre that was originally built in 1877) in Teddington. Don't let the scratchy sounds coming from Lady Jane's cello stop you from watching this hilarious clip from start to finish -- there aren't many videos on YouTube that show a booming contralto in such fine form.
Last, but not least, here is Michael Ball's ebullient rendition of Reginald Bunthorne's solo, "Am I Alone and Unobserved?" performed with gusto during a BBC Proms concert.at the Royal Albert Hall in London.
To read more of George Heymont go to My Cultural Landscape