Although I attended the 1987 world premiere of Nixon in China at the Houston Grand Opera (and saw subsequent performances of the controversial John Adams/Alice Goodman work at the 1988 Edinburgh International Festival and Los Angeles Opera in 1990), last month marked the first time I had seen Nixon in China in 22 years. A lot has happened in the interim.
Nixon in China has been produced in 18 venues in the United States, ranging from the 4,000-seat Metropolitan Opera House to the intimate confines of the 987-seat Loretto-Hilton Theatre with its three-quarter round seating. It has also been produced in 18 theatres outside the United States.
John Adams has emerged as an important voice in American opera (The Death of Klinghoffer, I Was Looking At The Ceiling and Then I Saw The Sky, El Nino, Doctor Atomic, and A Flowering Tree).
In 2010, San Francisco celebrated the 30th anniversary of its "sister city" relationship with Shanghai.
Today, China and the United States are the world's dominant superpowers.
With the exception of 89-year-old Henry Kissinger (who was recently frisked by the TSA while in a wheelchair), all of the opera's protagonists have been dead for more than 15 years. With these characters no longer fearsome politicians (but merely ghosts of the past), Alice Goodman's libretto has taken on a much more poetic and lyrical feeling.
Because the audience no longer feels antagonized by the main characters, they can be viewed as mythological remnants of the past or parts of a dream.
Thanks to the growth in telecasts of live performance over the PBS network, in baseball parks, and movie theatres, audience development is on the rise.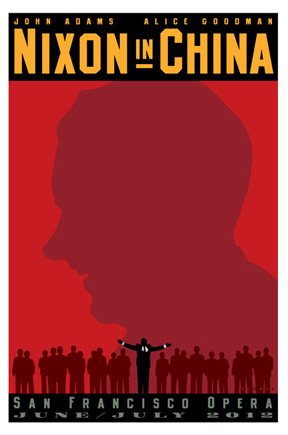 Michael Schwab's poster art for Nixon in China
Due to incredible advances in computer technology, the theatrical elements of opera have undergone a revolution in design and production techniques. Nowhere is this better illustrated than in the scene in which the Nixons arrive at the Peking airport.
This clip from the original production shows a cut-out of Air Force One (the Boeing 707 Nixon dubbed "The Spirit of '76") being lowered from the flies (the cast features James Maddalena as Richard Nixon, Carolann Page as Pat Nixon, Sanford Sylvan as Chou EnLai and Thomas Hammons as Henry Kissinger).
The first few seconds of the trailer from the Vancouver Opera's production show how animation has transformed the impact of Air Force One's arrival onstage (in this production the role of Nixon was sung by Robert Orth).
Computerized graphic design also makes it possible for set designer Erhard Rom to play visual tricks on the audience. One piece of scenery shows a series of portraits in which Richard Nixon's face morphs into the face of Mao Tse-tung. In another attempt to demonstrate how China and America can seem like opposite ends of the earth, Rom has designed the following scenic drop: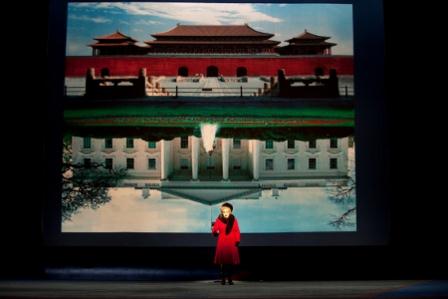 Photo courtesy of Vancouver Opera
On a quick side note: If you find the above image fascinating, I heartily recommend a new movie called Vivan Las Antipodas, which was screened at the recent San Francisco International Film Festival. Watch the following trailer and you'll understand why:
As set designer, Rom has included many more vertical elements than were seen in the original production.
In Act 1, Scene 1, Air Force One's nose cone, left wing and left tailplane dominate the stage.
During Act 1's banquet scene, Chou EnLai and Richard Nixon address the dinner guests from a giant dais.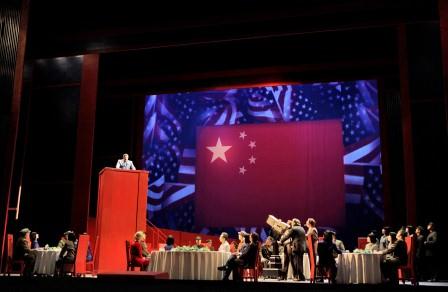 The Act I banquet scene (Photo by: Cory Weaver)
In Act 2, video is projected onto the placards carried by protestors. Pat Nixon's tour of pig farms and public parks gives a tremendous sense of depth to the stage (not to mention wonder and exhaustion to the character).
The careful integration of Christopher Maravich's lighting design with projections designed by Sean Nieuwenhuis creates a multi-layered, gauzy, almost dream-like effect for many of the visuals.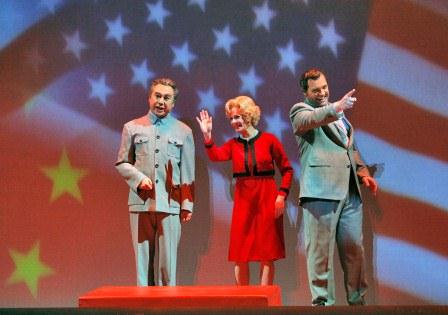 Chou En-Lai (Chen-Ye Yuan), Pat Nixon (Maria Kanyova), and
Richard Nixon (Brian Mulligan) in a scene from Nixon in China (Photo by: Cory Weaver)
Video footage taken of Maria Kanyova during rehearsal is projected behind her as Pat Nixon sings her "This is prophetic" aria.
In Act 3, Mao Tse-Tung dramatically negotiates a tall staircase..
In the opera's final scene, the triangular periaktoi designed by Erhard Rom prove to be a powerfully effective device from ancient Greek theatre that lets the ghosts of history create the illusion of greater stage depth and historical perspective.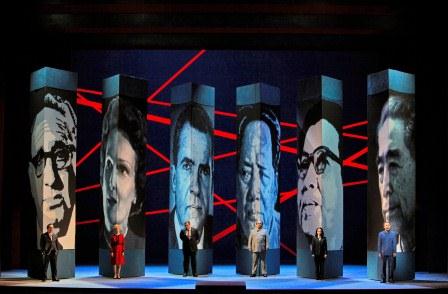 A moment from Act 3 of Nixon in China (Photo by: Cory Weaver)
In his director's note, Michael Cavanagh writes:
"How does art illustrate, reflect, or embellish history, with particular respect for Nixon's visit to China? How do we, as contemporary audiences, benefit from seeing this particular story told in music? Every painting, sculpture, dance, or story offers a peek into another time and place. Historians often look to a culture's artistic inventory for insights into the everyday life or epic events of another era. While historians are condemned for taking liberties; an artist often feels an obligation to do so. Incongruously, this can make an artistic rendition of an event more honest than a so-called factual account.

We shouldn't think of a piece like Nixon in China as a window to another time, but as a kaleidoscope. Each member of the storytelling team -- librettist, composer, director, designers, performers, and conductor -- act like prisms, splitting the 'truth' into impressionistic shards. Their aim is to access the private, inner voices of the people involved (not just their public ones)."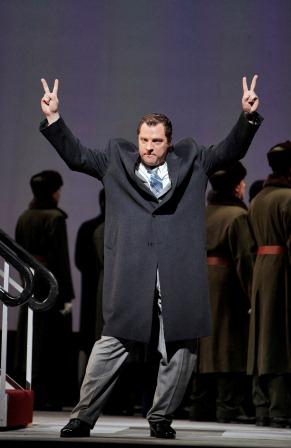 Brian Mulligan as Richard Nixon (Photo by: Cory Weaver)
The production of Nixon in China recently seen at the San Francisco Opera received was premiered at the Vancouver Opera on March 13, 2010 and subsequently presented by the Lyric Opera of Kansas City in March of 2012.
Under Michael Cavanagh's direction, the Nixons become far more animated and athletic than in the original staging.
The brilliant use of projections allows the audience to see Air Force One flying through the mist and then banking toward Peking as Nixon sits at a window, looking down from the sky.
As the banquet scene devolves into a drunken party, we get to see the protagonists acting as the party people they would like to believe they are (rather than as the political stiffs they might actually be in the physical moment).
Act 3 becomes a surreal and introspective dreamscape as the Nixons, Mao Tse-tung, and Madame Mao look back on their lives while Chou En-Lai ponders the future.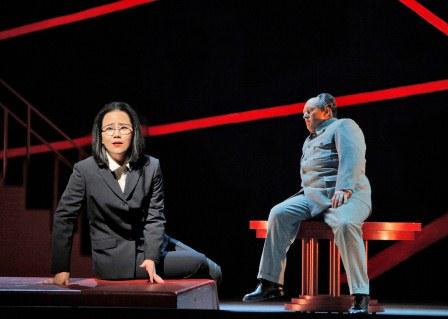 Madame Mao (Hye Jung Lee) and Mao Tse-tung (Simon O'Neill) in Act 3 of Nixon in China (Photo by: Cory Weaver)
Nixon In China requires some heavy lifting from the chorus, which was impressively prepared by Ian Robertson. Conductor Lawrence Renes captured the fierce driving rhythmic force of the opera's score as well as its wistful, jazzy moments while giving strong support to his principals.
Brian Mulligan's portrayal of Richard Nixon was like an excited businessman on the make instead of the taciturn crook who would be forced to resign from office two years later in disgrace. Baritone Chen-Ye Yuan shone as Chou En-lai. As is to be expected, soprano Hye Jung Lee brought down the house with Chiang Ch'ing's Act 2, Scene 2 showstopper, "I am the wife of Mao Tse-tung." Here's the trailer:
To read more of George Heymont go to My Cultural Landscape