I once had a roommate who hadn't the slightest interest in the performing arts. "What do you mean when you keep saying 'That works'?" he asked. "I don't understand what your friends mean when they say something's "got legs.'"
Let me give you an example. George Gershwin was sitting in his publisher's office one day when Buddy DeSylva walked in and said "Let's write a hit!" The result, a song called "Do It Again," was added to the score of 1922's The French Doll at the insistence of its star, Irène Bordoni. Since then, it has become an American classic.
"Do It Again" has legs.
During a 1952 appearance at Camp Pendleton, Marilyn Monroe's suggestive rendition of "Do It Again" nearly caused a riot. The following footage, taken from the star's 1954 USO tour to South Korea, shows Monroe singing several songs from the film version of Gentlemen Prefer Blondes before it ends with a snippet of her singing "Do It Again" to a crowd of sex-starved servicemen.
In 1961, the song was part of Judy Garland's legendary concert which was recorded as Judy Garland Live at Carnegie Hall. The popular singer performed "Do It Again" during one of the "Born in a Trunk" sequences in her short-lived television show two and a half years later.
In June of 2006, Rufus Wainwright performed two concerts at Carnegie Hall in which he sang all of the songs that had been recorded on the Judy Garland at Carnegie Hall album. In addition to releasing a double album entitled Rufus Does Judy at Carnegie Hall, a DVD was issued entitled Rufus! Rufus! Rufus! Does Judy! Judy! Judy! Live From the London Palladium. Here he is singing "Do It Again" in the same key used by Judy Garland.
* * * * * * * * * *
Those three words -- "Do it again" -- have a profound significance for Lorenzo Pisoni who, after growing up in a circus troupe went on to an adult performing career ranging from a multitude of Shakespearean roles to the Ringmaster in a Cirque du Soleil show in Las Vegas. Few actors, when asked during an audition "What else can you do?" can honestly answer "I can tap dance dressed as a gorilla."
Pisoni made his professional debut at the age of two and quickly started memorizing cues and routines from the circus show in which his father, Larry Pisoni (Lorenzo Pickle), co-starred with Bill Irwin (Willy the Clown) and Geoff Hoyle (Mr. Sniff). As Larry taught his son the tricks of clowning (how to stumble, fall down stairs, juggle, do a double take, tumble, etc.) he would keep telling Lorenzo to "Do it again" until the young boy had worked the routine into his body and learned to own it.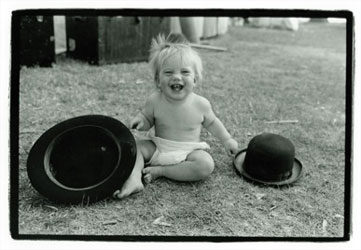 Lorenzo Pisoni at two years of age
Photo courtesy of Lorenzo Pisoni
The seriousness with which the elder Pisoni mentored his son helped to build a solid appreciation for craft and precision as well as the history and tradition of clowning from the early days of the commedia dell'arte to the present. As he continued to tour with the Pickle Family Circus, the younger Pisoni had a very different experience from military brats who are constantly being relocated from one base to another. As he explains:
I don't know many kids who not only have a first-hand knowledge of what their parents do on a day-to-day basis, but also get to see their parents enjoying what they do -- see any adults enjoying what they do. Everyone in the Pickle Family Circus was having a good time.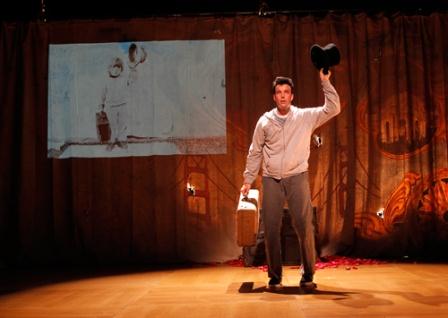 The adult Lorenzo Pisoni stands beside a picture of himself at
two years of age in Humor Abuse (Photo by: Chris Bennion)
Pisoni recently returned to San Francisco, where he is now appearing in his one-man show at the American Conservatory Theater following a successful run at the Seattle Repertory Theatre. Originally planned as a history of clowning that would be presented with his childhood friend from the PFC, Jonah Hoyle, Humor Abuse underwent major revisions when Hoyle developed stage fright and, after living in Alaska for several years, joined the faculty of De Anza College to teach creative writing.
Pisoni turned for help to Erica Schmidt, an old friend from his Vassar College days who was able to point out how, unlike children who run away to the circus, Lorenzo ran away from the circus. Schmidt also convinced Pisoni that, with Jonah out of the show, the narrative could be reshaped into a father-son story that would have a much broader appeal. Since 2008, Pisoni and Schmidt have been staging Humor Abuse in increasingly larger venues, before audiences ranging from 99 to 1,000 people.
When he first appears onstage, Pisoni stresses that he is not a clown. He's someone who grew up playing straight man to a clown (his father). However, as the evening progresses, Pisoni deftly demonstrates one trick after another while explaining what it was like to grow up in a circus environment surrounded by talented people who were always there to offer emotional support.
Pisoni's show is enhanced with slides that show him, at various stages of childhood, performing with his father as well as with a dummy his own size. As he performs his father's famous "sandbag" routine without flinching, Humor Abuse moves into a rare territory that combines an adult's poignant recollections of his childhood with meticulously planned moments of stagecraft.
Throughout the evening, Pisoni's charisma, physical dexterity, and intelligence seduce the audience into learning about the tradition of clowning. In between his numerous backflips and pratfalls, the audience gains a deeper awareness of why a good clown can not only make people laugh, but make them choke back tears as well. Humor Abuse continues at the American Conservatory Theatre through Feb. 5.
To read more of George Heymont go to My Cultural Landscape