It's an old, old story that's been played out on stages since the early days of the commedia dell'arte. No matter where one travels, certain stock characters are easily recognizable:
The young lovers.
The old fool.
The gatekeeper (father, guardian) who wants to marry off his daughter or ward to the highest bidder.
Assorted aiders and abettors.
Last fall, the San Francisco Opera presented new productions of two of the operatic art form's greatest works. Each is a rollicking comedy in which young love triumphs over extremely vain and selfish elders who claim to have the ingenue's best interest at heart.

What struck me was not merely how delightful each comedy was -- or how magnificently each work was performed. What amazed me was how, when approached with love, respect, and dramatic integrity, each production proved that great works of art can hold their own from one century to another.
Giaochino Rossini's comic opera, The Barber of Seville (based on a 1775 play by Pierre Beaumarchais) had its world premiere in Rome on February 20, 1816. That makes the dramatic source 238 years old and the opera 197 years old.
Adapted from William Shakespeare's 1602 comedy, The Merry Wives of Windsor, Giuseppe Verdi's last opera, Falstaff, had its world premiere on February 9, 1893 in Milan. That makes the dramatic source 411 years old and the opera 120 years old.
How's that for longevity!
* * * * * * * * * *
One reason Rossini's classic has been a staple of the basic repertoire for so many years is because it is performed with a smaller orchestra than many other operas and does not require a full operatic chorus. Unlike popular works by Puccini, Verdi, Wagner, Donizetti, Gounod, or even Bizet's Carmen, it is an extremely cost-effective opera to produce that does extremely well at the box office. It also makes audiences happy.
As a result, some productions of The Barber of Seville seem to last forever. When a major opera company finally decides to create a new production of this work, its old version is easily sold or rented out to other opera companies. For the accountants on a nonprofit's board of directors, a good production of Barber has the word amortization written all over it.
The San Francisco Opera's beautiful new Barber of Seville (a co-production with the Lithuanian National Opera) boasts a sharply angled set of surprising versatility that has been designed by Llorenc Corbella. Its varying levels offer performers multiple playing areas which can be reached (depending on one's physical agility) by climbing or jumping between a flat surface representing the street and the steeply raked platform which holds Dr. Bartolo's house.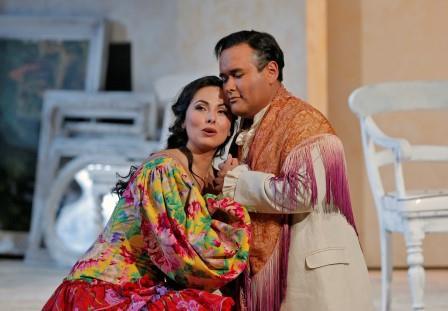 Rosina (Isabel Leonard) with Count Almaviva (Javier Camarena)
in The Barber of Seville (Photo by: Cory Weaver)
Pepa Ojanguren's costume designs are far less specific to the play's original period and an ensemble of Spanish dancers (choreographed by Nuria Castejón) offers frequent reminders of the opera's true locale. As director Emilio Sagi explains:
"I conceived the opera as a fragile jigsaw puzzle in that each scene is presented like a sketch, forming a series of mosaics united by that frenetic poetic rhythm of the music, which pulses along the entire length of the opera. The triumph of love gives way to a progressive emergence of colors in fabrics and flowers right up to the grand finale. The happy lovers go off in a luxurious modern coach in the manner of a fairy-tale carriage, symbolizing the fragility of the liberty that is dreamt of and the actual fragility of love.

Although the period of the drama is not reflected in an explicit manner, all the scenography refers to the 18th century, when the antiquated ideas of the ancien régime gave way to the Enlightenment, planting the seed of the revolution of the middle class. This moment of instability led me to conceive of the work as an ingenious 'organized madness' in that everything is moving, nothing is sure (including the scenery, which forms and transforms constantly in front of the audience). In that sense I wanted to differentiate clearly the world of the people anchored in the past and that of those who are trying to find their own liberty, like Rosina, who introduces notes of color into the action with her rebelliousness. The vitality, the bustle, and the spontaneity of the Andalusian 'street people' with their dance-songs and their body language inspired by Flamenco, are evoked throughout the entire opera."
My first experience with The Barber of Seville took place during the 1962-1963 season at the Old Met. It was a student matinee (I think Helen Vanni sang Rosina). For a high school student, the most memorable part of the afternoon was watching all the paper planes that sailed through the auditorium's Golden Horseshoe.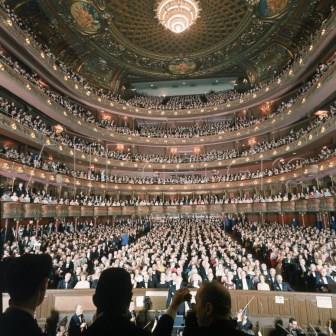 A shot of the audience gathered for the closing gala
of the old Metropolitan Opera House in New York City
(Photo courtesy of Wikimedia Commons)
Production styles back then were often weighed down by tradition. Happily, Sagi has brought a wealth of comic invention and deft stage tricks to San Francisco Opera's new Barber production, which should continue to delight audiences for the next two decades. Although double cast in order to allow for a run of 11 performances, the newness of this production (aided by Giuseppe Finzi's solid work on the podium) brought new levels of joy to my experience with Rossini's beloved opera buffa.

Dr. Bartolo (Alessandro Corbelli) with Figaro (Lucas Meacham)
in The Barber of Seville (Photo by: Cory Weaver)
Lucas Meacham was a solid and athletic Figaro who found a whip-smart accomplice in Isabel Leonard's feisty Rosina. Alessandro Corbelli's Doctor Bartolo and Catherine Cook's Bertha were comic delights. If I felt some disappointment in Andrea Silvestrelli's portrayal of Don Basilio it was, no doubt, because I'm used to encountering a much more oily portrayal of this buffoon (whose character bears an odd resemblance to former Senator Joe Lieberman).
One of the strongest assets in this production was tenor Javier Camarena's portrayal of the Count Almaviva. His rendition of the Count's Act II aria, "Ah, il più lieto..." was a triumphant display of coloratura technique and musical shading. It also offered a stark reminder of how often Rossini cannibalized his own music from previous scores. Thanks to YouTube, one can now easily compare Almaviva's "Ah, il più lieto..." (1816) with Angelina's Act II aria ("Nacqui all'affanno ... Non piu mesta") from La Cenerentola (which premiered in Rome 11 months following Barber on January 25, 1817).
* * * * * * * * * *
Whereas Rossini's Barber of Seville is a frequent visitor to opera stages around the world, Verdi's last opera makes fewer appearances and is often better savored by the cognoscenti. Some people get scared off by the connection to Shakespeare, others are less familiar with the work because, unlike so many of Verdi's other operas, it lacks recognizable (and hummable) tunes. Stephen Sondheim made a terse observation about this phenomenon in the "Opening Doors" number from 1981's Merrily We Roll Along .
"That's great. That's swell.
The other stuff as well.
It isn't every day
I hear a score this strong
But fellas, if I may,
There's only one thing wrong:

There's not a tune you can hum.
There's not a tune you go bum-bum-bum-di-dum.
You need a tune you can bum-bum-bum-di-dum --
Give me a melody!

Why can't you throw 'em a crumb?
What's wrong with letting 'em tap their toes a bit?
I'll let you know when Stravinsky has a hit --
Give me some melody!"
There can be no denying that structurally and musically, Falstaff (with its libretto by Arrigo Boito) is a comic masterpiece. As part of the international celebration of Verdi's 200th birthday, the San Francisco Opera enchanted audiences with a new production of Falstaff borrowed from the Lyric Opera of Chicago that was directed by Olivier Tambosi and designed by Frank Philipp Schlössmann.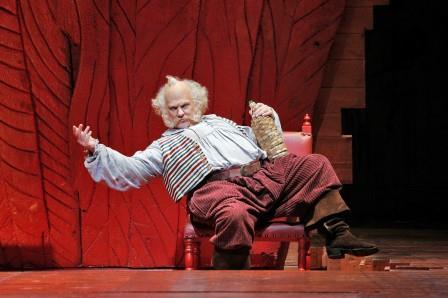 Bryn Terfel as Sir John Falstaff (Photo by: Cory Weaver)
Its rich color scheme helps to set this production of Falstaff apart from many others. But Verdi's last opera depends on a phenomenal amount of deftly executed ensemble work while giving a handful of comprimario artists moments to shine. Whether one delighted in the buffoonery of Bardolfo (Greg Fedderly), Pistola (Andrea Silvestrelli), and Dr. Caius (Joel Sorensen) or took delight in the lyrical joy of young lovers Fenton (Francesco Demuro) and Nannetta (Heidi Stober), Nicola Luisotti's conducting kept the action moving at a delicious pace with an occasional assist from fight director Dave Maier.
A great deal of the fun in Falstaff involves egotistical fools being deftly manipulated and humiliated by the women in their lives. The merry wives of Windsor -- Alice Ford (Ainhoa Arteta), Meg Page (Renée Rapier), and Dame Quickly (Meredith Arwady) -- cunningly sliced and diced the fatuous fantasies of Ford (Fabio Capitanucci) and Falstaff (Bryn Terfel) as they thwarted a father's plan to marry his daughter to a rich fool and an old goat's hopes of scoring with the ladies. Arwady mined her rich, deep contralto for extra laughs with each "Reverenza."

Nannetta (Heidi Stober), Alice Ford (Ainhoa Arteta), Meg Page
(Renee Rapier), and Dame Quickly (Meredith Arwady) conspire
to humiliate Sir John Falstaff (Photo by: Cory Weaver)
Bryn Terfel's bloated Sir John was a lecherous old man firmly focused on keeping his monstrous stomach and libido well fed. Whether daintily strutting about like a garish peacock or trembling in fear in front of Herne's Oak at midnight, his performance proved to be an utter delight. The production's last scene in Windsor Park was more magical than most, with Verdi's final fugue ("Tutti gabbati!") sending the audience home in a state of operatic bliss.
To read more of George Heymont go to My Cultural Landscape