The use of creative lighting techniques as an integral part of stagecraft has progressed by leaps and bounds since the day when the introduction of a single-lens slide projector was considered a revolutionary step forward in multimedia. I was completely captivated by the San Francisco Opera's use of projection mapping in two recent productions designed by Jun Kaneko (2012's staging of The Magic Flute and 2014's presentation of Madama Butterfly). The following video explores some of the challenges faced by an artist working in a new medium to create enough video for a performance lasting nearly three hours.
In January 2014, Theatre Communications Group published a fascinating article by Mike Lawler entitled Stage Technology Has Changed The Way Theatre Is Made. So Who's Training The New Makers? In analyzing what lies in store for the integration of projection mapping into live stage productions, Lawler quoted three industry experts as follows:
"We increasingly experience the world around us in our day-to-day lives through moving and interactive images. I think it is not only familiar to our audiences as a platform for communication, but an essential aspect of modern life for artists to explore and unpack. From a practical standpoint, the reasons we have seen such a rapid increase in new media in the arts in recent years include the affordability and availability of creative tools and a greater general facility with those tools at a younger age." (Peter Flaherty, who has taught Directing for New Media at the Yale School of Drama and is head of the Video for Performance Department at the California Institute of the Arts).
"The profound technological change in live performance has been the use of digital code as a sort of universal translator between different technical elements of a show. Tools for the creation of digital content and the pervasiveness and ease of use of these tools have made the manipulation of image, sound, and physical devices much easier and more affordable than before. These capture-and-edit tools are available in native form on most digital devices, so younger artists -- many literally born with a laptop in front of them -- incorporate moving image and other media into their work as readily as they use it in their daily lives." (Kevin Cunningham, Executive Artistic Director of New York's 3-Legged Dog).
"We can pretty much do anything on a stage these days, but I would argue that we are limited -- especially in the theatre -- only by our creative imaginations. For the majority of theatre that I come across, the directors don't seem to understand how to use modern technology to tell the story." (John Huntington, Professor of Entertainment Technology at New York City College of Technology).
In September 2013, The Creators Project uploaded s short film to YouTube entitled Box. In describing their sensational use of 3D projection mapping, the creative team stated that:
"Box explores the synthesis of real and digital space through projection-mapping on moving surfaces. The short film documents a live performance, captured entirely in camera. It is the culmination of multiple technologies, including large scale robotics, projection mapping, and software engineering. Bot & Dolly produced this work to serve as both an artistic statement and technical demonstration. We believe this methodology has tremendous potential to radically transform theatrical presentations, and define new genres of expression."
When the national touring company of Motown: The Musical took over San Francisco's Orpheum Theatre, I found myself in awe of the production's ability to combine archival footage with projection mapping. The basic structure of the show's large pieces of scenery is similar to what one saw in the 2010 touring company of Dreamgirls -- a series of vertical and horizontal bars and panels which can be moved to create a wide variety of configurations. Whereas the panels in the touring Dreamgirls production were filled with programmable LEDs, Motown: The Musical's scenery relies on projection mapping to such a large extent that, early in the show, I felt like I was watching the first jukebox musical designed for an audience with ADHD.
However, when considering how well the use of projection mapping enhanced the production (and could be fully integrated with the music), the technological triumphs of the design team became more exciting for me than the show itself. My perspective on this phenomenon is, of course, colored by several personal factors which I should explain.
I grew up listening to a steady diet of opera, classical music, and Broadway show tunes (unlike many of my contemporaries, my hero back in elementary school was Johann Sebastian Bach). Because I lived without a television for nearly 25 years, my musical tastes were not shaped by popular variety shows, television specials, or MTV. Nor was I constantly listening to the latest hits by Motown's artists on the radio.
The result is that, unlike many people in the audience during the show's opening night in San Francisco, songs made famous by such groups as The Temptations, Martha and the Vandellas, The Supremes, and The Jackson 5 were not the musical totems that dotted my cultural landscape. Nor was I emotionally invested in hit songs by such popular solo artists as Marvin Gaye, Smokey Robinson, Stevie Wonder, and Michael Jackson.
As a result, it's hard for me to ignore comparisons between 1981's Dreamgirls and 2013's Motown: The Musical (both of which follow the career paths of a similar set of artists).
While Dreamgirls follows the adventures of Deena Jones and the Dreams, it's no secret that the show's story was modeled on the real-life experiences of Diana Ross and the Supremes.
Whereas the narrative for Dreamgirls is shaped and driven by the personal passions of its women, the narrative for Motown: The Musical (whose book was written by Berry Gordy) is essentially driven by a relentlessly entrepreneurial style shaped by a dominant and manipulative masculine personality.
Clifton Oliver and Allison Semmes as Berry Gordy and Diana Ross
in a scene from Motown: The Musical (Photo by: Joan Marcus)
While Henry Krieger and Tom Eyen created musical numbers for Dreamgirls that were specifically written to advance the show's plot, the score for Motown: The Musical offers a rapid parade of nearly 60 hit songs produced by Berry Gordy that might just as well have been entitled "All My [Musical] Children."
Although Dreamgirls found its strength in focusing on the personal relationships between its female leads, Motown: The Musical attempts to balance Berry Gordy's personal and professional successes against the background of the civil rights movement during the turbulent 1960s.
Whereas the villainous elements in Dreamgirls revolved around the influence of payola in the music industry and a series of personal and professional betrayals, the villainous elements in Motown: The Musical have a lot more to do with corporations outbidding Berry Gordy for the talent he nurtured and the late 20th-century power shift in the music industry from Detroit to Los Angeles.
While Motown: The Musical never fails to entertain, it often has the mechanical feel of an industrial show determined to subdue the audience with the strength of its product. Powerfully directed by Charles Randolph-White, Motown: The Musical benefits immensely from the work of co-choreographers Patricia Wilcox and Warren Adams. Special kudos go to its superb design team: David Korins (scenic design), Esosa (costume design), Natasha Katz (lighting design), Peter Hylenski (sound design), and Daniel Brodie (projection design).

The Jackson 5 performing during Motown: The Musical
(Photo by: BrodieGraphics)
Although the national touring company's cast includes such talented men as Clifton Olver (Berry Gordy), Nicholas Christopher (Smokey Robinson), Jarran Muse (Marvin Gaye), and Reed L. Shannon as a young Michael Jackson -- with Allison Semmes delivering a nicely-layered characterization of Diana Ross -- the voice that made me spring to attention belonged to Martina Sykes, whose full-throated portrayal of Mary Wells raised the roof of the Orpheum Theatre.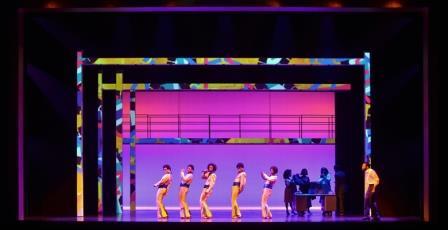 A photo showing the projection mapping used in Motown: The Musical
(Photo by: BrodieGraphics)
As a musical sampling of the sounds that emerged from Motown, one can't do better than starting with "Ain't No Mountain High Enough," "Bye Bye Baby," "I Heard It Through The Grapevine," and moving on through the catalog to "I'll Be There," "What's Going On," and "You Are The Sunshine of My Life." Unfortunately, many songs are performed in a severely abridged format. Nevertheless, one can't help but come away from this show in awe of the dancing, singing, and incredibly high energy levels of its ensemble. Here's the trailer:
To read more of George Heymont go to My Cultural Landscape