In recent years, the San Francisco Silent Film Festival has become as keenly focused on music as it has always been on film. While the festival features a recurring group of musicians, this year artistic director Anita Monga invited Sweden's Matti Bye Ensemble to accompany two films: 1922's Haxan: Witchraft Through The Ages and 1924's rarely-seen L'Heureuse Mort. The festival's website even allows visitors to sort programs by musician!
A new feature during July's 15th anniversary festival was a program in which several of the festival's key accompanists were asked to discuss the process of composing music for silent film. Co-presented by City Arts & Lectures and San Francisco Performances (with special support from the Academy of Motion Pictures Arts and Sciences), the program brought together the following musicians: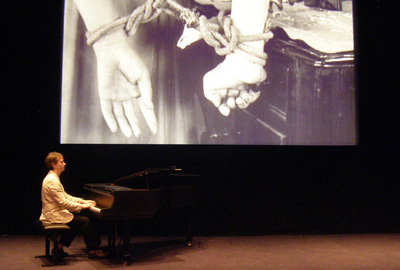 Horne explained some of the musical choices he made when accompanying a scene in Anthony Asquith's A Cottage on Dartmoor (1929) that takes place in a movie theatre where a small orchestra is accompanying a silent film. Dennis James locked curatorial horns with a fellow musician over whether the original scores created for certain films should be regarded as integral to the filmmaker's artistic vision. Most of the participants agreed that there are key dramatic moments in some films where silence actually works best.
At one point, I asked how the panelists felt about rock musicians being commissioned to write scores for silent films. Let me explain why.
In the opera world, one of the cardinal sins is for a stage director to demonstrate a total lack of understanding or respect for the composer's intentions. In silent film, a growing problem involves musicians (who have no idea what they're doing) being hired to compose a musical score to accompany a very delicate art form. My experiences hearing rock musicians accompany silent films have crudely demonstrated how a poorly-conceived artistic vision can subvert and sabotage another artist's work product.
Some screenings made me feel like I was witnessing the rape of an art form.
There are two very different approaches taken to accompanying silent films. The traditional approach employs musicians like Stephen Horne and Dennis James, who do this kind of work for a living and have a major professional investment in making their musical accompaniment match the action onscreen as closely as possible. Horne readily admits that the French composer, Claude Debussy, has been a major influence on his work. Dennis James uses every stop available on theatre organs to make sure that doorbells, telephones, slamming doors, and train whistles are matched by the appropriate sounds.
In April, when the San Francisco Symphony presented screenings of Charlie Chaplin's The Gold Rush (1925), the musicians used the score composed by Chaplin for his film.
The second approach is to hire rock musicians with a popular fan base and encourage them to try their hand at composing a silent film score. The benefits of this arrangement are obvious:
A rock musician will sell far more tickets than a pianist or theatre organist.
News of a local appearance by a rock musician can sell out an event (ticket revenue is important to nonprofit film festivals).
It's often easier to write a grant or attract a donor who will sponsor new music by a contemporary musician.
Festival programmers hope that attracting younger audiences to silent film might build a larger audience for future presentations.
Dennis James explains that the traditional approach to silent film involves finding the most appropriate sounds for the action on the screen. The more contemporary approach features rock musicians who are essentially performing in concert style with the film playing in the background. According to James, one contemporary musician boasted that he was going to position himself so that he couldn't even see the screen while the film was playing!
My first experience with this kind of artistic mashup was in 2008, when Black Francis (from the rock band Pixies) was hired by the San Francisco Film Society to accompany a screening of Paul Wegener's The Golem: How He Came Into The World (1920). Although the event sold out, the two audience factions (silent film enthusiasts and Black Francis's fan base) mixed about as well as oil and water.
Members of the band would yell out inanities like "This clip got 200,000 hits on YouTube so far!" as the film was being projected on the screen. Some silent film enthusiasts were so repulsed by the way the evening treated silent film that they vowed never to attend future screenings of silent films at the San Francisco International Film Festival.
Last May, the San Francisco Film Society presented a screening of Stuart Paton's 20,000 Leagues Under The Sea (1916) with a new score commissioned from Stephen Merritt (a singer-songwriter best known for his work with The Magnetic Fields). Merritt's music was at best amateurish, incompetent, and uninteresting. At its worst, it was infuriatingly inappropriate and downright loathsome. Members of the band -- which included Daniel Handler (a/k/a Lemony Snicket) -- added their own spoken soundtrack as if they were performing a Punch and Judy puppet show.
My question for the creative team was: What part of the word "silent" (as in "silent film") do you not understand?
One of the only reasons this kind of mashup is even possible is because silent films are, by and large, now in the public domain. Can you imagine what would happen if a film festival's programmers decided to hire a rock musician to create a new score for Walt Disney's Fantasia? For a Martin Scorsese film? Or a movie by Clint Eastwood (who has composed several film scores of his own)?
Entertainment lawyers specializing in intellectual property rights would immediately issue cease and desist orders and threaten a major lawsuit.
The San Francisco Jewish Film Festival recently presented a screening of E. Mason Hopper's Hungry Hearts (1922) accompanied by the Moab Strangers: composer Ethan Miller (Howlin; Rain, Comets On Fire), Matt Baldwin, Utrillo Kushner (Comets On Fire, Colossal Yes), Joel Robinow (Howlin' Rain, Drunk Horse) and a female Gamelan band. What started off as a promising musical experience (while the film's action was taking place in a Russian shtetl) soon exploded into a solid wall of noise as the film's action depicted scenes of immigrant life on Manhattan's Lower East Side.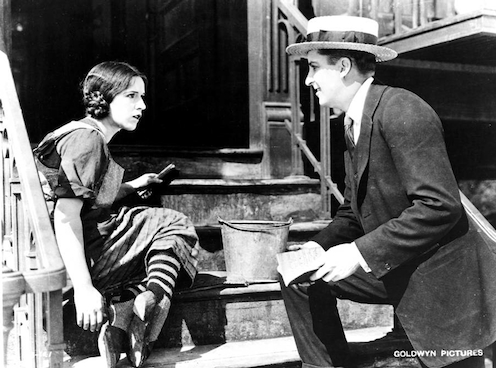 A scene from 1922's Hungry Hearts
The bottom line is that if the music commissioned for a silent film does nothing to support the work being shown on screen, then a genuine effort should be made to hire more talented composers -- people who are familiar with the art form and know what they're doing. Using rock musicians to accompany silent films resembles what would happen if the producer of a major festival of artisanal cheeses and organic foods proudly offered a special tasting of Velveeta!
It's incongruous, inappropriate, and severely misguided.
And yet, in a bizarre way, this phenomenon has been a boon for traditionalists like Dennis James. In May of 2010 he was invited to Salzburg to accompany a screening of 1925's The Phantom of the Opera starring Lon Chaney. Prior to his performance, a screening of F.W. Murnau's Nosferatu had been accompanied by Wolfgang Mitterer with a combination of live organ, sampler, and electronic sounds. According to James, the presenters were so disheartened by the screening of Nosferatu that, after he finished accompanying The Phantom of the Opera, they asked James to become the Mozarteum's exclusive accompanist for future silent film events.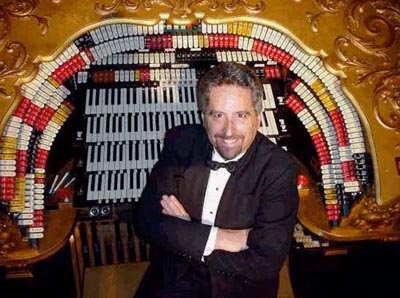 Silent film organist Dennis James
Dennis James returns to Salzburg this fall to accompany four programs on the Mozarteum's organ: Faust (1926), Robin Hood (1922), La Boheme (1926), and a program of shorts featuring Charlie Chaplin in The Rink (1916), Buster Keaton in The Paleface (1922), Harold Lloyd in Never Weaken (1921), and Laurel & Hardy in Two Tars (1928). He returns to the San Francisco Symphony on Halloween to accompany the 1920 silent version of Dr. Jekyll and Mr. Hyde starring John Barrymore. "Each time someone fails in their attempt to accompany silent film, it means more work for me!" he chuckles.