The other night, as I was sitting at the computer, I was distracted by the sound of low voices chanting and sudden bursts of light from flash cameras. Having forgotten that it was Good Friday, I looked out the window and saw what looked like a gold-plated canopy bed slowly moving up Dolores Street. Lying in repose atop the sheets (and extremely well lit by a pair of fluorescent bulbs) was a life-size fake Jesus.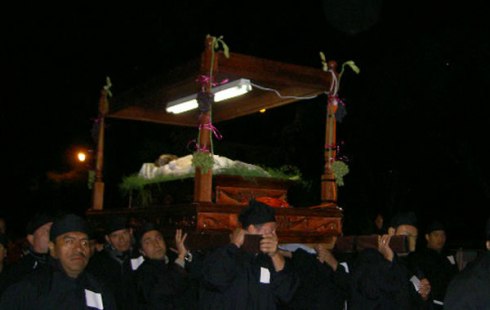 This is what happens when you live two blocks from Mission Dolores. However, there are many reasons why people leave their apartments in densely populated urban centers and flee to suburbia.
Some don't enjoy waiting to cross the street while a cluster of nude bicyclists merrily pedals by.
Others prefer to avoid large, unruly crowds that might contain political protesters, rowdy celebrants, or reminders that diversity can be a healthy part of life.
Some can't stand the noise pollution from car alarms, angry lovers, loud parties, or rumbling streetcars.
Others aren't tickled by the sight of the Healthy Penis mascot handing out safe sex information.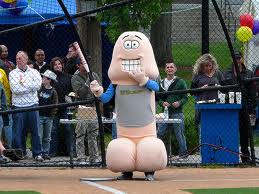 Last fall, the Marin Theatre Company presented the world premiere of Steve Yockey's chiller fantasy, Bellwether, which portrays life inside a gated suburban community as more sinister than sincere. American Conservatory Theatre is currently presenting the West Coast premiere of Maple and Vine, a fantasy dramedy by Jordan Harrison which had its world premiere at the Actors Theatre of Louisville. Although the play certainly has its flaws, it's based on an interesting conceit which, thanks to Mark Rucker's intelligent direction, takes the audience within a stone's throw of The Twilight Zone.
The play begins in Manhattan, where Katha (Emily Donahoe) has a devoted Japanese-American husband that she loves named Ryu (Nelson Lee), an editorial job that she hates, and a snotty assistant named Omar (Danny Bernardy) to whom she would gladly turn over all of her professional responsibilities. Omar and Jenna (Julia Coffey) are the company's resident bitchy fag/faghag duo.
Not only is Katha sick of her job, she recently suffered a miscarriage and can barely cook. With her life governed by deadlines, technology, take-out food, and a feeling that all of her gadgets are ruining (rather than enhancing) her quality of life, Katha is ready for a change.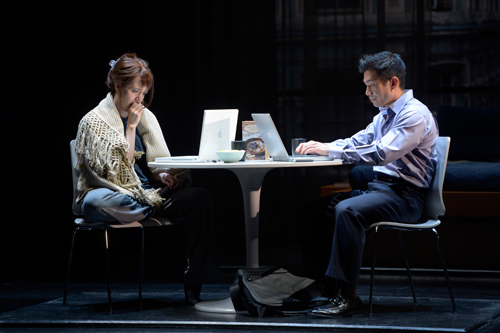 Emily Donahoe (Katha) and Nelson Lee (Ryu) in
Maple and Vine (Photo by: Kevin Berne)
Ryu is a successful plastic surgeon who is bored with liposuction and wishes he could do something to make his wife happier. After Katha meets a curious, rather spiffily-dressed stranger named Dean (Jamison Jones), that special something comes into clearer focus.
Dean is the handsome ambassador for a group called the Society of Dynamic Obsolescence. Its members have opted out of today's high-pressure, high-technology society and moved to a secluded community which embraces the imagined lifestyle of the 1950s. It's important to understand that members of SDO have not really undergone time travel. They've merely sequestered themselves (like the Amish) in a planned community that strongly resembles a cult.
Those who choose to join SDO are coached in how to achieve authenticity (1950s style). While things look fine on the surface, repression lurks under every curtain rod.
Ryu goes from being a plastic surgeon to making cardboard boxes in a factory. Because he is Asian American, he has little chance of advancement.
Katha tries to fit in with a new circle of friends and, to her surprise, manages to get pregnant again.
Katha's new friend, Ellen (Julia Coffey) tries to make sure everyone is living as authentically as possible.
But Ellen's husband, Dean, has a secret that involves Ryu's racist boss, Roger (Danny Bernardy). And it's a doozy!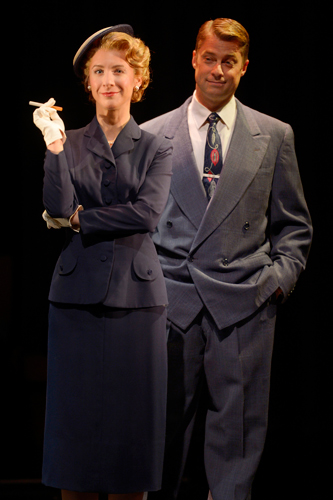 Ellen (Julia Coffey) and Dean (Jamison Jones) in
Maple and Vine (Photo by: Kevin Berne)
In some ways, Maple and Vine rests on a foundation of "Beware your fantasy; it might just come true." When the truth inevitably comes out about Dean and Ellen's fake marriage (and Roger's impact on their relationship) this fantasy vision in which 1950s women look like Stepford Wives starts to evaporate. Whether their safe words are "Google" or "Hillary Rodham Clinton," a desperate grasp on reality is within momentary reach.
The factor which is most confusing for the audience is wondering why anyone in his or her right mind would choose to leave today's permissive, modern lifestyle (with its wealth of technological sophistication) in order to revert to a falsely virtuous society filled with racism, sexism, smoking, red-baiting, covert drinking, and internalized homophobia.
The answer, quite simply, is that some playwrights challenge their audiences to willingly suspend their disbelief in order to act out a fantasy.
Remember Harold Hill's famous "think method" for learning how to play a band instrument in The Music Man?
Remember how, just like Lili, you started to believe that the puppets in Carnival were real?
Remember how you clapped for Tinker Bell when you saw Peter Pan?
Remember how the actors who starred in The Elephant Man wore no prosthetic devices?
Remember Edward Albee's 2002 play, The Goat, or Who Is Sylvia?
That all happened because of the magic that is live theatre. While Maple and Vine may be a curiously twisted piece of fantasy, it forces its audience to ask why anyone -- from professional Republicans to the voters who inspired Thomas Frank to write What's the Matter With Kansas? How Conservatives Won the Heart of America -- would try to embrace a lifestyle from 60 years ago when doing so would so severely limit their options.
Part of the answer can be found in the production's design values. I tip my hat to Ralph Funicello, who not only makes the SDO homes seem cartoonishly appealing but, with one huge photographic backdrop for the scenes in New York, has created a magnificent sense of an overpoweringly urban here and now. The costumes designed by Alex Jaeger (particularly for the women) evoke a past that may have only existed in the creative output of Madison Avenue's advertising agencies.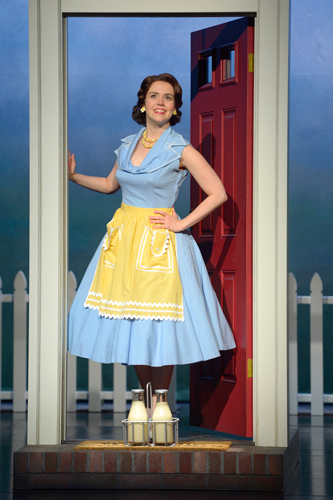 Katha (Emily Donahoe) undergoes a magical transformation in
Maple and Vine (Photo by: Kevin Berne)
During his research, Harrison interviewed a Civil War reenactor who explained how to make a fake wound using raw chicken thighs, as well as a cloistered nun who was willing to discuss her previous relationship with her cell phone. As the playwright explains:
Setting the play in a fictitious society allowed me to explore the condition of existing in two worlds (and two time periods) at once. Making things up also allowed me, paradoxically, to invest the play with personal experience. Many of the people I interviewed said that they were scared by how much freedom they had in the modern world -- that they were compelled to go to a world where their choices were more limited, where a path was laid out for them. It's a somewhat queasy-making idea, that someone could be happier with fewer freedoms. In writing Maple and Vine, farbing (or 'disrupting,' as the denizens of the SDO call it) became a major structural and dramatic cue. The danger of disrupting hangs over all of Act II.
Katha (Emily Donahoe) and Ellen (Julia Coffey) get to know each
other in Act II of Maple and Vine (Photo by: Kevin Berne)
Whether or not you're willing to go along with Harrison's fantasy/folly, the production is worth seeing solely on the merit of its design. And, be honest: how many shows have you heard about where the actors claimed that wearing period underwear during rehearsals helped them relate to their characters?
To read more of George Heymont go to My Cultural Landscape