Most audiences for major symphony orchestras are accustomed to guest conductors appearing on the podium at various times during the year. It's assumed that while new faces may come and go, the basic orchestra remains intact.
That's not the case at music conservatories, however, where each year a new class graduates and moves out into the workplace. When their current music director departs for greener pastures, a new person must be chosen who can guide the institution while nurturing and shaping its students.
Following the departure of Andrew Mogrelia, the San Francisco Conservatory of Music has embarked on an interesting search technique for a replacement: test driving potential conductors. As part of their search, they have signed five conductors to appear with the Conservatory Orchestra this season in order to gain some insight into who might best be able to take over from Mogrelia as music director.
So far, three conductors have appeared on the podium: one a mature talent who is a familiar face to Conservatory audiences as well as two younger conductors whose careers are blossoming. Watching and hearing how the students have responded to each maestro has been a fascinating experience.
On September 29th, Alasdair Neale (who has been music director of the Marin Symphony since 2001) conducted the Conservatory Orchestra's first program of the season. Neale has been music director of the Sun Valley Summer Symphony for 18 years, spent 12 years as an associate conductor with the San Francisco Symphony (where he was also Music Director of the San Francisco Symphony Youth Orchestra), and has been the Principal Guest Conductor for the San Francisco Conservatory of Music.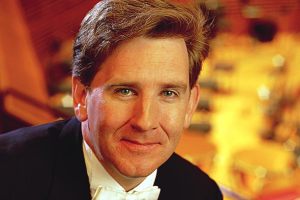 Conductor Alasdair Neale
The program he conducted included André Jolivet's 1958 Concerto for Percussion (with Masako Iguchi as solo percussionist), Gustav Mahler's First Symphony ("Titan"), and the world premiere of 21-year-old Louis Cruz's orchestral suite, Calafia.
A familiar face within San Francisco's musical community, Neale has a long history of working with young musicians and tackling new scores. In many respects, he would seem the most obvious candidate to succeed Mogrelia.
On December 1, Teddy Abrams took the podium to conduct two difficult works: Dmitri Shostakovich's Violin Concerto No. 1 in A Minor (with Ravenna Lipchik as soloist) and Sergei Prokofiev's Symphony No. 5 in B-flat Major.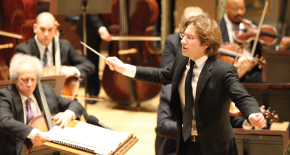 Conductor Teddy Abrams
Abrams has just completed his first year as resident conductor for the MAV Symphony Orchestra in Budapest. In March of 2012, he was named as Assistant Conductor at the Detroit Symphony Orchestra.
On February 16, the Conservatory Orchestra will be led by Scott Sandmeier, who will conduct Shostakovich's Symphony No. 6 in B minor and The Hebrides Overture by Felix Mendelssohn. A highlight of the evening will be Beethoven's Piano Concerto No. 4 in G Major with Chien-Lin Lu as soloist. I attended a master class earlier this year with Chien-Lin Lu performing a two-piano rendition of this piece. He is a formidable talent who bears watching..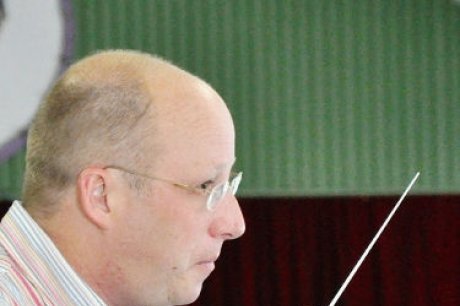 Conductor Scott Sandmeier
On May 4, young Tito Munoz will conduct a program that includes five songs by Joseph Marx (with soprano Julie Adams), Samuel Barber's Essay No. 2, and Igor Stravinsky's controversial The Rite of Spring.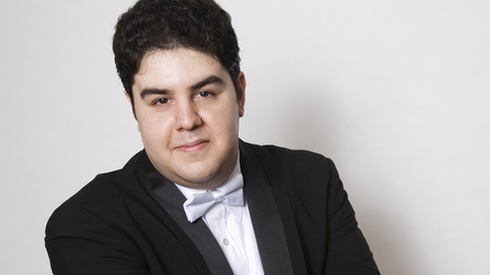 Conductor Tito Munoz
Ever since the San Francisco Conservatory of Music moved to its new facility at 50 Oak Street, I've often found the acoustics of the intimate, 450-seat Caroline H. Hume Concert Hall to be more alive and vibrant than those of the nearby 2,743-seat Louise M. Davies Symphony Hall. With a tenured ensemble such as the San Francisco Symphony, a guest conductor can do just so much to change one's perception of the orchestra's sound. With the Conservatory Orchestra, the student ensemble is often more malleable and the results more noticeable to the audience.
That was certainly the case on October 27, when James Feddeck conducted a program that included Gabriel Fauré's haunting Pelléas et Melisande Suite, Ernest Bloch's cello concerto entitled Schelomo: Hebraic Rhapsody (with Matthew Linaman as soloist), and Symphony No. 3 in F Major by Johannes Brahms.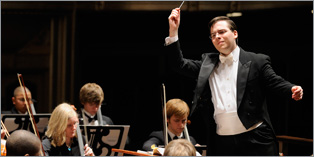 Conductor James Feddeck
If ever a conductor made an audience sit up in its seats and mutter, "What the fuck?" it was Feddeck's amazing ability to make a student ensemble perform at the level of a world-class symphony orchestra. Unlike so many concerts where one expects to hear a certain amount of blatts and bleeps from the horns and woodwinds, the sound during this performance was stunning. I certainly wasn't the only one pinching myself after the performance and asking "Did I really just hear the San Francisco Conservatory of Music's Orchestra perform at that level?" Amazing things can happen with an inspiring maestro on the podium.
Feddeck is now in his fourth season as an assistant conductor with the Cleveland Orchestra (where he also serves as music director of the Cleveland Orchestra Youth Orchestra) and the results he gets from his musicians are astonishing.
Although it's too early to guess who will be offered the job as Mogrelia's replacement (and I'm eager to see what Scott Sandmeier and Tito Munoz can deliver), Feddeck is the kind of conductor I'd rush to see -- regardless of what was on the program. This is a major conducting talent who obviously communicates with young musicians in a very special way.
To read more of George Heymont go to My Cultural Landscape