 In 1997, when James Cameron's blockbuster, Titanic, opened in theaters, one teary-eyed young woman exited a screening in a horrified state of shock and awe. Was she all torn up that Leonardo DiCaprio's character, the fictional Jack Dawson, had drowned in the frigid waters of the North Atlantic? Not in the least.
What was the problem? No one had ever told her that the RMS Titanic hit an iceberg and sank to the bottom of the sea on its maiden voyage. Even though the most famous sinking in maritime history occurred in April of 1912, she had never heard about it.
Whether dealing with fact or fiction, certain historic events are common knowledge. It's one thing to become so wrapped up in a piece of storytelling that you fall in love with a character and are swept away on a cloud of fantasy. It's quite another thing to assume that your audience is (or should be expected to remain) culturally illiterate in order to appreciate your artistic vision.
What do Hamlet, Rosencrantz, Guildenstern, Ophelia, Peter Grimes, Mercutio, King Lear, Romeo, Juliet, Billy Budd, Macbeth, Cyrano de Bergerac, Lucia di Lammermoor, Captain Ahab, Aida, Don Giovanni, Tristan, Isolde, Norma, Gilda, Tosca, Werther, Manon Lescaut, Jean Valjean, Cio-Cio-San, Joan of Arc, Elektra, Salome, Liu, and Othello all have in common with the witch in Hansel and Gretel, Lawrence of Arabia, and those devoted nuns who climb the stairs to the guillotine at the end of Francis Poulenc's 1957 opera, Dialogues of the Carmelites?
They all die.
Puccini's La Bohème, Verdi's La Traviata, and Bizet's Carmen are three of the most popular operas ever written. Yet audiences continue to buy tickets to performances knowing full well that the heroine dies at the end of the evening.
I always resented the viral marketing campaign for 1999's horror/suspense film, The Sixth Sense ("Whatever you do, don't tell anyone about the ending"). I thought it was a combination of juvenile intimidation tactics and lazy marketing aimed at creating an aura of "booga-booga" around M. Night Shyamalan's movie.
At least, John Dies at the End provides its own spoiler alert by telling audiences what happens in the title of the movie. In other words, if you buy a ticket to see John Dies at the End, you should expect some character named John to die.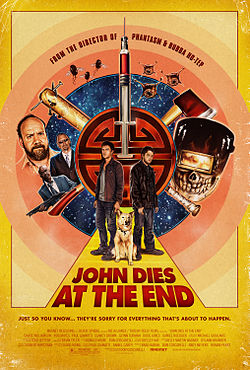 Poster art for John Dies at the End
Some people may be horrified by my attitude toward spoiler alerts, but the Internet has changed the nature of arts criticism. Any review of a movie or play will probably appear somewhere on the Internet. As more and more reviews get published, someone is bound to leak the news that "the butler did it."
So here's a little newsflash for publicists and producers: Your audience is not as dumb or immature as you'd like to think. No matter how hard you try to hide an important plot detail from ticket buyers, a search engine will find that piece of information and make it available to the general public. If an important plot device can't be discussed and analyzed in print, it means that the playwright and producer lack sufficient faith in their material to trust their audience.
Think, for a minute, about how many times people have watched movies like 1939's Gone With the Wind, 1956's The Ten Commandments, and 1987's The Princess Bride. What's truly shocking is that, more than 25 years after the premiere of The Princess Bride, someone recently got thrown off an airplane for wearing a T-shirt that said "My name is Inigo Montoya. You killed my father. Prepare to die!"
Secret identities are one of the oldest literary tricks available to writers. From the earliest versions of Cinderella to Mark Twain's story of The Prince and the Pauper (1881); from the fervid imagination of Christopher Moore (I highly recommend Sacré Bleu: A Comedy d'Art) to the convoluted plots of comic operas written by Gilbert and Sullivan, things are seldom what they seem.
Henry David Hwang crafted a brilliant plot twist for 1988's M. Butterfly which revolved around a cross-dressing piece of theatrical trickery. And who could forget this scene from 1974's Chinatown?
Whether a piece of literature is new or has been in the standard repertoire for more than a century, critics are frequently faced with the supposedly ethical challenge of describing its plot without revealing its juiciest details in their reviews. This situation often leads to a form of self-censorship akin to what happens when a closeted homosexual asks an openly gay man to blow him (but not blow his cover).
Thus, I was both surprised and a bit chagrined to find the following message in my press kit upon attending a recent performance at the Lucie Stern Theater in Palo Alto.
"Dear Critic: Thank you for attending this performance of The Mountaintop by Katori Hall. To allow your readers the opportunity to fully experience this work for themselves, we respectfully ask that you not reveal the ending of the play in your review. Yours kindly, TheatreWorks."
Just to be sure I wasn't jumping to the wrong conclusion, I inquired if this cryptic message in some way assumed that people in the audience (many of whom live within spitting distance of Stanford University) did not know that the Reverend Martin Luther King, Jr. had been assassinated 45 years ago.
I asked for a clarification (which I received). I will not tell you what was contained in the response I received because to do so might spoil the play. Even if you, as someone reading this article on the Internet, live on another continent, may never get to see this play and, by my simply changing one word to rhyme with J-Lo, might think I was referring to The Motherfucker With the Hat.
* * * * * * * * * *
In recent years, Amy Mueller (the artistic director of Playwrights Foundation) has stressed the role her organization played in the early life of The Mountaintop. When she first read the script, she instantly wanted to work with Katori Hall on what she felt would be an important addition to dramatic literature.
Other theatre companies had been extremely skittish about getting involved with this script, in which the playwright takes a strongly feminist approach to the martyred civil rights leader that would undoubtedly clash with the iconic vision of the Reverend Martin Luther King, Jr. (Adrian Roberts) that so many people hold close to their hearts.
In Hall's play, Dr. King's weary feet stink, he's very picky about the brand of cigarettes he likes to smoke, he lies to his wife on the phone, and he has a roving eye for a fine-looking woman (Simone Missick).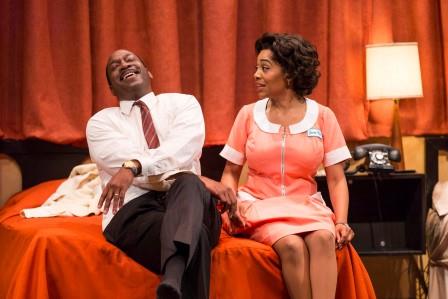 Dr. Martin Luther King, Jr. (Adrian Roberts) unwinds with a motel maid
(Simone Missick) in The Mountaintop (Photo by: Mark Kitaoka)
As directed by Anthony J. Haney, he's also an exhausted, arrogant, traveling man who doesn't freak out when he opens the door to his second-story room at the Lorraine Motel on a spring night in Memphis, Tennessee and encounters a surprisingly sizable snowdrift blocking his exit. This snowdrift could be one of two things: an example of magical realism being used as a theatrical gimmick or a warning that it will be a cold day in hell before Dr. King's agitated demands are met.
As it turns out, The Mountaintop is filled with acts of magical realism that have been used by previous playwrights and screenwriters.
There's a nifty piece of character motivation lifted from 1946's It's A Wonderful Life.
There's a cigarette trick straight out of 1955's hit musical, Damn Yankees.
There's a vision of the future that's almost as hard to fathom as what Keir Dullea witnessed in 2001: A Space Odyssey and what Jodie Foster saw in 1997's Contact .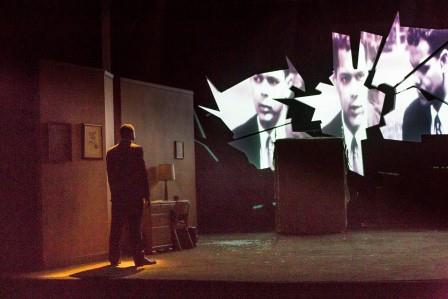 Dr. Martin Luther King, Jr. (Adrian Roberts) gets a glimpse
of the future in The Mountaintop (Photo by: Mark Kitaoka)
But, for the most part, Hall's script focuses on Dr. King's last night alive and the strange [fictional] encounter he had with a maid who brought him some hot coffee after he had been told that the motel's room service had been discontinued.
Hall's two-character play has already been produced in London in 2009 and on Broadway (starring Samuel L. Jackson and Angela Bassett) in 2011. It requires a simple unit set and some video montages (which make it an attractive property for regional theaters, even if parts of Hall's heavily feminist script may shock conservative and/or religious audiences).
While most people might assume that the best writing is for the character of Dr. King, the maid (Camae) proves to be quite a mouthy creature with a fascinating story to tell. Simone Missick does a beautiful job with her crucial, plot-turning soliloquy.
If you're determined to learn what the big secret in Hall's play is, I'd suggest you look to another American playwright for the answer. Just click your heels three times and whisper Tony Kushner's name.
To read more of George Heymont go to My Cultural Landscape