Most actors develop their versatility by training to perform in comic as well as tragic roles. But, as the old saying goes, "Dying is easy, comedy is hard."
An actor who is required to die onstage can lie silently on the floor until his scene ends or the curtain comes down. By contrast, a clown might be required to fall down and get up again, only to get hit in the face with a pie, fall down, and get right back up again.
How many times can a clown squirt someone using the fake flower in his lapel?
How any silly hats can you put on a clown?
How many faces can a clown make?
How many clowns can fit in a clown car?
The answer is simple: as much as the traffic will bear.
However, not all clowns are funny. Some look down at us with big, teary eyes from black velvet paintings. Rather than portray the easily marketable, happy, white-faced clown, some performers (like the great Emmett Kelly) prefer to appear in the guise of the sad tramp clown.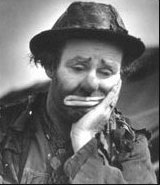 Emmett Kelly, Sr. as "Weary Willie"
Some clowns rely on their formidable physical skills to keep an audience entertained. One of my favorite movies is a Korean historical spectacle entitled The King and the Clown , in which an impoverished street clown and tightrope artist uses his performing skills to charm a young king in 15th century Korea.
Others use their athletic prowess to great effect once they are no longer competing in sports events. Watch Paul Hunt (a former gymnast turned gymnastics coach) as he delights the crowd attending an athletic event:
Clowning belongs to a theatrical tradition even older than Italy's beloved commedia dell'arte. From tribal cut-ups to mocking jesters, clowns were often given the privilege of pointing out inconvenient truths that no one else dared to mention. They spoke truth to power back when doing so risked decapitation.
Some clowns aspire to be more introspective than others. In the following clip, Anthony Newley sings his hit song, "What Kind of Fool Am I?" from 1961's hit musical, Stop The World, I Want To Get Off.
When required, some clowns go for the full verismo effect (as demonstrated in this 1961 clip of tenor Mario del Monaco singing the famous aria, "Vesti la Giubba" from Ruggero Leoncavallo's popular 1892 opera, Pagliacci, in Tokyo).
Like opera, clowning is an art form filled with traditions. Often, tricks of the trade are handed down from one generation to another. For the past year, actor Lorenzo Pisoni has been delighting audiences with his one-man clown show entitled Humor Abuse. But not every son of a clown wants to follow in his father's oversized footsteps.
Earlier this year, the Shotgun Players presented the world premiere of Ken Slattery's full-length version of Truffaldino Says No. A rowdy romp about a commedia dell'arte character who flees the family business in Venice, Italy (only to find himself time traveling through time to land on a sitcom set in Venice Beach, California), one's ability to enjoy Slattery's craft is substantially enhanced by one's knowledge of theatre history.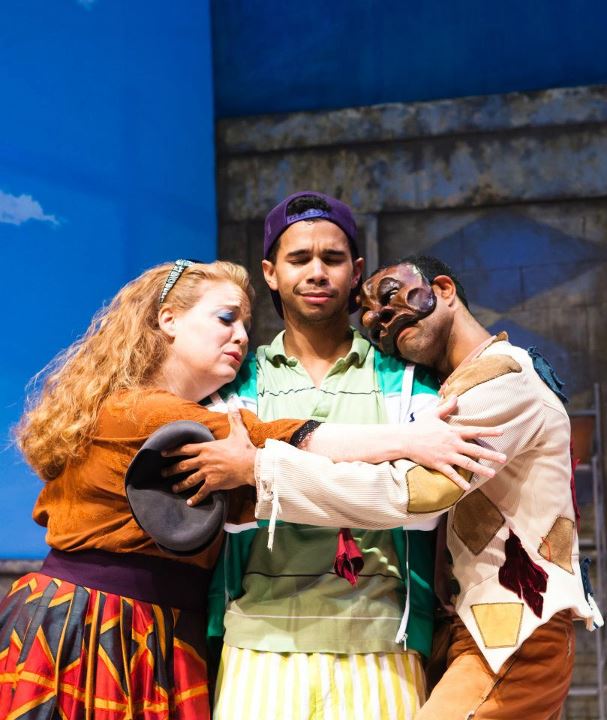 Colombia (Gwen Loeb) Truffaldino (William Thomas Hodgson), and Arlecchino (Stephen Buescher) in Truffaldino Says No (Photo by: Jessica Palopoli)
In previous works such as Death to the Audience (a send-up of ancient Greek theatre) and The Shakespeare Bug, Slattery has demonstrated an exceptional talent for finding streaks of wretched excess that course through historical theatrical styles and mining them for comic gold in a manner reminiscent of Charles Ludlam's work at the Ridiculous Theatrical Company (Slattery's latest adventure began as a 10-minute work written for Playground, one of the Bay area's leading theatrical incubator programs).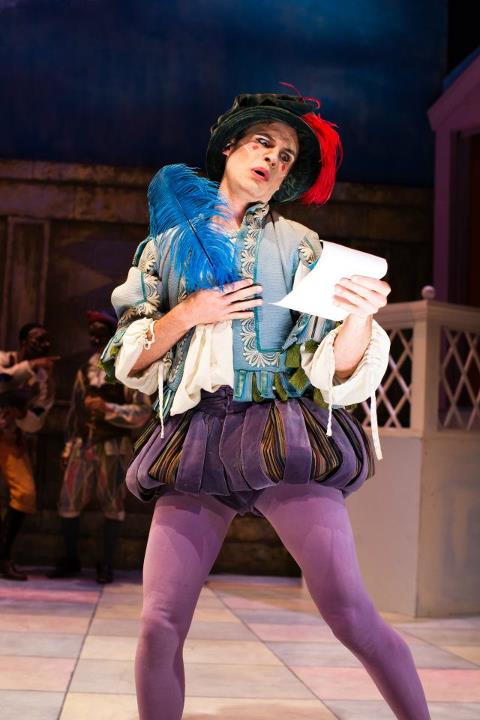 Michael Phillis as Flavio in Truffaldino Says No (Photo by: Jessica Palopoli)
To succeed with upending a well-defined theatrical genre, however, one has to know the territory and how it can be used to best effect. As M. Graham Smith wrote in his director's note:
"Every worthy comedy must grapple with a consequential struggle. Truffaldino's quest to play a role in life other than the one he's been given is a dilemma familiar to all of us, especially those of us who work in the theatre. We tend to think that comedy thrives best in the present tense, on the spontaneity of moment, but this play also makes us remember that even our laughter has deep roots. We can see how the desire to be original and the truth of origin create a profound and hilarious paradox. Ken's play explores this situation and the attendant questions: What happens when children don't want to follow in their parents' footsteps? Is it really possible to reinvent oneself in a New World and escape one's roots? How do we treat the immigrants among us, who have journeyed far to start again? When Truffaldino journeys to Los Angeles in Act II and the entire commedia dell'arte menagerie that he rejected begins to reappear around him as recognizable sitcom characters, we understand his denial of his roots is futile. Everything is part of a continuum, even comedy."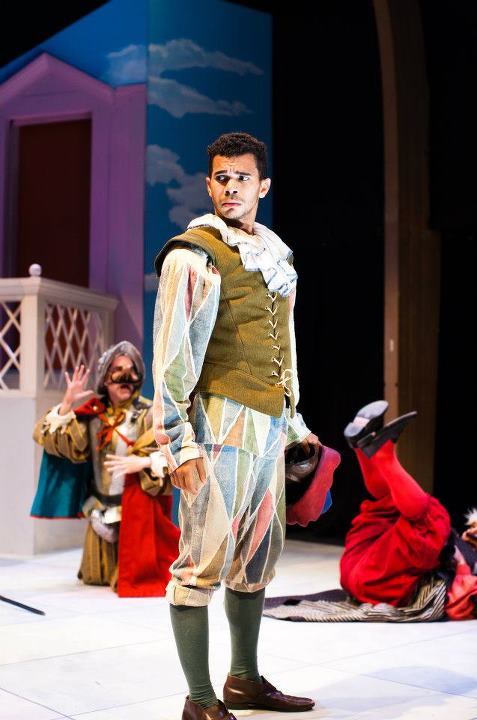 William Thomas Hodgson stars in Truffaldino Says No (Photo by: Jessica Palopoli)
"As a comedy, none of these serious questions has immunity from Ken's outrageous wit, or the profane vernacular of commedia dell'arte. No one is safe, no point of view is precious, and nothing is beyond ridicule. It's easy to fall in love with the zany universe Ken offers, which captures the spirit of the commedia dell'arte with an immediacy and vitality that often elude contemporary depictions of traditional styles. In fact, it's so much fun to zip through this ride, one is barely aware that it's also a carefully crafted ode to all that is eternal in our comic traditions. The lineage of the commedia dell'arte archetypes have been transformed by Molière in the Comédie-Francaise, branched to London and appeared as the stereotypes of British farce, and migrated across the ocean to the New World, where they play many parts, including those in American sitcom television."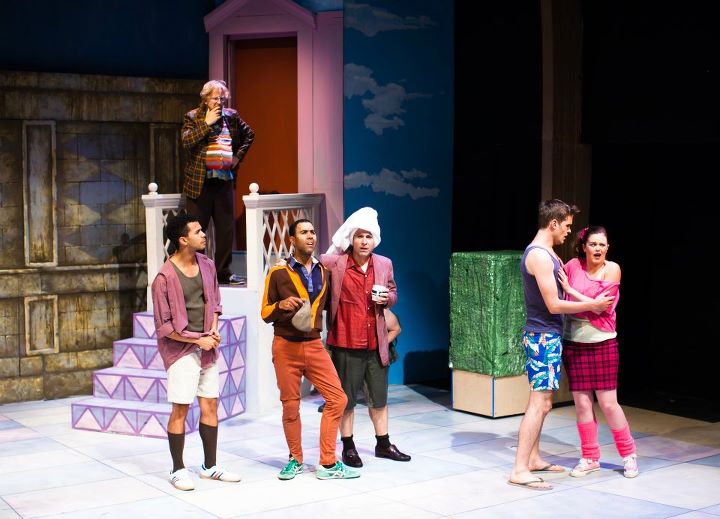 Act II of Truffaldino Says No (Photo by: Jessica Palopoli)
As one enters the theatre, Martin Flynn's unit set is deceptively simple. While many of the stock commedia dell'arte characters seen in Act I wear Emilia Sumelius-Buescher's highly stylized masks, the real genius of the evening lies in the intensely physical play Smith has created for some of his characters. As Truffaldino, William Thomas Hodgson is the only actor playing a single role. Everyone else portrays a standard commedia dell'arte character as well as its contemporary sitcom equivalent.
Gwen Loeb plays Truffaldino's mother, the lusty Colombina, as well as Kate, the mother figure at Brighella's Inn at Venice Beach.
Stephen Buescher doubles as Truffaldino's father, Arlecchino (a house servant) and Hal, the bellboy at Brighella's Inn.
Ally Johnson plays the hapless ingenue Isabella who morphs into Debbie, the clueless surfer chick with low self-esteem.
Michael Phillis doubles as the closeted, overly romantic Flavio who is transformed into the narcissistic surfer dude who can never quite make it to the altar.
Andy Alabran doubles as the foolish, macho Il Capitano (who lives in fear of Turkish invaders) and the right-wing vigilante nutjob, Prewitt (who sees Mexicans and other illegal immigrants hiding wherever he turns).
Brian Herndon starts off as the miserly Pantalone and turns into the equally cheap Frank.
Joe Lucas appears as Il Dottore in Venice and as "the Wiseman" in Venice Beach.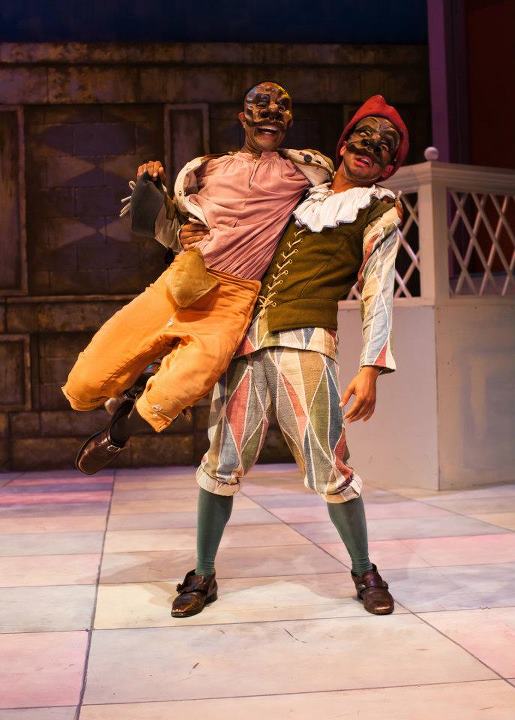 Arlecchino (Stephen Buescher) and his son, Truffaldino
(William Thomas Hodgson) in Truffaldino Says No (Photo by: Jessica Palopoli)
There are some moments when the obvious repetition of certain comic bits can start to wear thin until one realizes that the comic signatures assigned to many of today's sitcom characters have strong roots in commedia dell'arte. Think of some of your favorite characters (like Cosmo Kramer on Seinfeld) and you'll see them come alive with stuttering accuracy in one pratfall after another during Truffaldino Says No .
While the entire cast worked together as an exceptionally tight ensemble, I was particularly impressed by the antics of William Thomas Hodgson, Gwen Loeb, and Michael Phillis, The bravura performance by Stephen Buescher (Head of Movement and Physical Theatre in A.C.T.'s MFA acting program) was thrilling to watch, even when his facial features were hidden by a commedia dell'arte mask.
If you're looking for a way to combine a love for sitcoms with a 460-year-old theatrical tradition, there's no better place to start than Truffaldino Says No. Here's the trailer:
To read more of George Heymont go to My Cultural Landscape