Born in 1879, Rudolf van Laban studied sculpture at the École des Beaux Arts in Paris and established a choreographic institute in Zurich at the age of 45. In 1928, he published Kinetographie Laban, which has since evolved into labanotation and become the primary tool for documenting a choreographer's creations for future generations of dancers.
It is largely through the use of labanotation that many great dance pieces from the past can today be performed on stages around the world. The great Kenneth MacMillan (who served as Principal Choreographer for the Royal Ballet until he died in 1992) created numerous ballets which remain active in today's repertoire. One of his greatest works (choreographed to Sergei Prokofiev's 1938 score for Romeo and Juliet) premiered in 1965 with Rudolf Nureyev and Margot Fonteyn as Shakespeare's famous star-crossed lovers.
In the following clip from a 2007 performance at the Royal Ballet, Carlos Acosta and Tamara Rojo perform the famous balcony scene pas de deux from MacMillan's version of Romeo and Juliet.
Two groups which have helped to catalogue and document the dance numbers created for Broadway musicals are Dancers Over 40 and Lee Becker Theodore's dance troupe, American Dance Machine. Designed to be a "living archive" of dances created for Broadway shows, ADM paid tribute to the work of such theatre choreographers as Michael Kidd, Ron Field, Onna White, Bob Fosse, and Peter Gennaro during its 1978 run on Broadway. In the following clip, Gwen Verdon introduces Joe Layton's choreography for the "Popularity" number from 1968's George M!.
Originally choreographed by Michael Fokine in 1905, The Dying Swan has become closely associated with such famous prima ballerinas as Anna Pavlova, Natalia Dudinskaya, Alicia Markova, and Maya Plisetskaya.
Charles Caleb Colton (1780-1832) is remembered for suggesting that "Imitation is the sincerest form of flattery." Perhaps that is how a keen awareness of ballet history, a passion for performance tradition, and a solid grip on labanotation combined forces to create this hilarious spoof of The Dying Swan performed by "Maya Thickenthighya" of Les Ballets Trockadero de Monte Carlo.
Choreography (which is defined as "the art of designing sequences of movements in which motion, form, or both are specified) is one of man's oldest art forms. Often found in primitive societies, choreography was used in tribal rites of passage as well as rituals related to hunting, fertility, and agriculture.
In Hawaiian culture, the hula combines chanting, song, and dance as a means of communicating a long cultural history and passing it from one generation to another. In the following clip, Ke Kai O Kahiki's performance at the 2010 Moku O Keawe International Hula Festival offers a classic demonstration of the hula's powerful storytelling capability:
* * * * * * * * * *
First introduced to audiences in the 1910 Broadway musical, Madame Sherry, a song composed by Karl Hoschna featured Otto Harbach's famous lyric:
"Every little movement has a meaning all its own.
Every thought and feeling by some posture can be shown.
And every love thought that comes a-stealing
All your being must be revealing
All its sweetness in some appealing
Little gesture all its own."
In so many ways, that lyric explains the art created by Suzushi Hanayagi over a career lasting seven decades split between Japan and New York. Richard Rutkowski's new documentary, The Space In Back of You, examines the 20-year period during which Hanayagi was a close artistic collaborator with playwright/director Robert Wilson.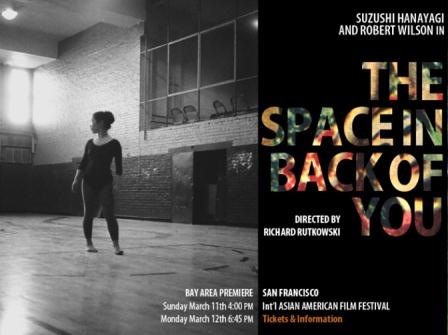 Poster art for The Space In Back Of You
Hanayagi's early training in traditional Japanese dance was followed by several decades working in modern dance as a performer, choreographer, and teacher. While the film includes insights from artists such as Anna Halprin, David Byrne, and Molly Davies, it is very much a tribute from Robert Wilson to honor the woman he considered his friend, partner, and artistic mentor.
Shots of the elderly, wheelchair-bound Hanayagi living in a special care facility in Osaka (where her mental and physical strength has been sapped by a combination of old age and Alzheimer's disease) offers a stunning contrast to the vitality of her early years when she participated in the Judson Dance Theatre or later, when she worked on Wilson's operatic project with composer Philip Glass entitled The Civil Wars: A Tree Is Best Measured When It Is Down.
The film also follows Wilson as he works with some dancers to create an homage to Hanayagi to be performed at the Solomon R. Guggenheim Museum. Here's the trailer:
* * * * * * * * * *
One of the greatest send-ups of ballet can be seen in Fantasia (the groundbreaking piece of animation released by Walt Disney in 1940). With its chubby-chasing zeal, Disney's comic treatment of the Dance of the Hours (from Amilcare Ponchielli's 1876 opera, La Gioconda) never fails to elicit plenty of laughs.
Seventy years later, technology has added so much depth and clarity to animation that we often take its strengths for granted. The recipient of this year's Academy Award for Best Animated Short Film uses a fetching combination of computer animation, miniatures, and 2D animation to bring William Joyce's delightful story, The Fantastic Flying Books of Mr. Morris Lessmore, to life.
Co-director Brandon Oldenburg drew inspiration from 1939's The Wizard of Oz, 2005's Hurricane Katrina, and the silent films of Buster Keaton to weave a captivating tale about the never-ending love affair between books and book lovers. What's fascinating to watch is how the film's choreography (these books have legs) gives so much movement to a story that is really about the magic of literacy.
I tip my hat to Moonbot Studios of Shreveport, Louisiana for creating a charming piece of animation -- a work in which ideas dance and books become heroes. Enjoy!
To read more of George Heymont go to My Cultural Landscape