Wikipedia defines magical realism as:
"...an aesthetic style or genre of fiction in which magical elements blend with the real world. The story explains these magical elements as real occurrences, presented in a straightforward manner that places the 'real' and the 'fantastic' in the same stream of thought. It is a film, literary and visual art genre."
Ghosts, dreams, and supernatural events can be found throughout the landscape of theatre, opera, dance, literature, and film. Numerous examples quickly come to mind:
In Act II of Giselle, the Wilis summon the ghost of the dead peasant girl from her grave and instruct it to make Duke Albrecht of Silesia dance until he dies from exhaustion.
In Mozart's opera, the statue of the slain Commendatore comes to life and warns Don Giovanni that he will die before dawn.
In Fiddler on the Roof, Tevye concocts a dream in which his wife's Grandma Tzeitel returns from the grave to give her blessing to a wedding between his oldest daughter, Tzeitel, and the tailor Motel. The ghost of Lazar Wolf's first wife, Fruma Sarah, also makes a prophetic appearance.
The playwrights of ancient Greece often invoked the Gods to push a plot along, frequently relying on a deus ex machina to help bring a play to its conclusion. Shakespeare used ghosts, fairies, sprites, and ominous visions to great effect, most especially in Macbeth (1611). The following painting by Théodore Chassériau depicts the moment when the bloodied ghost of the murdered Banquo appears at a banquet being hosted by Macbeth.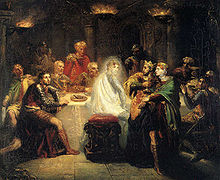 Image courtesy of Wikipedia
In the following clip from a 1972 production of Verdi's opera, Macbeth (1847) at the Glyndebourne Festival Opera, the newly-crowned king of Scotland (Kostas Paskalis) watches in horror as the three witches conjure up a vision of eight descendants of Banquo, all of whom become future kings of Scotland. Later in the clip, Lady Macbeth (Josephine Barstow) arrives to keep her husband focused on their goals.
Strong Shakespearean influences haunt a new play in which the ghost of a familiar political figure from San Francisco's history adds to the chaos, confusion, and kind of acute personal vulnerability in which thoughts come in waves and rushes rather than at a measured pace.
* * * * * * * * * *
On Nov. 27, 1978, 14-year-old Jonathan Moscone stayed home from school because he was feeling ill. As he watched television, a popular sitcom was interrupted with the news that his father (San Francisco's Mayor George Moscone) and Supervisor Harvey Milk had just been assassinated in their offices in City Hall. While many San Franciscans cried bitter tears and grieved deeply for the loss of these beloved men, the young Moscone wasn't feeling much at all.
Fast forward 30 years. Jonathan Moscone has become a respected stage director as well as artistic director of the California Shakespeare Theater. Bursting with creativity, nervous energy, and conflicting emotions, he is also an apolitical middle-aged gay man having lousy luck with Internet dating. In the following clip, Moscone makes a rare political appearance at the service commemorating the 30th anniversary of the Moscone/Milk assassinations.
]
Although he rarely mentioned his father in conversations with friends, Moscone decided to drop by a 2008 location shoot for Milk, the biopic about Harvey Milk that was being directed by Gus Van Sant. As he watched his father's legacy get trivialized in the process of filming, a moment of personal insight provided the spark that led to the creation of Ghost Light.
What began as a conversation between Moscone and his long-time friend, Tony Taccone (the artistic director of Berkeley Repertory Theatre), had its world premiere at the Oregon Shakespeare Festival last summer. This month, the Berkeley Rep presented the regional premiere of Ghost Light, a fascinatingly messy and mesmerizing dramedy that becomes curiously courageous and cathartic as its protagonist bounces back and forth between moments of insight and intransigence.
The Shakespearean hook that provides the key to understanding Moscone's inner conflicts is a simple one. Not only has Jon (Christopher Liam Moore) run up against a roadblock while preparing to direct a production of Hamlet, his friend Louise (Robynn Rodriguez) insists that the creative block he is experiencing with regard to the scene in which Hamlet meets the ghost of his slain father is somehow linked to an emotional issue he has long refused to tackle.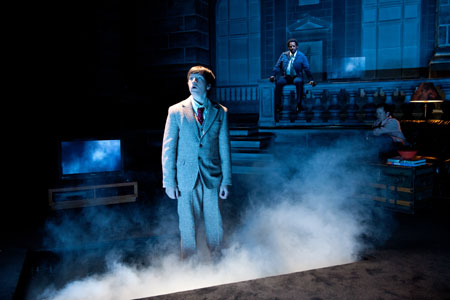 Tyler James Myers as the 14-year-old Jonathan Mosconein Ghost Light (Photo by: Jenny Graham)
Ghost Light careens between past and present as the young Moscone (Tyler James Myers) tries to cope with his father's funeral and the presence of a mysterious spiritual guide (Peter Macon), who insists that once Jon can "hear the music" he will be able to see his father once again. Meanwhile, the adult Jon is routinely tormented by nightmares in which a sadistic prison guard (Bill Geisslinger) representing his grandfather keeps threatening to kill him.
The prison guard has also managed to enter the dreams of Loverboy (Danforth Comins), who has been sharing Jon's bed. Once Loverboy is no longer part of his life, Jon tries his luck with Internet dating but is horrified to discover that one of his online "friends" -- a financial analyst named Basil (Ted Deasy) -- has not only shared the content of their Internet chats with friends, but has gone to visit the grave of Jon's murdered father.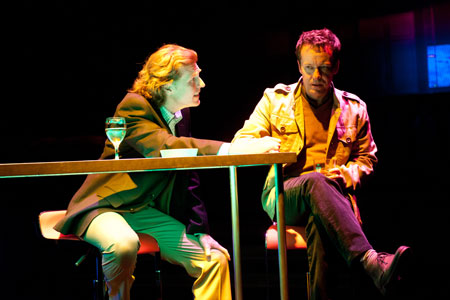 Basil (Ted Deasy) and Jon (Christopher Liam Moore) meet up in a bar in Ghost Light (Photo by: Jenny Graham)
All of this takes place against a background of the 2008 election (in which Prop 8 passed in California), the making of Van Sant's Oscar-winning film about Harvey Milk, and a terrifying moment during which Jon suffers a major panic attack. Meanwhile, the ghost of Hamlet's father keeps waiting for some notes from his director.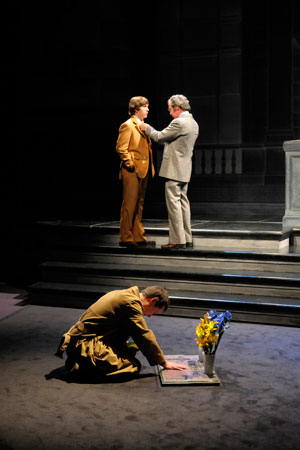 The adult Jonathan Moscone (Christopher Liam Moore) kneels before his father's grave as the ghost of his murdered father visits young Jonathan (Tyler James Myers) in Ghost Light (Photo by: Kevin Berne)
This article was cross-posted on My Cultural Landscape. To continue reading, click here.
To read more of George Heymont go to My Cultural Landscape