Once upon a time, bookstores didn't have a section devoted to self-help. What am I talking about? Once upon a time, there were bookstores!
Whether people went to have their Tarot cards or astrological chart read to them, whether they saw a therapist on a regular basis, or whether they assiduously wrote their thoughts down in diaries and journals, the quest never stopped to get a better grip on who one was and what the future held in store.
Some people spend their whole lives searching for answers -- people like Charity Hope Valentine (the girl who wanted to be loved). In the following clip, Shirley Bassey sings "Where Am I Going?" from 1966's Sweet Charity:
Although it would be nice to think that we get wiser as we get older, that's not often the case. Grown adults (who should know better) make phenomenally bone-headed blunders. Sometimes, when examining the wreckage in our wake, we're amazed that we've even survived. Some 25 years after singing "I'm Still Here" during 1985's concert version of Follies with the New York Philharmonic, I wonder how Carol Burnett feels about Stephen Sondheim's lyrics today:
Two Bay-area theatre companies opened their seasons this month with plays about women who are either desperately trying to find themselves or looking back and acknowledging what they survived. Although one piece was a revival of a play that premiered here two decades ago, the other was the world premiere of a piece that's been in the incubation process for a long, long time.
Why We Have a Body
Written by Claire Chafee, Why We Have a Body received its world premiere from San Francisco's Magic Theatre in 1993. Directed by Katie Pearl on a beautifully spare and concise unit set designed by Marsha Ginsberg, its revival this fall marks the first step in Magic Theatre's new "Legacy Series" (during which, each season from now until Magic celebrates its 50th anniversary in September 2016, the company will revive one of its outstanding world premieres).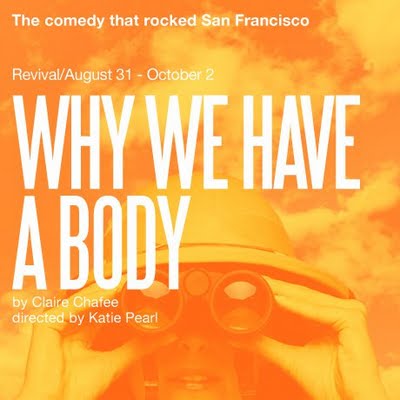 Poster art for Why We Have a Body
At the heart of Chafee's play are four complex females:
Having watched her two daughters grow into extremely conflicted young women, Eleanor (Lorri Holt) is convinced that the lesbian brain is divided into three (instead of the usual two) segments: memory, lust and hammering doubt. As for her own lot in life? "Marriage was the only career option I was offered and, believe me, as a career it wildly favors those who can go without intellectual stimulation for vast stretches of time."
An armed robber who specializes in holding up 7-Eleven stores, Mary (Maggie Mason) is the more aggressive of Eleanor's daughters. Not only does Mary consider Sylvia Plath to be one of the great comic writers of the 20th century, she immediately tells the audience, "It's not your fault that you don't listen to your own unconscious mind. That's why it's there."
Far more methodical and analytical than her sister, Lili (Lauren English) is a private investigator who specializes in adultery cases. Instead of concentrating on the man's characteristics, she prefers to listen to the wife's side of the story in order to discover the husband's emotional trigger points. When she was only 4 years old, she would try to wear the Superman cape in nursery school and make the boys cry. When Mary complains about feeling as if she's never really accomplished anything, Lili is quick to remind her sister that "You have sailed through practically an armada of therapists virtually unchanged. That has got to count for something."
Finally, there is Renee (Rebecca Dines), a paleontologist who ends up sitting next to Lili on a flight and confides, "While other girls were guessing each other's favorite color and putting little plastic barrettes in each other's hair, I was constructing a geodesic dome out of my brother's Lego set." While Renee is quite attracted to Lili, she is very much in the beginning stages of self-identifying as a lesbian. As lonely as Lili might be, the last thing she wants is to be stuck (yet again) in the role of having to figure someone else out. For once in her life, she'd like to be the one who gets "figured out" in a relationship.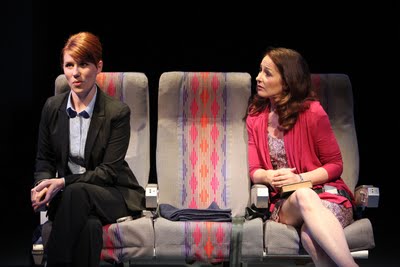 Lili (Lauren English) and Renee (Rebecca Dines) in Why We Have a Body (photo by Jennifer Reiley)
Since Why We Have a Body premiered in 1993, important changes have taken place in the lesbian and general cultures. For one thing, pay phones (which are a key plot point) have become almost impossible to find. Mary's magical ability to send telepathic fax messages seems a bit outdated in an era when the use of fax technology is rapidly waning. The play's basic structure, which is marked by numerous beautifully written monologues, can be a bit off-putting until the audience gets into the rhythm of Chafee's writing. In a recent interview, the playwright noted:
People used to sit on the phone for hours. I think it was crucial for me, and I think it really helped with storytelling because I couldn't wait to get home and call up my best friend and say, "You're not going to believe what happened to me today." Even how long people have conversations inside this play I think is unusual. Texting has created this whole shortened language. I think that having these four characters talk to us and each other for these extended periods, it felt interesting to show this. Will this look like a lunar landscape to the young?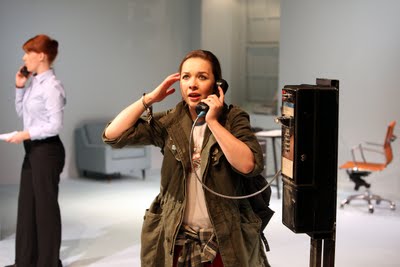 Sisters Lili (Lauren English) and Mary (Maggie Mason) in Why We Have a Body (photo by Jennifer Reiley)
What I found fascinating about the opening night performance of Why We Have a Body is how effectively the piece was directed by Katie Pearl (with Jessica Holt acting as associate director). This production is clearly a case in which a script is enhanced by how the actors do or do not interact with each other. The cast's numerous double takes, pregnant pauses and ability to address the audience enhance the rhythms of Chafee's monologues as her play is brought to life onstage.
The four-woman ensemble is exceptionally tight, with the strongest performances coming from Lauren English and Maggie Mason as Eleanor's two daughters. Why We Have a Body continues through Oct. 2 at Magic Theatre. Here's the trailer:
Rita Moreno: Life Without Makeup
What do you do when you've won an Emmy, a Grammy, a Tony and an Oscar, become a widow, had knee-replacement surgery, and are about to turn 80? If you're Rita Moreno, you accept a very personal challenge from a close friend who's the artistic director of a local theatre company and head back to the stage.
However, funneling a lifetime of artistic achievements into a two-and-a-half-hour show means making some tough choices, especially if you've grown up in poverty, starred on Broadway in shows ranging from Lorraine Hansberry's drama, The Sign in Sidney Brustein's Window, to introducing Googie Gomez to audiences attending Terrence McNally's bathhouse comedy, The Ritz, and later starring in an all-female revival of Neil Simon's hit comedy, The Odd Couple.
How do you balance your desperate years of trying to combat an image as one of Hollywood's "utility ethnic" actresses to working on educational television in shows like The Electric Company and The Muppet Show? How do you balance a scandalous role in which you go down on Jack Nicholson in 1971's Carnal Knowledge with appearing as the psychologist nun named Sister Peter Marie Reimundo in HBO's prison series, Oz ?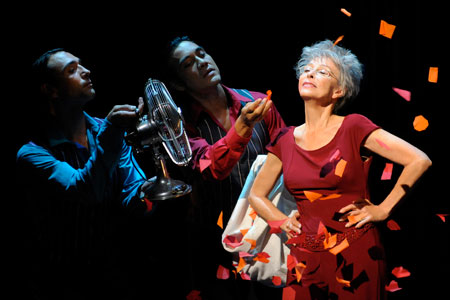 Salvatore Vassallo, Ray Garcia and Rita Moreno (photo by Kevin Berne)
This article was cross-posted from My Cultural Landscape. To continue reading, click here.
To read more of George Heymont, go to My Cultural Landscape.