It's been fascinating to see how critics have reacted to The Iron Lady, a new film inspired by Margaret Thatcher that has been directed by Phyllida Lloyd. Meryl Streep stars as the former British Prime Minister in a script written by Abi Morgan.
While the women heading up the film's creative team were all crystal clear on the fact that The Iron Lady was a piece of fiction, a surprising number of people approached the movie expecting it to be a traditional biopic that would move along linear plot lines as it analyzed what made Thatcher such a powerful politician. But that's not really what the film is about.
Anyone who watches the scene in which Thatcher moves across a long a carpet strewn with dark red rose petals (as Maria Callas sings the "Casta diva" aria from Bellini's Norma) has to understand that The Iron Lady is an exercise in artistic license. If they can't grasp that basic fact, they should have their head examined. As screenwriter Abi Morgan explains:
It was always meant to be a dramatic interpretation of her life rather than a biopic. Even the speeches we hear Margaret delivering in the film are paraphrased versions of her original speeches, because the originals are owned by Thatcher herself and can't be replicated without her approval. So you get the sense of the interpretive quality of this film.

It's not a documentary; it's a work of fiction. I wanted to explore the idea of what it is like to be a king and to lose your power. The idea of a king who now has to make his own breakfast, shine his own crown, was very intriguing to me. Then it opened up wider questions about the notion of power, age, so thematically the film became something richer than simply a biopic. At the film's heart there is a love story. When I looked at the idea of Denis as a ghost I realized that he is not a literal ghost; to me, he is a manifestation of her memory of her traveling partner, one she never let go of. Although Margaret has lost Denis, that relationship has never died for her.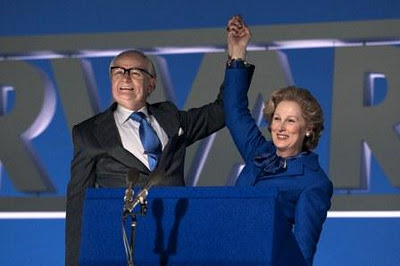 Jim Broadbent and Meryl Streep in The Iron Lady
Morgan makes an interesting point, with which I'm sure many widows (who still talk to their deceased husbands) would agree. And, as a woman in her eighties, the aged Thatcher is more prone to a chaotic, style of hallucinatory thinking rather than the rigidity of her previous high standards (best shown in a scene where she humiliates a male subordinate who has made a spelling error).
While at least one reviewer has likened Olivia Colman's performance as Carol Thatcher to a modern-day Cordelia looking after Margaret Thatcher's version of King Lear, I found a much stronger parallel in comparing Jim Broadbent's portrayal of Denis Thatcher to the spirit of Lear's Fool. Director Phyllida Lloyd is careful to note that:
Abi Morgan's screenplay is a really radical piece of writing. I think the beauty of it is in the detail. Because this is about memory, often the entry point to a scene is something small like a button being sewn on. When we remember things, it's often keyed off by a sound, a smell, or something incidental that then makes us remember.

What sets this film apart from a conventional biopic is that the whole story is told from her point of view. So the audience doesn't know whether what is depicted is true or not. This is her version of her journey. There is no other perspective on the political events. One of the things that people may find unusual is that there are no women in our depictions of the House of Commons in the film. Now, of course, we all know that there were a small number of female members of Parliament when she entered the Chamber, but from Margaret's point of view she feels as if there are no women there. She feels entirely like a lone woman in a sea of men.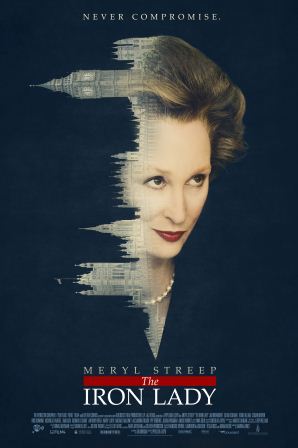 Poster art for The Iron Lady
The movie is filled with contrasts between the traditional male and female perspectives on tiny events. While many people hated Thatcher intensely in real life, in a fictionalized setting her harshness become mores understandable. As Meryl Streep points out:
When women are uncertain as to how to lead, or they're worried about how they're perceived or they're worried about losing femininity, their leadership skills suffer. I've watched women directors struggle with trying to be the commander (and women leaders, too). We're not quite comfortable yet with this idea. Margaret Thatcher didn't have a problem with how to lead and so, in a way, men didn't have so much of a problem knowing how to follow.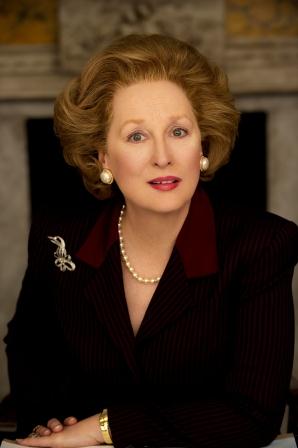 Meryl Streep as Margaret Thatcher in The Iron Lady
While Alexandra Roach delivers an interesting portrait of Thatcher in her younger years (and Jim Broadbent is an eccentric delight as the older Denis Thatcher), I was especially taken by Harry Lloyd's characterization of the young Denis Thatcher. Tall and angular, with a charming goofiness that instantly brings to mind a cross between Bill Irwin and Tommy Tune, his performance is one of The Iron Lady's unexpected and largely unsung treasures.
The Iron Lady offers yet another award-winning tour de force for Meryl Streep as an actor. The scenes in which she plays Thatcher as a weakened geriatric woman are especially notable for her internal acting as she communicates layers of emotion and thought through her eyes. Here's the trailer:
To read more of George Heymont go to My Cultural Landscape