As we commemorate World AIDS Day, it's timely to notice how three recent documentaries about the AIDS crisis (We Were Here, How To Survive A Plague, and United in Anger: The History of ACT-UP) have helped to focus attention on the raging epidemic that should never have happened -- a plague that has now claimed more than 35 million lives around the world. A recent revival offered a bracing reminder of how radically our levels of awareness have changed over recent decades.
Could we have achieved this hard-earned wisdom without so many heart-rending losses? Consider Paul McCartney's achingly simple lyric for the 1965 song that The Beatles transformed into a classic:
"Yesterday, all my troubles seemed so far away
Now it looks as though they're here to stay
Oh, I believe in yesterday.

Suddenly I'm not half the man I used to be
There's a shadow hanging over me
Oh, yesterday came suddenly.

Why she had to go
I don't know, she wouldn't say
I said something wrong
Now I long for yesterday.

Yesterday, love was such an easy game to play
Now I need a place to hide away
Oh, I believe in yesterday."
Some 30 years after the onset of the AIDS crisis, one wonders at some of the statements that were once commonly heard in gay bars and bathhouses:
"Oh man, I'll bet that stud has the dick of death!"
"With a body like this, how could I possibly get sick?"
"I'd eat a mile of that man's shit just to see where it came from."
The times, how they've been a-changing! Upon re-rereading Larry Kramer's incendiary article entitled 1,112 and Counting, it is astonishing to see how prescient and justifiably angry he was back when his piece was first published in March 1983 in the New York Native.
Those were the days when it was still easy for closeted gay men to lead rigidly compartmentalized lifestyles which they thought could protect them from being found out.
Those were the days when many gay people defined themselves in terms of their sexual activity, rather than their personalities, passions, or other parts of their lives.
Those were the days when many people couldn't comprehend the difference between making love and treating other men as "numbers."
Those were the days when many people were still reluctant to follow Harvey Milk's advice to "Come out, come out, wherever you are."
Those were the days before so many of our friends started dropping like flies.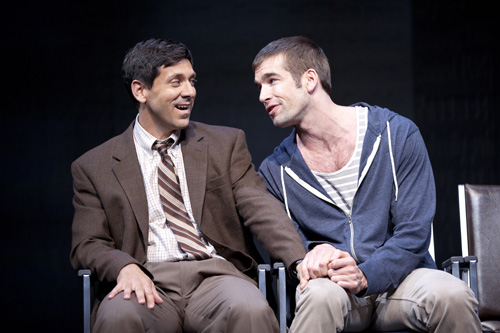 Mickey Marcus (Michael Berresse) and Craig Donner (Tom Berklund)
sit in a busy physician's waiting room in The Normal Heart.
(Photo by: Scott Suchman)
This year's national tour of the Tony Award-winning production of Kramer's controversial 1985 drama, The Normal Heart, arrived at the American Conservatory Theater in September following its successful launch at the Arena Stage in Washington, D.C. To say that it brought back memories would be a severe understatement.
I saw the original production of The Normal Heart at New York's Public Theater with my father. Needless to say, it was the kind of father-son experience that generated lots of discussion. In my review in the Bay Area Reporter, I wrote:
"Unlike the clean-cut Hollywood romanticism lavished upon NBC's recent TV docudrama, An Early Frost, Kramer's AIDS play is a highly effective, confrontational, and occasionally ugly piece of agitprop theatre which does little to preserve the sanctity of those gays who either hide behind closet doors or refuse to deal with anything that could possibly untidy their lives. Without ever apologizing for many of our community's touchy conceits ("Of course I'm out of the closet, but that doesn't mean I want my mailman to know I'm gay," groans one character), Kramer skillfully savages most of the petty delusions with which a large number of closeted and successful gays have avoided confronting the highly political aspects of the current AIDS epidemic."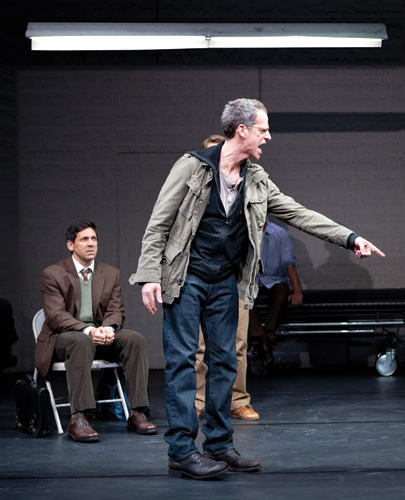 Patrick Breen as Ned Weeks in The Normal Heart
Photo by: Scott Suchman
During the play's opening night in San Francisco, certain moments stood out with the kind of searing clarity that comes from having had too many friends' lives cut short due to public apathy and governmental negligence.
It's been a long time since I saw anyone with a Kaposi's sarcoma lesion on his face. But in the first few minutes of Kramer's play, as one of the characters turns to face the audience, he reveals a bright red scar on his cheek; a sure sign that he is soon to die.
It's astonishing to realize how smoothly and tightly Kramer wove so much exposition into Act I, especially considering how intensely he needed to educate his audience about facts which had been brutally ignored by the mass media.
As a heated discussion reveals the paltry $9,600 New York's Mayor Ed Koch might make available to the Gay Men's Health Crisis, a simple statement that probably never gets a response in other cities ("San Francisco's Mayor just gave $4 million!") got a deeply appreciative wave of applause from the audience.
Long before marriage equality had become a driving issue in the LGBT rights movement, Kramer's plea for gay people to love themselves as people (rather than merely treating each other as sex objects) climaxed in a scene in which the play's AIDS physician, Dr. Emma Brookner (Jordan Baker), presided over a wedding ceremony between the protagonist, Ned Weeks (Patrick Breen), and his dying lover, Felix Turner (Matt McGrath).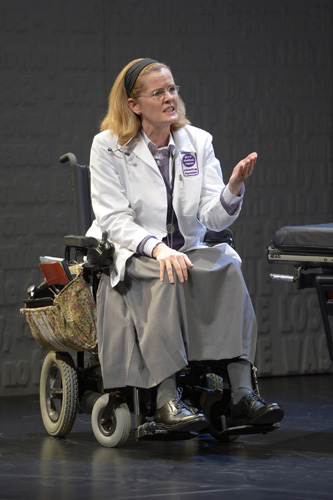 Jordan Baker as Dr. Emma Brookner in The Normal Heart
Photo by: Kevin Berne
The passage of time has proven that Kramer was absolutely justified to be screaming at the top of his lungs. At the time he wrote 1,112 and Counting, the number of people diagnosed with AIDS was in the earliest stages of a deadly geometric progression. Today, more than 71 million people are living with the disease.
It's impossible to watch a performance of Kramer's play without being deeply moved. Using the handsome unit set designed by David Rockwell, this production has been directed by George C. Wolfe with a remarkably sustained level of anger and sense of accelerating doom. It's a particularly important experience for young gay men who came out after anti-retrovirals were introduced as a treatment protocol, allowing people to "live with AIDS" (as opposed to living with a clinical death sentence).
Patrick Breen (who played Mickey Marcus on Broadway) has made the role of Ned his own with a portrayal filled with sound and fury, signifying more than some can even bear to comprehend. Bruce Altman provided a nice foil as Ned's older brother, Bruce Weeks, with Nick Mennell's portrait of Bruce Niles (the closeted former Green Beret who became President of GMHC) reminding audiences of how closely physical beauty can be accompanied by political cowardice.
Jon Levenson gave a disturbing performance as Hiram Keebler (Mayor Koch's villainous closeted liaison to the gay community) with Michael Berresse offering a poignant characterization of Mickey Marcus (Dr. Lawrence Mass in real life). Balancing Breen's vitriolic tour-de-force as Ned were two beautifully written and rendered performances by Sean Dugan as hospital administrator Tommy Boatwright ("I'm also a Southern bitch!") and Matt McGrath as Felix Turner, the fashion writer for The New York Times who falls in love with Ned Weeks. Tom Berklund appeared in smaller, supporting roles.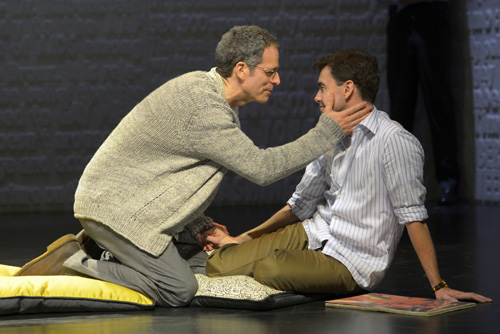 Patrick Breen and Matt McGrath in The Normal Heart
Photo by: Kevin Berne
While The Normal Heart has many moments in which your heart my feel like it's stuck in your throat, I often found myself worrying how Patrick Breen managed to protect his vocal cords while giving such a full-throttle, no holds-barred performance. Kramer's play remains a riveting evening of theatre which, 25 painful years after its premiere, can be applauded for its solid writing as well as for its political conscience.
To read more of George Heymont go to My Cultural Landscape