From the sirens of the silver screen to the fierce feminists who helped change the world, many a proud woman has left her mark on civilization. From Cleopatra to Golda Meier, from Elizabeth I to Margaret Thatcher, from Indira Gandhi to Benazir Bhutto, women have made impressive use of political power.
For better or worse, famous political wives such as Madame Mao, Eleanor Roosevelt, and Jacqueline Kennedy have strongly influenced their husband's decisions. Whether their personal dramas followed them onscreen or offstage, women like Joan Crawford, Judy Garland, and Maria Callas left a lasting mark on popular culture. Think of some other determined women who helped redefine their gender's rights and capabilities.
Joan of Arc is now recognized as one of the patron saints of France.
Harriet Tubman, known primarily for her work with the Underground Railroad, became a strong supporter of civil rights.
Susan B. Anthony helped bring the suffragette movement to the United States.
Betty Friedan, the founder and first President of the National Organization For Women, is also remembered as the author of The Feminine Mystique.
Helen Gurley Brown, the recently deceased Editor-in-Chief of Cosmopolitan for 32 years, told the world that it's okay for single women to have sex and enjoy it.
As we mark the 50th anniversary of Marilyn Monroe's death, it's also important to remember sex symbols like Helen of Troy (whose face was supposed to have launched a thousand ships), Lillian Russell, Jean Harlow, and Elizabeth Taylor. Clara Bow may have been known as the "It" girl, but the wit and wisdom of Mae West still brings a smile to our faces.
What do these women have in common? They're all dead, and yet they continue to haunt us from the grave.

* * * * * * * * * *
Written in 1941 by Noel Coward, Blithe Spirit was successfully adapted for the silver screen in 1945 with a cast headed by Rex Harrison, Margaret Rutherford, Kay Hammond, and Constance Cummings. In 1964, the ghostly romp was transformed into a Broadway musical directed by Noel Coward. High Spirits starred Beatrice Lillie, Tammy Grimes, Edward Woodward, and Louise Troy. The young Christopher Walken was one of the show's dancers.
This summer, the California Shakespeare Theater is performing Coward's play with a cast mostly recruited from the American Conservatory Theatre. Having only seen High Spirits in the past, I was especially looking forward to this production (I always find it fascinating to see how a musical's songs were inspired by moments or lines in the original play).
Under the crisp direction of Mark Rucker, Blithe Spirit (which Coward claimed to have written over the course of five days while on vacation) has lost absolutely none of its ability to charm and convulse an audience with laughter. Annie Smart's handsome, expansive set is beautifully rigged for the play's final moments (during which all hell breaks loose).
As Charles Condomine, Anthony Fusco was a devilishly dapper mystery writer hoping do gain some insight into the language of spiritualists by inviting the village kook, Madame Arcati (Domenique Lozano), to a dinner party which is to be followed by a séance. As the play begins, the Condomines are merrily congratulating themselves on being more mature than younger lovers, even if Ruth likes to bully her husband and tries to nail him with questions that border on the old "Does this dress make me look fat?" trick.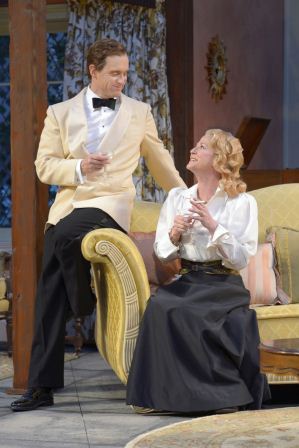 Charles Condomine (Anthony Fusco) and his wife, Ruth
(Rene Augesen) in Act I of Blithe Spirit (Photo by: Kevin Berne)
After Dr. Bradman (Kevin Rolston) and his wife (Melissa Smith) arrive, the only other person visible to the audience is Edith (Rebekah Brockman), the Condomines' easily agitated maid whose determination and speed (habits acquired during her stint in the Royal Navy) are decidedly at odds with the relaxed pace of life in suburban Kent (often referred to as "The Garden of England").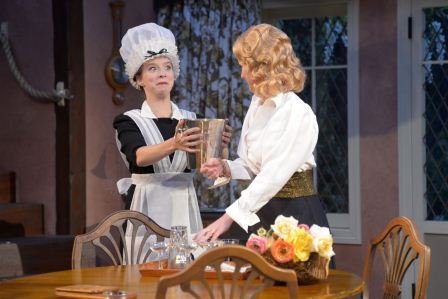 Edith (Rebekah Brockman) tries to slow down for Mrs. Condomine
(Rene Augesen) in Blithe Spirit (Photo by: Kevin Berne)
Both Charles and his spouse, Ruth (Rene Augesen), are on their second marriages. Keenly aware of the compromises one makes during the second lap around the relationship racetrack, they are thrown for a loop when Madame Arcati (who prefers not to eat red meat before a séance) manages to summon up the ghost of Charles's first wife, Elvira (Jessica Kitchens). For those who can see her, Elvira is very much a sight for sore eyes.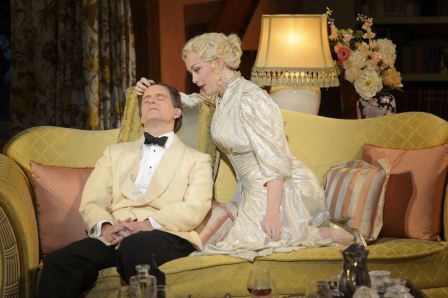 Charles Condomine (Anthony Fusco) is reunited with the ghost of his former
wife, Elvira (Jessica Kitchen), in Blithe Spirit (Photo by: Kevin Berne)
Elvira always had a knack for causing trouble. Moody, mischievous, and magnificently mercurial, she was the embodiment of vanity, flirtatiousness, lust, and temptation while alive.
Because Elvira's ghost is only visible to Charles, Ruth is quick to take umbrage at her husband's perceived insults. But all Charles is really doing is trying to maintain a conversation with his first wife's ghost while his second wife pouts and sulks over his supposed insensitivity.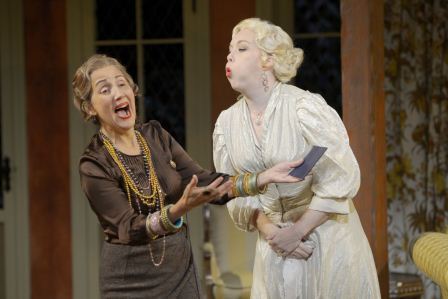 Madame Arcati (Domenique Lozano) tries to communicate with
Elvira (Jessica Kitchen) in Blithe Spirit (Photo by: Kevin Berne)
Elvira has, of course, returned on a mission to bring Charles back to the "other side" where she's built herself an army of famous and quite fascinating friends. Here's Tammy Grimes singing "Home Sweet Heaven" from the original Broadway cast album of High Spirits.
With so many of today's new plays being carefully workshopped prior to their world premieres, it's hard to believe that Noel Coward wrote Blithe Spirit in five days during World War II. The play initially ran for 1,997 performances and has been a steady source of entertainment for 70 years!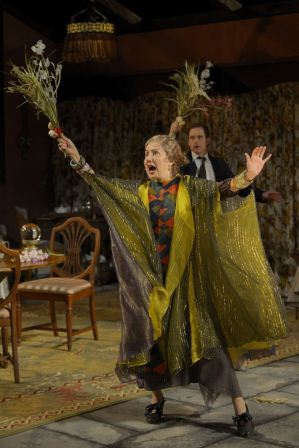 Madame Arcati (Dominique Lozano) prepares to go into a
trance in Blithe Spirit (Photo by: Kevin Berne)
There is such beauty and craft in the structure of Coward's script that it often seems to be more of a study in how jealousy and insecurity can ruin a marriage than an attempt to get an audience to lighten up with regard to how they deal with death. California Shakespeare Theatre's production is a first-rate gem. Performances of Blithe Spirit continue at the Bruns Amphitheatre in Orinda through September 2.
* * * * * * * * * *
As long as we're talking about women who haunt us, mention should be made of the Kinsey Sicks, the indefatigable dragapella barbershop quartet that recently brought Electile Dysfunction to San Francisco's Rrazz Room before heading to Tampa to terrorize those delegates to the 2012 Republican National Convention who failed to score time with Lisa Ann (the star of Who's Naylin Palin?).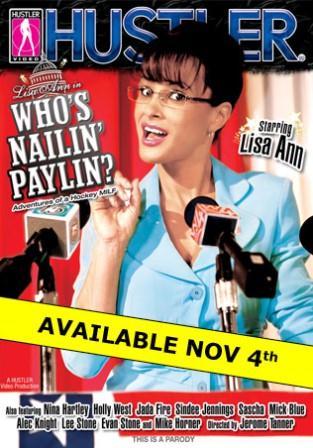 While the Kinsey Sicks have their work cut out for them, there's just so much these girls can do. There's a good chance that Trixie, Rachel, Winnie, and Trampolina will be forced to massage lots of throbbing members of the Republican party in order to achieve multiple orgasmic tax releases. They can try to appeal to moderates by singing "Love Child: Politician Edition" or attempt to woo the genuine crazies with their rendition of "Vote for Me (I Wasn't Born in Kenya)."
Sure, they can try to woo faithful conservatives with their new song "Eliminate the Schools" (sung to the tune of Gilbert & Sullivan's "Three Little Maids") and remind Tea Party delegates that no one helped the Kinsey Sicks build their performing career (they did it "Yahweh").
While I'm sure that Rachel will have no problem grabbing Paul Ryan by his ears and barking out orders to him, it's hard to tell which song will be best suited for greeting the Republican nominees:
"Hello, Young Lovers"
"T'aint It Love?"
"Sikh to Sheikh" (sung to the tune of Irving Berlin's 1935 hit song, "Cheek to Cheek").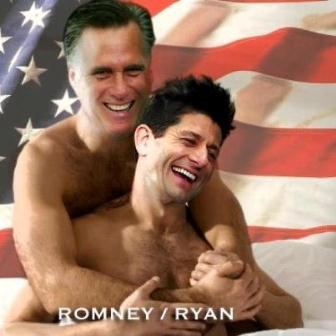 What's interesting about Electile Dysfunction (which was commissioned by Theatre J in Washington, D.C.) is how it revives some old Kinsey standards ("BP is Creepy," and "Sell the Poor") while giving new life to some of their greatest hits. Using "He's A Sheep-Fucking Guy" for a curtain call never fails to bring down the house.
If Ann Romney still thinks that it's her family's turn to inhabit the White House, she's got another thing coming!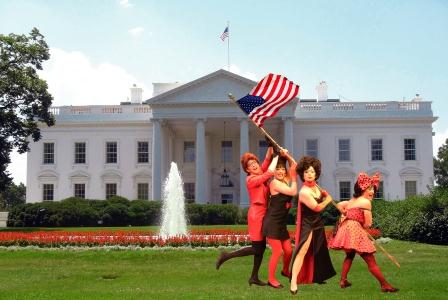 To read more of George Heymont go to My Cultural Landscape