When one thinks about the history of the American musical theater, shows with one-word titles take on a peculiar significance.
Some shows (Chicago, Brigadoon, Oklahoma!) reference a geographic location.
Some shows (Mame, Pippin, Sugar, Zorba, Jennie, Gigi, Aladdin, Candide, Annie, Gypsy, Coco, Fiorello!) reference the name of a lead character.
Some shows (Carousel, Bajour, Hairspray, Hair, Nine, Cabaret, Carnival, Kismet, Ragtime, Camelot) pay homage to an important cultural reference.
The title of Matthew Lopez's poignant new dramedy, Somewhere (which received its world premiere in October 2011 from the Old Globe Theatre in San Diego and has just received its regional premiere from TheatreWorks), is an acutely specific reference to a song, a show, a time, a place and a critical moment in the history of the American musical theater.
When composer Leonard Bernstein, director/choreographer Jerome Robbins and librettist Arthur Laurents were working on 1957's West Side Story, they fashioned a dance scene in Act II in which Tony and Maria could suddenly be transported to an imaginary world in which there is no racial tension and no gang warfare. Sung by soprano Reri Grist, the song underpinning this number contained the following lyrics written by a young Stephen Sondheim:
There's a place for us,

Somewhere a place for us.

Peace and quiet and open air

Wait for us

Somewhere.

There's a time for us,

Some day a time for us,

Time together with time to spare,

Time to learn, time to care,

Some day!

Somewhere.

We'll find a new way of living,

We'll find a way of forgiving

Somewhere...

There's a place for us,

A time and place for us.

Hold my hand and we're halfway there.

Hold my hand and I'll take you there

Somehow,

Some day,

Somewhere!
Somewhere takes place in the summer of 1959 in a tenement on West 66th Street (the area that New York City's urban planner, Robert Moses, would soon condemn and demolish in order to make way for the trendsetting Lincoln Center for the Performing Arts). By that point, West Side Story had made a huge impact on the theater world, and preparations had begun for the show's film adaptation (whose choreographed prologue was to be shot on the streets of the Upper West Side). As the playwright explains:
To me, musicals are the most important thing ever in the history of the world. That should be stated first and foremost. It's part of my upbringing. It was instilled in me by my parents (who had it instilled in them by theirs) that there was no higher form of artistic expression than an 11 o'clock number. I had no idea who Madonna was. I didn't listen to "Thriller" until high school. It was all musical theatre being played in our house.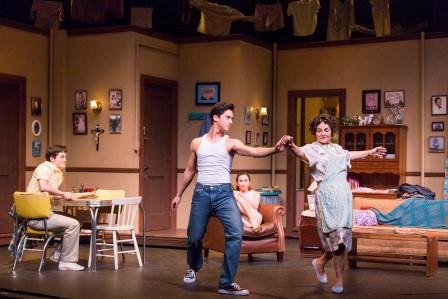 Alejandro (Michael Rosen) dances with his mother (Priscilla Lopez) as his brother and sister look on in Somewhere (photo by Mark Kitaoka)
As the play begins, the Candelaria family is getting ready for a quick family dinner.
The family matriarch (Priscilla Lopez) has just returned home from ushering for a matinée performance at a Broadway theater. Although Inez is as infatuated with Broadway musicals as Gypsy Rose Lee's mother is with vaudeville, she had a much shorter career as a stage mother. She is now coaching her daughter on the fine points of ushering.
Inez's oldest son, Alejandro (Michael Rosen), is preparing dinner. Although he was one of the children in the original Broadway cast of The King and I, 'Jandro has tried to stay grounded in reality. Because he works nearly 80 hours a week at a local grocery store, he is reluctant to audition for any shows. Alejandro also has a closely guarded family secret which has been eating away at his conscience.
Inez's youngest son, Francisco (Eddie Gutierrez), is excitedly preparing a scene with Alejandro for his acting class. 'Cisco has dreams of becoming the next Brando and is hopelessly and happily stagestruck.
Inez's daughter, Rebecca (Michelle Cabinian), dreams of the day when she can move on up from being an usher to dancing in a Broadway musical.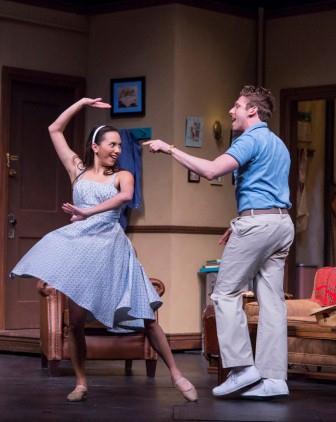 Jamie (Leo Ash Evens) dances with Rebecca (Michelle Cabinian) in a scene from Somewhere (photo by Tracy Martin)
The hopes of the effusive Candelarias are clearly focused on two goals: being cast in a musical and welcoming their father, Pepe, home from his travels. It soon becomes obvious that Pepe is not only the hero of numerous family legends but has been gone for a long, long time. When the family is visited by Jamie MacRea (Leo Ash Evens), who is now working as an assistant to Jerome Robbins, Alejandro's closest childhood friend quickly becomes the center of attention.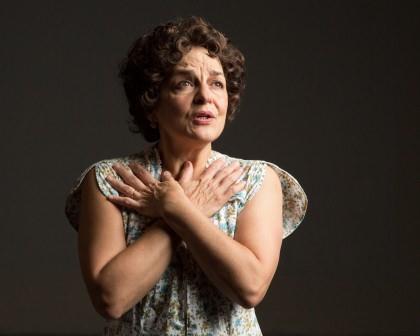 Priscilla Lopez as Inez Candelaria in Somewhere (photo by Tracy Martin)
The family's giddiness over Jamie's visit is shattered by a letter from Robert Moses informing them that their building is scheduled for demolition and that they only have 30 days to vacate the premises. While Alejandro (who was forced to become the man of the house at a very young age) tries to think about the limited options facing the Candelarias, his mother absolutely refuses to leave their apartment. As Giovanna Sardelli explains in her director's note:
The reason this play spoke to me and continues to move me so deeply is because the fuel that feeds its narrative fire is love. This family loves passionately and profoundly. They love each other, theatre, the movies, dancing, America. They are tantalizingly close to being able to seize the piece of the American dream that is rightfully theirs. They were born to be a part of this American landmark but poverty, and the ominous power of urban planner Robert Moses, conspire against them. Somewhere is the Puerto Rican answer to the question: What happens to a dream deferred? In a family of limited resources, who gets to fly and who must stay on the ground? Who has the right to dream? What if your dreams cost others? What if those others are people you love? To Robert Moses, those in the way of his dreams are expendable strangers. But to Alejandro Candelaria, they are family.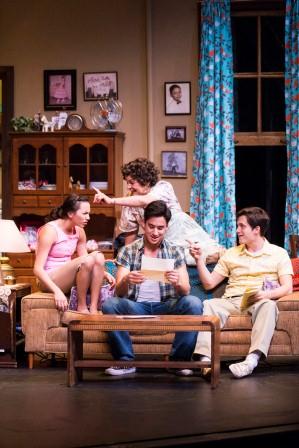 Alejandro (Michael Rosen) reads a letter to his family in Somewhere (photo by Mark Kitaoka)
Act I ends abruptly, with the sound of wrecking crews and dynamite leveling the neighborhood (causing a hasty evacuation by the Candelarias). In Act II, the family has relocated to a nicer apartment in the Fort Greene Housing Projects in Brooklyn, and, a year later, Alejandro is working at the new Hilton Hotel, where he delivers room service orders to the guests.
Jamie is now involved in the filming of West Side Story. In fact, that very morning, Inez walked right up to Jerome Robbins and invited him home for dinner. Knowing that Robbins would never show up, Jamie has arrived at the Candelaria apartment, where Alejandro learns that his kid sister is going to audition for Robbins.
Throughout Lopez's play there are periodic radio announcements about current events, including the growing American involvement in Vietnam. Late in the second act, when Jamie finally convinces the increasingly depressed Alejandro to reconsider his dream of becoming a dancer, it's already too late. By the end of the play, Alejandro is in Vietnam, while his worried family bravely tries to celebrate Christmas without him.
There is so much to applaud in Lopez's play that it almost hurts to point out a confusing technicality in Act II that begs to be fixed. Following the scene in which Jamie begs his childhood friend to rediscover his dancing feet, there is a beautiful solo choreographed by Greg Graham for Alejandro (Rosen studied for three years at the School of American Ballet) in which the audience gets to see the potential 'Jandro had to become a professional dancer.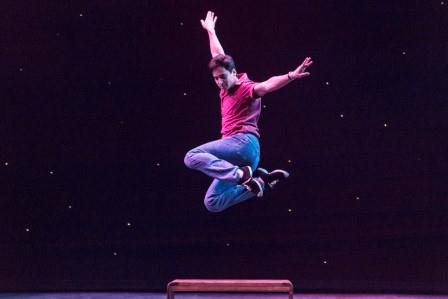 Michael Rosen as Alejandro (photo by Tracy Martin)
For draft dodgers like George W. Bush (whose family had strong political connections) and chickenhawks like Dick Cheney (who had "other priorities"), there were ways to avoid being sent off to Vietnam. Low-income minority kids like Alejandro had no such options. Unfortunately, for many in today's audiences who have grown up in the era of an all-volunteer military, there is absolutely no awareness of the paralyzing fear that enveloped families whose sons had been or were likely to soon be drafted.
The result is that Somewhere ends on a bittersweet if somewhat confused note, leaving the Candelarias (as well as the audience) without any surety about the family's future. One thing is for sure, though: This time no one feels the urge to sing any show tunes.
I found Lopez's play to be a deeply touching breath of fresh air. Hats off to a tightly knit ensemble (especially Michael Rosen and Eddie Gutierrez) and an extremely promising young playwright.
To read more of George Heymont, go to My Cultural Landscape