Aspiring writers are often encouraged to "write what you know." But when dramatists and screenwriters reach a certain level of success, they sometimes opt to vent their professional frustrations in a creative work that bears an uncanny resemblance to their personal lives.
During the recent holidays I spent some time catching up on neglected movie musicals. One of them, 1970's Darling Lili, had been an epic flop for its star, Julie Andrews, and her husband, writer-director Blake Edwards. Following its release, the movie was butchered by studio executives in an attempt to cut its running time down from the original length of 143 minutes.
In 1981, Edwards took his revenge on the film industry by writing and directing S.O.B., a ribald satire which revolved around a Hollywood star named Sally Miles with a "Goody Two-Shoes" reputation who, much like the actress portraying her, had been typecast as an eternal virgin. In the film, her husband, Felix Farmer (Richard Mulligan), had just produced an expensive flop called Night Wind (whose bad reviews were inspiring unfortunate headlines such as "Director's Latest Film Breaks Wind")
Edwards didn't hold his punches. Sally's lesbian agent (played by Shelley Winters) was named Eva Brown. The studio's film editor was named Ralph Himmler. Among the other characters (or Hollywood caricatures) were:
Tim Culley (William Holden), Felix's close friend who directed Night Wind.
Dr. Irving Finegarten (Robert Preston), Felix's personal physician, a notorious Hollywood quack.
Ben Coogan (Robert Webber) Sally's press agent.
Polly Reed (Loretta Swit), a Hollywood gossip columnist.
David Blackman (Robert Vaughn), the President of Capitol Studios.
The film's opening credits followed Sally in a musical fantasy number set on a sound stage and sung to the tune of "Polly Wolly Doodle."
The script for S.O.B. grows more and more outrageous, reaching a climactic turn when, as Sally Miles, Julie Andrews goes topless. The following clip leads up to the big moment.
When S.O.B. was first released, lots of people went to see it for the voyeuristic thrill of getting a peek at Julie Andrews' tits. When Andrews made a promotional appearance on The Tonight Show, Johnny Carson thanked her for showing everyone that "the hills are still alive."
Viewing the film (which is available on YouTube and Netflix three decades after its release) shows that superficiality still reigns supreme in certain parts of the entertainment world. If you're looking for an entertaining double bill, try watching S.O.B. along with the original 1968 Mel Brooks film of The Producers. As you watch the following clip, try to see it through the eyes of a young Mitt Romney learning how Joseph Schumpeter (the author of "Capitalism, Socialism, and Democracy") stressed that capitalism succeeds as a form of "creative destruction."
* * * * * * * * * *
Theatre Rhinoceros claimed the first opening night of 2012 with its new production of a Tennessee Williams rarity. The Two-Character Play received its world premiere in July 1971 in Chicago under a different name (Out Cry). Two years later, the play had its Broadway premiere (again using the title of Out Cry).
At the very least, The Two-Character Play will do a thorough job of confusing audiences. Williams spent ten years writing and rewriting the script, which he often claimed was his personal favorite. Unlike many of the playwright's earlier plays (whose high melodrama, hints of mental illness, and revelations of sexual repression were set within a fairly realistic framework), The Two-Character Play is intended to be a very messy play within a play.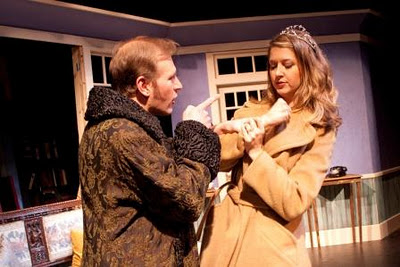 Ryan Tasker and Alexandra Creighton in
The Two Character Play (Photo by: Kent Taylor)
Felice (Ryan Tasker) and Clare (Alexandra Creighton) are two siblings who witnessed the murder-suicide of their parents. The action takes place in 1973 "before and after the performance; an evening in an unspecified locality. During the performance, the action takes place on a nice afternoon in the deep Southern town of New Bethesda."
In his director's note, John Fisher gives some important background on how The Two-Character Play relates to the playwright's life:
"The Two-Character Play is about the theatre and the past -- how the past won't let the present go and how it prevents the future from materializing. Regarding the theatre, it is a play about one man's decade-long struggle for artistic survival. When Williams' long-term partner Frank Merlo died in 1963, his life went into a tailspin, both personally and artistically. The delicate balance that had allowed a gay man to achieve the pinnacle of success on the American stage was suddenly unbalanced, sending Williams plummeting into a morass of confusion and alien feelings. In a way, he was forced to recreate himself as his old world was obliterated by grief and changing tastes. And, like all re-creationists, he went back to something primal for inspiration, something 'ur.' For Williams, his 'ur' was the Theatre of the Absurd (the wild Beckettian landscape of the mind's greatest fears) and his lifelong anxieties about his sister, whom he always considered his Platonic 'other half.'"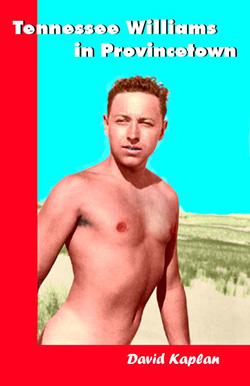 Cover art for Tennessee Williams in Provincetown
"The Two-Character Play is, in fact, a One-Character Play, a monologue about a divided self. Williams denied his sister Rose (his 'other half') in her moment of greatest need, leaving her to the inept handling of his mother, who had her lobotomized. Rose would materialize in dozens of other Williams heroines -- Laura, Alma, Hannah to name a few -- but it was here that she joined her other half, the playwright himself. Because that reunion would never, could never take place in real life, it had to occur onstage. He might have called his play The Battle of Angels, but that title was taken, so he fell back on the pure language of the theatre, his world, for its title. The Two-Character Play remains his ultimate battle and his ultimate struggle for self."
It's interesting to note Fisher's use of the term "delicate balance" in reference to Tennessee Williams. On September 22, 1966, Edward Albee's drama, A Delicate Balance, premiered on Broadway and went on to receive the 1967 Pulitzer Prize for Drama. Those who were fortunate enough to see the recent production of Albee's play at Aurora Theatre Company know that it is all about the insidious ways that fear can possess and paralyze people.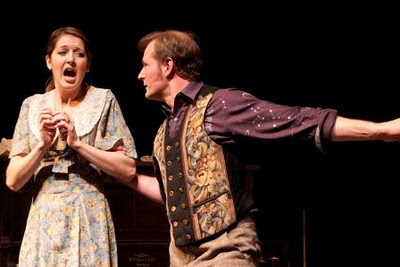 Alexandra Creighton and Ryan Tasker in
The Two Character Play (Photo by: Kent Taylor)
By that time, Albee had become the American theatre's hot new playwright. Williams was in the midst of a deep depression, his writing was being met with increasingly less acclaim, and 1969's Stonewall riots had ushered in the gay liberation movement. In some ways, The Two-Character Play seems like a dramatist's desperate attempt to adjust to a new style of writing in order to remain relevant.
As part of the recent centennial celebration of the birth of Tennessee Williams, many theatre companies have staged his better known plays. I've been surprised that almost no one chose to revive 1951's The Rose Tattoo, 1959's Sweet Bird of Youth, or 1961's The Night of the Iguana.
Here in the Bay area, SFPlayhouse staged 1960's Period of Adjustment and the Aurora Theatre Company presented 1962's Eccentricities of a Nightingale. Theatre Rhinoceros deserves credit for staging The Two-Character Play which (though it may be interesting from an academic standpoint) remains a lesser work in the playwright's catalog.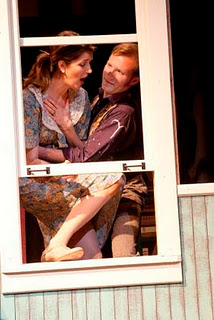 Alexandra Creighton and Ryan Tasker in
The Two Character Play (Photo by: Kent Taylor)
To read more of George Heymont go to My Cultural Landscape