Islands born of volcanic activity never really lose their fascination. Whether part of the Pacific Ocean's infamous Ring of Fire -- or a seemingly peaceful coral atoll that formed around a sinking volcano -- these wonders owe their mystique to powerful geological forces which have shaped their past and will continue to shape their future. The following videos depict:
Footage recorded by NOAA scientists of the May 2009 eruption of the underwater West Mata volcano (located approximately 140 miles southwest of Samoa).
Footage of an underwater volcano erupting near Tonga in 2009.
An underwater volcano erupting near Japan as it gives birth to a new island named Nijima on November 20, 2013.
A time lapse film of recent volcanic activity on the island of Hawaii (including the collapse of a crater floor of the Pu'u 'O'o vent of the Kilauea volcano).
A brief animation film depicting the process by which a coral reef or atoll is formed.
With so much fire and fury, it's no wonder that the inhabitants of many islands have created cultures in which nature, magic, and any variety of gods play important roles. While Hawaiian mythology is filled with wonderful stories about how the gods interacted with earth, air, wind and fire, a song from Rodgers & Hammerstein's 1949 hit musical, South Pacific, captures the allure of an island culture in ways that can't always be expressed with ordinary words.
Two recent productions set in vastly different island cultures told unique coming-of-age stories with the help of tribal gods, the cadences of native music, some convenient magical realism, and a long-established, intensely local tradition of ethnic dance. All of these elements helped to shape fresh and engaging narratives.
* * * * * * * * * *
In 2009, the Berkeley Playhouse presented Once On This Island at the Ashby Stage in a production that was so musically buoyant and searingly intimate that it was impossible to resist. With a Calypso-inspired score by Stephen Flaherty and lyrics by Lynn Ahrens, the show was based on Trinidad-born Rosa Guy's novel, My Love, My Love, or The Peasant Girl (which, in turn, had been inspired by Hans Christian Anderson's popular fairy tale entitled The Little Mermaid -- which was originally published in 1837).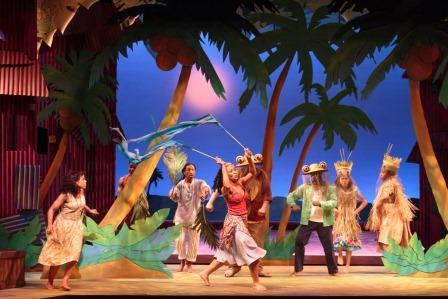 The cast of Once On This Island (Photo by: Tracy Martin)
Once On This Island returned to the Bay area in March in an ebullient production directed by Robert Kelley and choreographed by Gerry McIntyre for TheatreWorks. With delightfully stylized sets by Joe Ragey and costumes by Cathleen Edwards, the production proved to be a 90-minute treat from start to finish. Set on a tiny island in the French Antilles, the story finds its conflict in the two types of natives who live there.
On the wealthier side of the island (which plays host to the tourist economy), local society is dominated by lighter-skinned natives who are descended from a mixture of Afro-Caribbean blood lines that mixed with French explorers hundreds of years ago.
On the poorer side of the island are the darker-skinned (and much poorer) natives.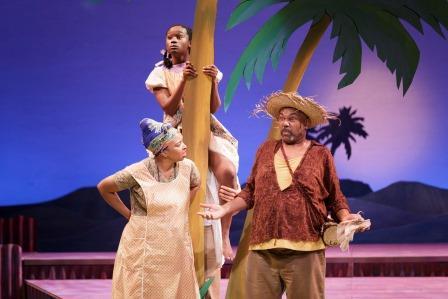 Dawn L. Troupe, Khalia Davis, and Berwick Haynes in
Once On This Island (Photo by: Mark Kitaoka)
Like many island cultures, ferocious tropical storms can wreak havoc on the population. The heroine of Once On This Island is Ti Moune (Salisha Thomas) who, as a child, clung to a tree during a fierce storm and was rescued and adopted by Mama Euralia (Dawn L. Troupe) and Tonton Julian (Berwick Haynes). Years later, Ti Moune has grown into a beautiful young woman who ends up rescuing the handsome and wealthy young Daniel Beauxhomme (Paris Nix) after his car skids off the road and lands in a ditch.
Convinced that her role in life is to nurse Daniel back to health (the way Mama Euralia and Tonton Julian did for her), Ti Moune pours her heart and soul into restoring the young man to his health and home, only to have her heart broken when he rejects her, explaining that his marriage to Andrea Deveraux (Michelle Cabinian) was pre-arranged long ago, when they were both children. Hovering over the humans who inhabit the island are four supernatural powers:
Papa Ge, the Demon of Death (Max Kumangai), who responds to Ti Moune's plea that she be allowed to die in order to let Daniel live.
Asaka, the Earth Mother (Safiya Fredericks), who has a few tricks up her sleeve.
Agew, the God of Water (Omari Tau).
Erzulie, the Goddess of Love (Adrienne Muller).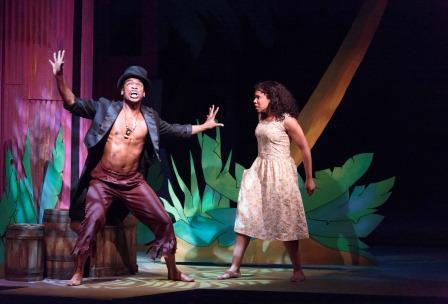 Max Kumangai and Salisha Thomas in a scene from
Once On This Island (Photo by: Tracy Martin)
Also in the cast are Rotimi Agbabiaka (doubling as Armand and a Gatekeeper) and Khalia Davis as little Ti Moune. While Once On This Island has always been an ensemble show, I was especially impressed by the performances of Max Kumangai as Papa Ge, Safiya Fredericks as Asaka, and Salisha Thomas a Ti Moune (who, after she dies, is transformed into a tree that will look over Daniel and all of his children.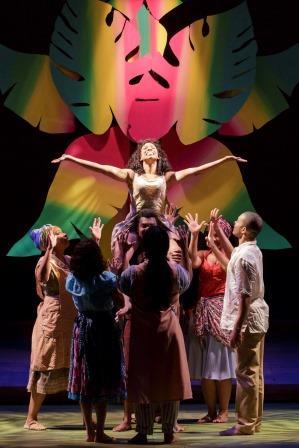 Ti Moune (Salisha Thomas) is transformed into a tree in
Once On This Island (Photo by: Mark Kitaoka)
* * * * * * * * * *
I'd be extremely curious to see how -- as a native Hawaiian -- Barack Obama might react to a narrative film that was screened at CAAMFest 2014. Obama's recent introduction of a program aimed at helping young men of color (entitled My Brother's Keeper) showed a deep awareness of the need for mentorship, the establishment of achievable goals, and a path to greater self esteem.
In The Haumana, Jonny Kealoha (Tui Asau) is first seen as a vapid lounge singer and impending alcoholic whose life is going nowhere fast. Upon learning that his beloved kumu is dying, he goes to visit Auntie Margaret (Marlene Sai) but is met by a surprisingly hostile group of young male hula students from her halau. Jonny's presence is equally resented by his sister, Napua (Mary Pa`alani), who has been doing all of the heavy lifting in their family while helping Auntie Margaret keep her hula school intact.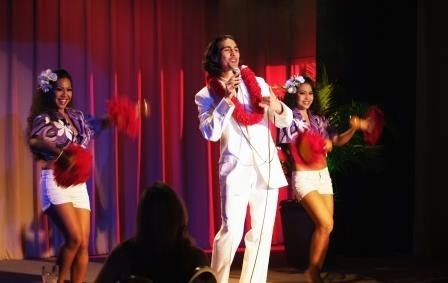 Tui Asau as Jonny Kealoha in The Haumana
Jonny is blindsided when Auntie Margaret tells him that she wants him to take over leading her hula students. What's more, she wants Jonny to look within himself for the passion to become a kumu. Needless to say, this infuriates his control freak of a sister. Nor does it win Jonny any props from the young men who see him as a worthless drunk (not that, as teenagers, they don't have enough problems of their own).
Yosh (Tauarii Nahalea-marama) is a typical horny and somewhat irresponsible high school stud who is far more interested in getting to second base with his girlfriend than taking his studies seriously.
Solomon (Cedric Jonathan), who comes a devout Christian family, has trouble honoring the Hawaiian gods as part of the group's cultural studies of Hawaiian and hula history.
Timo (Christopher Latronic) is a moody teenager who shows no interest in helping his parents entertain clients at their local country club. Rather than accept the obvious (that her sullen teenager is embarrassed to be seen with his parents), Timo's clueless mother quickly jumps to the conclusion that he might be using drugs or even be gay.
Le`e (JD Tanuvasa) has a strong interest in Hawaiian culture, but faces the difficult task of coming out as a hula dancer to his well-assimilated parents.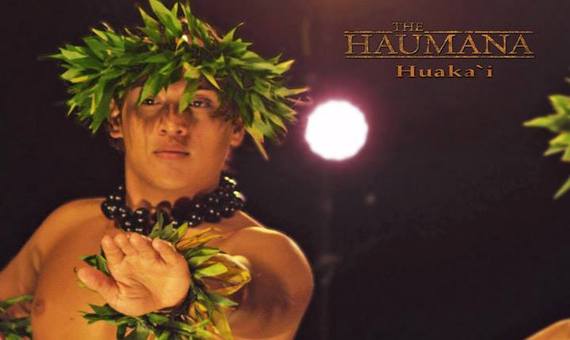 Other members of Auntie Margaret's halau include Kaleo (Saitia Faaifo), Buddy (Buddy Martin), and Ulu (Uluwehiikawekiuokalani Keaunui).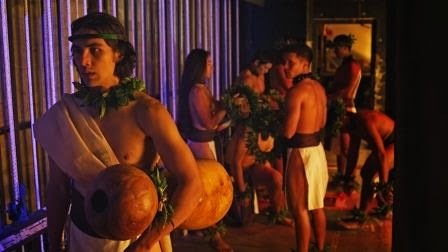 Tui Asau as Jonny Kealoha in The Haumana
The Haumana keenly demonstrates how arts education can provide a solid grounding influence for high school boys whose hormones are raging (and who are having trouble concentrating) as they transition into manhood. With Auntie Margaret gone and the Royal Hula Festival approaching, this group of young men must pull together in order to overcome internal conflict as well as cultural dissent from their families. In some respects, it's a classic challenge of brains over brawn.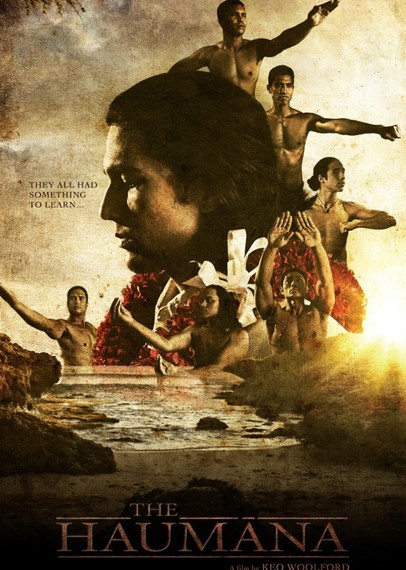 Poster art for The Haumana
In his filmmaker's statement, writer/director/producer Keo Woolford explains:
"When I was commissioned to write and perform I Land (the one-man show which served as the departure point for The Haumana), I asked myself 'What do I want to say?' The answer was simple: 'I am a proud hula dancer.' The issues surrounding this answer, however, were not so simple. Hula, like the Hawaiian culture in general, is so often misrepresented and bastardized that, for most people, the very mention of the word tends to bring to mind kitschy coconut bras and grass skirts.

My goal for this film became to tell an entertaining story about the world of hula without it being didactic or documentary, to break stereotypes and misperceptions about our culture and the male identity, and to feature male hula in its traditional form. These were all things I had never seen together in a narrative feature film, especially one made from an insider's perspective. These were things that I was eager to see on screen."
"As a haumana (student) myself, it was very important that the traditions stay pure but also that they were shown in the context of the cultural landscape of post-modern Hawaii. Today's Hawaii. Hula is poetic, almost ethereal by nature. However, the hula dancers living in modern times deal with their day-to-day existence like everyone else. They go to work or to school, play sports, cope with their parents and peers, deal with financial and social issues, fight with their partners and get in trouble when they do something wrong. These are some of the same things that someone living anywhere else in America might go through. But instead of playing baseball or basketball, dancing hula is the passion of choice for these characters.

Therefore, I wanted the film to feel familiar and relatable (like a conventional narrative) even though the characters and the culture being depicted might be something new and unfamiliar. I chose to keep any poetic feeling of the film subtle, so that the poetry in the dance could speak for itself, maintaining that this is not a hula film but a film with hula in it. I was taught that hula is life. The famous hula master teacher, Maiki Aiu Lake, said, 'Hula is the art of Hawaiian dance expressing everything we see, hear, smell, taste, touch, and feel.' When a version of this saying is referred to by one of the characters, it serves as a reminder that there is always something more to learn if we are open to it. As a hula dancer, an actor, and now a filmmaker, I do my best to approach my work and my life with the same attitude -- that we are all students for life."
Woolford's film relies on a cast of professional as well as untrained actors (some of whom offer plenty of eye candy). Others, like Kelly Hu (as Linda the Bartender) provide tough love and a steady stream of reality checks. Many of the performances are earnest, appealing, and exert a subtle tug on the viewer's emotions.
Graced with such gifted hula teachers and choreographers as Robert Cazimero, Michael Lanakila Casupang, and Maelia Loebenstein-Carter as consultants, The Haumana helps to portray male hula dancers in a much different light than one might encounter from Hawaii's mainstream tourist industry. Here's the trailer:
To read more of George Heymont go to My Cultural Landscape