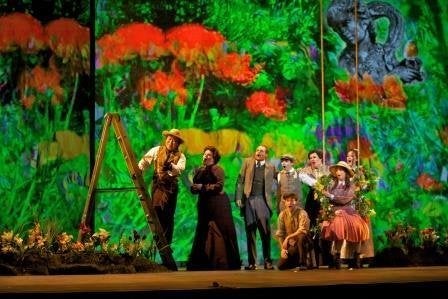 A recent weekend was remarkable for the sheer constellation of diseases to be found in the dramas I witnessed. From cholera to paranoid schizophrenia, from Huntington's disease to clinical depression, seemingly incurable maladies were discovered to lie at the heart of each family's darkest secrets.
In some cases, tragedy was unavoidable. In others, a lack of medical awareness contributed to long years of mental anguish and unnecessary suffering. Although each family's drama dealt with varying degrees of depression, only one seemed headed down an irreversible path of hopelessness and helplessness.
That would have been Inevitable, which received its world premiere from the San Francisco Playhouse as part of its incubator-style Sandbox series. Directed by Lauren English (who recently starred in the company's production of Bell, Book and Candle), this exceptionally promising piece was the work of Jordan Puckett (who started off with the company as an intern in 2011, quickly rose to become its Literary Manager, and is probably one of the few rising American playwrights to design the lighting for the world premiere of one of her own plays).


Playwright Jordan Puckett
Upon entering the theatre, the audience quickly notices clocks hanging everywhere. Each clock is fixed on a different time of day with the three cast members moving around the theatre, writing messages down on Post-It notes that they can then affix to the walls of the theatre.
At first, Carl (Keith Burkland) and Evelyn (Molly Noble) seem like an extremely well-adjusted, happily married couple. He's a college professor; she teaches children at a local public school. Alternating between portraying Evelyn's stern mother and their doctor daughter, Rene, is Carlye Pollack (who keeps roaming around the stage's perimeter as she shifts from one generation to another).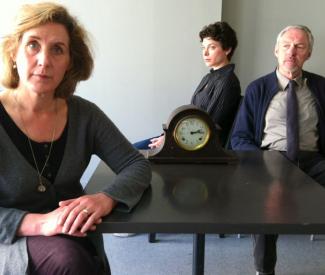 Evelyn (Molly Noble), Rene (Carlye Pollack), and Carl (Keith Burkland)
are caught in a desperate battle against time in Inevitable
(Photo by: Lauren English)
Evelyn and her husband have always enjoyed playing games that test each other's memory and intellectual strength. But when Evelyn becomes fixated on trying to stop time, Carl quickly grasps that something deep and urgent is troubling her. Is it Evelyn's strained relationship with her daughter? The ghostly memories of her frigid, condescending mother? Or is there a new reason for her sudden panic?
Alas, Evelyn has just been diagnosed with Huntington's disease (which had never previously been mentioned as part of her family's medical history). It's possible that her mother never really understood the disease or simply couldn't find a way to tell her daughter about it. But now, Evelyn and her family must overcome any petty resentments and deal with the harsh reality that will set in as her movements become more spastic and she loses her communicative skills to dementia.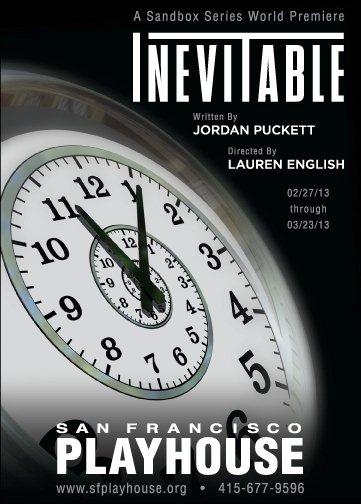 Poster art for Inevitable
Although barely an hour in length, Inevitable packs a powerful dramatic punch (largely due to Lauren English's solid direction and Molly Noble's poignant physical transformation). Jordan Puckett is definitely a talent to watch in the future.
Back in the Spring of 2003, when the musical Wicked was trying out in San Francisco, I remember telling a friend that I left the Curran Theatre feeling like I could whistle the lighting cues. I felt pretty much the same way while sitting through The Secret Garden (Nolan Gasser's operatic treatment of Frances Hodgson Burnett's beloved novel that is a co-production between the San Francisco Opera, Cal Performances, and the Houston Grand Opera). This was an operatic world premiere in which the best performance undoubtedly came from the scenery.
Let's face facts: When the wind-blown trees seen through the window of a child's bedroom are more interesting than anything else happening onstage, there's a huge creative problem. To say that a composer's 45-minute-long first act is not merely uninspired but a crashing bore might lead one to believe that the rest of the evening would have been quite hopeless. Thankfully, such was not the case.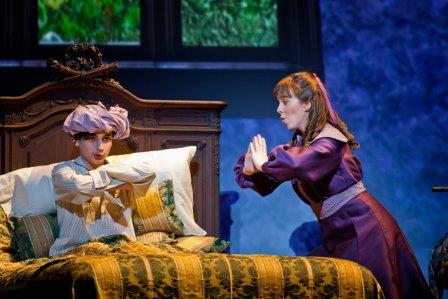 Michael Kepler Meo as Colin and Sarah Shafer as
Mary Lennox in The Secret Garden (Photo by: Peter DaSilva)
Act II was a big improvement (although Gasser's tedious music remains the least impressive part of this artistic collaboration). Although Carey Harrison's lean libretto helped propel the action forward, the evening belonged to video artist Naoemie Kremer. Other than the biggest fucking robin I've ever seen in my life (at one point I thought that bird was going to lay a cinder block instead of an egg), Kremer's visuals provided the evening with the lush beauty that was so sorely lacking from Gasser's score.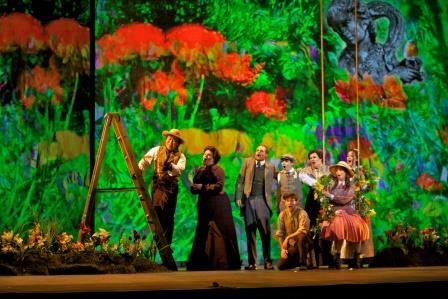 The final scene from The Secret Garden (Photo by: Peter DaSilva)
In her blog notes, Kremer explains that:
"Mary's life contains moments of petulance, real loss, sadness, curiosity, energy, and a powerful, ultimately healing relationship with the natural world. A video set is a perfect way to tell this story, which has many, and quick scene changes. Using five major and several smaller projection screens at various angles and combinations, the content can shift quickly or gradually from indoors to outdoors, from one season to another. The garden visuals can change in the course of a scene by subtle alterations in color and movement. A video set is also an actor in the production, because it moves. Rooms can become living things. I think of the video camera as a paintbrush -- each video clip is labeled (like a paint tube) so I can retrieve it to use as a component to create the final video. To hint at the shifting psychological moods of the characters in the story and the changing of the seasons, I decided to add a subtle layer of movement to the wallpaper in the children's rooms with video footage of the outdoors.

I mostly use two programs: Photoshop, for visualizing storyboards, "mixing" stills, creating masks (which allow certain elements to be removed and replaced with other content -- for example, a painting!), and a program called After Effects, which is almost a digital moving painting medium. The other thing video does is establish a visual rhythm that can either echo that of the music or provide a counterpoint, contributing in unexpected ways to the work as a whole. All the elements of the production finally weave together to create the magic of performance."
With Sara Jobin conducting and Jose Maria Condemi directing, the San Francisco Opera's young singers (including several Adler fellows) were thoroughly prepared to tackle this drama of misguided loneliness, emotional sterility, stunted mental growth, and Mother Nature's miraculous powers of resuscitation and restoration. Sarah Shafer shone brightly as young Mary Lennox, with tenor Scott Joiner scoring strongly as Dickon Sowerby and Laura Krumm livening up the proceedings as his perky sister, Martha.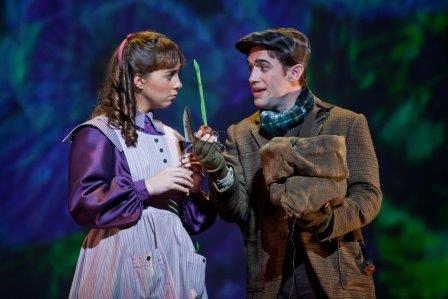 Sarah Shafer as Mary Lennox with Scott Joiner as Dickon Sowerby
in The Secret Garden (Photo by: Peter DaSilva)
Philippe Sly backed a forceful dramatic presence with his healthy bass baritone as Mary's uncle, Archibald Craven, while Ao Li's portrayal of the gardener, Ben Weatherstaff, offered this promising young artist another chance to shine. Boy soprano Michael Kelper Meo showed the most growth as Craven's young son, Colin (who had been convinced he would grow up to become a hunchback like his emotionally distant father).
When David Gockley commissioned this treatment of The Secret Garden he was hoping to create a "family opera" (curtain times for this production were pushed up to 7:30 p.m.) There were some very well dressed and mildly bored little girls on their best behavior for opening night in Zellerbach Hall. However, those who saw the December 2011 TheatreWorks production of The Secret Garden (a 1991 Broadway musical with music by Lucy Simon) got a much better show with a much more accessible score.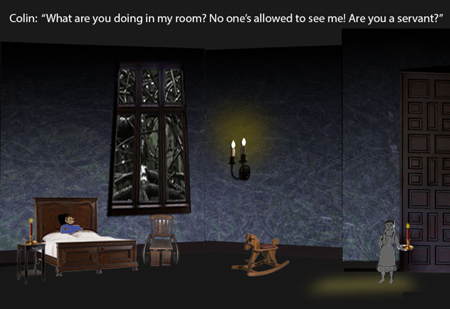 One of Naoemie Kremer's storyboards for The Secret Garden
During his 40-year career as General Director of the Houston Grand Opera (1972-2005) and now the San Francisco Opera, Gockley has commissioned numerous world premieres from American composers (Leonard Bernstein, Thomas Pasatieri, John Adams, Carlisle Floyd, Philip Glass, Stewart Wallace, Mark Adamo, Jake Heggie, and Meredith Monk) and taken chances on many visual artists (including Jim Dine, Maurice Sendak, and Jun Kaneko). I would urge readers to click here for a slide show of Kremer's storyboards. They are quite beautiful and, when blown up to fit on a large stage, often wondrous to behold. If only the same could be said for Gasser's tiresome score!