I like happy surprises. They don't have to be whoppers -- just brief moments of delight that bring a smile to my face, guide me to looking at a familiar object from a new perspective, or tickle my fancy.
I can't quite remember how I came across a listing for 1936's Charlie Chan At The Opera, which stars Boris Karloff as an amnesiac opera singer who is first seen banging away at a piano in a mental institution. Maybe I was looking at some suggestions from Netflix.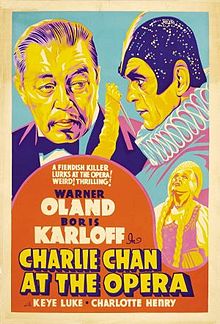 Poster art for Charlie Chan At The Opera
Although the library of Charlie Chan films is considered to be politically incorrect by some Asian Americans, there was no way I could resist a film built around a backstage murder in an opera house.
Directed by H. Bruce Humberstone, the film stars Swedish-American actor Warner Oland as Charlie Chan and Keye Luke as his son, Lee. Boris Karloff plays Gravelle, a man who was left to burn to death in a Chicago opera house fire by the famous soprano Lilli Rochelle (Margaret Irving) and her favorite baritone, Enrico Barelli (Gregory Gaye). Once Gravelle regains his memory, he heads backstage to exact his revenge.
The film includes a fascinating scene in which one news agency transmits a copy of Gravelle's picture to another using a prototype for what would later be known as fax technology. What really threw me for a loop was to discover that the music for the film's fictional opera, Carnival, had been composed by none other than Oscar Levant! It's a fascinating musical score and a delicious treat for opera fans. The good news is that you can watch all of Charlie Chan At The Opera in the following clip:
* * * * * * * * * *
Before Fidel Castro's 1959 revolution seized power from Fulgencio Batista, Cuba was a popular weekend getaway for Americans seeking music, dance and (especially during Prohibition) liquor. In 1950's Guys and Dolls, professional gambler Sky Masterson flies the Salvation Army's prim and proper Sergeant Sarah Brown down to Havana and loosens her up with some "Cuban milkshakes" (which are really dulce de leche spiked with Bacardi rum).
Latin rhythms were especially appealing to Broadway and Hollywood composers. In the following clip, Carmen Miranda performs "South American Way" from 1940's Down Argentine Way.
And here are Gwen Verdon and Bob Fosse performing "Who's Got The Pain?" from the 1958 film adaptation of Damn Yankees.
Once you've experienced Chico & Rita (a sumptuous, exotic animation feature directed by Fernando Trueba and designed by Javier Mariscal), you'll have no doubt why it was nominated for Best Animated Feature Film at the 84th Academy Awards.
Chico and Rita may seem like a love story between a pianist and singer whose careers take them from Havana to New York, Las Vegas, and Paris but, more than anything else, it's a love story about jazz. As Mariscal explains "We have Havana and New York. We have Latino and Anglo Saxon. What is Latino? It's a weather, it's a color, it's a music, it's a fashion, it's a way to spread the love."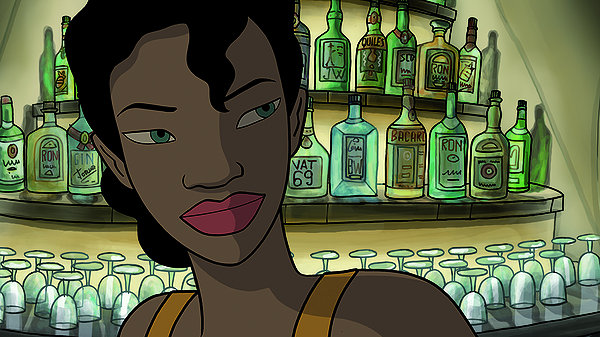 Chico and Rita's original soundtrack is by famed Cuban pianist, bandleader, and composer Bebo Valdés. Not many animated films can boast a score that includes the music of Cole Porter, Dizzy Gillespie and Freddy Cole (as well as parts of the Ebony Concerto which Igor Stravinsky wrote for Woody Herman in 1945). Among the famous musicians featured in the film are Chucho Valdés, Tito Puente, Ben Webster, and Thelonious Monk. As Mariscal's younger brother, Tono Errando explains:
"Havana and New York are two characters in the film. These two cities were very connected. Havana was the cabaret of New York. The New York mafia in Havana were very present. New York is a very vertical city; Havana is completely horizontal. Havana is very sunny and warm, and in terms of colors is very rich in palette. New York is almost monochromatic. This is a very important part of the film. All the directors were excited by the chance to capture a definitive moment in the evolution of jazz music.

In music, it's a moment that's fantastic: it's the moment where Cuban musicians go to New York and join the Anglo Saxon jazz musicians. This fusion changed the music at that time. It was the moment when new musicians came along like Charlie Parker and Dizzy Gillespie with a new kind of music that is not for dancing, full of notes and played really fast. A music that now we call jazz. Then the Cuban musicians arrived. Dizzy Gillespie has said many times in interviews that there was a moment for him that was very important -- it was the moment he first played with Chano Pozo, the first percussionist that played in a jazz band. It's a new instrument. He brings all these Latin and African rhythms that are very new for these musicians, and this new instrument also changes the way you have rhythms. The drummer has to play in a different way."

The film also does a breathtaking job of capturing the architectural styles in Havana and New York. Hardly fit for children, Chico and Rita doesn't hesitate to show Rita walking around Chico's apartment stark naked. There are candid depictions of the drugs, prostitution, and racism that were all an integral part of the music scene.
Told in a series of flashbacks, Chico and Rita seduces the viewer with great music, stunningly beautiful renderings, and a level of humanity rarely seen in animated films (there's a great bitch fight between Rita and one of Chico's other girlfriends). Chock full of passion and regret, ambition and disillusionment, it's the kind of film that is impossible to resist. Here's the trailer:
To read more of George Heymont go to My Cultural Landscape