Are you a compulsive gambler? Does the mere thought of betting on outcomes, guessing the odds, or "shorting" a stock make you cream your Goldman Sachs designer label jeans?
If the mere suggestion of playing Truth or Dare? gives you an erection, your favorite musical is probably 1950's Guys and Dolls.
Where else can you hear a driven, pulsing anthem to gambling like "Luck Be A Lady" (sung here by Brandon O'Neill in a 2011 production of the Frank Loesser musical at Seattle's 5th Avenue Theatre)?
Some people simply can't resist the chance to make a bet or the challenge to meet one. Whether that bet involves traveling around the world in 80 days or transforming a poor Cockney flower girl into a woman of poise who could charm the Queen of England, no prize is as delicious as the satisfaction of planning one's triumph.
* * * * * * * * * *
Let me be frank: I had a blast watching the new French comedy, Populaire, for reasons that might elude most viewers. In the late 1950s, back when I was in junior high school, I learned how to type on a manual typewriter. Because I had been studying piano at the time, I took to touch typing like a duck to water -- quickly building up to a speed of 70 words per minute (which was pretty fast for a "manual"). Needless to say, this was back in the days when only girls were supposed to be typists.
Régis Roinsard's delightful film takes place in the spring of 1958, when typing was considered an exotic skill and becoming a secretary was the obvious path for women who had no other way to climb the ladder to success. As the filmmaker recalls:
"At school I used to photograph the kids who were considered weird. To be honest, I must have been one of them since I spent all my time recording films from television so I could dissect them later. In 2004, I came across a documentary about the history of typewriters, which included a very short sequence showing speed typing competitions; these thirty short seconds were so fascinating that I saw their potential right away. This world of the typewriter seemed crazy to me: I thought it was incredible that it could have become a sport and I was captivated by the rapport between man and machine. This was back in 2004, and it was very difficult as all the [secretarial] schools were closing down and there were hardly any archival documents. I was only able to find short videos showing typing competitions on the Internet."
"Among the most interesting documents I found was a photo of an American championship taking place in a place like a velodrome in front of thousands of spectators. I also found some Japy advertisements (typewriter manufacturers used to organize speed typing competitions). They had made a census of regional championships and I met ex-champions, male and female. They all told me about the mental pressure they'd been under and about destabilization techniques between opponents using the eyes, which confirmed for me the notion that this was a true sport."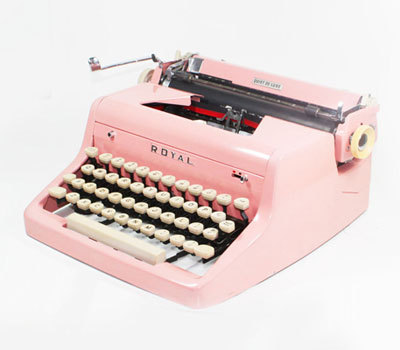 Populaire tells the story of 21-year-old Rose Pamphyle (Déborah François), who is determined to leave her life in a small town in Normandy (where her widowed father expects her to marry the local grease monkey) and become a secretary in the big city. Rose's ambition is driven by the fact that she is a fast hunt-and-peck typist. When she travels to Lisieux and applies for a job as a secretary for insurance agent Louis Echard (Romain Duris), her lack of general office skills is appalling. But Rose is prettier than any of the other applicants and Echard is a cocky, lecherous executive with some heavy emotional baggage.
Having been an also-ran in love, war, and school, Echard tells Rose that she can keep her job if she can win a speed typing competition (for which he will be her coach). Blind to the fact that he is smitten with her, Echard treats the challenge like an aging jock who never made it to the finish line. In order to help her learn touch typing, he even develops a color-coded scheme which will match her nail polish to the keys that each finger strikes on a typewriter.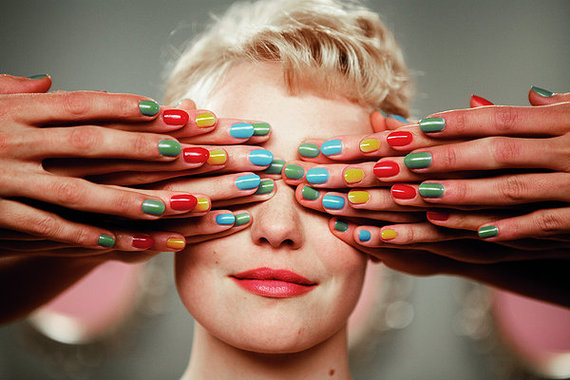 Rose (Déborah François) has a color-coded
system for learning touch typing
Echard's best friend is an American named Bob (Shaun Benson), who married Marie (Bérénice Béjo), whom Louis has loved since childhood. Because the two men are constantly betting on outcomes, it only seems natural that they would bet on whether or not Rose could become the national speed typing champion. Marie, of course, is no fool. She immediately senses what is really happening to her old flame.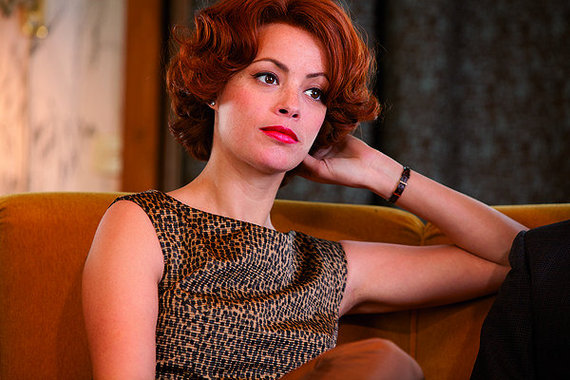 Bérénice Béjo as Marie, Echard's old flame
One of the great joys of Populaire is the movie's spectacular art direction, which captures the overly optimistic palette of the late 1950s. As the filmmaker explains:
"I wanted the eye to be constantly stimulated. I provided the artistic team with the names of certain designers and stylists. I insisted that the film be my own aesthetic vision of the 1950s. We had a reference work by Alex Steinweiss (an illustrator who designed many record sleeves of the period). His work encompassed the entire chromatic scale -- for costumes and sets -- that we used for the film. Most challenging were the exteriors. So we looked at archival color images to stick to the desaturation of the period. We noticed, for example, that cars were always monochromatic since body colors hadn't yet been industrialized (or were reserved for a rich clientele). We opted for a desaturation while keeping red, green, and blue as dominant colors."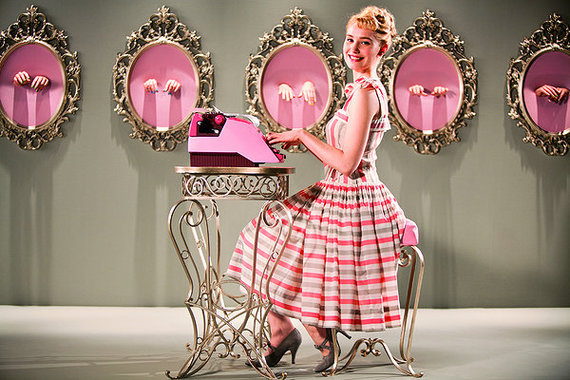 Rose ( Déborah François) models for Populaire typewriters
For those who have always loved the sheer physicality of typing, watching women pound the daylights out of a collection of pastel-colored manual typewriters is one step short of nostalgic office porn. In describing her preparation for the role of Rose, Déborah François notes that:
"I spent two or three hours a day for three months during preparation, and during the shoot as well, but not every day. In the beginning I almost got 'typist's elbow,' since it's not a natural posture and typewriter keys are hard to push. It's a very particular movement to get used to. Having to type with my little fingers was hard, as I'm not used to typing with all my fingers. And as soon as I made a mistake, I had to go back to square one. When I had to type for one scene, I didn't train in the evening because I was afraid of injuring myself. [Roinsard] gave me handbooks for typing and paper-changing techniques, and a video by an American Marines secretary showing how to change paper in three moves! It's staggeringly fast!"
Although some may find Populaire to be little more than a period piece of fluff, I was entranced by the oily sensuality of Romain Duris as a clueless straight male, the seductive beauty of Bérénice Béjo as Marie, the comic chops of Mélanie Bernier as a cutthroat speed typing competitor, and the determined charm of Déborah François as the film's heroine, Rose. Here's the trailer:
* * * * * * * * * *
Groucho Marx may have named his 1950s quiz show You Bet Your Life but, as any fool knows, selling your soul to the devil is a tricky proposition. Whether he goes by Lucifer, Satan, or any other name, he usually has more control of the situation than his victim. Time is always on his side.
The Faust legend has inspired many a tale in which the devil gets his due. But that's not always the case. In 1955's hit musical, Damn Yankees, the true love between Joe Boyd and his wife won out over Mr. Applegate's magic tricks. In Arrigo Boito's 1868 opera, Mefistofele, the devil loses his bet with God and Faust's soul is saved.
History tells us that the world premiere of Mefistofele on March 5, 1868 at Teatro alla Scala was an unmitigated disaster. After extensive revisions (which included changing the role of Faust from a baritone to a tenor), Bologna witnessed the work's rebirth before a much more receptive audience on October 4, 1875. Although Feodor Chaliapin had great success with the title role (in which he made his La Scala debut on March 16, 1901, his Metropolitan Opera debut on November 20, 1907, and his Royal Opera Covent Garden debut on May 25, 1926), Boito's opera has always lagged behind Charles Gounod's more melodic Faust in popularity.
Shortly after moving into their new homes in Lincoln Center, the Metropolitan Opera and New York City Opera found themselves competing for critical acclaim. While the Met offered two expensive and disappointing world premieres (Antony and Cleopatra, Mourning Becomes Electra) New York City Opera scored artistic triumphs with adventurous repertoire (Don Rodrigo, Bomarzo) produced on a shoestring budget. Following their revival of Handel's 1724 opera, Giulio Cesare (starring Beverly Sills, Norman Treigle, Beverly Wolff, and Maureen Forrester), the company mounted a new production of Mefistofele in 1969 that was directed by Tito Capobianco as a vehicle for Treigle.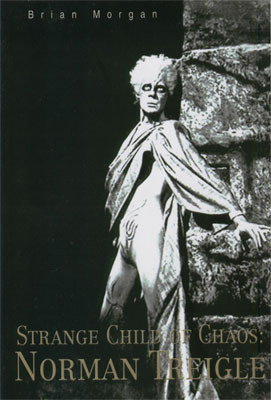 Cover art for Norman Treigle's biography
Over the years, the Capobianco production (with sets designed by David Mitchell and lighting by Hans Sondheimer) was mounted by numerous regional opera companies (Treigle died of an accidental overdose on February 16, 1975 at the age of 48). Often referred to as "the granddaddy of multimedia opera presentations," the special effects for this landmark staging were achieved with three slide projectors and some stock projections. After attending a performance of Mefistofele in Miami in the spring of 1980, I wrote that:
"Capobianco's legendary production has slowly been coming apart at the seams. Once hailed as a landmark in the evolution of operatic stagecraft, the production seems to have outlived its useful life. The once shockingly sexual Witch's Sabbath now appears to be polite and coy. The special film effects have been outdistanced by advanced stage technology. The crucial structure of the production seems to have imploded under the weight of repetition by rote. A month later, I saw the same production in San Diego with a different cast. Same problems! Here is an opera with wondrous music and a production which used to electrify audiences. The response in both cities ranged from polite to limp applause. Capobianco's Mefistofele now looks like the third bus-and-truck company of a Broadway musical. The production looks tired, uneasy, and ready to be put to sleep. The surest sign that something is way out of whack came from Beverly Evans (who had sung the role of Marta when the production was first staged over a decade ago). Ms. Evans repeated every bit of her character's shtick with immaculate precision and I would swear it looked as if she were in another opera. With all due respect to the Capobiancos, they are now presenting audiences with an operatic zombie rather than an exciting show. If the Devil must fight a losing battle with God, then perhaps euthanasia does have a place in the world."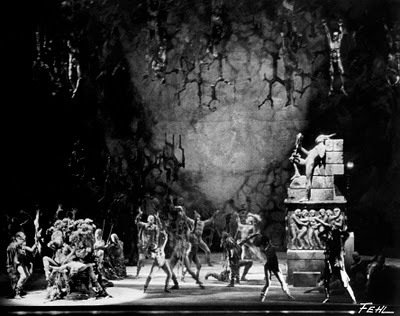 The Walpurgisnacht scene from New York City Opera's
1969 production of Boito's Mefistofele
In the opera world (where productions may receive less than 10 performances per run), the threat of an artistic concept deteriorating over time is very real. The last time I saw the Capobianco production of Mefistofele was in October of 1986, when John Cheek made his New York City Opera debut in the title role. By that time, the production was 17 years old.
Following Treigle's death, Samuel Ramey made Mefistofele into one of his signature roles. He first appeared in Boito's opera in San Francisco in 1989 in Robert Carsen's magnificent production, which had been designed by Michael Levine.
By that time, OPERA America had developed a structure which facilitated co-producing and renting various opera productions. The Carsen/Levine production of Mefistofele (which is celebrating its 25th anniversary) has quite a fascinating history:
A co-production between the San Francisco Opera and Grand Théâtre de Genève, it had its world premiere in Geneva in 1988 before traveling to the War Memorial Opera House in 1989. The production was recorded on videotape in San Francisco and subsequently broadcast over PBS as part of its Great Performances series. (Click here to watch it on YouTube).
The San Francisco Opera revived the production in 1994.
The production has been mounted by the Lyric Opera of Chicago (1991, 1998-1999), the Houston Grand Opera (1996), and the Metropolitan Opera (1999-2000).
In 1997, the production was sold to the Teatro Regio in Turin (where it was refurbished and used for only one season).
In 2012, the San Francisco Opera and Metropolitan Opera (which plans to present Mefistofele in 2015 and 2017) purchased the production from Teatro Regio. Once again, the production's sets and costumes were refurbished.
Thanks to the San Francisco Opera's new partnership with Rising Alternative, on October 2, 2013, the production's final performance in the War Memorial Opera House was streamed live to theatres across Europe.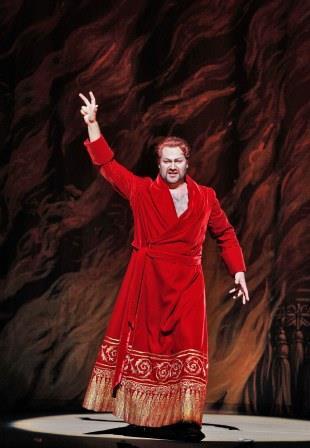 Ildar Abdrazakov as Mefistofele (Photo by: Cory Weaver)
I mention all this because while amortization of financial assets is an important part of the opera world from the perspective of many board members, maintaining the artistic integrity of a production is an equally compelling task. The refurbished production currently on display is every bit as magnificent (both visually and vocally) as it was 25 years ago, which is no small accomplishment!
Boito made extensive use of the chorus in Mefistofele (much more than Gounod did in Faust). From the opera's powerful prologue to its Easter Sunday revels; from the debauchery of its Walpurgisnacht celebration to its grand finale, Mefistofele is a long night's work. I highly recommend Janos Gereben's article entitled San Francisco Opera Chorus Logistics and Heroics, which does a superb job of explaining the physical demands placed on members of the chorus in this production.
While a great deal of credit goes to San Francisco Opera's chorus director Ian Robertson and conductor Nicola Luisotti, special credit should be given to Laurie Feldman, who has staged this revival and has pretty much kept its artistic integrity intact the same way Lucia Victor did for many productions of Hello, Dolly!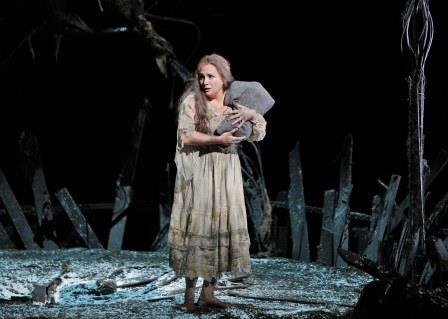 Patricia Racette as Margherita (Photo by: Cory Weaver)
Of the principals, Russian basso Ildar Abdrazakov unleashed his powerful voice in the title role, appearing as a more of a fuzzy, bear-like Mefistofele than many of his predecessors. San Francisco Opera favorite, Patricia Racette, did double duty as Margherita and Elena (Helen of Troy). Her rendition of Margherita's aria, "L'atra notte in fondo al mare," was one of the evening's musical highlights for me.
I continue to have trouble warming to tenor Ramon Vargas, whose Faust often seemed a bit weak and out of sync with Luisotti. Erin Johnson had some lusty moments as Marta in the garden quartet. Here's the trailer:
To read more of George Heymont go to My Cultural Landscape