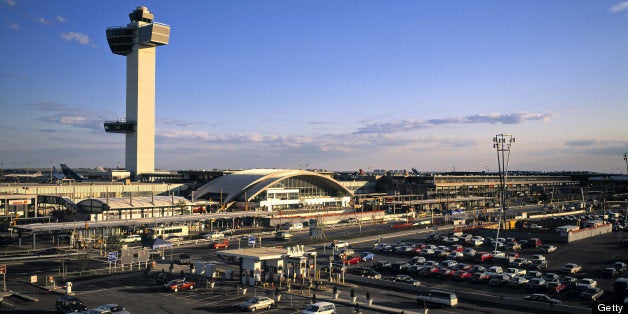 For years, the city that likes to refer to itself as the greatest in the world harbored a not-so-secret-shame: one of the worst airports, ever. Well, maybe not quite, but up until recent times, New York-JFK was, let's be honest, little more than a necessary evil, a dysfunctional relic best avoided.
Somewhere along the line, the airport decided to clean up its act. Today's JFK is by most measures reformed, with shiny (if rather utilitarian) new terminals, good transit links, improved services and other bells and whistles that make your time here as close to painless as it's ever going to get. Here, our little guide to the big beast.
New York is famous for its transit network, and after years of waiting out in the cold, visitors to JFK can finally get in on the action as soon as they land. Wherever you need to be in the region, odds are you can get there -- or close to it -- by public transportation. Start your trip with the efficient AirTrain, which stops at all terminals, delivering you either to the Metropolitan Transit Authority's A train at Howard Beach, or the giant Jamaica transportation hub, where you will find the Long Island Rail Road, plus the E, J and Z trains. The cost of the AirTrain is $5, buy a MetroCard when you arrive at your destination in order to exit the turnstiles; now's a good time to buy whatever passes you need for your stay. The cost of a subway ride is $2.50; for the fastest service to Midtown Manhattan, the Long Island Rail Road ($9.50 peak, $7.00 off peak) is best; the trip takes approximately 15 minutes. Learn more about all your transit options at mta.info.
New York's familiar yellow cabs attract long lines of travelers that are simply too exhausted to deal with public transportation; the flat fare to all destinations in Manhattan is $52. Headed elsewhere in the city? The flag fall is $2.50, plus $0.50 for each additional one-fifth of a mile, or 60 seconds of waiting. There are peak and night surcharges; flat rate or no flat rate, any tolls are your responsibility. All cabs now accept credit cards, though too many drivers will still ask you to pay in cash. (Feel free to ignore them.) Learn more at nyc.gov/taxi.
New Yorkers love their black cars, competitively priced and on-demand services that eliminate the need wait around for a taxi; drivers also tend to be more professional and cars tend to be nicer, or at least cleaner, than taxis. Carmel offers JFK-Manhattan for $44 (carmellimo.com); Dial 7 for $48 (dial7.com). Reserve online in advance and they'll wait for you at baggage claim. Note that New York's airports have, in recent years, been very nearly under attack from unlicensed hacks desperate to make a buck. Unfortunately, too many of them take advantage of unsuspecting riders - it's really not good practice to accept rides from them.
For a more cost-efficient ride, hop on one of the NYC Airporter buses, featuring leather seats, free wireless internet and power outlets that make a ride to the Port Authority Bus Terminal, Penn Station or Grand Central more pleasant than the subway ride but less spendy than a taxi or car service. The fare is $16; inquire with uniformed staff just past baggage claim. The company also offers service to Newark and LaGuardia (nycairporter.com).
It can be done, sure, but you don't need us to tell you that renting a car in New York City isn't as easy or affordable as it might be in other places. Most of the agencies are centrally located at the Federal Circle Station of the AirTrain, a short ride from all of the terminals. Rates, plus attendant taxes and fees, border on extortionate; if you can hold off on picking up a car, do so - there are agency locations all over Manhattan that are great for day trips should you require; if you are headed out of the city period, it often pays (a great deal) to take suburban rail services closer to your destination before grabbing those wheels. Make sure, if you do pick up a car, that it comes with an EZ-Pass transponder, to save you time in lines - and the need to scrounge for cash - at the many area bridges, tunnels and highways that charge those notoriously steep tolls.
Call us kids at heart, but this question was laid rather finally to rest late last month with the completed expansion of Terminal 4, which meant the arrival of New York's wildly successful Shake Shack franchise at the airport. From high-quality breakfast sandwiches with Niman Ranch bacon and bottles of stiff Stumptown Cold Brew coffee in the early morning hours to very good burgers, crinkle-cut fries and sweet, sweet frozen custard all day long and into the evening, nobody's going hungry. Not even vegetarians - their mushroom burger is absolutely outstanding, if the furthest thing from healthy. JetBlue passengers have plenty to eat at Terminal 5, where out of a fleet of tempting non-chain restaurants your best bets are La Vie, a postage stamp-sized bistro that's great for a glass of wine or a meal; and Deep Blue Sushi, which reels in sushi lovers and offers grab-and-go meals, too. In Terminal 1, Flying American? The old-school Bobby Van Steakhouse is fun for drinks and dinner in Terminal 8.
The airport is filled with watering holes, but two in particular stand out. In Terminal 4, the Seafood Bar is a smart option; if it looks familiar, you've probably just come from the other side of the pond -- this is a branch of a popular airport caviar and oyster bar found in many European airports. Have a glass of champagne. It's the done thing. Over in Terminal 8, there is a location of the popular Vino Volo wine bar chain; they do tasting flights and pride themselves on their wine know-how.
Japanese department store chain Muji has been making a splash stateside in recent years for their fun, design-conscious products, from clothing to the sort of knick-knacks you never knew you needed until you saw them - say, for example, little wooden replicas of the New York City skyline, or cool Japanese pens. Their small shop in Terminal 5 is like a quick trip to Japan - but at very reasonable prices. For a more high-brow bit of trip memorabilia, head over to the Metropolitan Museum of Art store, behind security at Terminal 8.
Yes - for a fee. The airport has contracted with Boingo, which offers a pay-as-you-go service for $4.95 an hour, or a day pass for $7.95. Sign up in advance at Boingo.com.
If you're looking for real convenience, forget it - all hotels at JFK are located outside of the airport, scattered rather randomly around a neighborhood that isn't on most visitors' to-do lists. In addition, hotels are not allowed to offer shuttle service to the terminals, instead stopping outside of the center of the airport at the Federal Circle AirTrain station, a bit of a slog from some terminals. But if you must stay close for a night (and hopefully no more than that), the too-expensive (but nicely renovated) Hilton New York-JFK Airport is your best bet - there's a pool, a gym, there's room service. It's not bad. If you're looking to spend as little money as possible, the Fairfield Inn & Suites is often quite reasonably priced for the location; Marriott brand standards place it above many others in the category nearby.
How about a day (or an hour, at least) at the beach? The decimation of Rockaway Beach - located just behind the airport - was one of the more tragic outcomes of Hurricane Sandy, which devastated sections of New York City in late 2012. Just a few months later, Rockaway has re-opened for business. From the A train station in Howard Beach - easily accessed via the AirTrain from your terminal - it's just two stops to Beach 90th Street, where you can hop off and have your toes in the sand within minutes. Restoration work is ongoing, but summer is very much in full swing, with portions of the famous boardwalk restored. Hungry? Grab a bite at Rockaway Taco, a charming shack that managed to survive the storm. Located on Beach 96th Street, between the train station and the beach, it is popular with local surfers and hip young things who've been making The Rockaways their summer hangout in recent years, bringing a cool new vibe to the area.
More resources

For more about New York-JFK, check out panynj.gov. Learn more about travel to New York City at nycgo.com.
To learn more about George Hobica, visit his profile on Google+