When it comes to fighting childhood hunger, we all have a part to play...even master sommeliers. I have been very fortunate in life as I am able to make my living from one of my great passions: wine. I am grateful to have the opportunity to draw on and share my knowledge and appreciation of wine while contributing to a good cause -- ending childhood hunger in America. Of all the wine selections I have ever made, this is one of the most important.
I recently had the chance to partner with world-class Napa winemaker, Thomas Peffer (of Atalon Vineyards), to custom blend a limited allocation 2007 Cabernet Sauvignon for the 2nd annual Artist Series Wine program at The Capital Grille. Fewer than 1,000 cases were made and $25 of the sale of every bottle will benefit Share our Strength's national hunger relief efforts.
Share Our Strength connects children with the nutritious food they need to lead healthy, active lives. Through the No Kid Hungry Campaign--a national effort to end childhood hunger in America by 2015--Share Our Strength ensures children in need are enrolled in effective federal nutrition programs. They invest in community organizations and partnerships to end hunger on the national, state and city level. Working closely with the culinary industry and relying on the strength of its volunteers, Share Our Strength hosts innovative culinary fundraising events and develops pioneering cause marketing campaigns like the Artist Series Wine Program at The Capital Grille. (The Artist Series Cabernet Sauvignon 2007 is only available at The Capital Grille locations and is not sold at retail). Last year, a similar effort raised approximately $200,000 for Share Our Strength and sold out in six weeks. I know this year will be even more successful and would like to invite everyone reading this to participate. Please visit www.strength.org to learn more.
Now that I have shared the inspiration behind the wine, allow me to share a little about the wine itself. I travel for my work to different corners of the world in search of amazing wines. I always hold a very special place in my heart for Napa Valley and its magnificent Cabernet Sauvignons. Simply put, 2007 is a lifetime vintage -- it was a year when everything went perfectly with wine in California. From the winter rains, to mild weather at bud break, to a warm dry harvest, the winemaker could not have asked for a better growing season. When Cabernet Sauvignon reaches perfect ripeness in Napa Valley it does not need to be blended with any other grapes. It gives a full range of fruit flavors, in this case, black cherry, cassis and boysenberry, as well as tannins that are round while retaining their power. The search for the perfect fruit drove us to two mountain vineyards on opposite sides of the valley: the Stagecoach Vineyard and the Veeder Peak estate.
Stagecoach is a remote vineyard atop the ridge directly east from the hamlet of Oakville, CA. The ridge is called Pritchard Hill, part of the Vaca Mountain Range. It is an extremely difficult place to grow grapes due to the rocky soil, altitude and mountain terrain. The red soils are derived from in-place decomposition of the iron-rich bedrock. The resulting flavor resembles black cherries with a hint of peppercorns.
The Veeder Peak estate vineyard is directly west of Oakville, on Mount Veeder, part of the Mayacamas Mountain Range. The soils are composed mostly of volcanic ash with a bit of organics from the surrounding forest. The flavors resemble blueberries and cassis, the tannin is chalky, and the texture can be described as full bodied. This component enhances the structure of the wine while providing a round richness of flavor.
Blending the unique fruit from these two vineyards produced a wine that epitomizes the Napa Valley. Ripe, round and rich, it is a seamless wine that can be enjoyed right away, yet the tannic power of the 100% Cabernet Sauvignon makes the wine a beautiful accompaniment with food. I like to refer to this creation as a veritable "iron fist in a velvet glove."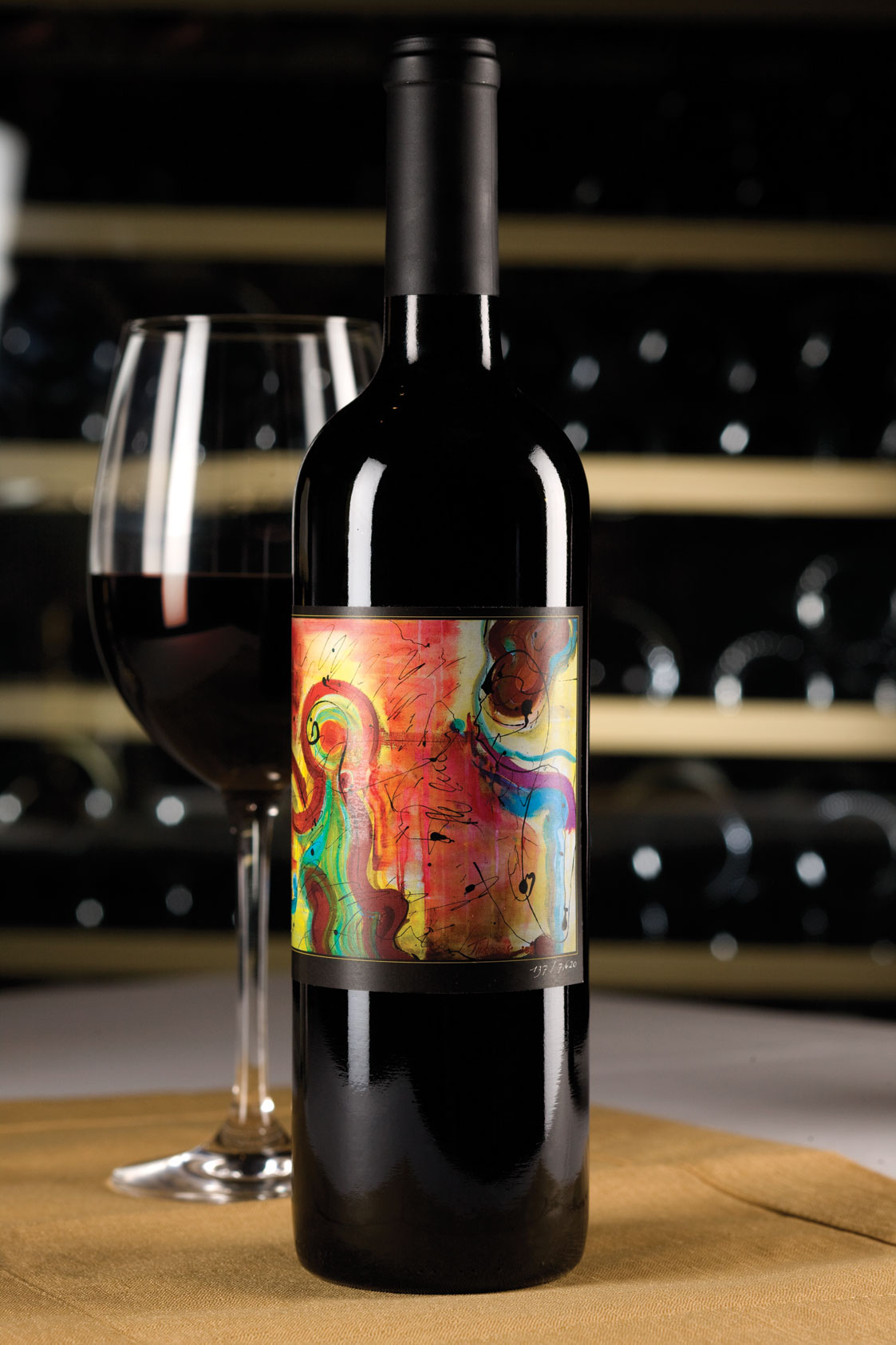 This wine is truly a work of art. In fact, each of the hand-numbered bottles boasts a piece of original artwork as the label. This artwork is the result of a competition held among artists, label enthusiasts and wine lovers and this year's winning label was submitted by Florida artist Patricia Timbrook. Her bold colors and fluid lines perfectly complement the robust flavors and subtle undertones of the wine.
This is wine you will enjoy and savor knowing you are also helping put an end to one of the great challenges of our time, childhood hunger.
http://www.thecapitalgrille.com/ArtistSeries/Main.asp