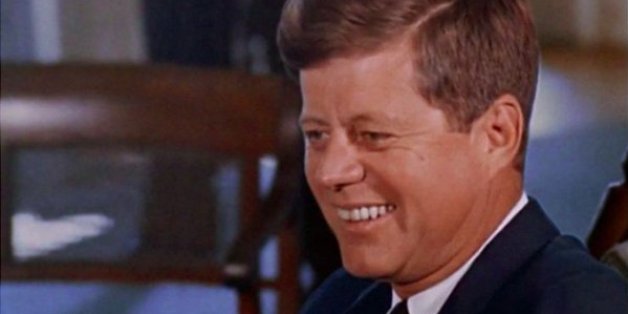 I left the office at noon on that bright cool November day, hopped a cab on Pennsylvania Avenue for lunch at the Chilean Embassy. I was 31-years-old, working for Edward R. Murrow at the United States Information Agency. It was the best of times -- people in government were young in spirit, full of hope, and "asking not."
In the foyer of the embassy I heard Ralph Dungan, a White House political aide, telling Senator Hubert Humphrey how President Kennedy was looking forward to a likely match up with Barry Goldwater in twelve months. At lunch twenty-five people were seated at a long table with the ambassador at the head. During the main course I noticed the host and Senator Humphrey excuse themselves. A few moments later Humphrey returned and stood across from where I was seated. His ruddy face was drained. He said simply, "President Kennedy has been shot. He was in his motorcade in Dallas. We're trying to get more information." He turned abruptly and left the room.
On my left was Mrs. Johnny Walker, the white haired wife of the head of the National Gallery. She took my hand. I noticed that all at the table had taken the hand of the person next to them. She whispered, "He's a young man. He's strong. He should be all right." The guests spoke softly or not at all. A few minutes later Humphrey returned. The room was silent. His voice cracked as he sobbed, "He's gone."
We were left to fathom the unthinkable. A city brimming with optimism was now in shock. As the hours passed and the news spread one began to absorb the stubborn fact that the inspiring leader with the wise smile and the Boston cadence was, in fact, gone.
The next morning I climbed the stairway from my corner office at 1776 Pennsylvania to Ed Murrow's one floor above. This was his first day back after a two-month absence for lung surgery. I was used to seeing him in his trademark Saville Row suits. Today he wore a green cardigan sweater and looked drawn. He gestured to a chair across from the sofa and I took a seat.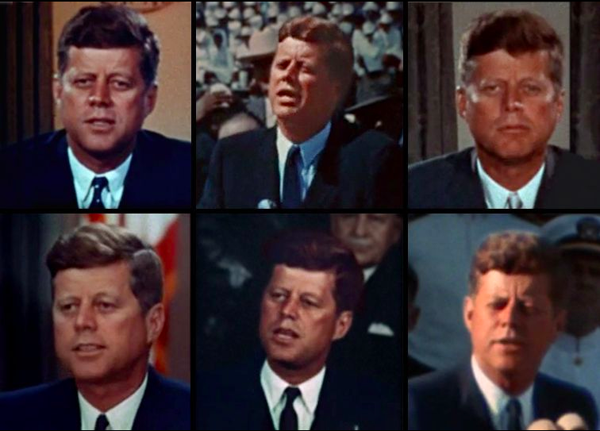 He handed me a letter addressed to him at the Washington Hospital Center.
"Dear Ed. I hope that things are going well and that you will be back with us very soon. I saw one of your movies Five Cities in June. I think it is one of the finest documentaries the USIA has ever done."
It was signed John Kennedy.
President Kennedy was generous with encouragement. He was referring to a film we made that summer that climaxed with the "Ich bin ein Berliner" speech he gave before 450,000 Germans in the shadow of the Soviet built wall that divided Berlin.
I was deeply moved holding this letter that had been in President Kennedy's hands days earlier. I passed it back to Murrow. In a gesture that reflected his character, Ed handed it back to me. "You made the film. You keep the letter."
I had come to see Murrow to propose making USIA's first feature length film. I explained we had cameramen with 35mm color film in ten countries abroad and camera teams here in Washington who could capture world reaction to the President's death and the rituals of mourning and burial here at home. We would interweave this footage with the story of John Kennedy's presidency. The cost would be $250,000, a substantial sum by agency standards.
I watched Ed consider my proposal, observing that look of probity that had reassured CBS viewers of See it Now and Person to Person. Then he spoke. "First, make a ten minute film about Lyndon Johnson."
It was wisdom and experience tempering the passion of youth. Ed understood that America had a new leader. We made the ten-minute film about President Johnson, with Gregory Peck declaring over a night exterior of the White House, "The light in the White House window flickered, but it did not go out."
John F. Kennedy: Years of Lightning, Day of Drums, written and directed by Bruce Herschensohn, incorporated scenes from many of the color documentaries we had made of Kennedy during his presidency. The first showing was at the State Department on a November night in 1964. Diplomats and journalists joined colleagues and friends of President Kennedy before the large movie screen, watching vivid color images of the young president, once again so alive. "I have never seen an audience in a theater react so intensely to a film," wrote New York Times film critic Bosley Crowther. "There was scarcely a murmur or a rustle as its factual footage un-reeled. Only sobs and sniffles -- or occasional ripples of laughter." USIA films were forbidden from being shown in the United States and Crowther argued that Americans should "not be denied the opportunity to see a truly magnificent and soul-stirring USIA film."
This initiated a campaign that led to a Congressional Resolution permitting the film to be shown in the United States, while it was being screened in more than 110 countries overseas. The National Board of Review named it one of the ten best films of the year.
Two years ago Caroline Kennedy mentioned that Years of Lightning, Day of Drums was a favorite of hers, and soon thereafter I introduced the film at the AFI Theater. I was distressed to see the radiant color images of President Kennedy faded and scratched. I learned the original negative was missing and feared that this unique historic record would be lost for future generations.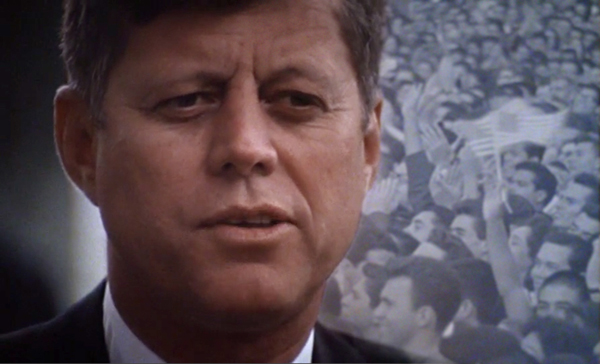 Then we discovered a slightly damaged interpositive -- an element made from the negative -- at the National Archives. Warner Bros had done wonders restoring my father's films Shane and Giant to their 1950's magnificence for Blu-ray release, so I asked if they would restore our JFK film from the interpositive and make it available on DVD.
Using new technology they brought John F. Kennedy: Years of Lightning, Day of Drums back to life. When I watched the restoration on the big screen with the stunning color images of the young president, it brought to mind an observation by Elaine de Kooning for whom Kennedy sat for a 1962 portrait. She had expected the monochrome man of the newspaper photographs, but said she found him "incandescent, golden" and "inhabiting a different dimension." For me too, seeing John Kennedy once again in vivid 35mm color was a revelation. I realized my memory of that vibrant figure I knew fifty years ago had faded along with the original film.
And it reminded me why we make films. We made Years of Lightning, Day of Drums so the world might see and remember what we knew in those days. And now the larger reward is that the film survives so this and future generations may hear the soaring voice and view the vibrant likeness of the man who offered such singular inspiration half a century ago.
Note: the restored version of John F. Kennedy, Years of Lightning, Day of Drums is being shown:
At the National Museum of American History at noon and 3 pm on November 22
At the Academy of Motion Picture Arts and Sciences in Hollywood at 7 p.m. on November 22
At the Film Forum in New York at 4 p.m. on November 24
At the AFI Silver Theater in Silver Spring, Maryland at 4 p.m. on November 30
JOHN F. KENNEDY: YEARS OF LIGHTNING, DAY OF DRUMS IS AVAILABLE ON DVD FROM WARNER HOME VIDEO