The amount of money donated on #GivingTuesday has doubled each year since 2012, and it is predicted to double again in 2014. If this were a stock it is the kind of thing that would have Jim Cramer jumping up and down throwing bulls all over the set and hitting the 'buy buy buy' button. While this isn't the get-rich-quick world, it is something that nonprofits should be investing in.
Last year Giving Tuesday helped raise $27 million for nonprofits. This total was more than double the $12 million raised in 2012. Giving Tuesday was created by the 92nd Street Y in 2012 as a way of promoting a day of giving to compete with the otherwise commercially branded Black Friday and Cyber Monday around ThanksGiving. This year, we at Whole Whale think Giving Tuesday will raise over 54 million dollars!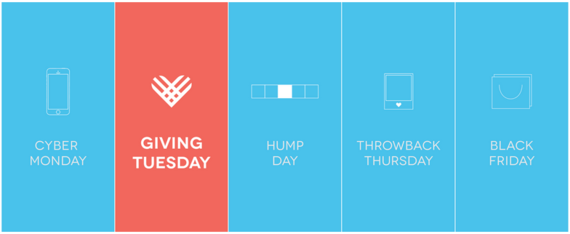 3 Reasons Why #GivingTuesday will double this year
Carry-over participation from 2013 and 'Ice bucket' afterglow
Search interest for "Giving Tuesday" is twice as high as last year
GDP is estimated to increase in 2014
1. Carryover Participation
From 2012 to 2013, the number of NGO partners nearly tripled from 2,500 to 7,000. And, on top of that, the average size of donation increased from $102 to $142, according to Blackbaud. This year, we are forecasting that the number of participating NGO's will reach 15,000 (1 percent of the total number of NGOs in America) based on early registration activity and partners that will carry over from 2013. If each NGO receives an average of $3,500 (slightly lower than the 2013 average), we wind up at +$52.5 million.
With the recent viral success of the ALS Ice Bucket Challenge, social media has once again proven to be a powerful platform for driving online donations and raising awareness around important causes. We believe that the social media buzz around charity and donations will help this year's third annual Giving Tuesday donations total more than double that of last year's.
What's more, the network effect of these additional partners is difficult to forecast when social reach is factored in. With tools like ThunderClap.it being used, there will be a far more organized awareness push by all partners, helping to create message saturation on the day itself.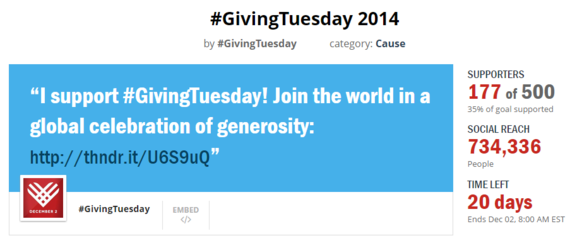 2. Google Trends Analysis
Another way to arrive at this estimate is to use Google Search trends as an early indicator of interest. It can be seen that searches for "Giving Tuesday" as a term are more than twice what they were last year at this time. This would suggest that the peak search interest will continue on this trend as more prepared nonprofits message their audiences.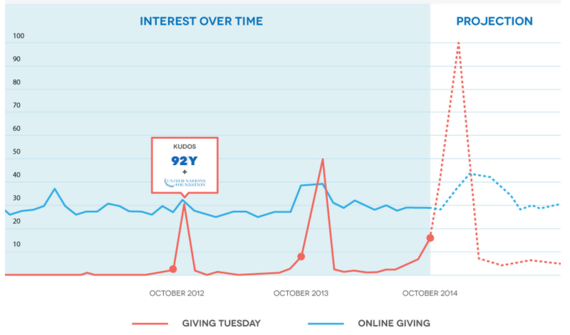 3. U.S. GDP is increasing
The final reason why we expect the increase in Giving Tuesday is a bit of a cheat because U.S. donations are directly corollary to GDP and GDP is set to grow by 2.75 percent (World Bank). For the past 40 years the annual individual, corporation, foundation giving amount has floated at 2 percent of the U.S. GDP, with exceptions in 2000 (2.3 percent internet boom) and 1971 (2.1 percent gold standard ended in 'Nixon Shock'). This year should continue the trend at close to 2 percent resulting in an extra $9.4B of giving, which turns into an extra $160M in donations happening in December (Blackbaud tells us that 17 percent of giving happened in December 2013).
Is #GivingTuesday a good thing or bad thing?
To use Fox News parlance, it is important to consider if this rise in Giving Tuesday will be a net positive or negative on the sector. Giving Tuesday has garnered its fair share of skepticism from some leaders in the nonprofit sector like Tom Watson, La Salle's Nonprofit Center and The Fundraising Authority.
Below is a digest of the most salient critiques of Giving Tuesday with our counter-arguments to these issues. The concerns posed by critics are valid, and it's important to have a balanced perspective when approaching your Giving Tuesday fundraising efforts.
Argument: Giving Tuesday will cannibalize end of year fundraising efforts.
Rebuttal: The concern is that someone who donates a small amount on December 1st may not want to donate a larger amount again by December 25th. The holiday season celebrates altruism and giving back, as well as impulse consumption. A day of social awareness around giving, if done correctly, should be able to create a seasonal habit that is additive to an annual giving routine. The month of December is when 17.5 percent of all donations are made according to Blackbaud, leaving plenty of room for a successful end-of-year appeal to larger donors.
Argument: Giving Tuesday doesn't make real social impact, is only a slight step better than slacktivism.
Rebuttal: Sure, Giving Tuesday by itself may not help raise donations past the infamous 2 percent of GDP clip; but the collective efforts of viral and social media driven fundraising such as ALS Ice Bucket Challenge, Relay for Life and others help cultivate a culture of giving. Increasingly, social media is becoming a conduit for meaningful messages and generous giving. These efforts have surely contributed to the 4.9 percent increase in overall charitable giving in 2013.
Argument: It just gets people excited for a day. These people won't be long term givers
Rebuttal: So? Even though these bandwagon donors may not metamorphosize into repeat donors, their contributions are still sizable. In 2011, 48 percent of Obama's fundraising total came from individuals who donated less than $200. And, though the Giving Tuesday crowd might not be the ideal candidate for long term giving, Giving Tuesday provides your organization the platform to reach out to a larger audience. And hey, give it a shot: Craft your donation page in a way that cultivates donor retention. Follow-up with your Giving Tuesday donors in a few weeks (maybe Christmas-time) and update them on your org's progress. Maybe we are giving these Tuesday donors less credit than they deserve.
Rejecting Giving Tuesday as an institution because it undermines Giving Every Day is akin to saying "let's ditch Mother's Day, because we should be thinking about our mamas everyday." The sentiment is commendable, but in practice, it helps to have a calendar reminder to give us that extra jolt of motivation to take action.
Argument: Giving Tuesday is a marketplace. Small nonprofits have no chance to match the fundraising levels of their larger counterparts.
Rebuttal: Economics works a little differently in the digital sphere than in the corporate world. In the social media landscape, your biggest asset are your fans and followers, not how much money you have. Unlike dollars, not all fans are created equal. Encourage your loyal supporters to be extra vocal on Giving Tuesday, and ask them to spread awareness amongst their friends. After all, what you end up seeing on your news feed is what your friends choose to share, not what organizations pay for.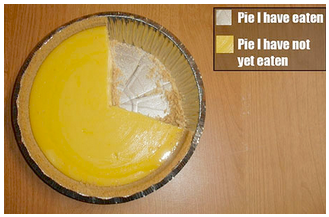 Motivating your fans will increase the size of the pie overall, not necessarily take away fans from other causes. And ultimately if the the size of the pie increases (or doubles) it will feed more people.
We believe nonprofits should continue to put in the effort to ensure that this worthwhile holiday keeps up with the corporate interests of the holidays. Help our prediction come true by registering for Giving Tuesday today!
Resource List for Giving Tuesday
The Data
This section is for the numbers geeks, so feel free to skip over.
2012
#GivingTuesday 2,500 NGOs involved
$4,800 per NGO
Total amount donated:12M
Avg individual gift:101 (Blackbaud)
Google search rating "Giving Tuesday" vs. "online giving"
GDP:15,533.8 billion
US gave228.93 billion (1.5 percent of GDP)
2013
#GivingTuesday 8,500 partners (7,000 ngos)
$3857 per NGO
Total amount donated:27M
Avg individual gift:143 (Blackbaud)
Google search rating "Giving Tuesday" vs. "online giving"
US individuals gave:335.17B (1.99% of GDP)
2014
Est. #GivingTuesday +17,000 partners (15,000 ngos)
Google search rating "Giving Tuesday" vs. "online giving"

October: 33 (2x that of Oct 2013)

Est. GDP:17,229.2 billion (+2.75% growth World Bank )
Est. U.S. giving:344.58 (Est. 2% rate)
---
Research, editing, graphic support from Whole Whalers:
Julie Leary, Simon Glenn-Gregg, Ann Nguyen, Jonathan Shtaynberger.